Gov. Bruce Rauner and Democratic challenger J.B. Pritzker traded barbs Thursday evening in their first matchup heading into the Nov. 6 general election, some 6.5 weeks away.
Libertarian nominee Grayson "Kash" Jackson and state Sen. Sam McCann of the newly created Conservative Party also participated.
Earlier Thursday, Rauner told a ballroom full of business leaders gathered for the Illinois Chamber of Commerce annual luncheon he's worried about low turnout for "the most important election in my lifetime."
"Unfortunately in Illinois we are so deeply divided and people are so angry and so emotional that many people are at risk of staying home and just saying 'I'm sick of it, I don't want to deal with it, I'm too mad, frustrated,'" Rauner said. "We can't let that happen."
If it does, Rauner said, the "machine wins" – and that will give way to higher taxes and more bureaucracy and will cede control of the state legislature to Democrats for the next decade, given that the next governor will have say in how the next legislative district map is drawn.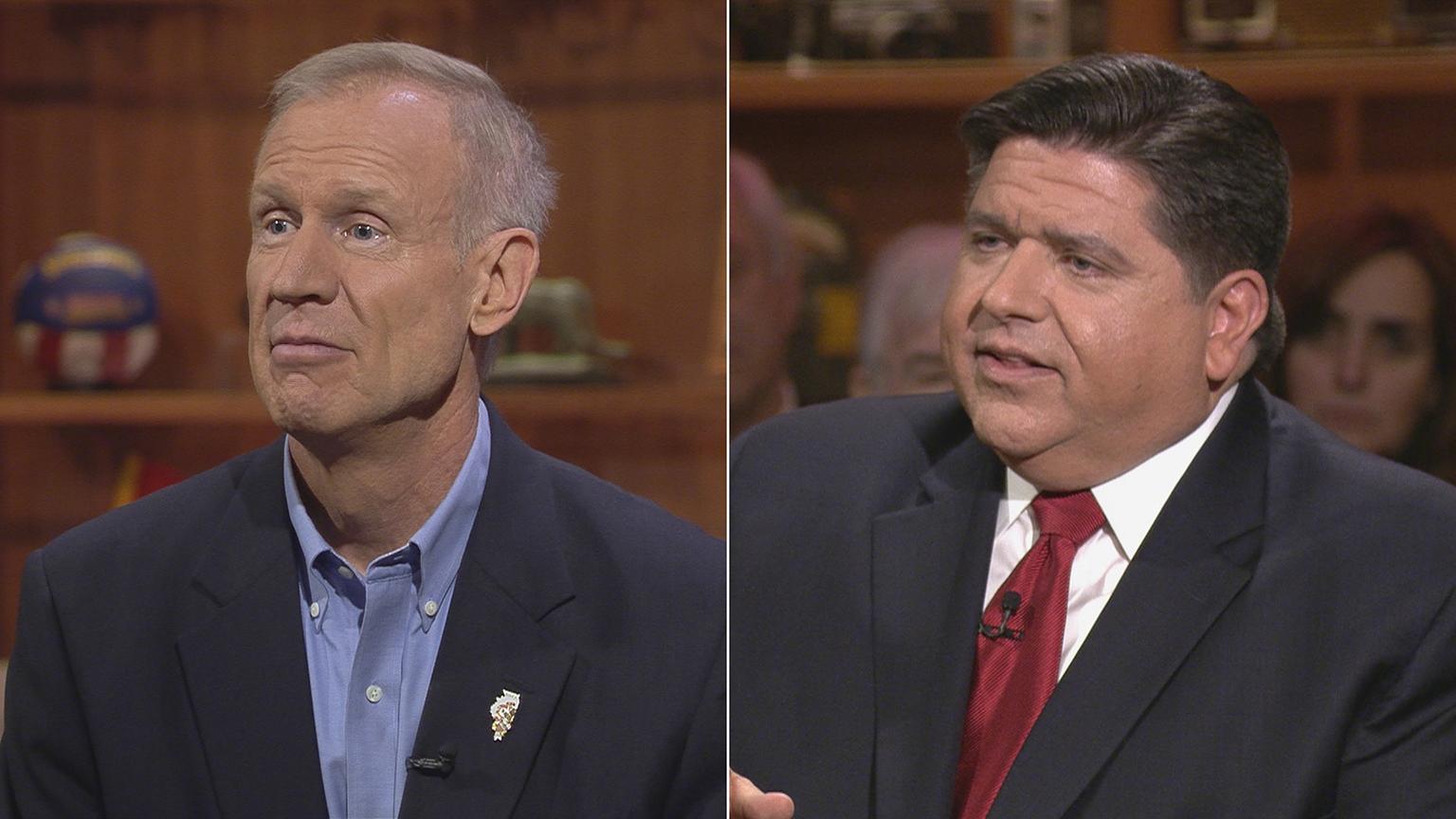 Gov. Bruce Rauner and J.B. Pritzker appear on "Chicago Tonight" on Aug. 14, 2017 and March 14, 2018, respectively.
Pritzker's campaign, meanwhile, sent an email calling Rauner a "failed and desperate governor."
"On almost every topic imaginable, Bruce Rauner has utterly failed to deliver on the promises he made on the debate stage in 2014, giving Illinoisans little reason to believe anything he says tonight," Pritzker campaign communications director Galia Slayen said in an email.
There will be few other opportunities to see Pritzker and Rauner face off. They're both set to attend an Oct. 3 debate sponsored by ABC7 Chicago, Univision and the League of Women Voters, an Oct. 11 debate in Quincy sponsored by WGEM and the Illinois Broadcasters Association, and they're both scheduled to appear before the Chicago Sun-Times editorial board.
Both candidates are expected to talk with MIKVA students during a special episode of "Chicago Tonight" on Monday, Oct. 8.
Follow Amanda Vinicky on Twitter: @AmandaVinicky
---
Related stories:
The New Techniques (and Big Money) Behind Political Ads
Employee Accuses Pritzker Group of Union-Busting
2018 Governor's Race: Fundraising Nears $250 Million
Gov. Rauner Ratchets Up Anti-Madigan Rhetoric
Libertarian Kash Jackson Joins Race for Illinois Governor
State Sen. Sam McCann Challenging Primary Winners in Governor's Race
---