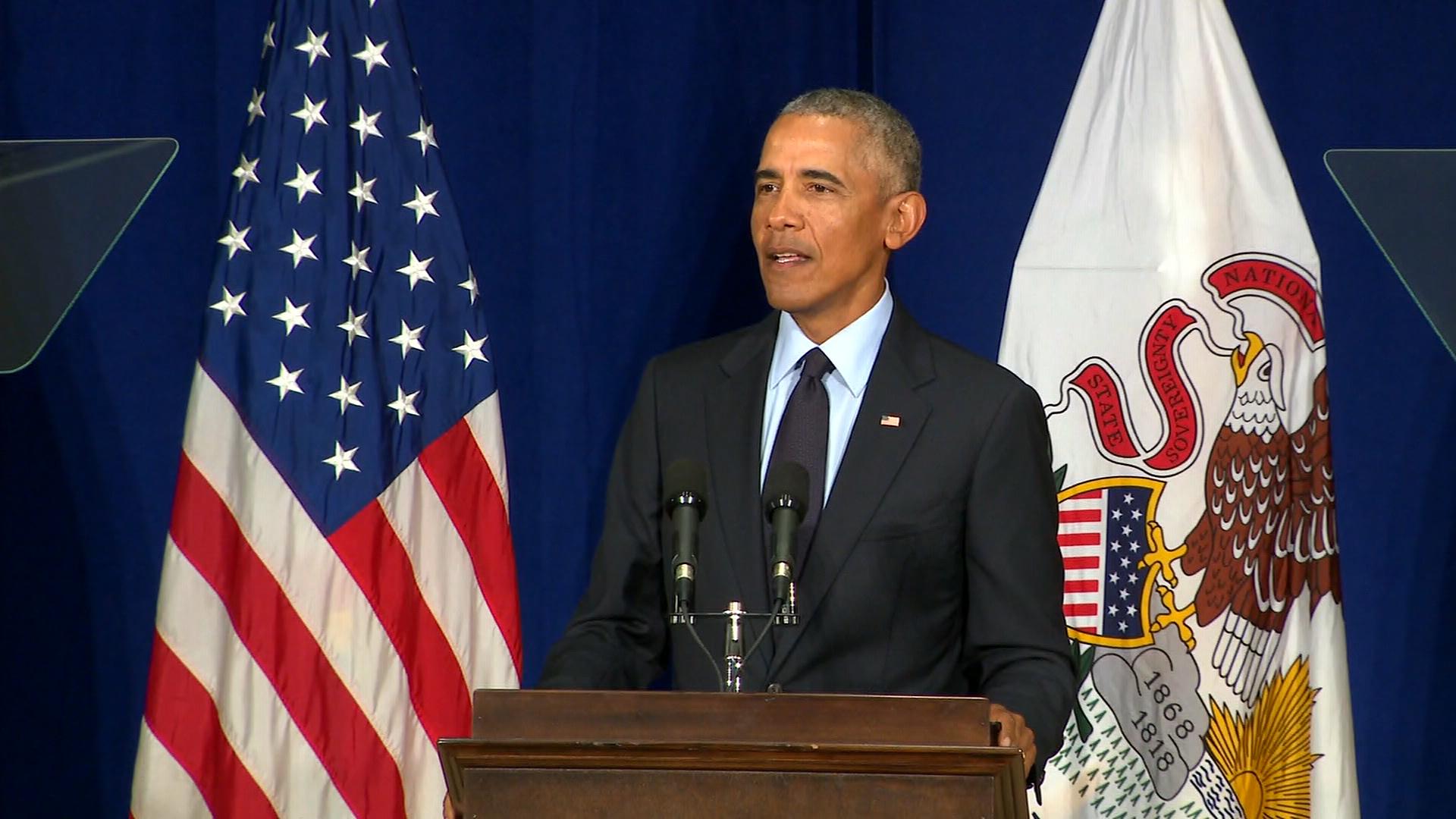 "What happened to the Republican Party?" former President Barack Obama asked during a speech Friday, Sept. 7, 2018 in Urbana, Illinois.
"It's good to be home. Good to see corn, beans," former President Barack Obama said Friday as he greeted a packed auditorium at the University of Illinois Urbana-Champaign before launching into a fervid tirade against President Donald Trump and Republican Party elites, who he accused of manufacturing discord, embracing "wild conspiracy theories," rejecting science and facts, and appealing to tribalism and fear "because it helps them maintain the status quo and keep their power and their privilege."
"It did not start with Donald Trump. He is a symptom, not the cause," Obama said.
It was the first time since leaving the White House that Obama has taken direct aim Trump, and he did so in ardent fashion.
The former president used the opportunity to try to energize the friendly, rapt audience into action, warning of the threat cynicism and indifference have on democracy.
"You need to vote because our democracy depends on it," he said.
The speech came as the midterm election cycle is beginning to heat up, and is a likely a precursor to a message Obama will take on the campaign trail as Democrats attempt to wrest back control of Congress.
"Demagogues promise simple fixes to complex problems," Obama said, and "they'll promise to fight for the little guy, even as they cater to the wealthiest and most powerful. They'll promise to clean up corruption and then plunder away. They start undermining norms that ensure accountability and try to change the rules to entrench their power further. And they appeal to racial nationalism that's barely veiled, if veiled at all. Sound familiar?"
It's a strategy as old as time, Obama said, and one that has been employed by both parties throughout history.
"But over the past few decades, the politics of division and resentment and paranoia has unfortunately found a home in the Republican Party," Obama said. "(Republicans in Congress) seem utterly unwilling to safeguard the institutions that make our democracy work."
He warned Democrats and wary Republicans to take no solace from the anonymous high-level Trump official who recently penned an op-ed published in the New York Times about an internal resistance.
"That's not how things are supposed to work. This is not normal. These are extraordinary times. And they're dangerous times," Obama said.
Trump told supports at a campaign stop in North Dakota that he "fell asleep" watching the speech.
Political observers had previously taken to speculating what was behind Obama's hesitation to speak out against a successor seemingly fixated on upending his policies and legacy. 
In spring 2017 Obama rebuffed a public invitation from UIUC students to speak at commencement.
"I hear there was speculation that I was boycotting campus until Antonio's Pizza reopened," he said referencing a now-defunct local late-night food joint. "Truth was, I was also intent on following a wise American tradition of ex-presidents gracefully exiting the political stage, making room for new voices."
Obama was in Urbana to receive the Paul H. Douglas Award for Ethics in Government.
"While I could focus on the areas in his speech where I disagreed or make my own criticisms of the other side, I believe it's better for our country and for students to hear about where Democrats and Republicans have worked together. Opportunities for Americans to hear about the bipartisanship that exists in Washington are rare, but worthy of attention," Republican U.S. Rep. Rodney Davis, whose district covers the Champaign-Urbana area and was present for the event, said in a statement. 
Follow Amanda Vinicky on Twitter: @AmandaVinicky
---
Related stories:
Obama, Mayors Resist Trump on Climate Change at Chicago Summit
Barack Obama: 'I'm Always Optimistic' About Future of US
Revisiting Elizabeth Brackett's Award-Winning Profile of Barack Obama
---