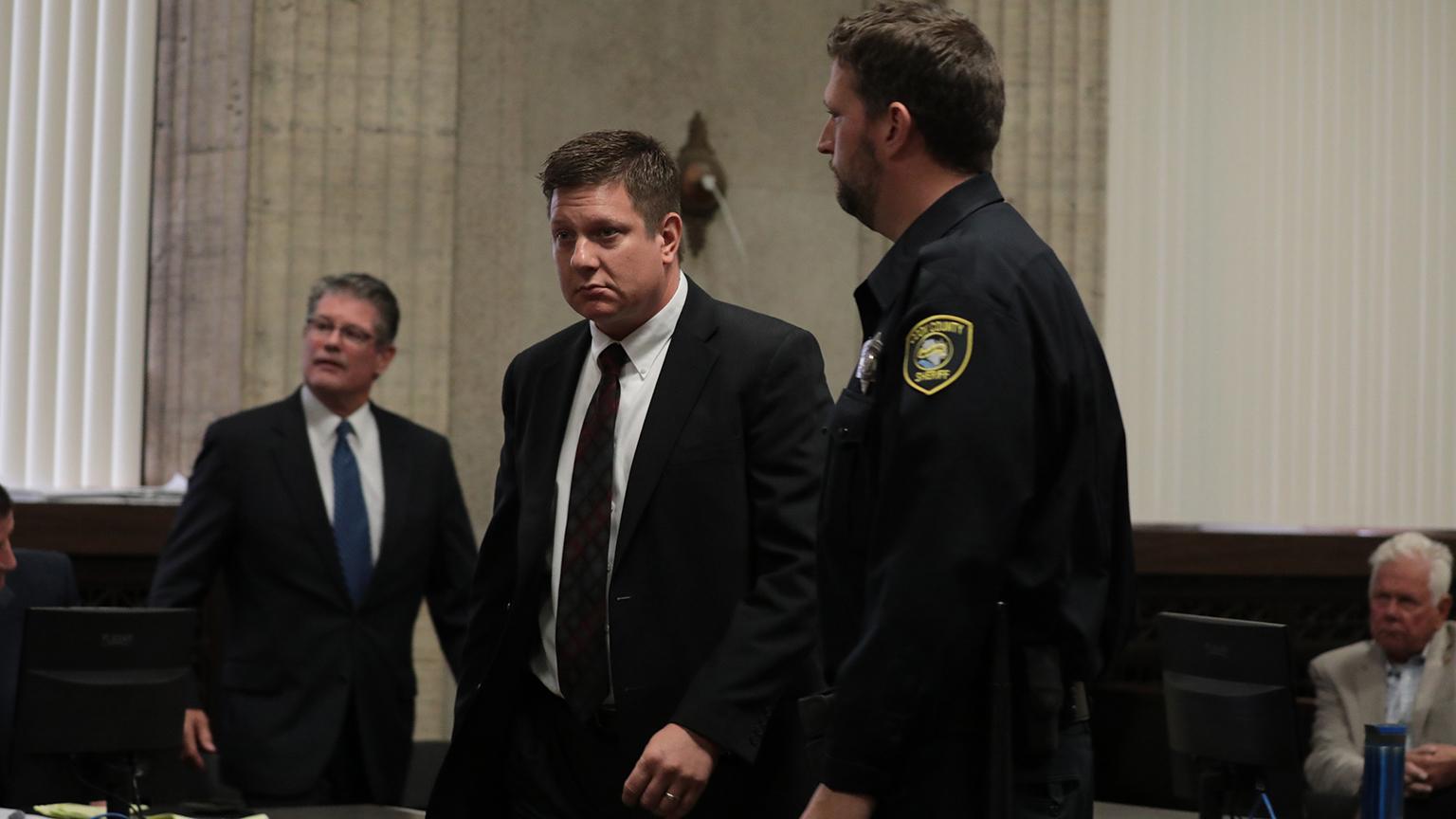 Sheriff's deputies escort Chicago police Officer Jason Van Dyke from the courtroom Thursday, Sept. 6, 2018, after Judge Vincent Gaughan's ruling that ordered Van Dyke's bail be raised only slightly for giving an interview to the Chicago Tribune and a local TV station just days before jury selection was set to begin in his murder trial. (Antonio Perez / Chicago Tribune / Pool)
Former Chicago police Officer Jason Van Dyke will not spend more time in jail for giving interviews with local media.
Van Dyke, who is facing first-degree murder charges in the 2014 fatal shooting of Laquan McDonald, recently broke his yearslong silence when he spoke on the record with the Chicago Tribune and Fox 32.
Prosecutors had argued in giving the interviews, Van Dyke violated a judge's order to remain silent about the case.
In a court hearing Thursday, Van Dyke's defense attorneys argued he gave the interviews because of the avalanche of publicity against him since 2015, when police dashcam footage showing the fatal shooting was released to the public.
The defense said their client was just trying to protect himself and his family, and that McDonald's family has spoken to the media in an attempt to "spoil the jury pool."
Cook County Judge Vincent Gaughan said Van Dyke's media interviews did violate a condition of his $1.5 million bail, but rather than revoke it, as prosecutors requested last week, he increased that amount by $2,000.
Van Dyke was taken into custody, but released after paying 10 percent of his bail – $200.
Jury selection in the case began Wednesday and is expected to resume early next week.
Follow Brandis Friedman on Twitter @BrandisFriedman
---
Related stories:
Van Dyke Case: Protesters Call for Justice as Murder Trial Begins
Van Dyke Case: McDonald Family Calls for Peace as Trial Set to Begin
Van Dyke Case: Who's Who in the High-Profile Murder Trial
Van Dyke Case: Prosecutors Want Bail Revoked After Officer Speaks Out
---