For the third time this summer, activists used major roadways in an effort to shine a light on the violence plaguing Chicago's South and West Sides.
Unlike the July march when protesters took over the busy Dan Ryan, and the August march in which protesters closed off Lake Shore Drive in both directions during rush hour, activists on Monday failed to shut down the Kennedy Expressway headed toward O'Hare Airport.
And this time, police didn't let it slide. They arrested 12 people who tried to march on the Cumberland entrance ramp onto the Kennedy.
Chicago Police First Deputy Superintendent Anthony Riccio said an important distinction came into play.
"We cannot allow an airport to shut down. An airport is a hardened (target). You have to remember an airport is a big terrorist target," Riccio said at a press conference. "We have security protocols in place. We can never allow an airport to be shut down. There's federal implications. There's federal charges involved for anybody that would try to obstruct commerce at an airport or people coming and going."
State police say they'd previously presented organizer the Rev. Gregory Livingston with alternate options and had been clear about their plans going into Monday.
"We fully support the First Amendment right to peacefully assemble, so long as it does not put the safety of the public in peril," state police director Leo Schmitz said in a statement.
Illinois State Police as Rev Livingston begins march: "It is against state law to be a pedestrian on the interstate roadway." pic.twitter.com/LrFhf9kA0T

— Amanda Vinicky (@AmandaVinicky) September 3, 2018
---
"We're inconveniencing some people. I hate to do that. But it's a sacrifice to inconvenience people. It's a sacrifice to make them uncomfortable. It's a sacrifice to be misunderstood and disliked. But I'm a pastor, I'm a minister. This a holy sacrifice because we're standing in the blood of the slaughter in Chicago," Livingston said. "So in the tradition of (Martin Luther) King (Jr.) and (Mahatma) Gandhi and (Nelson) Mandela and Jesus Christ I don't mind – I'll speak for myself – sacrificing my freedom so someone else can experience a better life."
While the ordeal may have been a hassle for commuters – police blocked the on and off Cumberland ramps before the noon march and kept them blocked until just before 2 p.m. – Illinois State Police Major David Byrd described it as "respectful on both sides" and "professional" on both sides.
As an estimated 40 to 60 protesters – surrounded by roughly as many media – walked toward state police lined across the on ramp, one trooper yelled into a megaphone: "This is the Illinois State Police. It is illegal to be a pedestrian on the interstate roadway. Please turn around."
"No!" Livingston said, before leading a short chant of "Ain't nobody gonna turn us around. Gonna keep on a' walkin."
He went on to ask allies to remain peaceful, and warned anyone to step aside if they didn't want to be arrested; he instructed those willing to get arrested to line up, single file.
One man held his wrists out to police, but they did not place him in handcuffs. Troopers gave everyone the opportunity to pass off their belongings before taking them into custody.
Everyone apprehended was released by mid-Monday afternoon. They received citations for "a pedestrian on a roadway" and had to pay $120 fines. 
Mary Shapiro was one of the handful arrested about an hour ago for walking onto the Cumberland ramp. Shapiro only wanted to share that she lives in the 41st Ward and is at the #KennedyShutdown out of solidarity; she says it isn't her protest to lead. @wttw #chicagotonight pic.twitter.com/W0iUVLuT8M

— Amanda Vinicky (@AmandaVinicky) September 3, 2018
---
Mayoral candidate Willie Wilson's campaign in a press release expressed his sympathy for the cause. Wilson's spokesman said he offered to pay bail for those arrested at the protest, but by the time a campaign surrogate arrived to make good on that promise, it was already too late.
Another mayoral challenger, former Chicago police Superintendent Garry McCarthy, took the opposite tact, saying in a press release, "This time law enforcement did what it should have done during the previous incidents; they arrested those who attempted to break the law."
"While I support their right to protest, I cannot condone their illegal actions of walking onto busy highways. The truth of the matter, they should not have to resort to this," McCarthy said in a statement.
Getting Mayor Rahm Emanuel to resign is one of Livingston's demands. "End the tale of two cities. Let's desegregate the resources, let's desegregate the people. This is killing our people. This is not a fairy tale but it's reality and facts, that the resources are not being allocated equitably," Livingston said Monday. "So what we're saying is, we need to have the right people at the table having transactional conversations with money people like (Emanuel advisor and Grosvenor Capital CEO Michael Sacks), and the mayor of course, to allocate these things in such a way that makes a difference."
Livingston leads the social justice group Coalition for a New Chicago and is a pastor at the New Hope Baptist Church.
The delicately choreographed dance between law enforcement and activists went haywire after the arrests, as the remaining protesters took to the sidewalk leading to the CTA Cumberland stop, intent on going to O'Hare Airport.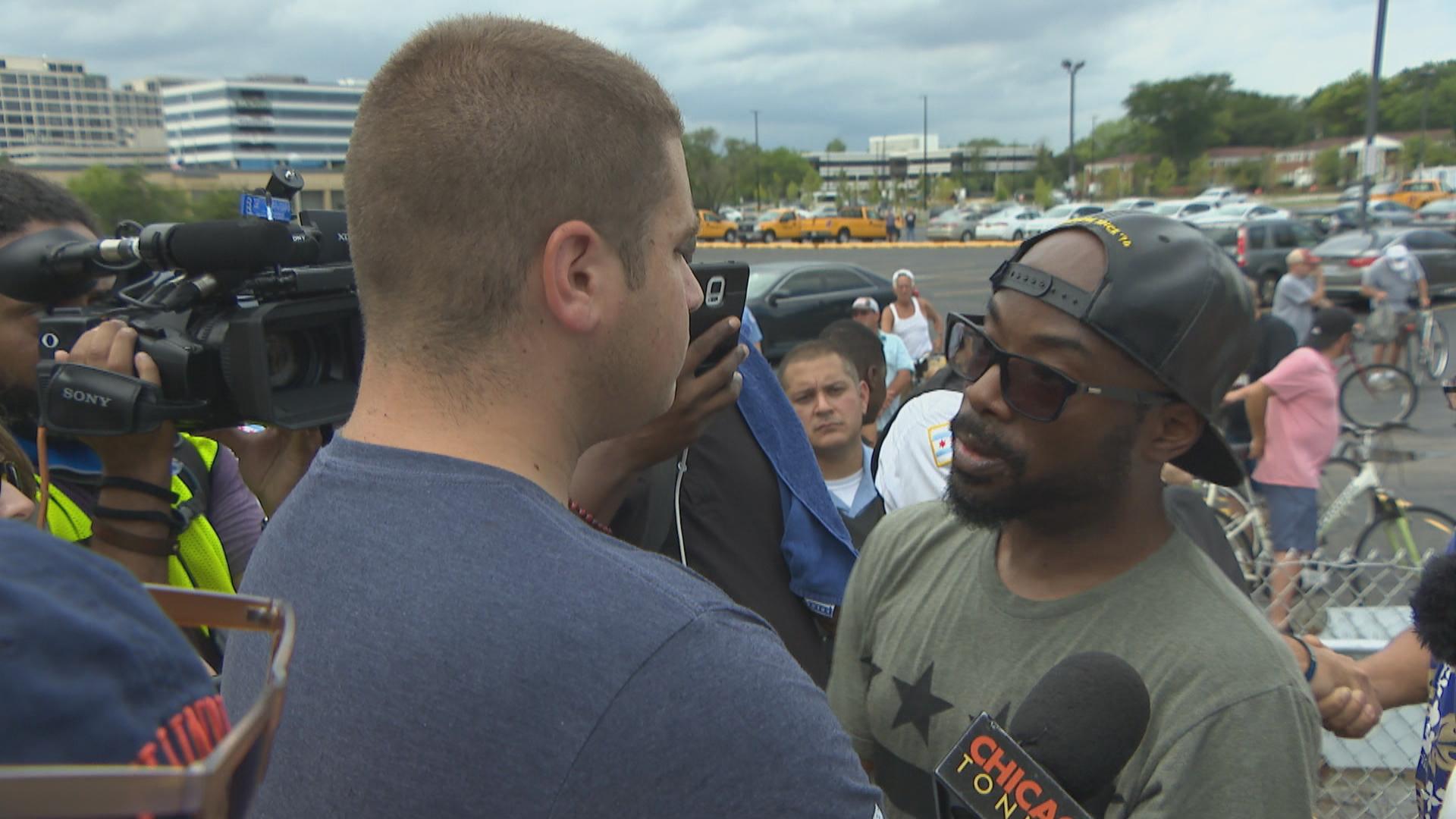 Protester Brian Blaze Roberts, right, of Woodland, challenges a man at the protest who said he does not live in Chicago.
A man who refused to identify himself, but who said he is a college student and is not a Chicago resident, walked in the front but shouted out of sync with the rest of the group. The man said he was there because he disagrees with the tactic of trying to cut off access at O'Hare; when confronted, he said he wanted to engage in serious discussions about anti-violence.
Woodland resident Brian Blaze Roberts challenged him, saying his actions at the protest were totally disrespectful.
"This is real. People out there shooting, you understand what I'm saying? We don't have grocery stores. We don't have the luxury to come out, walk down the block, drink Starbucks, walk our little dogs," Roberts said. "We're trying to bring attention to people in power." 
Livingston and his allies say they accomplished just that, despite their failure to actually shut down the Kennedy or the airport.
"You're not going to turn around a legacy of segregation in four of five weeks. That's why we're building an infrastructure to go up against the powers, because the people need to be saved," Livingston said.
Black Lives Matter Women of Faith member Carolyn J. Ruff said activists can't give up.
"A lot of things were accomplished. Look at all the people out here following this protest. That's accomplishment right there," she said. "We have to keep the movement going."
Follow Amanda Vinicky on Twitter: @AmandaVinicky
---
Related stories:
Will Protesters Defy Police and Shut Down the Kennedy Expressway?
Shootings, Protests and 'Bait Trucks' Inflame Police-Community Tensions
As City Adds Cops, Communities Call for More Comprehensive Solution to Violence
Protesters Take to Lake Shore Drive for Rush Hour March to Wrigley
---