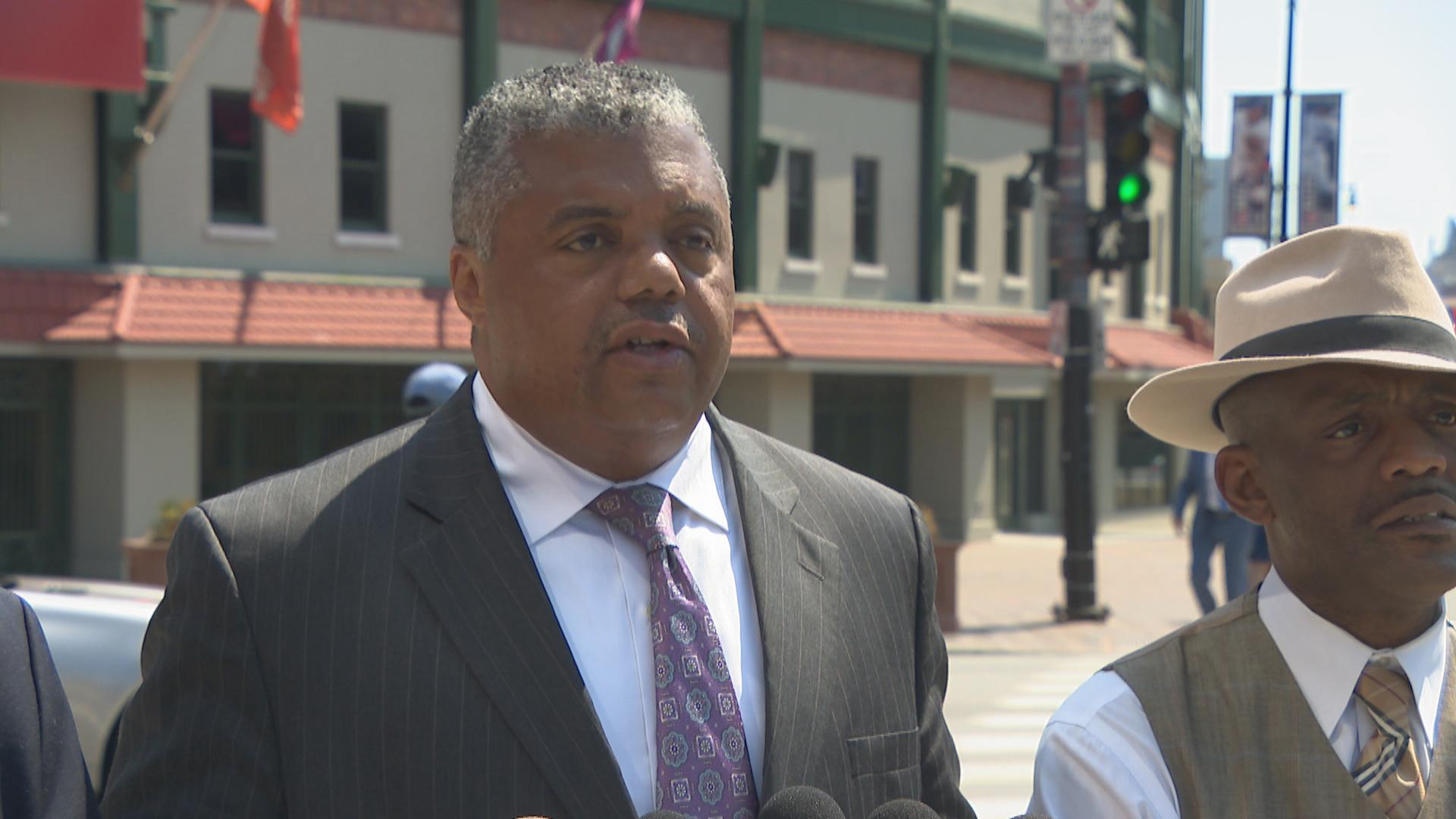 The Rev. Gregory Seal Livingston on July 24, 2018 announces plans for an anti-violence protest Aug. 2 along Lake Shore Drive. (Chicago Tonight)
Police say there'll be no tolerance for traffic disruptions this Labor Day – a preemptive warning to organizers planning to shut down portions of the Kennedy Expressway as a protest against Chicago Mayor Rahm Emanuel, and a possible attempt to assuage worried travelers that they'll have trouble getting to O'Hare Airport on a holiday.
"Traffic will be uninterrupted," Illinois State Police Commander David Byrd said at a Friday press conference. "We're prepared for all contingencies. So arrest contingencies are in place … but that's not our goal. Our goal is not to make an arrest, but we're prepared for all purposes, all contingencies."
Byrd says he'd had a "great conversation" with protest organizer the Rev. Gregory Livingston, and presented Livingston with options.
Byrd declined to elaborate on those options, save for one. "One option is not walking on the expressway," he said.
Livingston and his Coalition for a New Chicago plan to begin their #OHareSHUTDOWN with a staging at the Cumberland Avenue entrance ramp at 11:30 a.m. Monday. At noon they plan to march onto the Kennedy Expressway toward River Road. Livingston said Friday he hopes to have enough people to stretch across all lanes of traffic and to block the River Road ramp.
---
"We're not asking for permission. This is an act of civil disobedience in the spirit of Martin Luther King Jr. and Mahatma Gandhi," Livingston said. "This goes at a major center of commerce. O'Hare Field is not just travelers. It's cargo, it's workers, it's contractors, it's airlines. Entities, we believe, have Mayor Emanuel's ear. We want his ear so we can get some action done."
In addition to calling for Emanuel's resignation, the group's demands for more investment on the South and West Sides of Chicago, additional funding of black-led anti-violence initiatives, community involvement in the city's negotiation of a new contract with the Fraternal Order of Police and a statute that guarantees African-Americans make up 20-percent of the workforce on construction projects.
Livingston said Emanuel's Black Community Liaison Vance Henry reached out to him earlier this week, but that he declined. Livingston wants a face-to-face meeting with the mayor himself, and Emanuel campaign donor and advisor Michael Sacks, the CEO of Grosvenor Capital Management.
"(Vance)'s not a decision-maker. People are literally dying. Blood is flowing. We don't need to talk to an intermediary. We're citizens. The mayor can talk to us," Livingston said.
Monday's march will be the third time activists this summer have attempted to get attention by bringing traffic to a standstill. Thousands led by the Rev. Michael Pfleger shut down the inbound Dan Ryan in early July. In early August, Livingston and Violence Interrupters CEO Tio Hardiman led a smaller group of activists in shutting down lanes in both directions of Lake Shore Drive near Wrigley Field during rush hour as a way to "redistribute the pain" of violence that primarily takes its toll on minority residents of the South and West Sides.
Police largely tolerated – even worked with – organizers of those events, perhaps setting a precedent.
Livington's already watching for a double standard. "We did say to (local and state police): 'Whatever you allowed a white Catholic priest do, we hope you would extend the same courtesy to a black Baptist preacher,'" he said.
Chicago Police Superintendent Eddie Johnson on Friday said that while he supports anti-violence efforts, "those are illegal things, illegal activities that they want to partake in. Let's not forget that shutting down expressways is illegal," Johnson said. "Okay? So that's number one. You start talking about shutting down operations at O'Hare Airport, now we going to federal issues in terms of doing that. Those things are illegal."
Follow Amanda Vinicky on Twitter: @AmandaVinicky
---
Related stories:
Shootings, Protests and 'Bait Trucks' Inflame Police-Community Tensions
As City Adds Cops, Communities Call for More Comprehensive Solution to Violence
Protesters Take to Lake Shore Drive for Rush Hour March to Wrigley
---