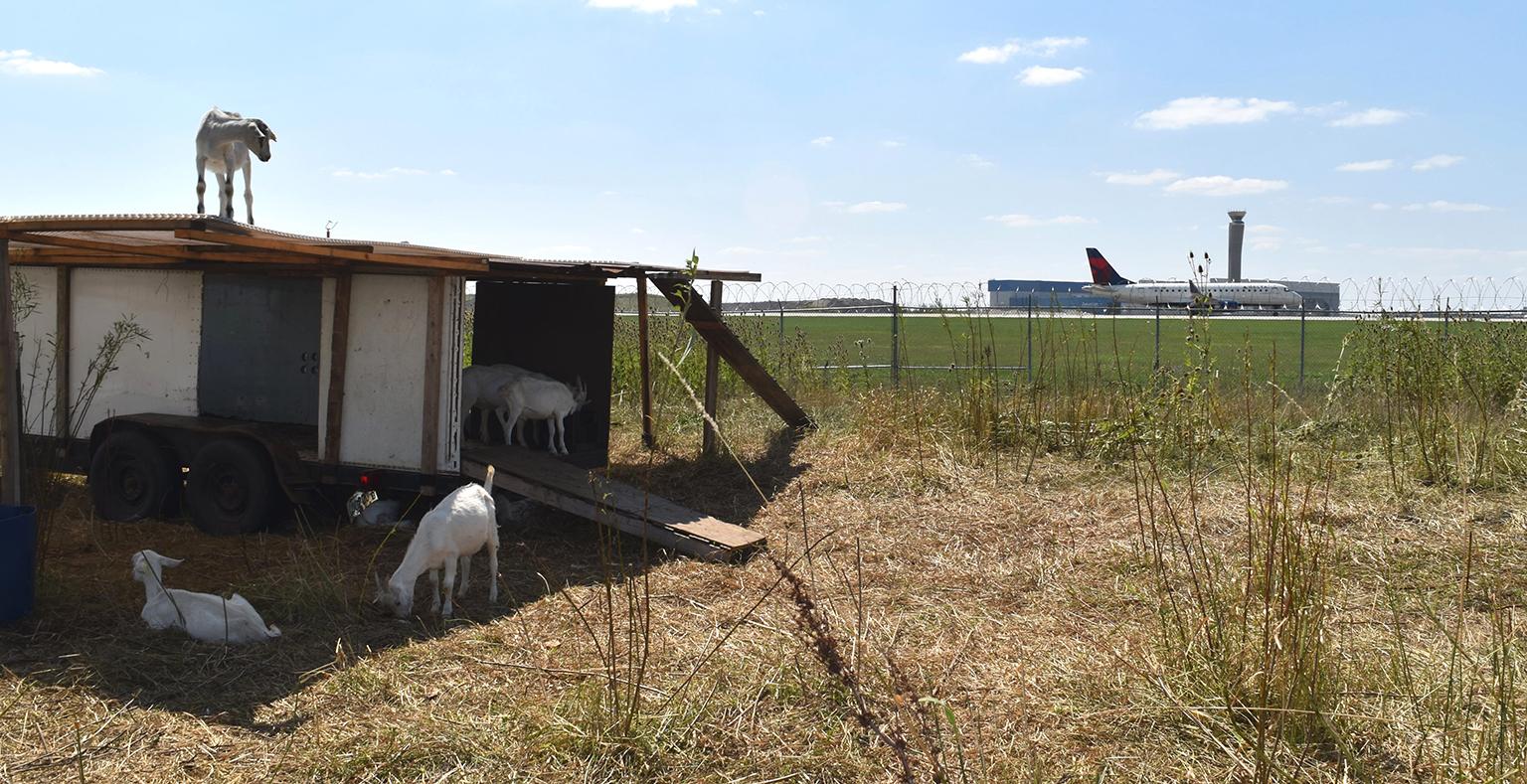 Goats help clear vegetation near the airfield at O'Hare International Airport. (Courtesy Chicago Department of Aviation)
A grazing herd of goats, sheep and a single donkey returned to O'Hare International Airport this week as part of an effort to manage vegetation on 16 acres of land on the west side of the airfield.
The herd will be on hand for at least several weeks to help clear overgrown and invasive vegetation – including tall grasses – that often harbor wildlife near runways, which can pose risks to aircrafts during takeoff.
The initiative began as a pilot program in 2013 and is now in its fifth year. Chicago Department of Aviation officials said the 30-animal herd serves as a sustainable means for maintaining green space and safe conditions near the airport. The program also helps to eliminate air pollution that would be created if lawnmowers were used instead, officials said.
This year's vegetation management initiative, conducted in partnership with the U.S. Department of Agriculture, comes as O'Hare prepares to undergo an $8.5-billion expansion that will include dozens of new gates and additional concourses.
A donkey roams on land to the west of the O'Hare airfield. (Courtesy Chicago Department of Aviation)
"We are committed to embracing environmentally-friendly alternatives to ensure our airports have a positive impact on the surrounding ecosystem as we grow in the next several years," said Department of Aviation Commissioner Jamie L. Rhee in a statement.
The grazing herd will remain at the airfield through fall or until the vegetation is fully cleared, according to the Department of Aviation.
In addition to the 16 acres west of O'Hare's airfield, the herd will also graze on about 35 acres of land along the embankments of the Willow-Higgins Creek just north of the airport.
Contact Alex Ruppenthal: @arupp | [email protected] | (773) 509-5623
---
Related stories:
O'Hare Airport Home to Goats, Llamas, More
Hardworking Canines at O'Hare Sniff Out Drugs, Contraband
Aviation Official Ginger Evans on $8.5 Billion O'Hare Expansion Plan