The Jackson Park Yacht Club on Chicago's South Side doesn't run the only sailing camp in the city, but it may be the most diverse. "We used to have a junior sailing program for many, many years," Yacht Club Commodore Karen Harris said, "and then it went defunct in the 1980s. So I really wanted to make sure that we brought it back to life."
One reason, Harris says, is that the sport needs new sailors. But they have another goal: to broaden the reach of a sport that is generally white and affluent.
Harris, who is African-American and has been sailing since she was a child, says this year they also offer scholarships. Of the 132 kids in camp, nearly two-thirds are on full scholarship. "The kids themselves don't know who's on scholarship and who's not on scholarship," Harris said, "nor do the instructors." 
Camp director Johnny Mercer grew up sailing off the coast of England. "A lot of the kids we get have absolutely no contact with the lake at all," he said. "They've never seen the lake; they've never been in the lake. And so even just getting them in the water for the swim test on the first day is very difficult."
And yet by the end of a two-week session, they have learned to rig and sail a small boat.  
"At first I thought that I was going to be like the worst sailor ever," remembers camper Isabel Gandarilla, "but then when I got onto the water it was actually pretty fun. And relaxing to me."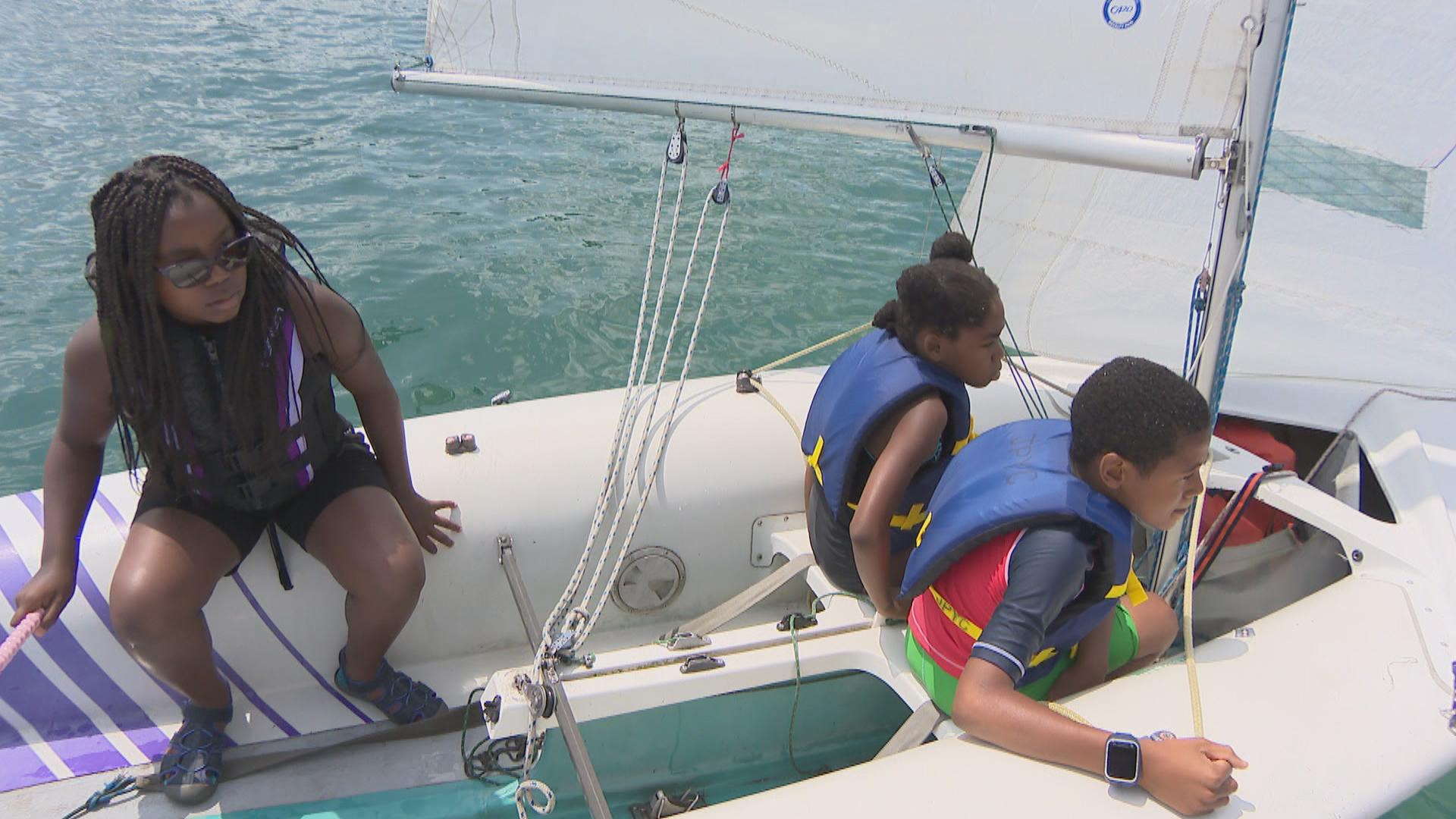 "They need to understand the wind," says Mercer. "(They) need to understand the fundamentals of the wind and how the wind powers a boat."
Sailors call it "points of sail."
Camper Gaby Wright explains: "Points of sail is based on the direction you're going and where the wind is coming from. And in certain directions of wind, there's certain ways you have to have your sails. And if you're pointing straight into the wind you can't go anywhere."
The campers also do safety drills, like rescuing a "man" overboard (it's actually a spare life vest). On hot days, the campers' favorite is the capsize drill, where they flip the boat and must learn to right it.
Aside from learning the skills of sailing, says Mercer, sailing teaches teamwork and respect for nature.
"If they respect mother nature, and they respect what the lake can do to them," he says, "then they respect us -- because they know we're the people that can actually give them the skills that it takes in order to be out in the lake."
According to Harris, Chicago has the largest community of African-American sailors in the country. Three quarters of JYPC members are black. And they encourage people to join who do not own boats.   
"There's still the misperception that sailing is a very expensive sport," says Harris, "that you have to own a boat to be member of a yacht club." She says dues are much lower if you don't own a boat – and then you have plenty of opportunities to sail on other people's boats.
---
Related stories:
Black Sailors in Chicago Chart a New Course
Why Are There Fewer Boats in Monroe Harbor?
10 Things About Chicago Beaches You Might Not Know
---