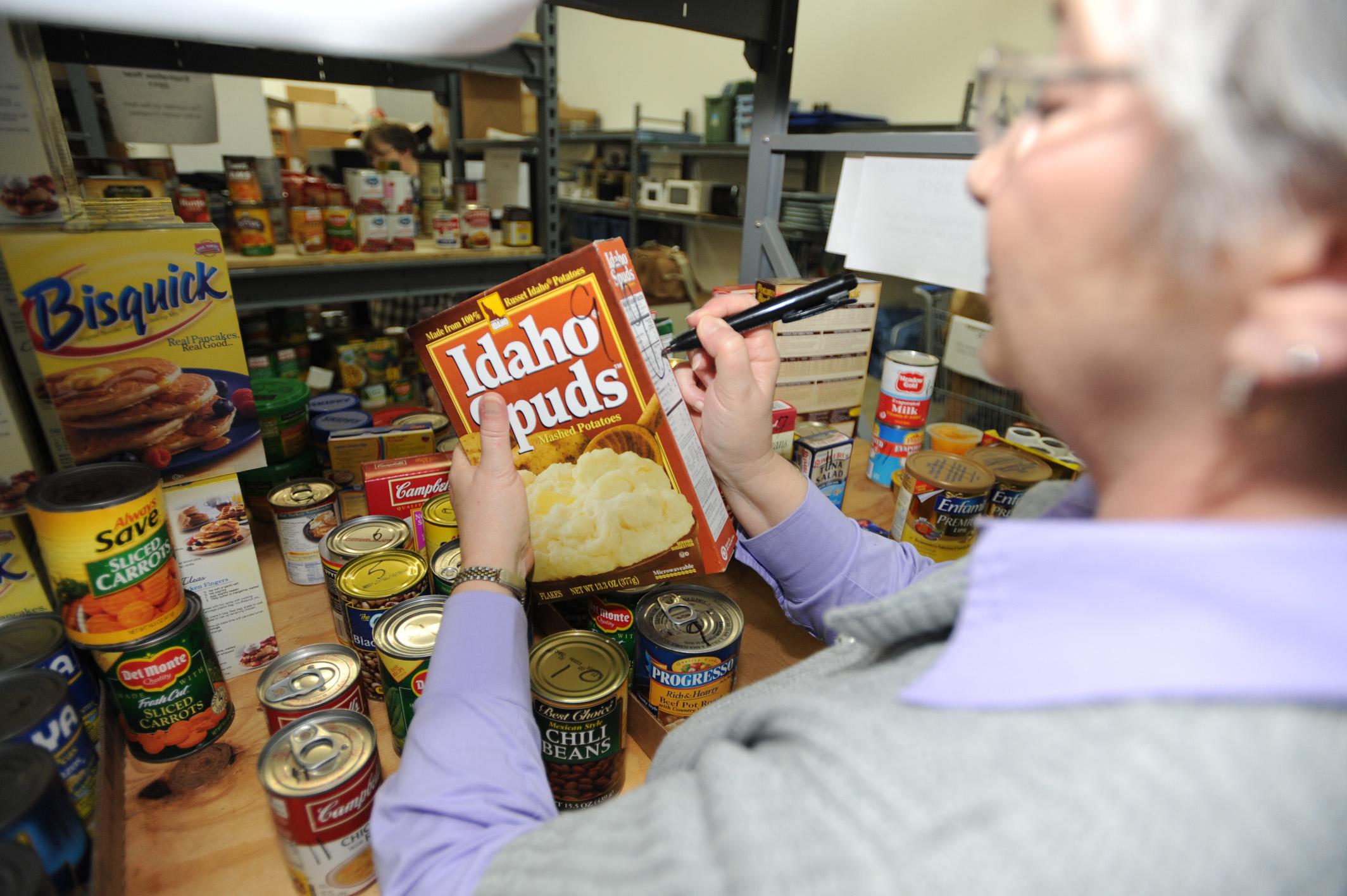 A staff member stocks the shelves of the food pantry at the Airman Family Readiness Center at Whiteman Air Force Base in Missouri. (U.S. Air Force photo By Airman 1st Class Carlin Leslie)
A new law aims to make it easier for state agencies in Illinois to donate leftover food, which advocates say will help reduce waste and feed hungry residents.
On Friday, Gov. Bruce Rauner signed into law Senate Bill 2606, which requires state agencies to craft food donation policies by the end of the year.
Agencies were already required under existing law to sign food service contracts that allowed for donations. But despite being permitted to donate food, agencies have been less likely to do so without a clear plan in place, said Jen Walling, executive director of the Illinois Environmental Council, which helped craft the bill.
Under the new law, agencies must formulate food donation policies that outline nearby food pantries, soup kitchens and other organizations that accept donations. Walling said the law will be especially helpful to agencies that run hospitals and corrections facilities, where the population can vary from day to day.
"It can be difficult to estimate how many people are going to be in that facility in one day because it is a very fluctuating population," Walling said in a statement. "So, that's where providing these options to make sure the food doesn't go uneaten is really important."
According to the nonprofit Feeding America, one out of every eight Illinois residents – and one in six children – struggles with hunger.
Nearly 3 million tons of food ends up in Illinois landfills each year, according to the Illinois Environmental Protection Agency. When discarded food decomposes, it produces methane, a powerful greenhouse gas that is 25 times more harmful than carbon dioxide.
The bill was introduced by first-term state Sen. John Curran, R-Woodridge.
"This change to our procurement code is environmentally friendly and helps prevent Illinois from adding unnecessary waste to the already-overflowing landfills," Curran said in April.
Contact Alex Ruppenthal: @arupp | [email protected] | (773) 509-5623
---
Related stories:
Illinois Bill Would Help Agencies Donate Leftover Food