There's a telescope under construction in Chile, and it's slated to be the world's largest – if it's completed in time.
The Giant Magellan Telescope, or GMT, is part of a new class of instruments called extremely large telescopes – and it's up against two other projects also aiming to be the world's next biggest telescope.
Such instruments could help identify life beyond Earth.
The first exoplanet, a planet that orbits another star, was discovered in 1995. It was a "hot, star-hugging gas giant" believed to be the size of Jupiter, or 11 times the size of Earth.
Although it was a major discovery, an instrument that can establish the masses and atmospheric characterizations – like carbon dioxide and water – of smaller exoplanets would make an even bigger impact, said Wendy Freedman, the John and Marion Sullivan University Professor of Astronomy and Astrophysics at the University of Chicago.
"We're waiting for something like [GMT] to come online to be able to look at the nearby universe and say, is there life elsewhere outside of Earth?" Freedman said.
Joining GMT in the class of extremely large telescopes: the U.S.-led Thirty Meter Telescope project (TMT), and the 39-meter European Extremely Large Telescope (ELT). They're named after the diameter of their main-light collecting mirror.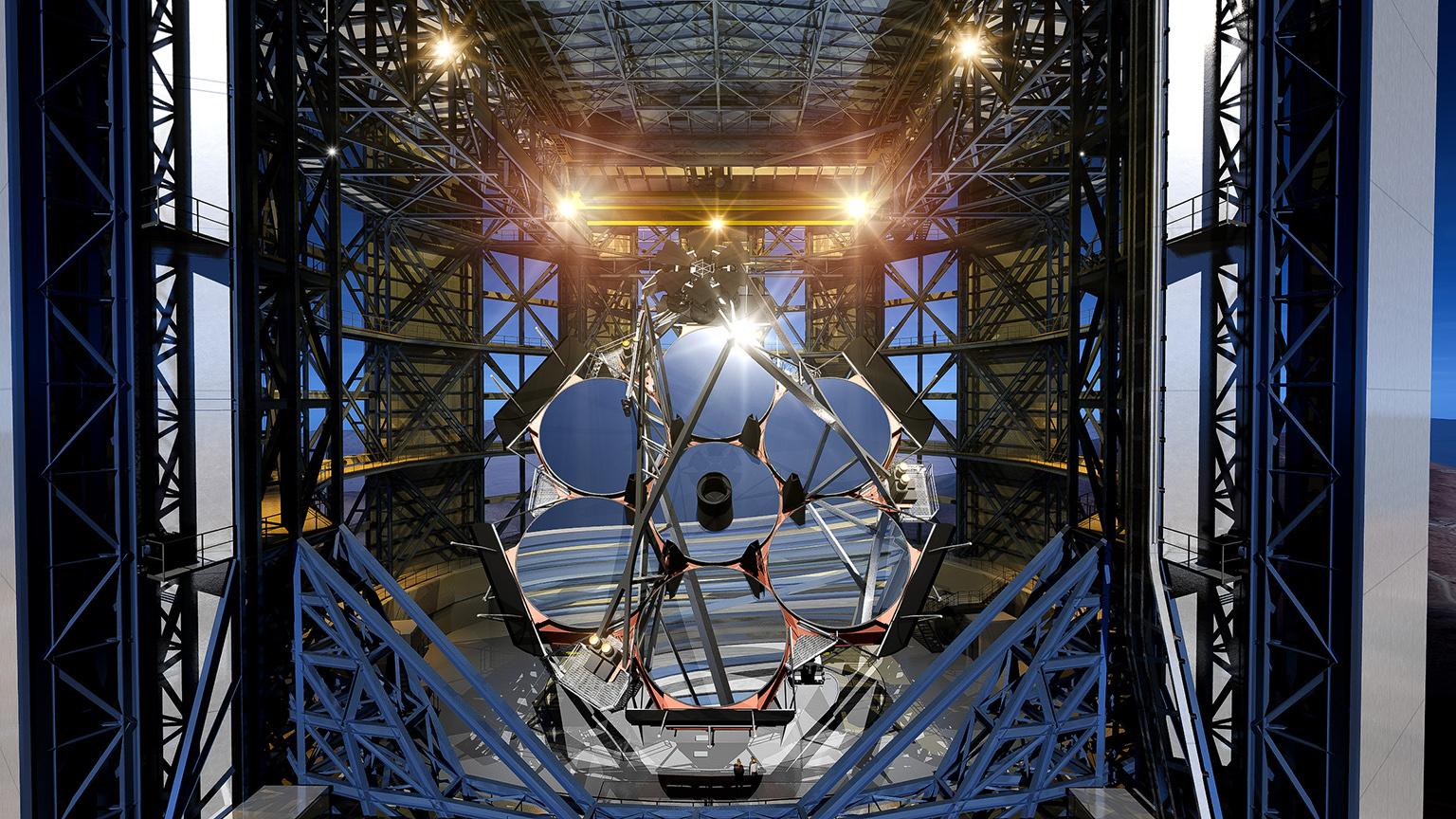 The GMT will consist of seven mirrors, each eight meters in diameter, to make a single optical surface that's 24.5 meters wide. (Giant Magellan Telescope – GMTO Corporation)
When GMT is completed at the Las Campanas Observatory in northern Chile, it will have seven mirrors to form a single optical surface that's 24.5 meters wide; stand as tall as the Statue of Liberty; and have a resolving power 10 times more powerful than the Hubble Space Telescope.
The GMT project launched at the Carnegie Observatories in Pasadena, California, in 2003. It has since acquired an international consortium of partners that contribute research and funding. It's estimated to cost around $1 billion. So far, just over half of the cost has been raised from a variety of sources, including private philanthropists.
GMT is slated to be completed in 2024, but in order to reach that goal, it needs more money – and fast.
"The GMT is poised to be the first of these three extremely large telescopes, so there's a very strong will to try and get on the air quickly," said Freedman, who previously led the GMT project but continues to help with funding efforts.
Project leaders are now working on putting together a case for the U.S. decadal survey, a committee that determines which scientific projects get funding from the National Science Foundation.
Back in May, GMT joined forces with the rival TMT project to increase their chances of getting a grant.
"In any big project, you'd like to avoid the case where you start work and then you don't have enough funding to complete it," Freedman said. "We would like to avoid that, and so I think that the urgency is to make sure that you have in place what you need to move forward and not be in a position where you can't get the additional funds."
Freedman joins us in discussion. 
---
Related stories:
Are We Alone? Giant New Telescopes Could Spot Alien Life
NASA's Mission to 'Our Star' Named After UChicago's Eugene Parker
Mars Glows Bright as it Readies for Opposition, Close Approach
---