Following a weekend charity event held by Chicago mayoral candidate Willie Wilson, Gov. Bruce Rauner announced he will no longer give money to Wilson's foundation.
On Sunday, Wilson handed out nearly $300,000 to 2,000 parishioners at the New Covenant Baptist Church. According to campaign spokesman Scott Winslow, "the bulk of the funds" took the form of pre-printed checks, but Wilson says between $37,000 and $40,000 of cash was also distributed.
Winslow says those who received checks from the foundation had filled out applications for assistance and went through a vetting process. They also needed a form of identification to collect their check, he said.
Rauner, who attended Sunday's event, said he didn't know cash was handed out.
"I learned after the fact and was pretty upset when I heard it was going on," he said Monday in suburban Wheaton.
"As far as I know, no money of mine got handed out to anybody," he said. "If it did, I'm going to demand my money back."
Rauner says he has contributed $200,000 to the Dr. Willie Wilson Foundation within the past year. Wilson said half of that, some $100,000, was used Sunday in the form of checks.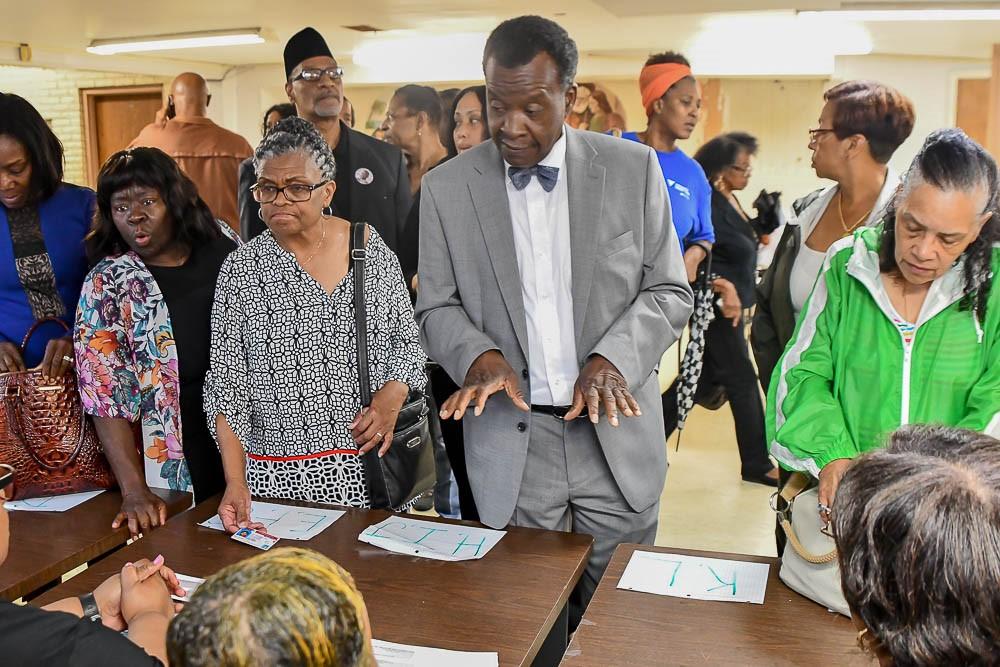 Chicago mayoral candidate Willie Wilson at an event Sunday, July 22, 2018 at the New Covenant Baptist Church. (Courtesy of Wilson Campaign)
The incident has sparked debate over whether Wilson violated election laws. The Illinois State Board of Elections said if the money came from his foundation and not his campaign committee, then it's likely he did not violate the Campaign Finance Act.
"The State Board of Elections does not want to engage in extensive speculation about a situation which could generate a formal complaint for which the State Board of Elections would be the hearing body," public information officer Matt Dietrich said in a statement.
"At this point, no such complaint has been filed," he said.
Wilson said he and his foundation have been holding events like the one Sunday for 20-30 years to help people pay their property taxes.
In the days leading up to Sunday's event, Wilson's charity described the event on its Facebook page "one of the biggest property tax relief assistance of 2018."
"We gave out $50, $100, and some $25 for food and everything like that, some for taxes as well," Wilson said.
Wilson joins Phil Ponce in discussion.
---
Related stories:
Businessman, Philanthropist Willie Wilson Makes 2nd Bid for Chicago Mayor
Emanuel Laps the Ever-Expanding Mayoral Field in Fundraising
Willie Wilson Takes Aim at the White House
---