A new task force is aiming to cut by 50 percent the number of women incarcerated in Illinois.
The task force is made up of 100 women – including former inmates, corrections officials, judges and prosecutors. Notable among them are Illinois Supreme Court Justice Anne Burke and Cook County State's Attorney Kim Foxx.
Leading the initiative is Deanne Benos, former assistant director at the Illinois Department of Corrections who is now the director of the Women's Justice Institute, an organization she co-founded.
"Our prison system is broken," said Benos. "There are too many people in prison, especially for low-level crimes – people that pose no threat to society."
But she says if the system is failing in general, for women the situation is especially bad.
"What just blows you away is that 98 percent of the women (in prison) have experienced either sexual or physical violence," Benos said. "Seventy-five percent have been diagnosed with PTSD."
Benos notes that because there are far more men in prison than women, "the needs women have and they ways they are treated is often overlooked or eclipsed by men."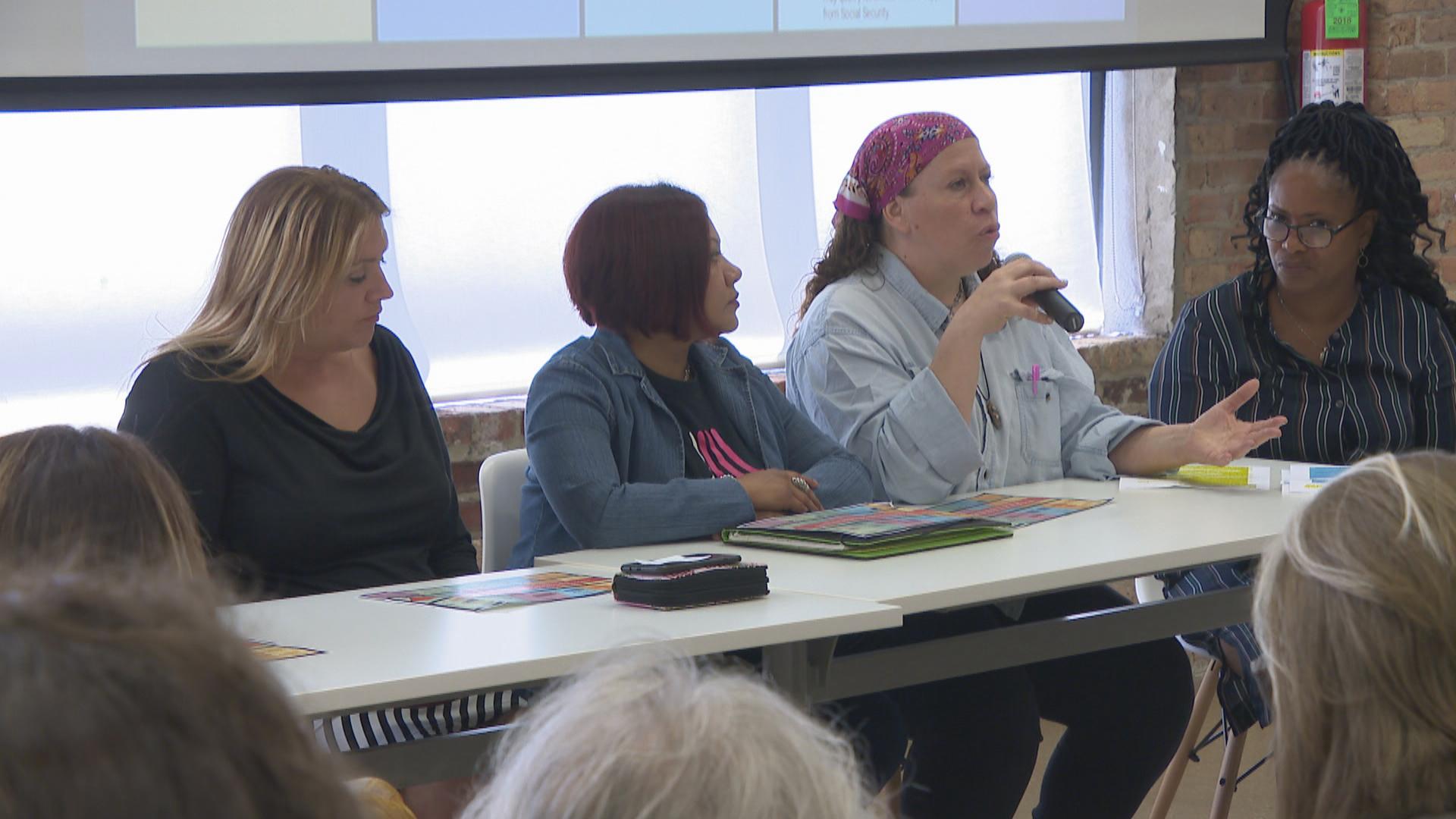 Members of a task force on Wednesday, July 18, 2018, announce a new initiative to reduce the number of women in Illinois prisons.
While at the Department of Corrections, Benos says she was unable to successfully advocate for female prisoners but believes that now the stars have aligned to make real change possible.
A study by the Women's Justice Institute in 2016 identified serious problems at the Logan Correctional Center for female offenders.
"There were very serious issues of safety that were identified," said Benos. "But what was refreshing about that process was that the Illinois Department of Corrections worked with us every step of the way. And they had a number of women in power at IDOC – more than when I was there – who were really making sure that things happened."
As a result of issues identified by that report, last year Gov. Bruce Rauner signed the Women's Correctional Services Act which established new standards for women's prisons in Illinois and mandated comprehensive gender responsive policies that included assistance for women dealing with trauma as well as more family centered policies.
And so far, Benos said there has not really been much pushback.
"Sometimes the political stars align," said Benos. "You had a new governor elected who kicked off with a prison reform commission. The problems at Logan erupted under the prior administration. You had a new administration, the situation of women was elevated – the stars just aligned."
Benos joins Carol Marin to discuss the new task force and its goal of dramatically reducing the number of women in Illinois prisons.
---
Related stories:
Cook County Jail Expands Family Planning, Birth Control Services
Project Examines Pregnancy in Illinois, Cook County Prisons
West Side Clinic Combines Prenatal Care, Substance Abuse Treatment
---