When former U.S. Ambassador Vicki Huddleston met Cuban President Fidel Castro for the first time, he asked if she was somebody's wife. It was 1991, and as Huddleston explains, there weren't many women serving as senior diplomats at the time.
That wouldn't be the only encounter between the two. Years later, Huddleston was tasked with heading the U.S. Interests Section in Havana, a U.S. State Department unit that handled relations between the two countries between 1977-2015. During her post, some of her actions would ruffle Castro's feathers, she said, such as passing out small radios to Cuban dissidents to facilitate their access to information.
Her experiences with the country's government and people are chronicled in a new memoir, "Our Woman in Havana: A Diplomat's Chronicle of America's Long Struggle with Castro's Cuba."
"Admittedly, I feel like this is a women's book," Huddleston said. "It shows how I, as a woman, managed a relationship with Cuba."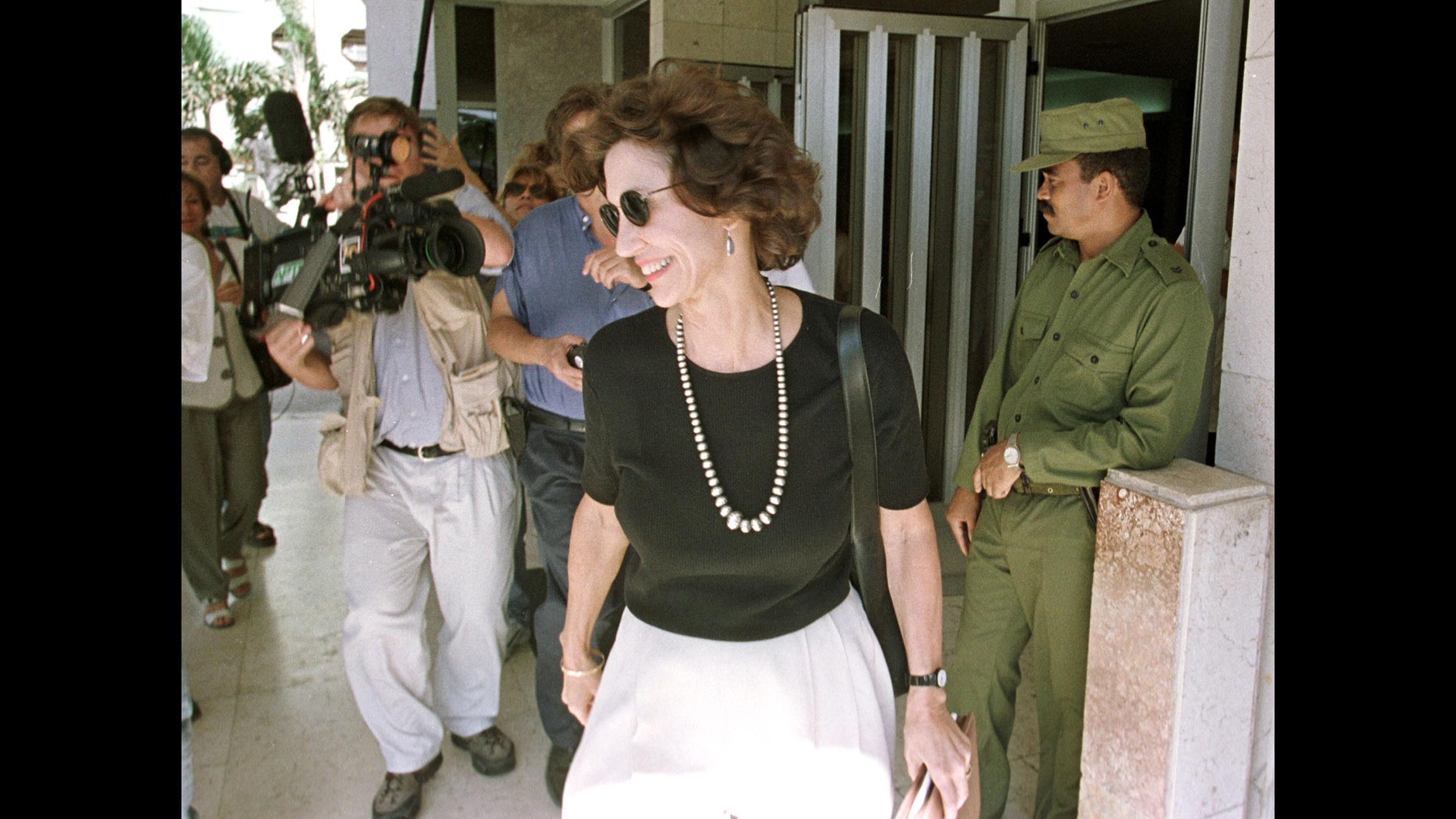 (Courtesy Vicki Huddleston)
Huddleston says she hopes the book will inspire more women to seek leadership roles. She said she's also aiming to reach beyond readers in the U.S.
"In the end, it really is a plea for changing policy for our national interests," she said. "To give the Cuban people a chance to have their own voice in their own country."
Huddleston joins us to share insights from her experiences, as described in her book.
Below, an excerpt from "Our Woman in Havana."
CHAPTER 10
HAVANA, MY AFGHAN HOUND
SOME YEARS AFTER I LEFT CUBA, RICARDO ALARCON, CASTRO'S point man for all things American, said that except for my Afghan hound and my "little radios," I had been a good envoy. It struck me as an amazing admission that a hound dog and the hundreds of small AM/FM/shortwave radios that we had distributed to the Cuban people had unsettled Fidel Castro and the Cuban government! It seemed to me proof that had Cuban Americans engaged rather than isolated Castro, they might have helped unravel the revolution. Humor can be a powerful tool in exposing the follies and foibles of a leader to his citizens, just as Hans Christian Andersen's short tale The Emperor's New Clothes reveals. The emperor in Andersen's story walks through the streets naked believing he is resplendent in a magnificent suit until a child exclaims, "He isn't wearing anything at all." Like the emperor, Fidel's advisers refused to criticize him for fear that they might appear stupid or lose their jobs. But I did openly criticize Fidel, becoming one of the few people who ever publicly challenged or poked fun at Cuba's emperor.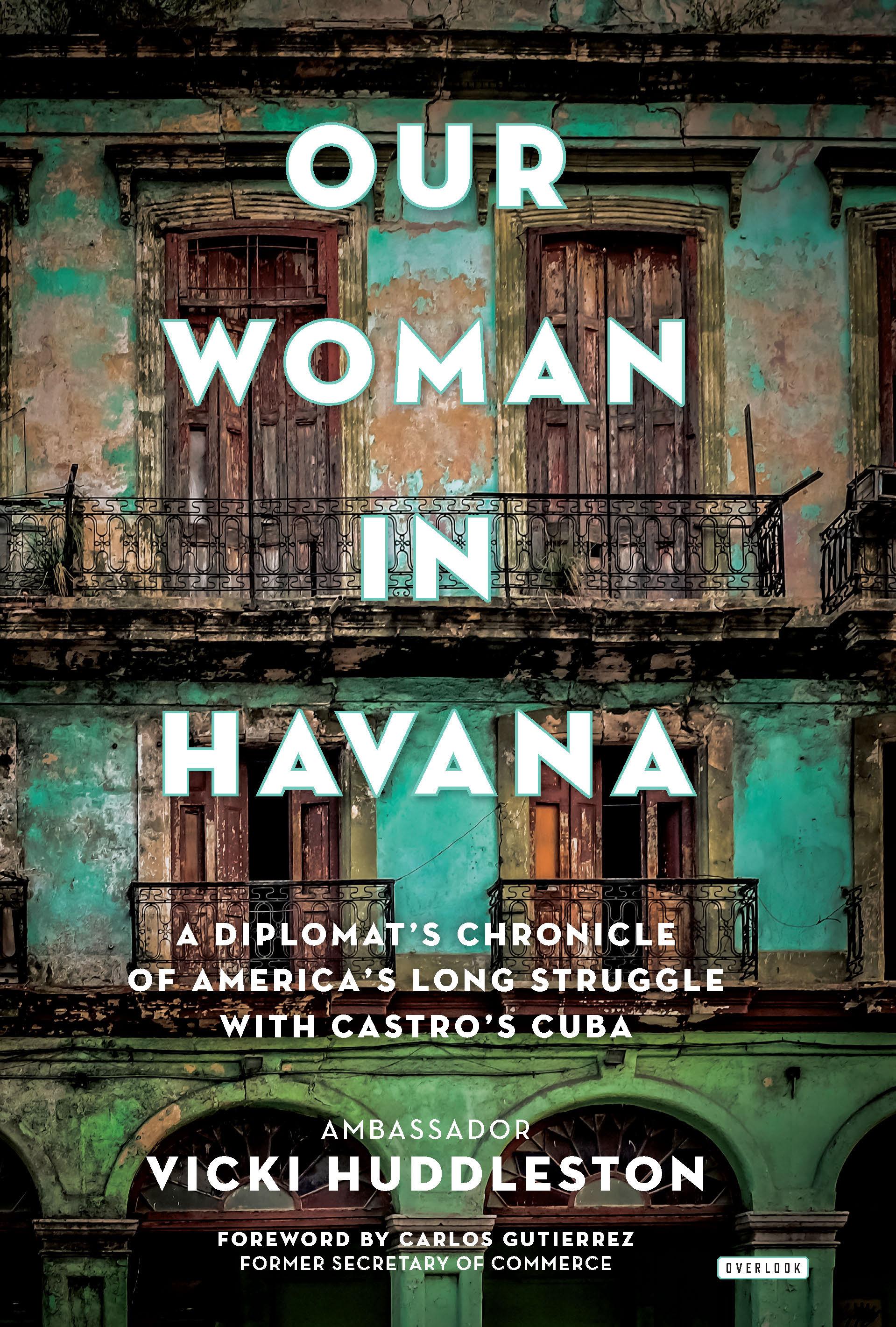 This is the story of how my Afghan hound, Havana, her Afro­ Cu ban trainer Ana Maria Gonzalez, and I made Castro look foolish and back down. I named my hound Havana because she was beautiful, like the city for whom she was named. Fidel would later claim that I had insulted Havana, the city, by doing so, but that was just sour grapes. I don't believe Fidel cared much for either Havana, since he al­ lowed the city to fall into such disrepair during his long reign. In any case, it wasn't an insult. Fidel would treat both Havanas—the  city and the hound—badly and later make amends. He eventually pardoned my hound and belatedly began to restore the city.
Amid the national upheaval that followed the revolution, gangsters and celebrities—like actress Rita Hayworth and her husband Prince Aly Khan, vanished along with Havana's elites. But dog shows and vintage cars remained, providing proud owners and admirers with reminders of stolen pleasures. Cubans loved their show dogs, almost as much as the old American cars they tenderly coddled through the decades. Everyone who has visited Cuba has either seen or ridden in a beautifully restored or still broken-down 1950s Buick, Chevrolet, or other vintage car, which often serve as taxicabs for foreign visitors. But few have seen Havana's international dog shows, complete with judges, ribbons, and Afghan hounds. A few show dog owners come from abroad, but most participants are Cubans from Havana and a few from Camaguey and Pinar del Rio. They often proudly show their dogs on a large vacant lot alongside the Malec6n, which is only partially hidden by a low wall whose blue and white paint has long-ago worn away.
My hound, thanks to her trainer, Ana Maria, was a star in Havana's dog shows until I received a letter from Amalia Castro, president of the Cuban Afghan Hound Association. (I never learned whether she was related to Fidel, but I doubt it.) It began "Distinguida Senora Vicky [sic] Huddleston," and proceeded to tell me that my membership in the Afghan Hound Association had been canceled (my best translation of darle de baja). Amalia claimed that I was unworthy of membership be­ cause of my government's and my hostility and transgressions, which were enumerated as inviting dissidents to my home, the official residence of the chief of the American diplomatic mission in Cuba, and briefing professors and students who had visited Cuba as part of the Semester at Sea program. The letter concluded, "You should understand that your government's and your actions are incompatible with the morale of the Afghan Hound Association."
I had been booted out of a dog club for incompatibility with its morale! Only in Cuba could such a bizarre incident occur. It made no sense whatsoever—that is, it made no sense if taken at face value, but politically it made all the sense in the world. Amalia, possibly Fidel, and certainly the security services thought that they could punish me without leaving fingerprints. They knew that I loved my dog and was protective of her Cuban trainer, Ana Maria. But to their dismay, I was neither angry nor intimidated. I thought the letter was hilarious and should be shared with the public. The office of Cuban affairs, contacted Al Kamen who penned the Washington Post's "In the Loop" column that shares rumors about government officials. He wrote, "The Cuban Regime has gone as low as you can go in communist dogma. Huddleston got a letter yesterday—in the midst of the popular Westminster Kennel Club televised competition, no less—that she and Havana were being expelled from the Afghan hound club of Cuba. Guess if they can't kick Huddleston, they'll try to kick her dog. Hmmm, wonder if her counterpart here, Fernando Remirez, has a dog?"
This set off a minor international media frenzy riddled with canine metaphors. The Miami Herald reported that Charles Shapiro, the director of Cuban Affairs, told them, "We will not retaliate against the (Chief of the Cuban Interests Section) Remfrez's dog, I'm not going to stoop so low as to sniff around that one." And the same day, February 13, 2001, Agence France-Presse picked up the scent: "The United States snarled Tuesday at Cuban attempts at doggie diplomacy, branding as 'Orwellian' the ouster of Washington's envoy from a Havana canine club." The State Department spokesman said, "I guess we would say that it's unfortunate that the Cuban government would even kick Ambassador Huddleston's dog." A smiling senior official—probably Secretary of State Colin Powell—pointed out, "We've always known that Castro's bark is worse than his bite." We were on a roll. The State Department was enjoying having a chance to pull Cuba's chain. NPR's Morning Edition host Renee Montagne wanted to know, "Why are there Afghan hounds in Cuba? I mean, they're long-haired show dogs. Isn't the very idea of a show dog rather counterrevolutionary?" I slipped my diplomatic leash, telling her, "Well, I hope so. I would welcome a little counterrevolutionary activity in Cuba."
Karen DeYoung in an article, Message Sent Via Diplomatic Pooch, captured perfectly my intent to tease Castro, she wrote, "Relations between Cuba and the United States have been frosty for more than forty years, but a new bilateral low is always just around the corner. First there was the Cuban revolution and all the nasty things they said about us. Then the embargo, and those Soviet nuclear missiles. Castro assassination attempts. Cuba shoot-down of civilian aircraft. Elian Gonzalez. This month's nadir came when the leadership of the Cu ban National Afghan Association—that the longhaired canines, not the turbaned South Asians—kicked the top American diplomat in Havana, an ardent Afghan, lover and owner, out of their club. Yesterday, the Americans retaliated with the weapon most readily at hand—ridicule.
It was a shaggy dog story that had grown legs, if not paws. Havana and I were featured on ABC and Univision, and stories about Havana (the dog) were in hundreds of local newspapers across the United States, proving that there is nothing as good as a woman-bites-dog story. Plus, it provided amusing insights into life in Cuba, giving me an opportunity to poke fun at the regime and share stories about how restricted life in Cuba is for everyone, including diplomats. But I ex­ pressed doubt that this was an intergovernmental spat, pointing out that, as far as I knew, Amalia Castro was upset because my dog Havana was beating out her hounds in the dog show competition.
Undoubtedly realizing that he had been outperformed, Fidel decided to curb the negative publicity. He did so by grandly announcing to a visiting former US military general that "I'm going to give her husband's dog a pardon." He couldn't quite bring himself to admit that he was pardoning my hound, not my husband's. The next morning, Dagoberto Rodriguez Barrera, Cuba's director of North American affairs, called to officially confirm the pardon. Fidel Castro, the president of Cuba and the first secretary of the Cuban Communist Party, had pardoned the American envoy's Afghan hound!
A few days later the villainous Amalia Castro and the six-person board of the Afghan Hound Association sent me a letter that read, "It has come to our attention through the international foreign media that there has been a distortion of the letter sent to you....We wish to clarify that at no point in the letter did we talk about expulsion ... rather, this was a matter of patriotism." This meant that only I had been expelled—not the lovely Havana! Still, Amalia conceded that Havana had been "slandered," and, "We wish to pay an homage of amends to the beautiful and exemplary daughter of Hassan [Havana's sire]." Asked for a reaction, the State Department spokesman said, "Woof, woof."
From Our Woman in Havana: A Diplomat's Chronicle of America's Long Struggle With Castro's Cuba by Ambassador Vicki Huddleston. Copyright © 2018 by Vicki Huddleston. Published by arrangement with The Overlook Press, Peter Mayer Publishers, Inc.
---
Related stories:
WTTW's 'Weekend in Havana' a Look Beyond City's Vintage Glamour
How the 'Formidable' Eunice Kennedy Shriver 'Changed the World'
Conservative Author David Frum on the US as a 'Trumpocracy'
---