Former Gov. Pat Quinn is coming up against an Aug. 6 deadline to collect 100,000 signatures for a referendum to term-limit Chicago mayors.
The 100,000-signature goal was self-imposed. The actual minimum number of signatures needed is 52,519 – 8 percent of the number of Chicagoans who voted in the last gubernatorial election. Quinn expects a formidable petition challenge because if the measure passes, it could knock Mayor Rahm Emanuel off the ballot in the 2019 Chicago mayoral election.
The mayor's allies on the City Council, however, have put up three referenda, ostensibly to block the term limit question from the ballot. The three include questions on banning plastic straws, adding a property tax exemption and legalizing marijuana.
But Quinn argues that since those referenda are advisory and his mayoral term limit referendum is a binding question, it can still go on the ballot based on the state constitution. However, the city law department disagrees with that interpretation, which means the fight will most likely wind up in court.
Chicago is the only big U.S. city without mayoral term limits. Cities that have term limits include New York, Los Angeles, Houston, Philadelphia, Phoenix, San Antonio, San Diego, Dallas and San Jose.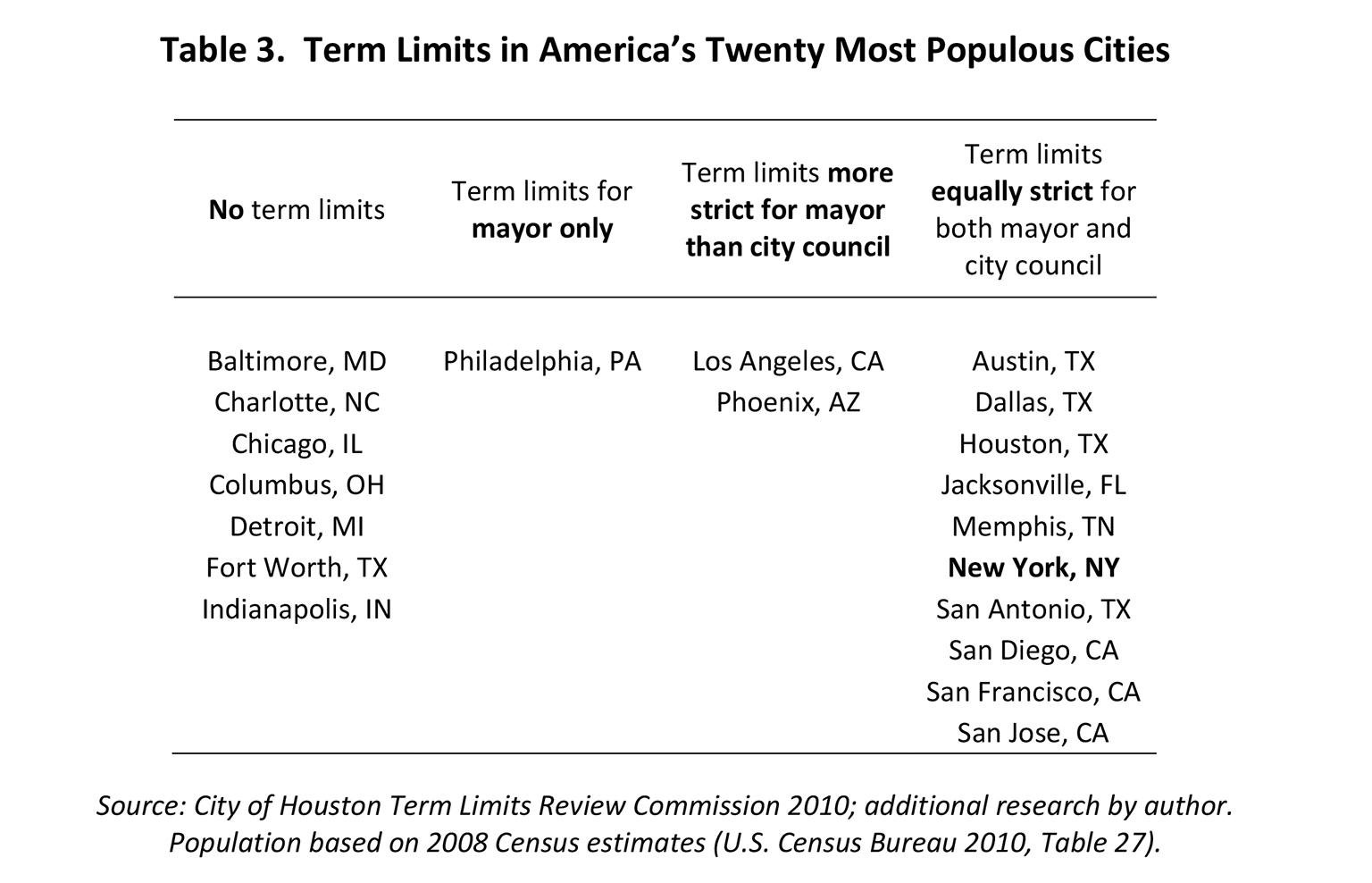 From a report by Patrick J. Egan, Ph.D. (page 16). Click for full document.
Chicago may be more famous for the decadeslong tenures of past mayors including Mayor Richard M. Daley, who served 22 years from 1989 to 2011. He surpassed the mayoral tenure of his father, Richard J. Daley, who served as Chicago mayor for 21 years from 1955 until his unexpected death in 1976.
For more information about Quinn's petition drive, visit TakeChargeChicago.org.
Note: This story will be updated to include our discussion with Quinn following our Monday evening broadcast.
---
Related stories:
Emanuel on Term Limits, Chicago's Affordable Housing Challenges
Pat Quinn Pushing for Mayoral Term Limits, Elected Consumer Advocate
Former Gov. Quinn Calls for Elected School Board in New Court Case
Former Gov. Quinn Portrait Includes 44 'Found' Items
---