She was often the only woman in the room throughout her remarkable career in academia. Hanna Holborn Gray studied, taught and led at some of the world's most prestigious universities. She was the first female provost at Yale and in 1978 became the first female president of the University of Chicago. 
In her new book "An Academic Life: A Memoir," Gray writes about her life after escaping Nazi Germany with her family in 1934 and her remarkable career.
Joining us in discussion is Gray, the Harry Pratt Judson Distinguished Service Professor Emeritus of Early Modern European History at the University of Chicago where she served as president for 15 years.
Below, an excerpt from the book.

Preface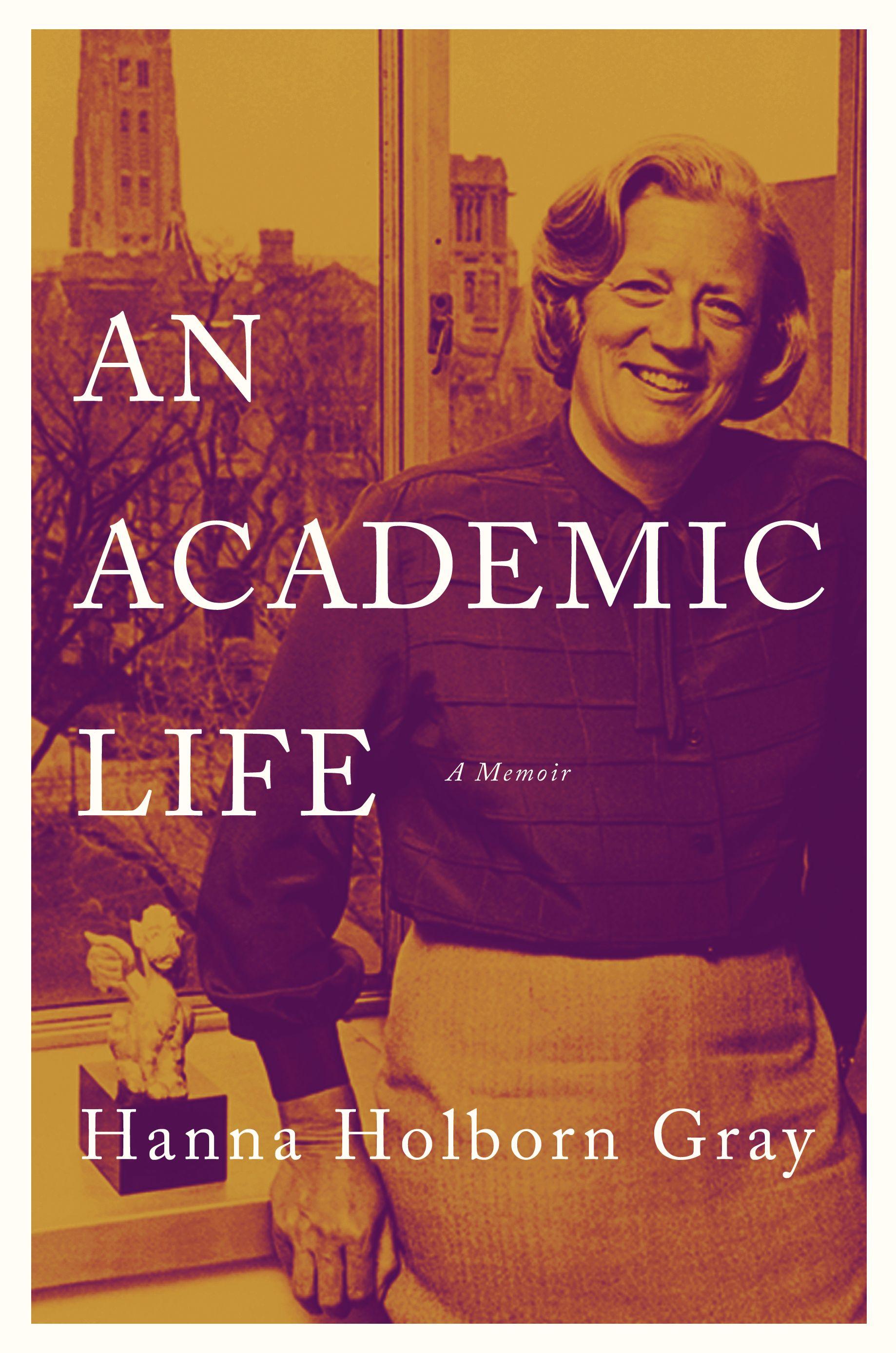 As daughter and granddaughter, sister and niece, and finally spouse of an academic, I have lived in the university world all my life. My parents were among the émigrés who left Central Europe after Hitler's accession to power and ultimately settled in the United States, a group that came to have a substantial influence on American higher education as it had in turn on them. While the intellectual migration of the 1930s has been extensively studied, more attention has been devoted to the remarkable men (and, occasionally, women) associated with the creative and performing arts who were often well known to the general public than to the scholars who joined the faculties of colleges and universities without, in most instances, becoming visible outside their institutions or disciplines of learning.1
Yet another topic has come recently to scholarly attention, that of the "second generation" represented by the refugees' children who were born in Europe and educated mainly in the United States.2 I belong to that cohort, growing up in two cultures and schooled to some degree in two academic traditions.
Over my lifetime and a career of some sixty-five years, I have seen, as did the generation of my parents through an even sharper lens, that even in wholly new contexts of time and place and intensity, the basic questions that affect universities have remained endlessly to be rediscovered, redefined, reargued, and debated anew in altered circumstances and in changing eras for higher education. Those have to do, most significantly, with questions of the universities' mission, of their requisite autonomies and their relation to government, to political and social movements, and to societal expectations and demands, as well as with questions of academic freedom and freedom of thought and expression within the academy. They include also issues of governance, of the balances between teaching and research, and between undergraduate and professional education, and matters concerning the desirable purposes and outcomes, and hence the content, of higher education.
In the memoir that follows, I have tried to describe something of the European background and its academic traditions that shaped my family and had a lasting effect on my own development and outlook on the world as to some degree a citizen of two cultures. I have tried to situate my parents' experience within the broader history of the intellectual migration and its consequences for the first, as for the second, generation. I have attempted also to characterize the ways in which the essential questions that surround higher education have recurred and taken form in my own observation and, indeed, in my own life as a student, teacher, and university administrator even in the midst of the significant changes that have occurred during my lifetime.
One of those changes has to do with the role of women in higher education. My professional career began at a time when relatively few women had the opportunities I was given. I graduated from college in 1950 and received my PhD in 1957. The number of women in my generation who had been able to complete their PhDs without interruption was relatively small. As we came into our late thirties and forties, now ready for senior positions within the academic world and elsewhere, a number of women of my generation became "firsts." I was a "first" as a teaching fellow and tutor and instructor and assistant professor of history at Harvard, and again, in 1961, as an assistant professor of history at the University of Chicago. When I became dean of the arts and sciences at Northwestern in 1971, then provost at Yale in 1974, and finally president at the University of Chicago in 1978, these appointments of a woman to executive positions at major research universities were regarded as exceptional and drew a degree of media attention that astonished me. The stories, of course, all took the theme of the "first woman" to do this or that; reporters never seemed to take any interest in my views on education or other relevant topics.
I had set out with the ambition to become a professor of history and never imagined that I would want to take on administrative positions or other assignments outside the classroom. Doing so was not part of some grand design. Instead, and over the course of time, with great good luck in being in the right place at the right time, as well as with the support of family, teachers, and colleagues, one thing simply led quite surprisingly—and interestingly—to another.
We are all, no doubt, aware that choices made will constrain or close off others, but it is, I think, more important to remember that every choice made will open up totally unanticipated options and opportunities. I have concluded that this truth will remain permanently hidden to youth, however hard one tries to convey it. One needs to experience its reality in order to learn that every decision or step one takes when starting out is not necessarily, indeed is not likely, a final destination. My own life did, however, come full circle when I returned to the faculty after leaving the president's office at the University of Chicago.
In appointing me its president, the University of Chicago, often regarded as a conservative institution, had taken a step about which its trustees and faculty seemed not to fuss at all. I was never treated as a different species or made to feel that my gender caused alarm. At my inauguration, which because of its novelty drew much media attention, the chairman of the board introduced me by saying that I was the first—and here he paused as the audience awaited the inevitable end of his sentence—foreign-born president of the university.
My account of the status of women provides an incomplete commentary on what remains an incomplete story that will appear to some a narrative of progress and to others one of a still-unending process. From my perspective, I have felt remarkably fortunate to have witnessed and participated in a powerful transformation that, however incomplete, has forever changed the possibilities and assumptions that shape women's lives.
That transformation, in turn, is part of a wider shift still very much in progress, one that originated to some extent with the GI Bill after World War II: namely, the changing demography of higher education and its widening availability to a broader spectrum of the population. The composition of student bodies came to mirror the middle class more generally. Institutions were opening doors to individuals once excluded or limited by quotas, for example, to Jewish students. By the sixties, coeducation was coming to be adopted where it had not existed, and women were being admitted in greater numbers where it had already been the rule. At the same time, colleges and universities were giving new attention to expanding the diversity of their communities through the recruitment of minority group members to their student populations and, importantly, also to their faculties. That process, always slow and now concerned with addressing the recruitment of lower-income students as well, is of course anything but complete. Nevertheless, altogether, there has been a significant shift in the social backgrounds of students and faculties alike. Not only has this changed the character of academic institutions; it has created both new benefits and new tensions in their relationship to federal and state government as well, given the intersection of public policy priorities, public funding, and their accompanying regulations.
Another significant development, in this case a tide that has turned over the last fifty years or so while still leaving its distinct imprints on the sand, has been the ebbing of America's romance with higher education since the days when the GI Bill symbolized an enthusiastic faith in the power of education as a central engine of social mobility, key to the capacity for creating an increasingly meritocratic society of strengthened democratic virtue. The infatuation has faded, even though a considerable attachment remains, faith succeeded by increasing doubt about the costs and outcomes and behaviors of contemporary higher education.
I began my training for the academic profession at a time now wistfully (and somewhat mistakenly) called a golden age, and retired in what may eventually be deemed an age of bronze. As a historian, I know that such judgments are usually flawed, and that it is all too tempting to whitewash and idealize the past in order to bemoan and reject the present. Nonetheless, there do exist cycles of better and worse times, and there is much to arouse concern, despite so many remarkable achievements, in some of the pressures and passions, both internal and external, that universities are encountering today.
The universities with which I have been associated have been private research universities that scarcely represent the whole of American higher education with its many different kinds and levels of institutions, public and private. My account of university life, my reflections on the roles of university presidents, and the concerns I discuss inevitably focus on what I know best. I have attempted, in relating something of my life as a university president, to give a sense of the intensity and complexity of academic life and administration. Those have grown over my time as academic institutions have taken on more tasks and obligations and have seen the demands of learning accelerate their growth.
My final chapters remain autobiographical in their source while giving greater emphasis to the institutional histories in which I played some part. I hope that through these histories one can discern larger conditions and developments of an academic universe always in flux and always, however different the historical contexts of the moment, confronting anew the enduring questions and challenges of institutional purpose and intellectual integrity, creativity, and freedom for which universities exist.
---
Related stories:
Journalist Connects Family's Turbulent Past with Chinese History
Christine Lahti Shares 'True Stories' From Hollywood
Doctor's Memoir 'This Narrow Space' Details Care in Complicated City
---