The major story line from Gov. Bruce Rauner's tenure so far is leading the state through a historic partisan feud that further tanked Illinois' already beleaguered reputation as completely fiscally feckless.
On Monday, credit ratings agency Moody's released a report that says Illinois remains its lowest-rated state in part because of "governance weaknesses" in which policies are based "more on political expediency than long-term financial sustainability." Moody's warns that barring changes to state law, the state's fiscal standing will continue to erode.
It follows warnings Friday from S&P that "Illinois' finances are stretched and retain minimal cushion to weather the additional fiscal pressures that would accompany an economic downturn." S&P analysts wrote: "Illinois' credit rating is uncommonly low among the states, reflecting a confluence of its daunting long-term liability profile and persistent crisis-like budget environment in recent years."
The remaining 7.5 weeks of the Illinois General Assembly's spring session – set to adjourn at the end of May – comprise Rauner's last real chance before November's election to show voters that the skills he used to amass a personal fortune can transfer to state government and will put the state on an upward trajectory.
"We believe it's good legislation, improves the future for the people of Illinois, can help bring down our property taxes, grow more jobs, have truly balanced budgets, and bring tax relief to the people of the state while bringing more integrity to government and to the people of Illinois," Rauner said of the legislative agenda he put forth at a press conference Monday at the James R. Thompson Center.
At the same time, it's in the interest of Democrats, who control the General Assembly and have their eye on nominee J.B. Pritkzer moving into the governor's mansion, to prevent Rauner from scoring legislative victories.
Rauner says passing a full-year budget is at the top of his agenda.
Given that Rauner hasn't signed onto one since becoming governor (even the last budget passed at the hands of his predecessor, Democratic Gov. Pat Quinn, wasn't complete given that it left major tidying up for after the 2014 election), there's abundant speculation as to whether legislators and the governor will get it done, or whether partisan fighting will block a spending plan, whether Democrats will purposefully evade a deal to make the governor look inept or whether they'll settle for a six-month, partial budget.
The latest salvos could come this week when the four legislative leaders meet in Springfield. Meetings between Rauner and the legislative leaders have been rare, but Rauner has called one for Thursday and spokesmen for Democratic Senate President John Cullerton and Democratic House Speaker Michael Madigan say both leaders will attend.
Passing a budget will be easier this year than it was prior to last July's passage of an income tax increase, which bolsters the state's bank account by about $5 billion annually. While Rauner vetoed and continues to disparage the hike, his own budget proposal relies on the revenue from it.
Rauner on Monday reiterated his call for rolling it back by a quarter of a percentage point – from a rate of 4.95 percent to roughly 4.7 percent – but that would rely on $900 million in projected savings from the passage of a pension law (Senate Bill 16) that has so far stalled. (Even if it were to pass, there's no sure chance a court challenge would be settled in time for Illinois to bank on the savings in fiscal year 2019, which begins in July.)
At the same time, Rauner on Monday outright rejected Pritkzer's plan to pass a constitutional amendment that would allow Illinois to move to a graduated income tax structure, in which wealthier individuals would pay a higher rate.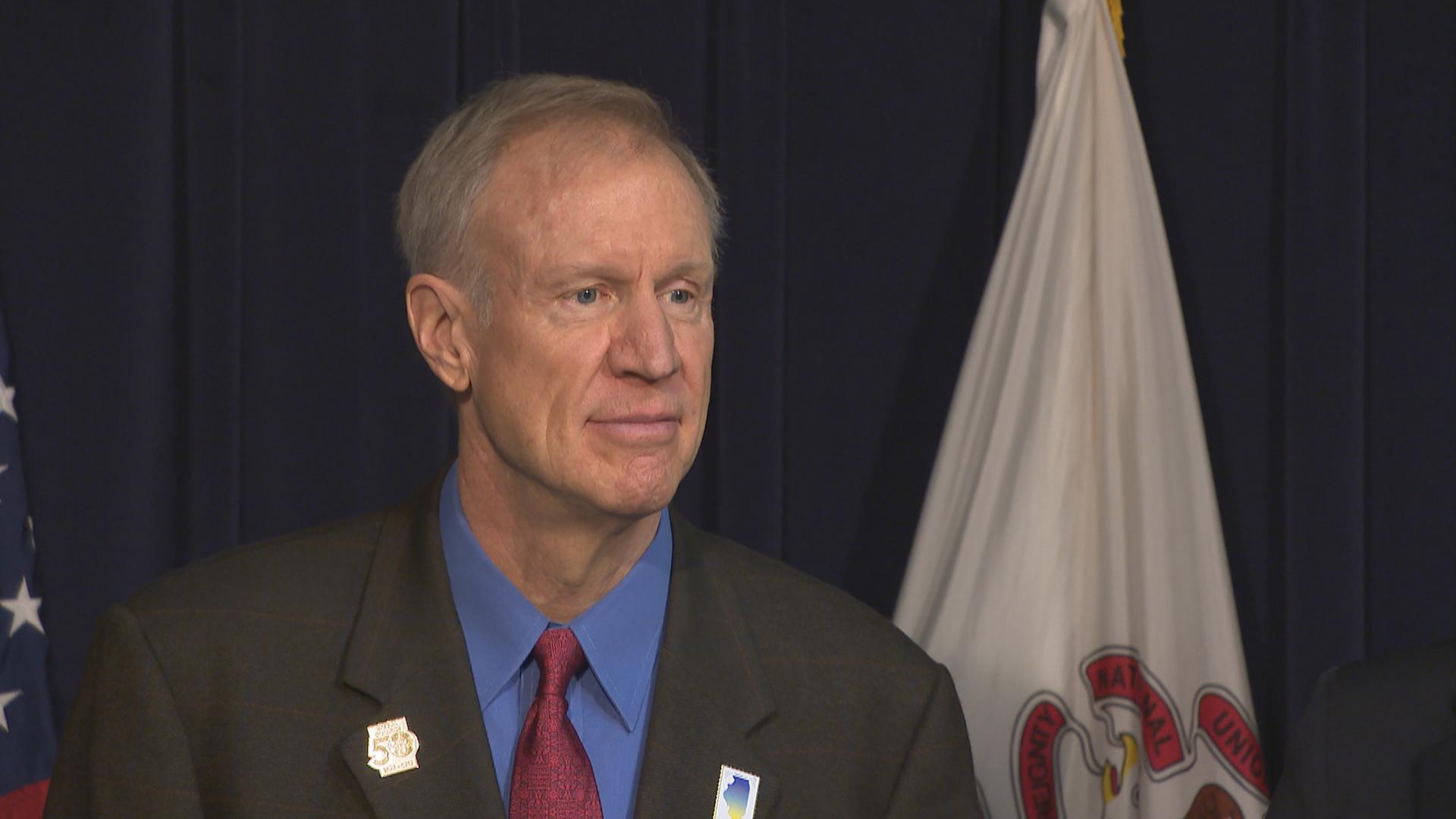 "Horrible. Let me be crystal clear: disaster for the state of Illinois," he said. "There's false narrative out there that the plan, the graduated income tax, 'Let's just tax millionaires, they've got money, let's just tax them.' First of all, business owners will flood out of the state, will lower our tax base. But more importantly in every state that puts out a graduated income tax, the middle class ends up paying more."
Whether that will be the case should Pritkzer gets his way remains unclear, (though he says that won't be the case) as Pritkzer refuses to specify rates or income brackets.
Meanwhile, Rauner's re-election effort continues to be hindered by open wounds from his narrow, 3-point win over state Rep. Jeanne Ives, R-Wheaton.
The two still haven't talked.
Ives has said she will vote for him, but that she has no interest in speaking to Rauner.
Whether she's a sore lose, or whether Rauner is at fault for being unable to swallow his pride or an inability to overcome a reputation for betraying his word, the divide stands to prevent Rauner from getting even Republican support for elements of his agenda.
Despite Rauner's insistence that his plan is bipartisan, or non-partisan, Madigan spokesman Steve Brown characterized most of Rauner's agenda as a retread for which there is no support. 
"He offers no explanation of why they would want to agree,"  Brown said of legislators stance on Rauner's demands, calling it "the same mumbo-jumbo he's been peddling for several years without any persuasive arguments, and therein lies part of his problem with why none of this has been passed."
New ideas were also part of Rauner's latest "to-do" list, including improving  the "EDGE" tax credits Illinois uses to lure businesses to the state, introducing a method to increase the pace of road construction and a call for a multi-state compact that would share data to try to block illegal gun trafficking across state borders.
The Republican governor did not share details for any of the initiatives.
Democrats say that were Rauner to be serious about curbing gun violence, he would sign into law House Bill 1468, which would create a 72-hour waiting period before a buyer could purchase an assault-style weapon. The measure has been on his desk since mid-March. 
Rauner says he'll address that as part of an overall package in a few weeks.
The governor on Monday did not specifically speak about improvements to the state veteran's home in Quincy, beset by outbreaks of Legionnaire's disease, nor did he mention a component of his budget plan that would shift teachers' and university professors' pensions costs from the state and onto the schools. The governor's office says both remain priorities.
Follow Amanda Vinicky on Twitter: @AmandaVinicky
---
Related stories:
Mudslinging Begins as Democrats Look to Take Back Governor's Mansion
Battle of the Big Bucks: It's Pritzker vs. Rauner for Illinois Governor
Rauner Re-election Budget Plan Puts Burden on Local Governments
---