Gov. Bruce Rauner on Wednesday laid out a $37.6 billion spending plan that heavily relies on the income tax increase he constantly bemoans and calls for balancing the budget largely by shifting costs to local governments.
The address comes at a pivotal point for Rauner, on the heels of a yearslong historic impasse that left Illinois without a budget until last July, and ahead of a March 20 primary contest in which he faces a primary challenge from conservative state Rep. Jeanne Ives, R-Wheaton.
Leading up to the address, Rauner had promised his plan would be balanced, that it would increase education funding and that it would provide a path to rolling back the increase in Illinois' personal income tax rate, which legislators this summer passed over Rauner's veto.
Technically, his proposal accomplishes those goals.
It's balanced on paper, even leaving a $350 million surplus, but it does so by relying on the $5 billion in revenue from the income tax hike, and it makes nary a dent at the backlog of unpaid bills, which currently stands at $8.9 billion.
On paper, the governor's proposed spending matches projected revenues.
He calls for sending more money to schools.
And he lays out a path to bringing down the income tax increase.
"Our budget proposal is a framework that balances the interests of those who spend our taxes with those who pay the taxes. It balances the need for reform with the time we need to implement it, and the tools we need to reduce the associated costs," Rauner said. "We are ready to collaborate on reforms that benefit the taxpayers of Illinois. Our ideas are here for you to consider. We share a sense of urgency with you and every citizen of our state. And we welcome a call to the table for serious conversations about how to proceed."
Rauner's plan also calls for putting $350 million more into Illinois schools, an amount Rauner characterizes as a record $8.3 billion on kindergarten through high school education.
At the same time, his plan will shove additional costs onto schools, by calling for them to begin picking up the employers' share of teachers' retirement, a cost currently borne by the state. Rauner wants schools to cover 25 percent starting in fiscal year 2019, which begins in July, and work up to 100 percent over the next three years.
"The key reforms have to do with accountability. We need to move pension costs to the people who do the buying, and make them responsible for the paying, too," Rauner said. "If we do this realignment, we can eliminate the $2 billion deficit in the budget you passed last summer, avoid new taxes, fund top priorities, and start the long process of paying down our bill backlog with cash instead of credit."
Given that schools are the main driver of local property taxes, Sen. Steve Stadelman, D-Rockford, says the plan is at odds with frequent calls for lower property taxes.
"What he's offering is a fundamental shift. You can argue policy-wise whether that should happen. But people need to realize that when he talks about transferring costs to local school districts and local colleges and universities -- they're going to have to pay the price. Local school districts will have to raise their property taxes," Stadleman said. "And so while the governor's been talking about lowering property taxes across the state, this will raise them which is a contradiction as far as what the governor's saying there."
Democratic Sen. President John Cullerton called Rauner's proposal deceitful.
While Rauner framed lowering Illinois residents' income tax burden by a billion dollars as a priority, any rollback in the tax rate is a long way off and is a far stretch from his campaign-trail promises to take the rate back down to 3 percent as it was in 2010.
His plan calls for leaving the corporate rate as-is, while lowering the personal income tax rate from 4.95 percent to 4.7 percent only if and when a "comprehensive pension reform" plan becomes law and passes expected court challenges.
Rauner's team says he wants to make sure the savings are real before relying on them, hence the budget isn't predicated on the passage of a pension law.
Fiscal watchdogs may applaud that the governor avoids predicating a balanced budget on a politically and constitutionally dubious plan, but in practicality, it leaves Rauner able to campaign for re-election saying he has a plan to bring taxes down, while at the same time benefiting from the revenue the hike brings in and essentially waving the white flag that it's fiscally doable for Illinois to survive without it.
Other broad strokes of the proposal include selling the James R. Thompson Center, for a profit of a projected $260 million, and an infrastructure program that invests in roads, universities, upgrades the water system at the Quincy veterans home after there were two more cases this week of Legionnaire's disease, supports the stalled construction of a Chicago veterans home, and funding to get off the ground the Discovery Partners Institute, a proposed research center in the South Loop in partnership with the University of Illinois.
While Democrats have supported elements of Rauner's budget in the past – Rauner's budget calls for passing Cullerton's pension "consideration" model and House Speaker Michael Madigan has promoted the pension cost shift to schools and universities, it won't be easy to gain support from either side of the aisle, especially in an election year.
Rauner didn't get a warm reception during the speech, especially from Democrats who at times scoffed at him.
Even so, Democratic lawmakers say they appreciated that Rauner didn't go on the attack as he has in the past.
Valentine's Day at the capitol also brought Rauner together with the General Assembly's four leaders; they gathered in the governor's office for about a half an hour before his speech.
The governor and leaders last met together in December 2016. 
Follow Amanda Vinicky on Twitter: @AmandaVinicky
---
Related stories: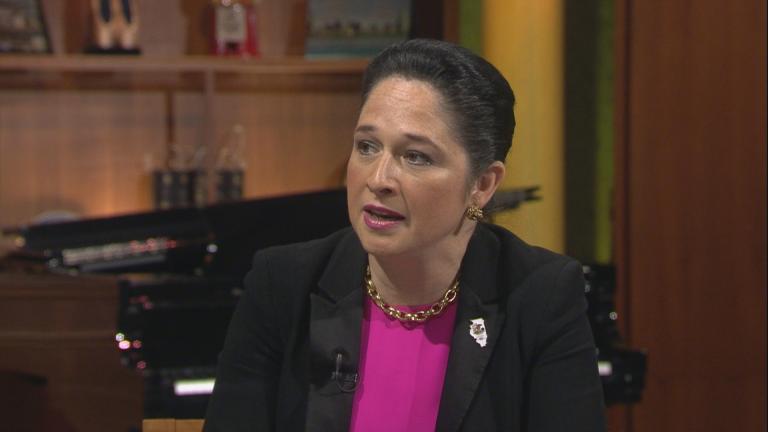 Comptroller Mendoza: State's Bill Backlog Now $8.4 Billion
Feb. 13: As Gov. Bruce Rauner prepares to give the final budget address of his four-year term, the state's bill payer is sounding the alarm.
---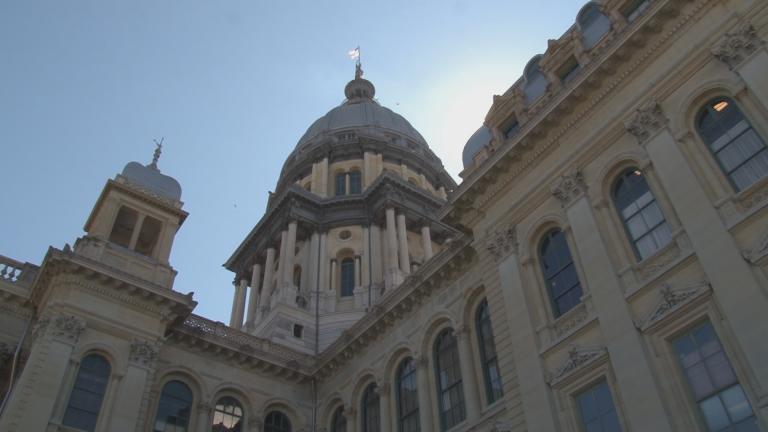 Illinois Lawmakers Preview the Upcoming Budget Battle
Feb. 12: The governor gives his budget address Wednesday, but with a backlog of unpaid bills hovering above $9 billion, what will he propose to plug the hole?
---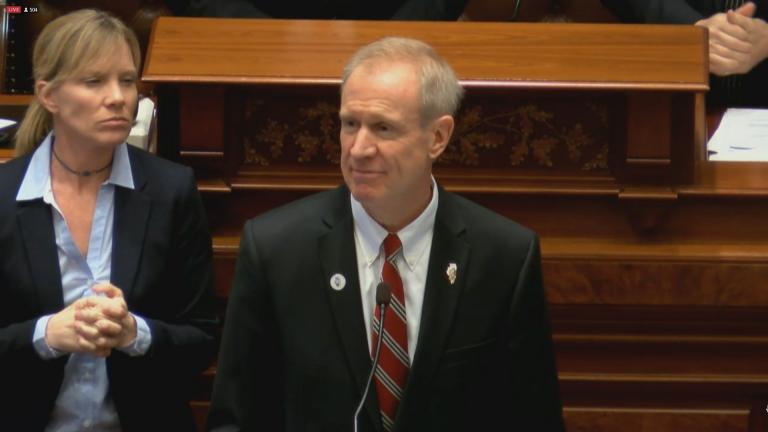 Rauner Speaks of Bipartisanship, Democrats Don't Believe It
Jan. 31: Gov. Bruce Rauner gives his election year State of the State speech, but Democrats – and even some Republicans – cast doubts on the sincerity of his message.
---