Former British Prime Minister Tony Blair spoke with Chicago Tonight during a quick stop in Chicago on Wednesday to participate in an event with the Illinois Holocaust Museum and to announce receiving an award from the Abraham Lincoln Presidential Library Foundation.
Blair talked about his impression of President Donald Trump, arguing that he supports current Prime Minister Theresa May having a close diplomatic relationship with him.
"The British prime minister has an obligation to get along with the American president," Blair said. "The relationship between the two countries is bigger than any one president or any one individual at one time."
Blair's visit to Chicago comes as the U.K. struggles with the aftermath of the Brexit referendum vote in 2016. He has been outspoken on his opposition to Brexit, and has said in the past that he believes there is a "50-50" chance it won't go forward. May has been negotiating the terms of Britain's exit from the European Union, and has reportedly favored an approach that keeps a lot of the trade benefits that the country enjoyed while being a part of the EU. But EU leaders are likely to not accept those conditions. Blair says that once the wider British public catches on to the final terms of a Brexit deal, they aren't going to like what they see.
"There won't be another referendum like the one two years ago," Blair said. "The only question is, in the end, you say to people, now that you see the actual alternative, you've got the deal, is it right to let the people have a choice on whether that is better than what we've got now?"
Blair says that although there is no legal precedent for another referendum like the one in 2016, there will have to be an alternate path forward if the British Parliament doesn't approve a final deal.
"The single market of the European Union is a unique creation where you have a level playing field on tariffs and rules to make it easier for countries to trade without borders," he said. "If you get out of that market, then you're in a very difficult position if you want to go your own way to have your own rules, then you're not part of the club anymore. So this is the dilemma the government's got, because obviously if we get out of the European market when we do so much trade there, it's going to be harmful for us."
Video: Watch our unedited, 11-minute interview with Tony Blair.
---
Blair served as prime minister from 1997 to 2007 and has led the Tony Blair Institute for Global Change since leaving office. He was criticized in his country for his close alliance with former President George W. Bush, and his support of the Iraq War. Blair has always played up the "special relationship" between the two countries, and says that it is even more important now in the face of Russian interference in western elections and the rise of China as a global power over the next several decades.
"We've got to be strong so our values and interests are protected, and that strength derives from a set of common values and a strength to stick by them," Blair said. "The thing I think is most worrying at the moment is that, on both sides of the Atlantic, there are people that seem to be indifferent to this relationship when it's absolutely vital, and even more so as the world changes further."
He says that he believes the strain of nationalism and populism that undergirds Brexit and other political movements throughout Europe are a reaction to the anxieties that globalization produces, and that the world will continue to become more integrated. Governments, he says, have to be more sensitive to the implications of globalization on immigration and trade to keep the nationalist movement from becoming more sustained.
Blair will return to Chicago on April 24 to formally accept the Lincoln Leadership Prize from the Abraham Lincoln Presidential Library Foundation, an honor he says is "one of the esteemed prizes" because of the legacy of the 16th U.S. president.
Follow Paris Schutz on Twitter: @paschutz
---
Related stories: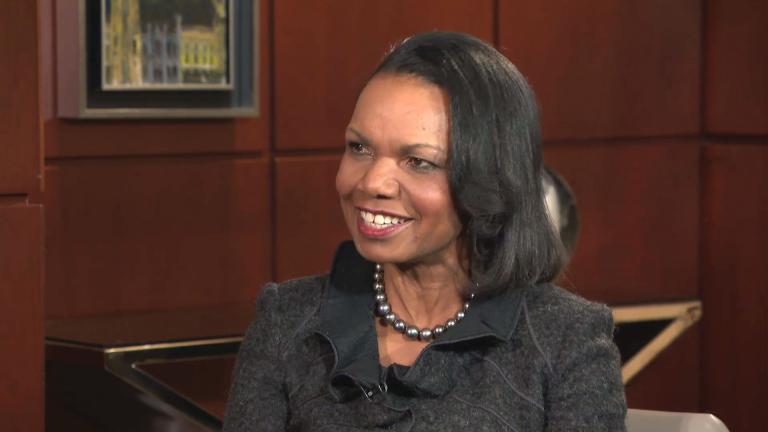 Condoleezza Rice on Reminding Americans What Unites Us
Feb. 28: We speak with the former secretary of state and Patricia Harrison, the president and CEO of the Corporation for Public Broadcasting, about the hard work of reminding America of its shared creed.
---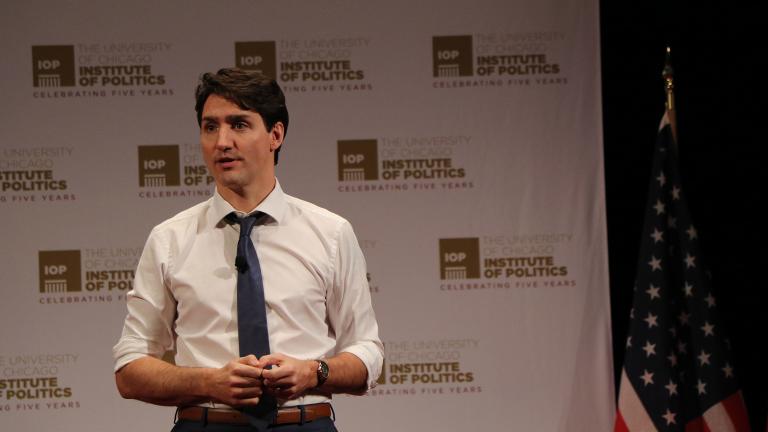 Canadian PM Justin Trudeau Visits Chicago on First Stop of US Tour
Feb. 7: The Canadian prime minister spoke candidly at the University of Chicago on Wednesday, addressing trade tensions between both countries, as well as his vision of gender equality.
---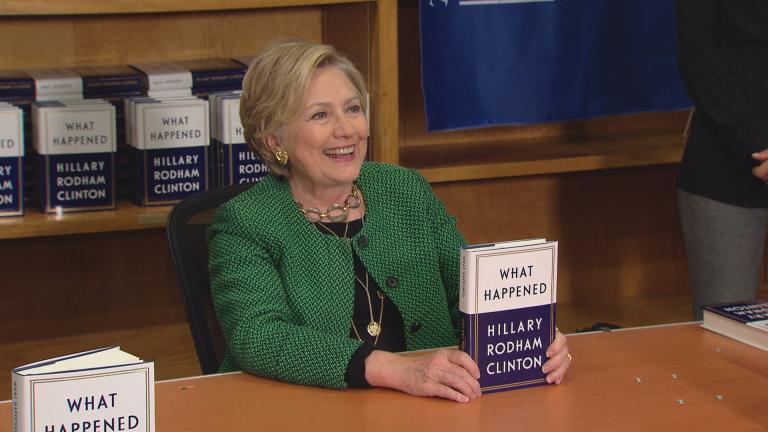 Hillary Clinton Visits Chicago Amid Mueller Indictments
Oct. 30, 2017: At a book signing in Winnetka, the former Democratic presidential candidate was asked for her response to Robert Mueller's investigation. "I have a great chapter about Russia in here," she said, holding up her book.
---