"I ain't angry. I'm pissed off," said Linda Walker, a cancer survivor who stood with hundreds of thousands of women and allies Saturday on Columbus Drive.
On the anniversary of President Donald Trump's inauguration, and as a federal government shutdown commenced, an estimated 300,000 people gathered in downtown Chicago under blue skies to express their dissatisfaction—letting the president know they're "pissed off"—as part of the Chicago Women's March to the Polls.
"We went from dignity, pride, everybody at the table to now just white men," said Walker, who is black. "And don't take this the wrong way: I'm not not going back to 1850. They thought (Trump) was talking about 1950 (with his 'Make America Great Again' slogan). He was talking about 1850. Can't do that. I'm lazy anyway. I'm not a good slave."
Nearby, University of Illinois at Chicago maternal and child health professor Arden Handler, of Evanston, held a sign reading: "Granddaughter of Jewish immigrants says NEVER AGAIN."
Arden Handler of Evanston (Amanda Vinicky / Chicago Tonight)
"Never again meaning: We can't go back," Handler said, though she says it feels close. "I have young students and they're frightened. Everybody is scared to death. We have students who are (recipients of the Deferred Action for Childhood Arrivals program, DACA). I really do feel like we're almost at a point where ... I'm so frightened for my children, my grandchildren, and sort of a takeover by the super-rich, who don't care at all about people of color, people whose rights are being trampled on."
The personal is political, the political personal.
"Day care, work, where we live, where we play, the environment. Those are all women's issues," Handler said.
Handler says she's organizing against a president accused of sexual harassment. "All the things that men are losing their jobs for, he's not losing his job for, right?"
It's not the first time she's galvanized. Handler says she was active in the women's movement of the '70s.
Younger activists rode out the march in strollers, sitting on their parents' shoulders or wearing Super Woman costumes.
Micah Teodosic wore all pink to the march: leggings, Uggs, a hat, and stick-on "Frozen" earrings. She went to last year's inaugural march, too. "It's important to show her what it means to come together as a community of women and fight for our rights to be free, to be healthy, to be strong," said her mother, Cortney Teodosic. Her concerns range from immigration to "body politics," health care to the environment. "We need to really fight and come together."
Violet Gallardo, 25, returned for her second march, through she was disappointed with last year's event, given that she felt the "energy was very white-dominated."
Gallardo got off the Blue Line CTA train with her friends Saturday hoping for "more inter-sectional representation ... recognition that there are more identities beyond the pink pussy hats."
For her the march is an "outlet for expression," camaraderie, a space to grieve, to "let out a lot of the pain and anger."
She, too, is pissed.
About what?
"The list is too f*** long," she said.
But as a budding therapist who works with clients who've experienced sexual assault and harassment, she's particularly pissed about a president who she says propagates rape culture and says "lewd and disgusting things."
She wants more funding for organizations that work with survivors of sexual violence.
---
The "March to the Polls" theme of the 2018 event that started with a rally in Grant Park and ended with a procession to Federal Plaza is focused on registering more women to vote, to run for office—and to win.
Sol Flores, the director of La Casa Norte in Humbolt Park, is running to replace retiring 4th District Rep. Luis Guiterrez, D-Chicago.
"There's this power and force and momentum and desire .. this ... energy that's like, kinetic, and it's moving and it's shaking," Flores said. "And we're all like: What do we do? We're all gonna vote our values, for women. We're going to demand justice, accountability, respect in our leaders."
Flores says she's not surprised that, despite the mighty gathering and calls for more women in government, Cook County Commissioner Jesus "Chuy" Garcia is the leader in the contest.
Still, she says, as the March 20 primary fast approaches, she believes that people will get on board with her campaign.
"This is a different race, this is a different year, this is a different context and we're demanding a different level of accountability," she said. "What I bring is energy, passion, someone from my gender but more importantly someone from my generation and with my experience, actually in the community, helping young people and families have the lives of their dreams."
While organizers preached inclusion and label the event as non-partisan, only Democratic elected officials spoke at the event, among them: Attorney General Lisa Madigan, Cook County Board President Toni Preckwinkle, Cook County State's Attorney Kim Foxx and Cook County Commissioner Bridget Gainer.
Organizers plan to turn the one-day event into something more; March On leaders announced a new data operation, a digital survey via Operation Marching Orders.
Follow Amanda Vinicky on Twitter: @AmandaVinicky
---
Related stories: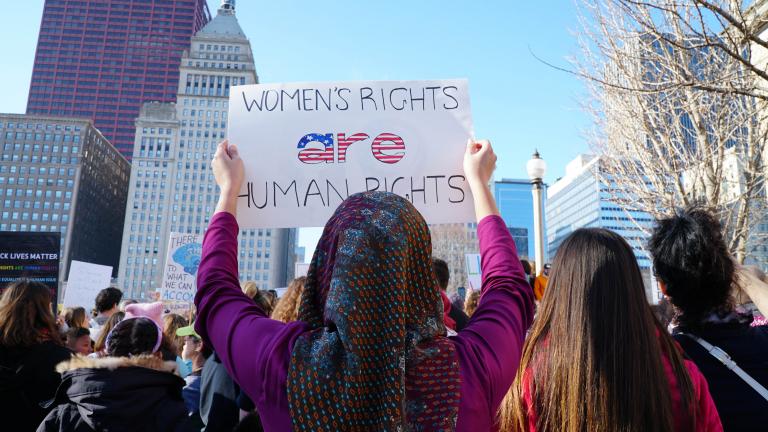 Women's March to the Polls: What You Need to Know
Jan. 16: Nearly a year to the day that an estimated quarter of a million people gathered in the Loop for the Women's March on Chicago, activists are set to fill downtown streets again for a March to the Polls this Saturday.
---
Women's March to the Polls Route Released
Jan. 5: Get updated details for the Jan. 20 event from the organizers of last year's Women's March on Chicago, including rally information and the planned route through the Loop.
---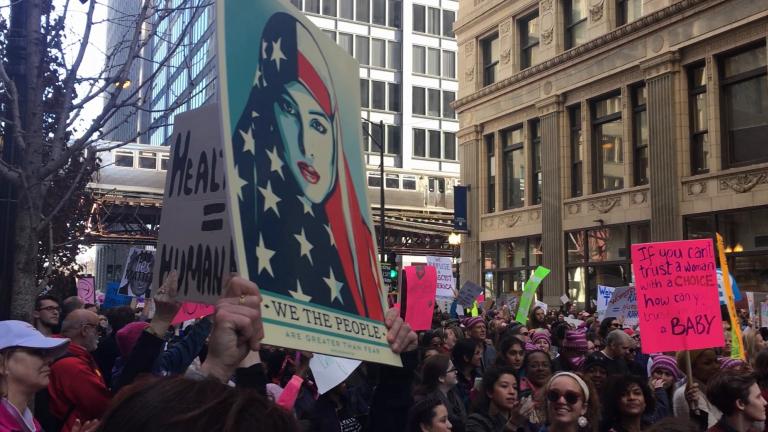 Thousands of Demonstrators Flood Loop for Women's March on Chicago
Jan. 22, 2017: Chants of "this is what democracy looks like" echoed Saturday through the streets of downtown Chicago as an estimated 250,000 individuals flooded the area to take part in the Women's March on Chicago.
---