Many around the country are commemorating the life and legacy of Dr. Martin Luther King, Jr.
But on a day honoring a man devoted to racial harmony, many leaders and activists are reacting to assertions from President Donald Trump that he is not a racist.
The Rainbow/PUSH Coalition, led by long-time civil rights activist Rev. Jesse Jackson, Sr., held its annual Martin Luther King, Jr. scholarship breakfast this morning.
Now in its 38th year, the event is frequently attended by elected officials, including Mayor Rahm Emanuel and Gov. Bruce Rauner, and those running for office, including candidates for Illinois governor and attorney general.  
But during a press conference before the breakfast, Jackson and a few others acknowledged the debate we've been hearing so much about, and whether Trump had disparaging words for nations populated by blacks and Africans.
"Dick Durbin and Sen. (Lindsey) Graham did not lie," Jackson said. "Also, there's evidence today that the president was calling around bragging to his friends that he had done this act. But it's a pattern. It's not that day. It's challenging the birthplace of President Barack Obama. It's equating civil rights marches with neo-Nazis and the KKK. It's glorifying the potential lynching of five young blacks in Central Park. It's a pattern of behavior."
Jackson said he would like to see the Trump administration improve race relations, not just with conversation but legislation from the White House. He also wants a renewed commitment to the Voting Rights Act, which he says is the crown jewel of the civil rights struggle.
We also heard from the keynote speaker of the breakfast, author and activist attorney Bryan Stevenson, who wrote the memoir "Just Mercy" about his experience founding the Equal Justice Initiative in Alabama, and his work to reverse the wrongful criminal convictions of people there.
He describes this recent drama as reflective of the country's identity crisis, and says King's fight—which in Chicago was primarily about combating poverty and legalized segregation through housing and education—isn't over.
"We've allowed these forces of bigotry and ignorance to manifest themselves in some of these elections and this is what the consequence of that is," said Stevenson. "There are people who literally want to turn back the clock, and we're just going to have to be resolute in not allowing that to happen. It's not the first time in our history when we've had people express really violent, racist things from that office. What we have to do is commit ourselves to making it the last time."
The 50th anniversary of King's assassination is in early April. Several weeks later, Stevenson says the Equal Justice Initiative will open the National Memorial for Peace and Justice, in Montgomery, Alabama.
It will be the country's first and only comprehensive memorial to the 4,400 black men and women murdered by lynching.
They'll also open the Legacy Museum, which sits on the site of a former slave warehouse in Montgomery and will explore the history of slavery and racial inequality in this country and its relationship to modern-day issues like mass incarceration and violence.
"I really do think that we have to own up to this history. There are things you're supposed to do when you are a post-genocide society and we haven't done them. There are things you have to do to truly get past the horror of slavery and we haven't done them. There are things you have to acknowledge when you allow people to be terrorized for decades. There are things you have to do when you created a legal architecture that disenfranchised and excluded people just because of their color and we haven't done them. And I think because we haven't done them we haven't made the progress that we need to make, and so the memorial and the museum are kind of an expression of the commitment to change the landscape of this country," Stevenson said.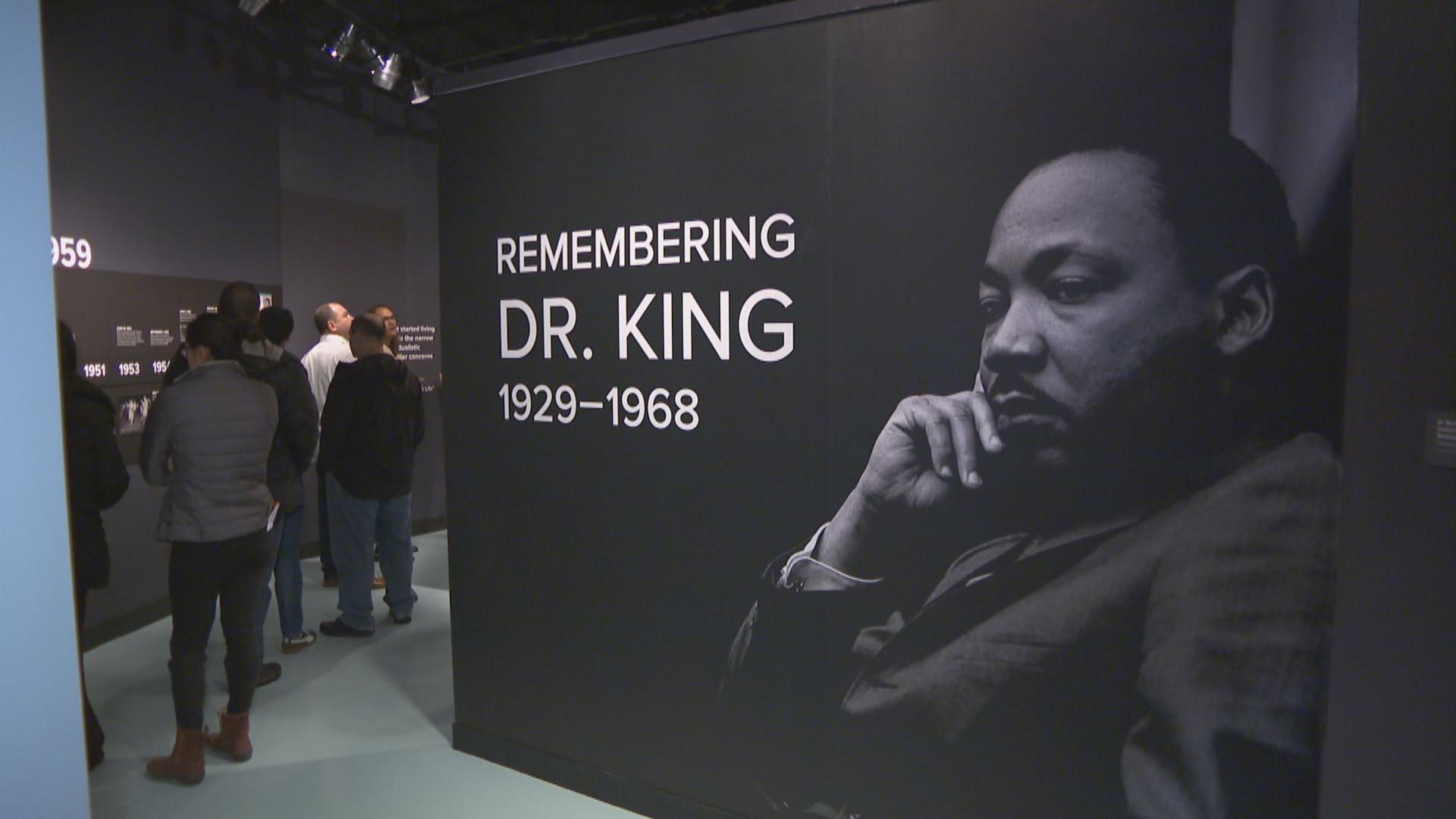 At the Chicago History Museum on Monday, we explored a new exhibit: "Remembering Dr. King: 1929 to 1968."
While it incorporates a timeline of King's life, as well as the civil rights movement, it highlights King's work here in Chicago, including his participation in the Chicago freedom movement in 1966, when he and his family moved into a slum on the city's West Side, as well as the keynote speech that he delivered at Soldier Field in 1966.
The Chicago History Museum was free to Illinois residents Monday, and as soon as it opened at 9:30 a.m., the exhibit was filled with people.
"Because of the times we live in, people are looking for inspiration, and what I'd like them to walk away with is that we can all be involved in the movement," the museum's Joy Bivins. "We all have a role to play. Dr. King was the most visible, but there were thousands of people that worked with him, strategized with him, and made him possible, and we can be part of that number as well."
The History Museum says last year, MLK Day was their busiest day of the entire year, and the MLK exhibit wasn't even open then. Today was its first day, and it runs for a year, since the 50th anniversary of King's death is April 4.
Follow Brandis Friedman on Twitter @BrandisFriedman
---
Related stories: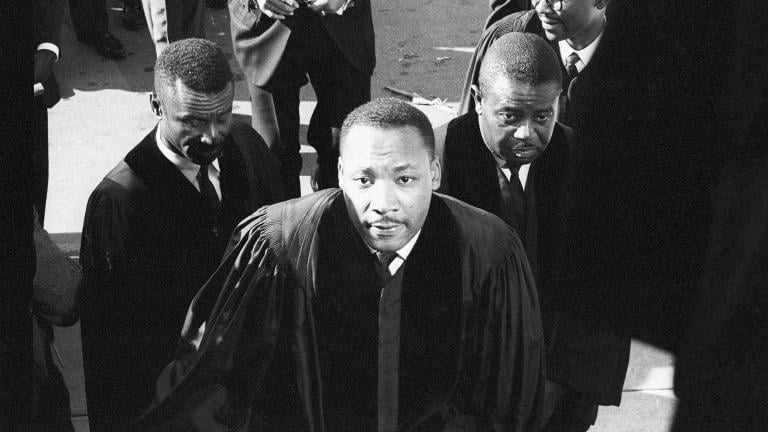 Celebrate MLK Day 2018 in Chicago with These Events
Jan. 10: Tribute concerts, storytelling, films and artwork commemorate the birthday of Martin Luther King Jr. on Monday. Here are eight ways to mark the holiday.
---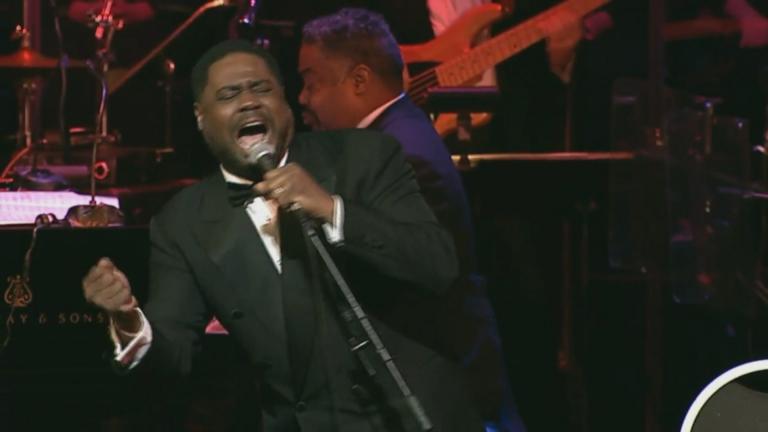 'Too Hot to Handel': Jazz-Gospel 'Messiah' Reaches into State Prisons
Jan. 10: Classical music gets a soulful twist in a show that reaches from Chicago's Auditorium Theatre to a notorious prison in Louisiana.
---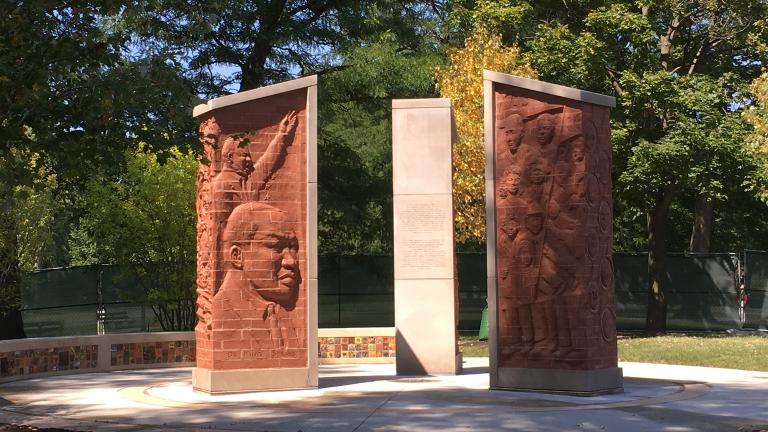 Remembering the 1st Step of Martin Luther King Jr.'s 1,000-Mile March
Aug. 4, 2016: Once a neighborhood unwelcoming to families of color, Marquette Park is not only a more diverse community today, but one that's now home to a Dr. Martin Luther King Jr. memorial.
---