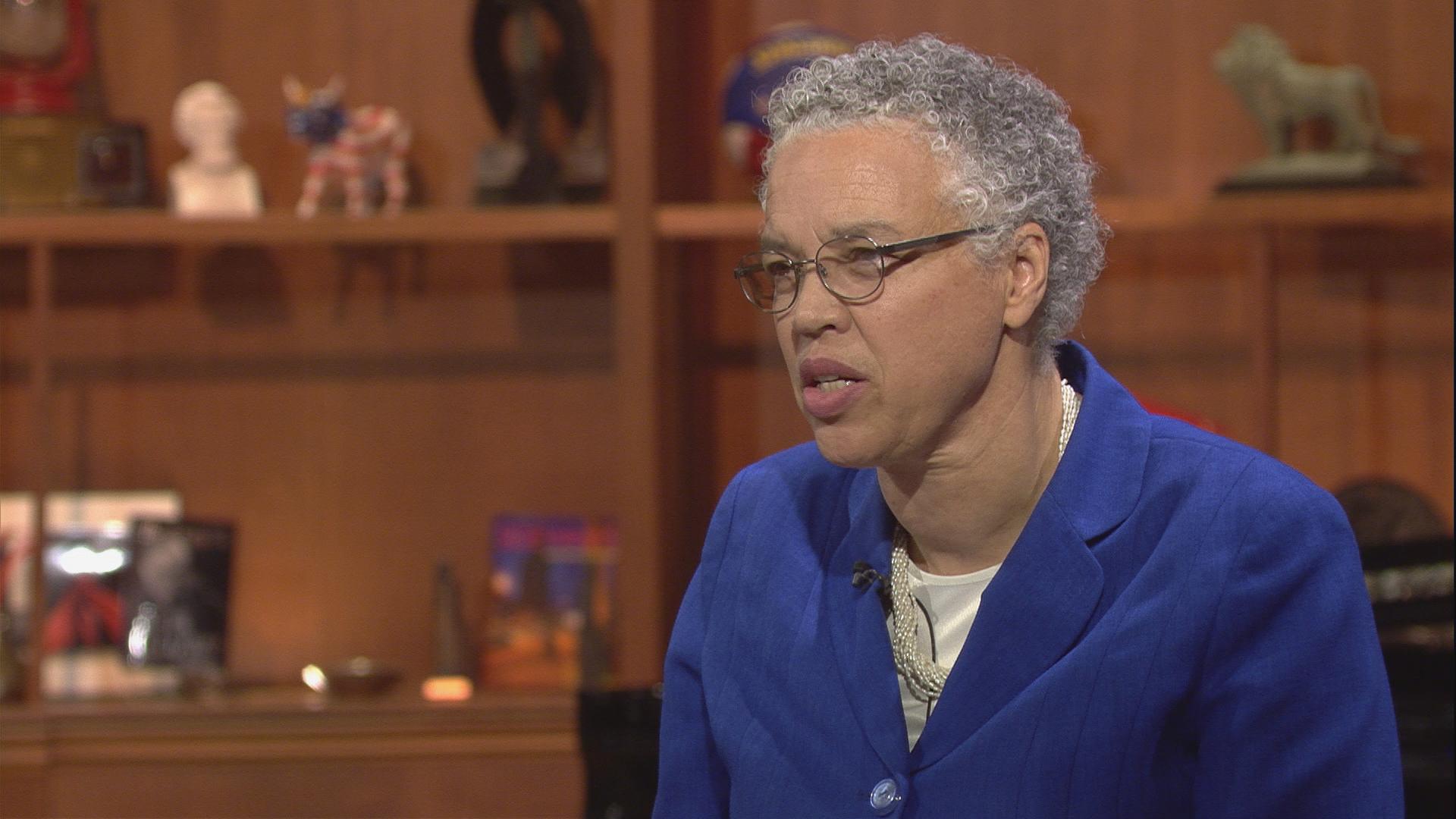 Cook County Board President Toni Preckwinkle appears on "Chicago Tonight" on Oct. 16.
Her pop tax may have gone flat, but Cook County Board President Toni Preckwinkle can expect easy passage of a revised spending plan when it comes for a vote on Tuesday.
The budget largely relies on layoffs and attrition to fill the roughly $200 million hole created when commissioners last month voted to repeal the levy on sweetened drinks.
Fifteen of the county board's 17 commissioners, Democrats and Republicans alike, are listed as co-sponsors of the latest $5.4 billion budget plan, which was posted to the county's website Friday afternoon. Commissioner John Fritchey, a Chicago Democrat, is recovering from surgery and isn't on the list, but a spokeswoman says he plans to also be added as a co-sponsor.
That leaves only Commissioner Jesus "Chuy" Garcia as a potential opponent.
Garcia told "Chicago Tonight" on Friday afternoon that he hasn't made up his mind about how he'll vote, but that he did not sign on as a co-sponsor both because he hasn't yet seen the final version, and because he has "concerns about the impact of doing a budget simply through cuts."
Some 425 county employees will be laid off—down from a projection earlier this the week that said 500 workers would lose their jobs.
Additionally, more than 1,000 vacant positions will be eliminated—that figure includes 254 posts that Preckwinkle had this summer proposed eliminating in her preliminary forecast, as well as 762 additional vacancy closures (earlier this week, that number was pegged at around 600).
The sheriff's office, headed by Sheriff Tom Dart, and the court system, led by Chief Circuit Court Judge Timothy Evans, will be most affected.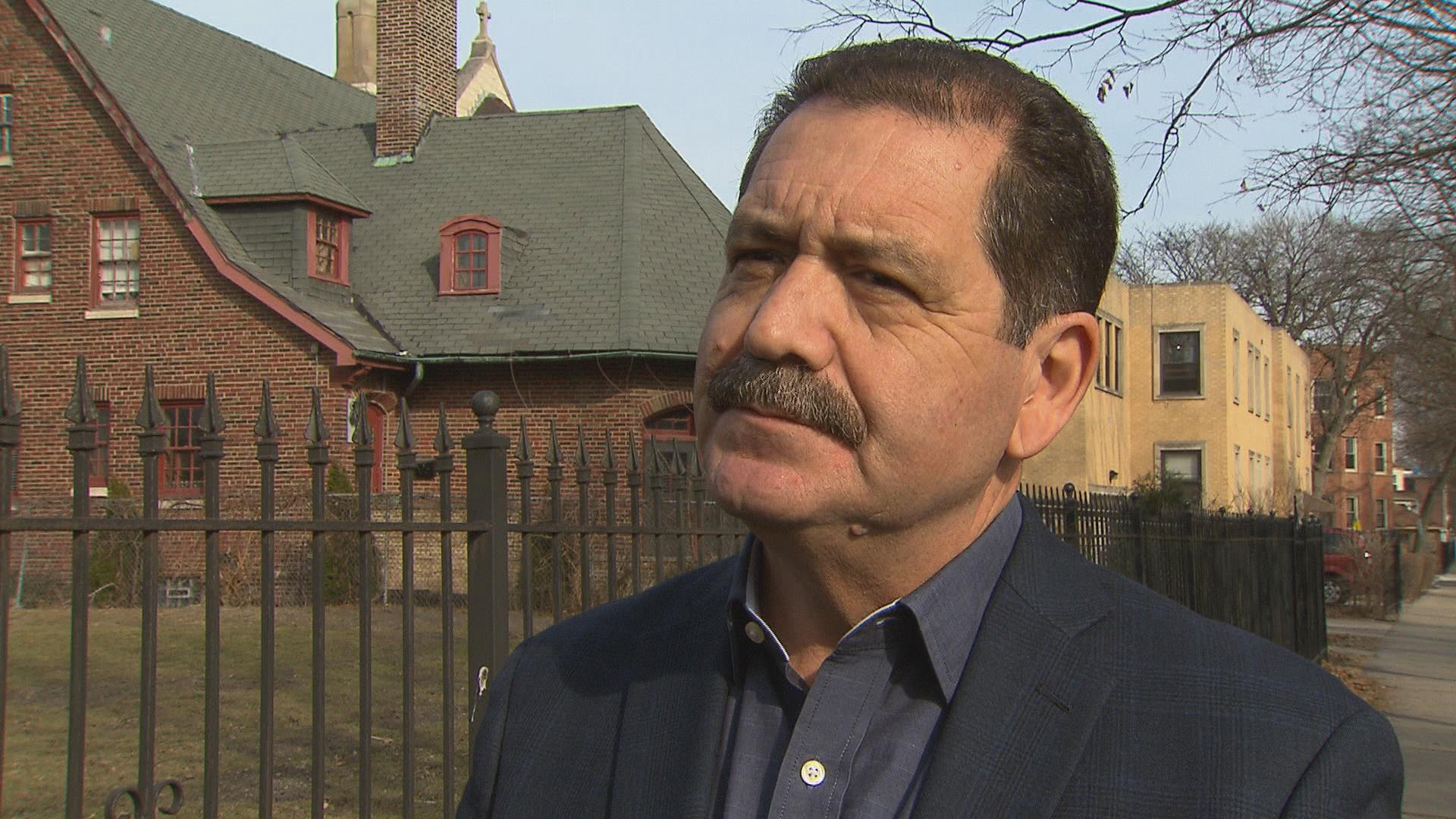 Cook County Commissioner Jesus "Chuy" Garcia (D-Chicago) speaks with "Chicago Tonight" in February 2017.
"My biggest concern is (the budget's) potential impact to likely affect the poorest in Cook County," Garcia said. "We have been making pretty significant progress in terms of criminal justice reform. So the impact on public safety—the sheriff's office and the chief judge's office—is my concern, and whether that will affect our ability to keep moving forward."
Garcia says he'd have preferred the county consider raising new revenues to make up for what will be lost once the soda tax goes away at the start of the county's fiscal new year, Dec. 1. Garcia, who lost a runoff challenge to Chicago Mayor Rahm Emanuel in April 2015 but is widely considered to be eyeing a rematch in 2019, says ideas included a penny-a-drink tax on alcoholic beverages, or trying the county's annual property tax levy to the rate of inflation.
The county hasn't upped its property tax levy in more than 20 years. According to a recent analysis by the Center for Tax and Budget Accountability, that means the county is missing out on $400 million, or 36 percent of the real value it would have taken in as revenue had the county tied increases to the rate of inflation.
"I presented ideas for revenue—obviously the appetitive for it wasn't there among the majority of the commissioners. So I did not move forward with any proposals, out of respect and deference to my colleagues," Garcia said Friday.
Garcia says the board has been responsive to taxpayers who didn't want to pay the penny-an-ounce tax on sodas and other sugary beverages, particularly in the wake of increased fees and taxes on the city and state levels, including a hike to 4.95 percent in Illinois' income tax that took effect in July.
Nonetheless, Garcia says he's concerned that slashing the sheriff and court budgets will stunt or reverse advances on the criminal justice front, such as moving away from a cash bail system.
The revised budget amendment includes funding for a new, $80,000-a-year position within the inspector general's office—an investigator to handle sexual harassment claims.
Preckwinkle had sought to keep the soda tax in by warning that repealing it would trigger across-the-board cuts to county agencies. When commissioners rebuked her, she said at the time that it would be their obligation to figure out what that would look like, but in recent weeks and days her office has been involved in drafting the new plan.
"I am pleased that today we will be introducing an amendment to Cook County's FY 2018 budget that will bring it into balance. The amendment will have bipartisan support from commissioners," Preckwinkle said in a statement Friday. "I applaud the commissioners for their collaboration on the amendment, as well as the separately elected officials, County staff and the public for their input, and look forward to passage of our budget Tuesday."
Preckwinkle's continued support for the sugar tax in the face of public frustration with it cost her political capital, including drawing a Democratic primary challenge from former Chicago Alderman Bob Fioretti. 
Follow Amanda Vinicky on Twitter: @AmandaVinicky
---
Related stories: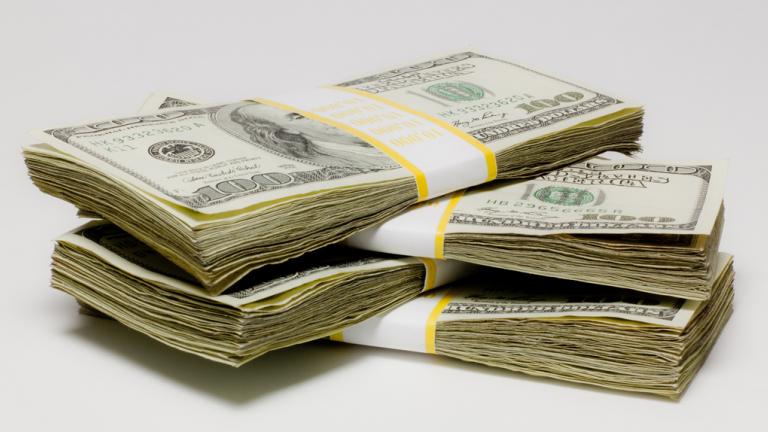 Cook County Proposes Nearly 600 Layoffs in Lieu of Soda Tax
Nov. 14: With the penny-per-ounce pop tax fizzled out, new plans to come up with the $200 million Cook County says it needs.
---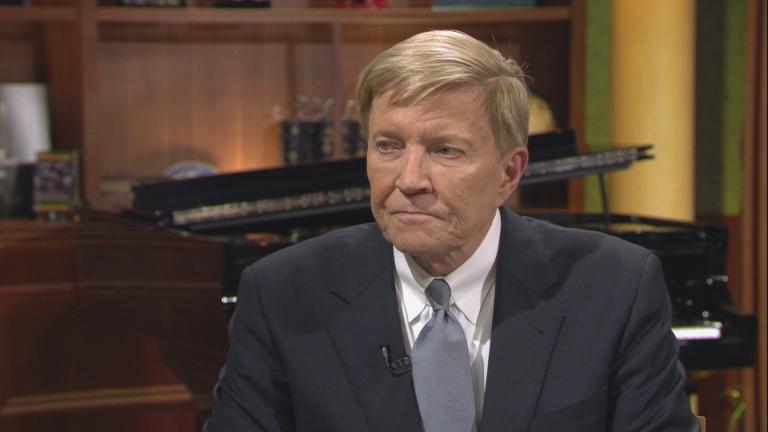 Former Alderman Bob Fioretti Challenging Toni Preckwinkle
Nov. 13: In the wake of the much-maligned sweetened beverage tax, Cook County Board President Toni Preckwinkle's re-election no longer appears certain. Why Bob Fioretti believes Cook County needs new leadership.
---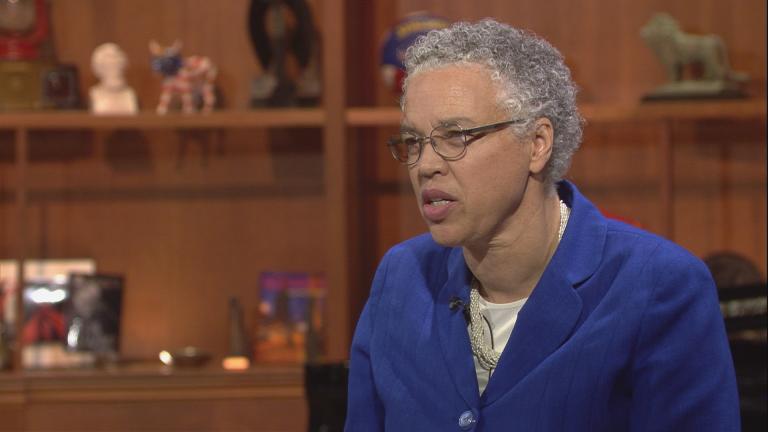 Toni Preckwinkle on Soda Tax Repeal, County Budget Shortfall
Oct. 16: Cook County Board President Toni Preckwinkle on why the soda tax failed—and what's next.
---