For the next few weeks, Chicago Public Schools students will be applying to different high schools across the city. As you may know, the district allows families to choose schools beyond those in their neighborhood.
Among the choices are six public military academies. Admission is by application, and all students are members of junior ROTC (Reserve Officer Training Corps) and wear military uniforms daily. At the end of their four years, they're expected to be college-ready.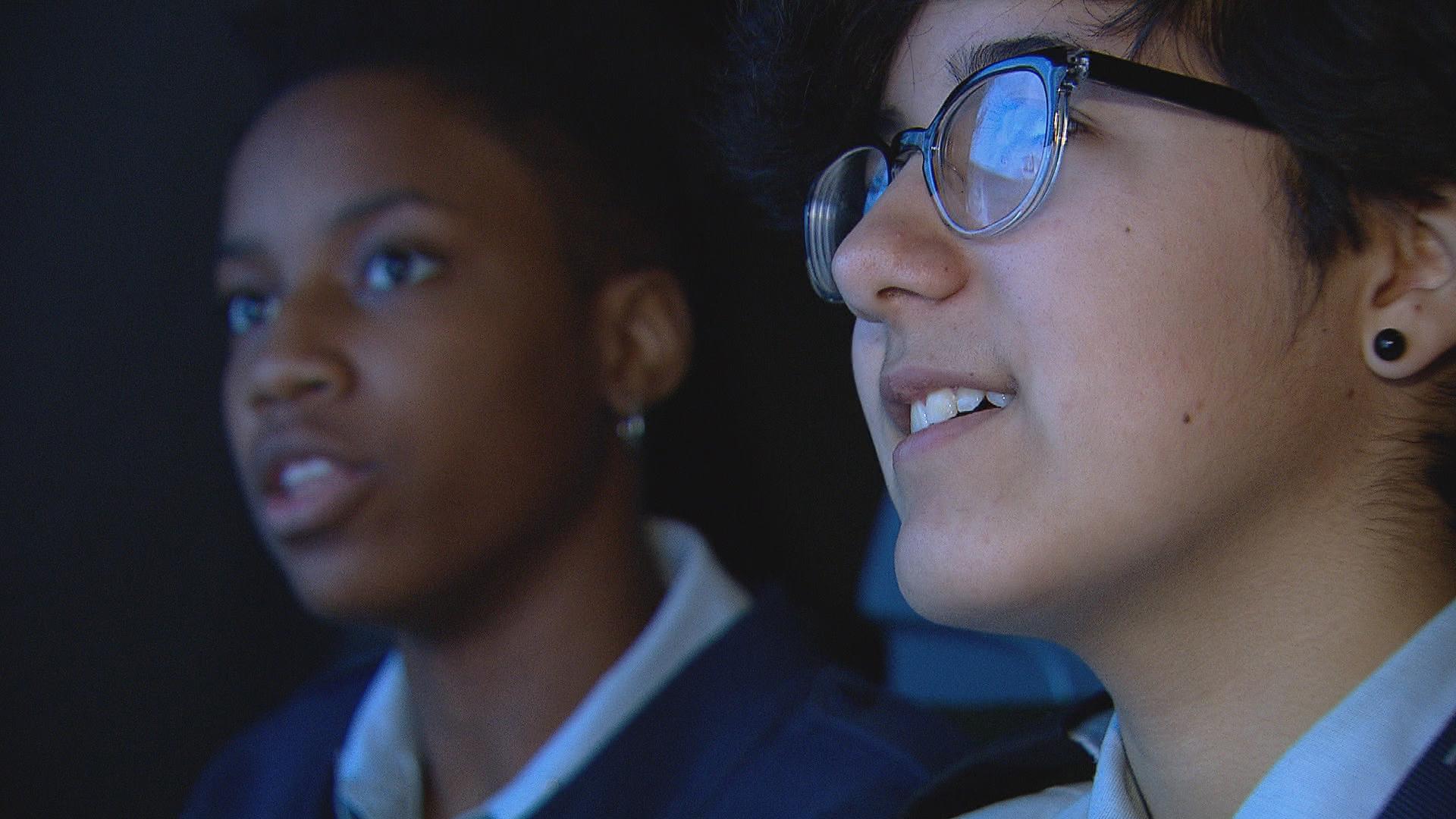 Students Tori Neealy, left, and Leah Nunez in a flight simulator at Air Force Academy High School.
Leah Nunez, 17, came to this high school to fly high.
"When I came in I knew that I wanted to be cadet colonel, so I worked as hard as I possibly could," she said.
In this case, her best friend and fellow cadet Tori Neealy is making sure she stays balanced—in one of the school's brand-new flight simulators.
It's one of the perks of attending Air Force Academy High School, the only public Air Force high school in the country. Here, all students are members of the junior Reserve Officer Training Corps, or junior ROTC.
Some faculty and staff are retired military, and the students are expected to be leaders.
Nunez may not have the loudest voice in the room, but she has shown enough leadership to earn her way to being the school's top cadet.
"We all come in at the same rank—which is the lowest, and which is airman basic. Depending on how hard you work in JROTC—if you're just doing everything that you're supposed to do and if you pass the promotion test, then you can get a higher rank," she said.
Air Force Academy High School is one of CPS's six military high schools that include a naval academy, a marine academy and three army academies. Together, they total more than 2,700 students. They're all publicly operated schools, students wear ROTC uniforms daily, and all of them are academically in good standing with the district.
Contrary to some misperceptions, they are not intended to be recruitment schools for the military or for students with discipline problems. Though, the structure and taste of military life may be what attracts some students.
"When I was younger I always wanted to be a part of the military, and so I looked at this school for a chance to be a part of it, and go through steps … I just wanted to know what it was like," said Neealy.
While much of the day is like regular high school, military students do meet in "formation" daily, where cadets recite their creed, and school leaders make announcements.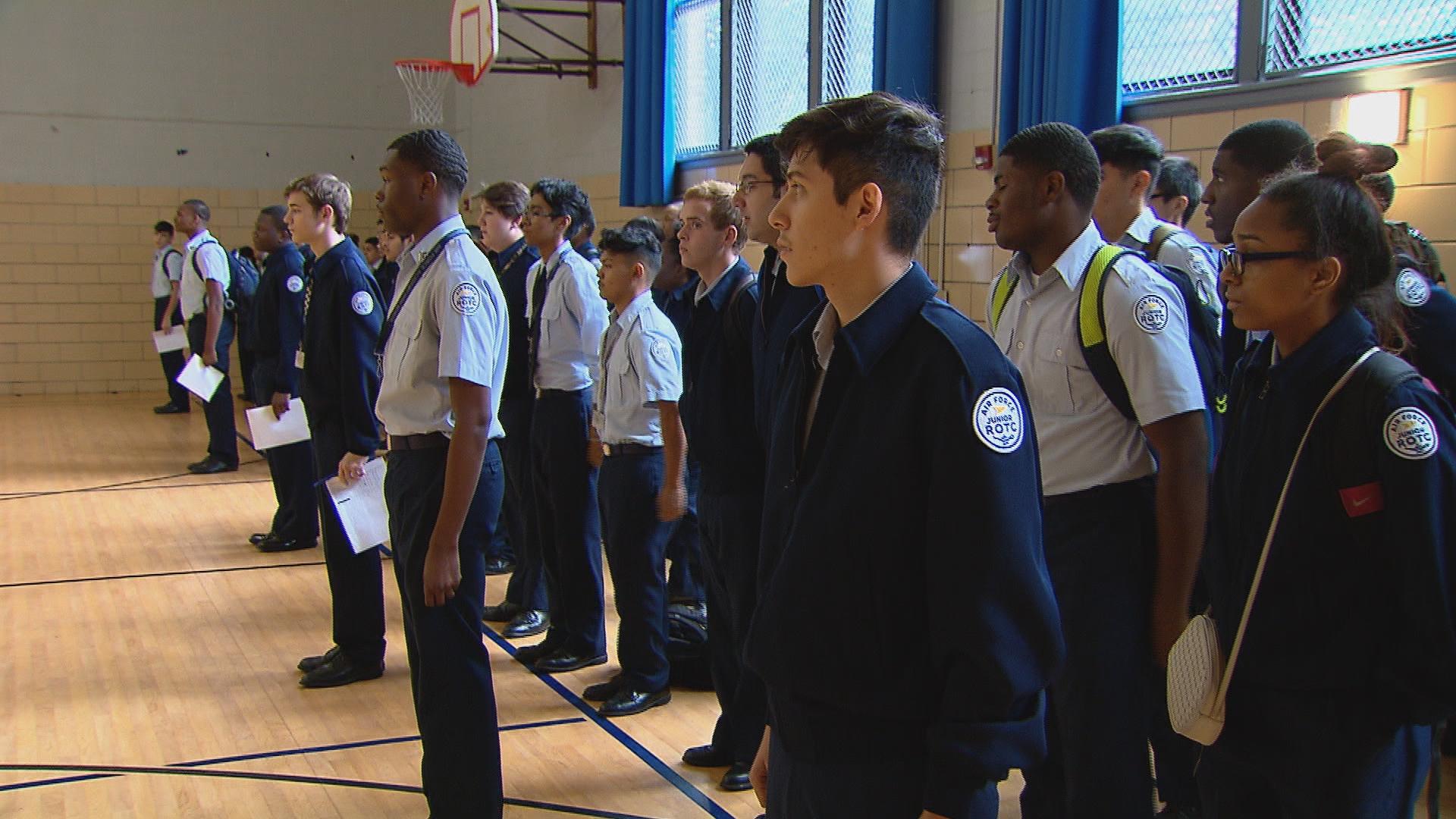 Principal Yashika Tippett Eggleston says it's just one way the Air Force culture is infused in this college-prep high school.
"Having the Air Force uniform, the formation, students walk to the right, we've adopted the values of the Air Force: integrity, service and excellence," Eggleston said. "We have four members of our staff that are retired Air Force instructors; I'm actually a retired Army officer.
"The students salute, there's the level of respect: 'yes ma'am, yes sir.' Our students are known as cadets or airmen."
And those values, she says, will be useful whether or not graduates choose to join ROTC in college, or enter the military directly.
"It's really not about preparing these students to go into the military, although that's an excellent career choice, it's really about getting them ready for college, and then if you look at data, surrounding the military schools, we do that well."
Across the six schools, graduation rates range between 79 and 94 percent, slightly higher than the district-wide rate of 77 percent. And somewhere between 44 and 64 percent enroll in college, compared to the district's 58 percent.
Nunez says after struggling in middle school, Air Force Academy High helped her turn her academics around.
And now her flight plan is taking off.

More on this story
Chicago Public Schools says it isn't able to track how many of its military academy grads go on to the military or ROTC in college, but last year, 16 students from across the district received ROTC scholarships to college or a U.S. military academy.
Follow Brandis Friedman on Twitter @BrandisFriedman
---
Related stories: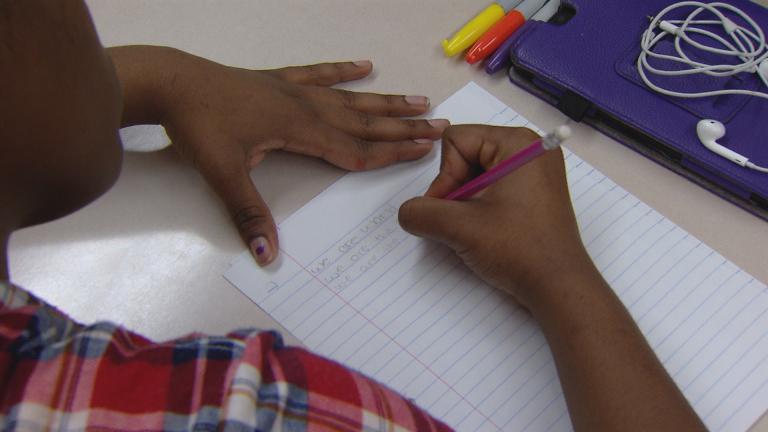 How CPS is Hoping to Bridge Another Achievement Gap
Oct. 26: High school students who take advanced classes are more likely to enroll in college. But Chicago Public Schools says that not enough minority students are getting access to this more challenging coursework.
---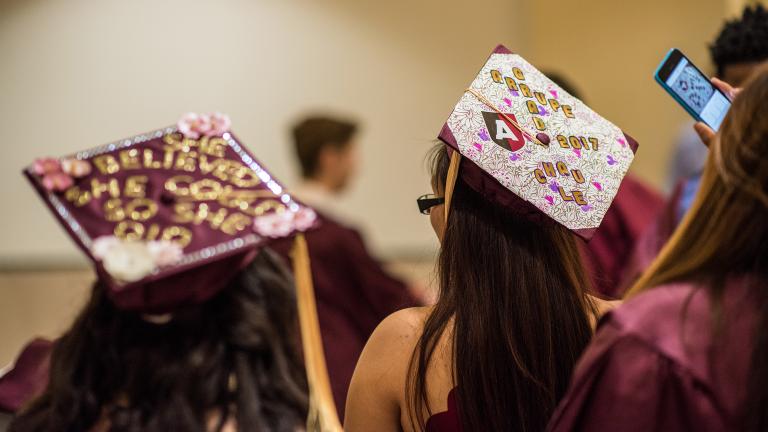 How Arrupe College is Reinventing Higher Education
Sept. 12: In 2015, Loyola University Chicago started a two-year college to provide high-quality education to low-income students. Now the school has graduated its first class of students.
---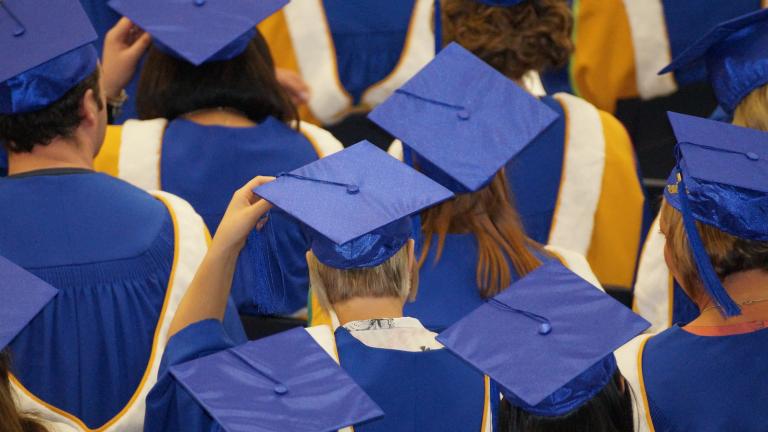 CPS Graduation Rate Rises as Enrollment Rate Drops
Sept. 4: Despite ongoing funding issues and declining enrollment, students at Chicago Public Schools graduated last year at the district's highest rate on record, with more students earning a diploma than in each of the past six years.
---