Former President Barack Obama and first lady Michelle Obama are back home in Chicago to launch the inaugural Obama Foundation Summit. The event brings together local and international leaders, including Theaster Gates, the U.K.'s Prince Harry and "Hamilton" creator Lin-Manuel Miranda.
Consider these next two days a dry run for the Obama Presidential Center.
The summit features 500 attendees from Chicago and around the world who are considered leaders and innovators in their communities, whether they have started, health organizations, refugee organizations or are fighting for other causes. They are taking part in sessions that focus on community organization and mobilization, empowering women and girls, and social media activism.
Obama kicked off his namesake event Tuesday by telling the participants what he expects of them.
"This is a big brainstorming session," Obama said. "This is a big hack-a-thon. This is an experiment in us trying to have a collective conversation, which we will try to shape and direct so that it's useful to you, but you are my co-collaborator, you are Michelle's co-collaborator in creating what ultimately the Obama Foundation will become."
Organizers of the summit say their goal is to start to bridge the massive cultural divide that exists today, where people of each political persuasion seek out information that confirms their pre-existing beliefs. They mentioned participants who are coming from places like rural Kentucky who will meet with people around the world to share ideas and start a dialogue that they can take back home.
Valerie Jarrett, a top Obama advisor for eight years who is now an advisor to the Obama Foundation, says the summit is the beginning of the anecdote for the current cultural and political division in the country.
"I have been so heartened by people who are hungry to make a positive impact, but they don't know how, they don't know where to begin," Jarrett told Chicago Tonight. "So the goal with the summit is to show them what's working, get them engaged, and give them the tools they need to be the change they want, and then when they go back home, they'll have the tools to galvanize positive change."
Attendee Suleiman Bakhit from Amman, Jordan, who says he was the victim of a physical attack by violent extremists, decided to start a superhero comic book publishing company to turn young children in the Middle East onto positive role models, to counteract propaganda from extremists.
"The biggest threat we face in the Middle East is terrorism disguised as heroism," Bakhit said. "We need to provide the youth with positive heroic role models: anti-Bin Ladens, anti-Zarqawis, anti-Baghdadis. Where are our supermen and wonder women?"
He says his comic books are now part of the public school curriculum in Jordan. It certainly is an idea that could be appealing to leaders here in Chicago, which is the point of the Obama Presidential Center.
Earlier in the day, Michelle Obama and Prince Harry surprised students at Hyde Park Academy for a visit of about 20 minutes. The summit continues Wednesday with a closing concert featuring the National and Chance the Rapper.
Separately, former Vice President Joe Biden is in town to address the Chicago Council on Global affairs.
Follow Paris Schutz on Twitter: @paschutz
---
Related stories: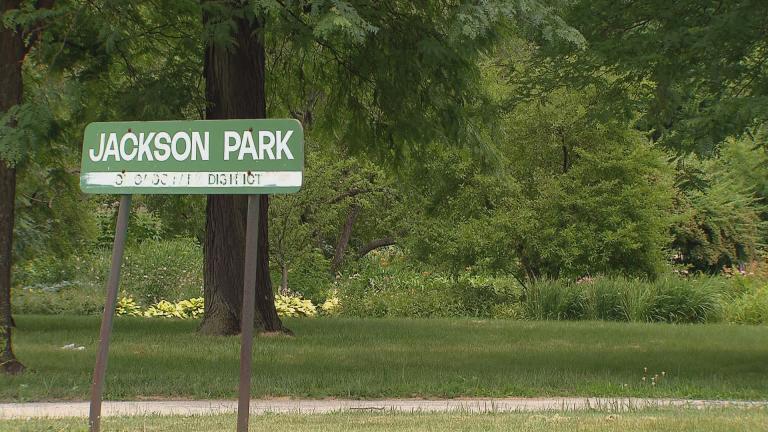 Obama Library Project Could Tap $100 Million in State Funds
Sept. 27: Mayor Emanuel and state lawmakers are quietly hatching a plan to give $100 million in state money to the Obama Presidential Center. Is Illinois ready to pony up?
---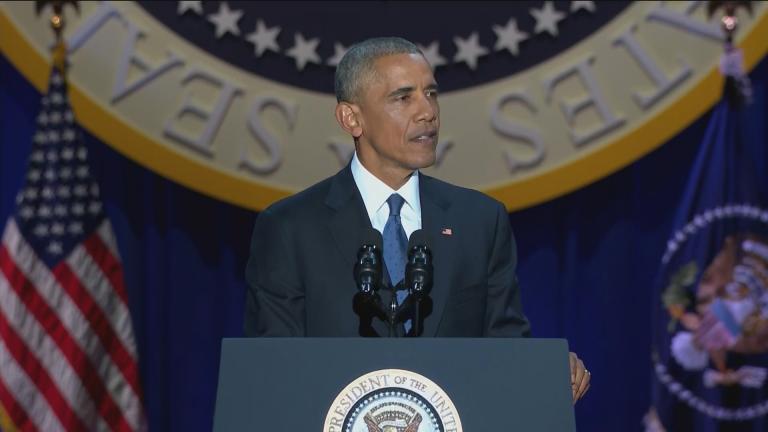 Obama Biography Paints Complicated Picture of a 'Rising Star'
May 17: In his new book, historian and author David Garrow traces how Barack Obama's life led him to the presidency – and paints a complicated, sometimes critical portrait of a polarizing and iconic figure.
---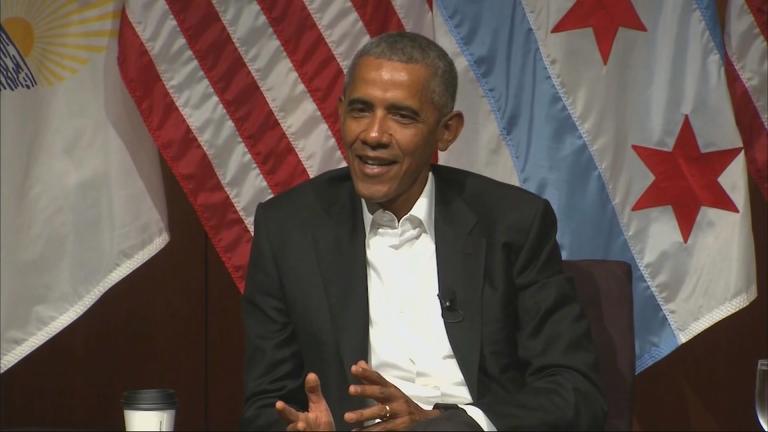 Barack Obama: 'I'm Always Optimistic' About Future of US
April 24: Former President Barack Obama was greeted with cheers on his home turf Monday at the University of Chicago as he convened a panel discussion with young leaders on the importance of civic engagement.
---