As Hurricane Maria battered Puerto Rico last month, frantic Puerto Ricans living abroad feared the worst about their loved ones on the island.
The hurricane left widespread damage and a humanitarian crisis that continues, with shortages of food and water, and power and cellular outages throughout much of the island. 
As FEMA and other groups have slowly brought aid to the island, some family members have embarked on private rescue missions.
Sonia Bell, 44, recently returned from a trip to visit her parents in Aguada, a coastal town of about 40,000 people on Puerto Rico's west coast.
"I knew I needed to go there and bring them aid. My goal was: I was not leaving Chicago without a generator," said Bell, a doctoral candidate at Harvard University and intern at the Chicago Council on Global Affairs.
She was determined to bring her father, 67, and mother, 71, a generator to "make their life a little easier in this disaster." But getting the machine to Puerto Rico was a challenge.
"I contacted many airlines and many had vague policies about what was allowable," she said. "I'd call one day, and 'yes, you could check it,' call the next day, they'd say no."
"No one understood their own policy," Bell said.
Finally, Spirit Airlines confirmed that she could check the generator. The catch: she'd have to fly into San Juan instead of the airport closer to Aguada.
"That drive was not good to begin with, but in a disaster like this, I was fearful because of the trees, flooding and impending dam breach, which was 30 minutes from my parents' house," Bell said.
Bell said the drive, which would normally take about three hours, took seven hours the day she and her husband landed. She didn't know what to expect upon arriving at her parents' home. She and her brother had been trying to contact them, with little success.
"I kept calling and calling, and unlike other times when there'd be a busy signal, there was nothing," she explained. "So I knew all the cell towers must have come down." Several days before she left Chicago, her brother in New York received one cryptic text from her father: "Things are bad here."
"At that point, I didn't know how they were doing, I just hoped that when we got there the generator would be useful, not knowing their conditions," she said.
When they finally made it, it was after nightfall and her parents' house was pitch black, but a generator was lighting the houses on either side.
Finally, her father came out to greet her on the porch, her mother shuffling behind soon after. After hugs and "I love you's," Bell and her husband began emptying their suitcases, connecting the generator and turning on what were idle fans. With them, they brought food, rechargeable batteries, solar panels and a gas container.
Bell and her husband, Jeff, were there several days. She learned about the creek where her father and neighbors had been getting water.
"They've been told it's safe water, but no one has tested it," she said, noting that some people elsewhere on the island have died of leptospirosis, a bacterial disease. Both parents suffer medical conditions: her father has heart disease and glaucoma, and his medication needs to be refrigerated. Her mother has eczema and difficulty walking, making her homebound.
"It was excruciatingly hot. It felt like over 90 degrees outside, but hotter inside the house," Bell explained, citing that her mother's eczema is exacerbated with the heat. "I don't know how they did that. It was very concerning to me."
Bell notes the island needs much more help. People often begin waiting in a line, not sure what they're waiting for, only that they'll likely need whatever is at the end of it.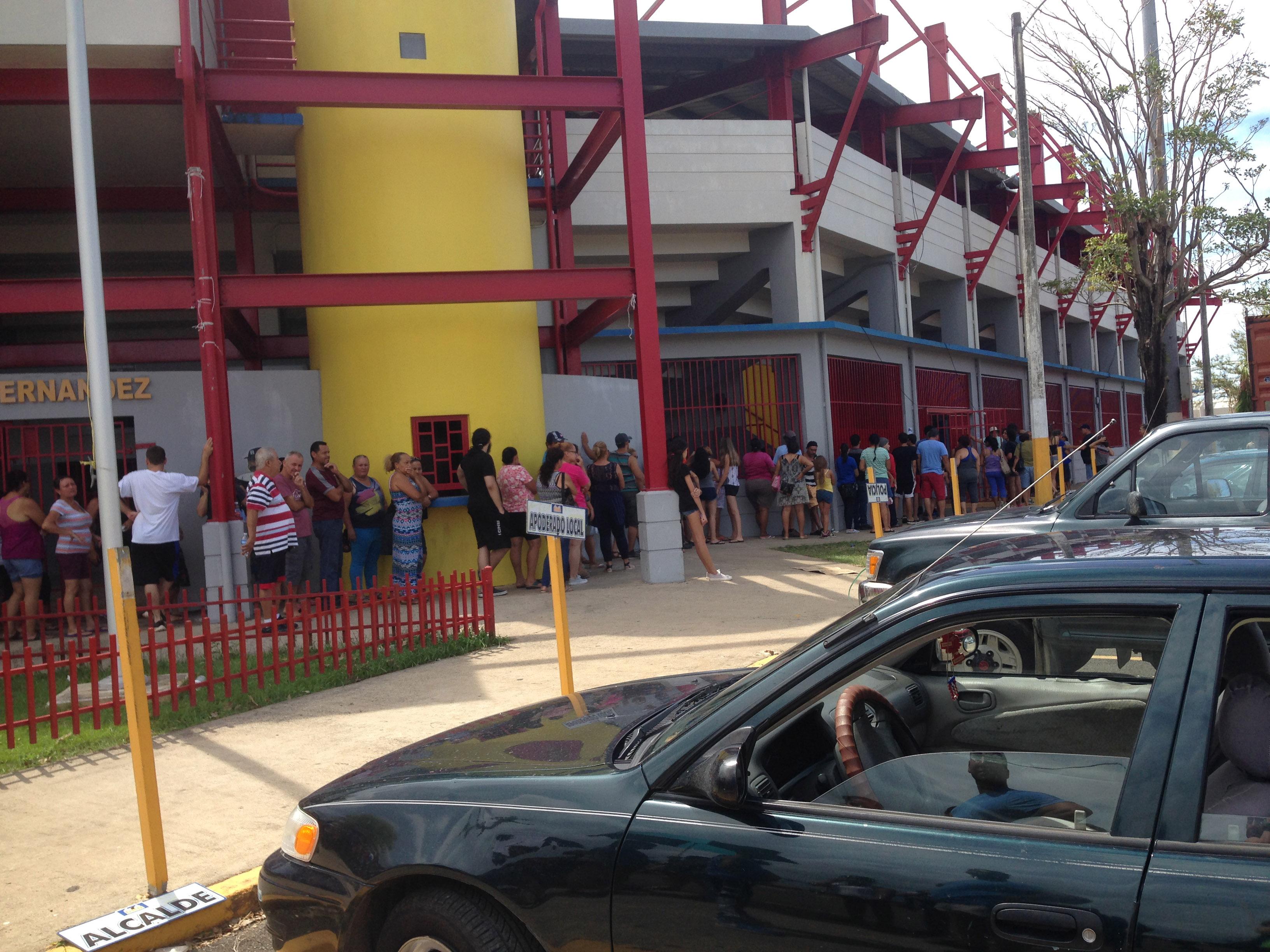 (Courtesy of Sonia Bell)
She had hoped to bring both her parents home, but knew her father would be intent on staying on the island.
"My father's reluctance to leave is understandable. He only has that house," Bell said. "Many families leave one person behind, because if you leave, people may poach that. People would wait until nighttime to take car batteries out of the car, because people were desperate."
Meanwhile, she's working to bring at least her mother, who is more frail, to the U.S., and to raise money for more water filters through a GoFundMe page.
On the show Tuesday: Bell joins us to discuss her experience.
Follow Brandis Friedman on Twitter @BrandisFriedman
---
Related stories: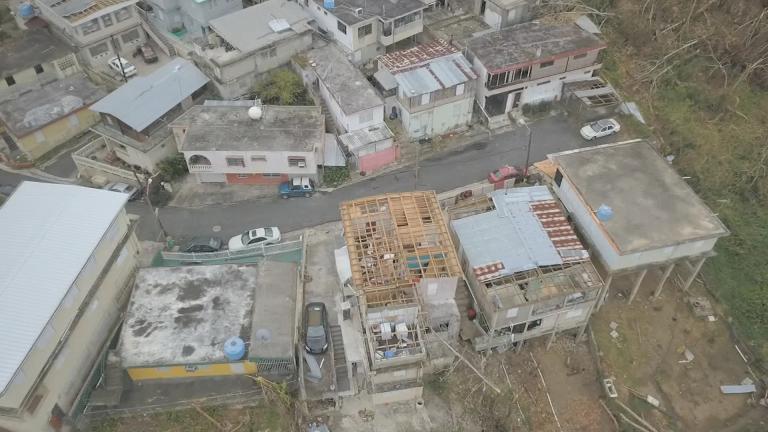 Hundreds Flee Devastation in Puerto Rico to Join Family in Chicago
Oct. 2: Mayor Rahm Emanuel said Monday the city is not only offering emergency responders to help Puerto Rico, but has already accepted 1,600 evacuees.
---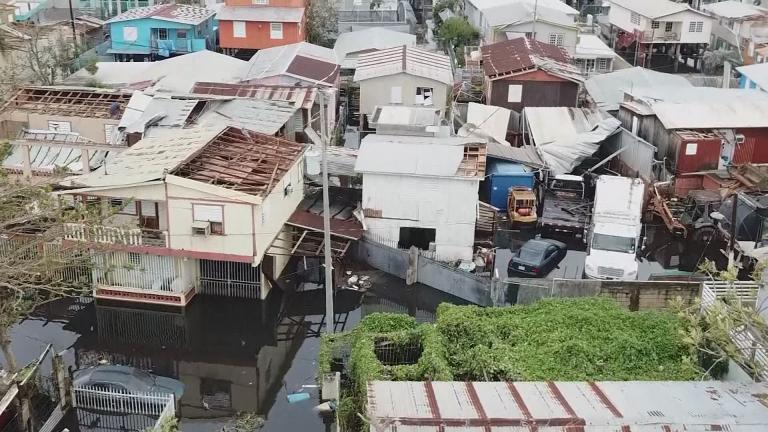 Trump Touts 'Good Job' in Puerto Rico as Chicago Residents Take Action
Sept. 26: The Trump administration fights back against widespread criticism of its slow response to Hurricane Maria, while Chicago's Puerto Rican community mobilizes to try to send supplies and water to the island.
---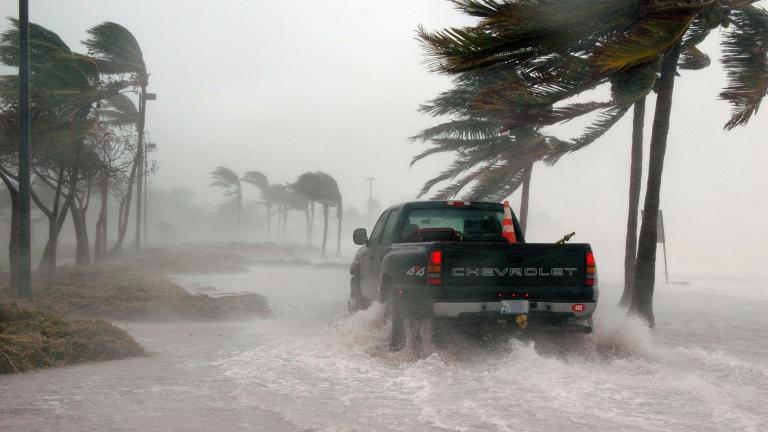 Climate Change and Infrastructure Failings in Extreme Weather
Sept. 11: What part – if any – does global warming play in the intensity of hurricanes? And what infrastructure failures contribute to the utter loss and destruction during extreme weather?
---