1. Celebrate
The bad news: Summer is over. The good news: Oktoberfest season is here. Get into the spirit at the 17th annual Oktoberfest Chicago at St. Alphonsus, a Bavarian bash held inside and on the grounds of the historic Lakeview church. Expect beers, brats and pretzels, plus two stages of live music and the return of Kinder Fest for young ones (11 a.m.-5 p.m. Saturday-Sunday). Craft beer tastings take place inside the church on Friday and Saturday (6-9 p.m., $40) and include up to 20 3-oz. samples from local and regional brewers. Music highlights: Boy Band Review, 16 Candles (Friday); Ed Wagner's Lustige Blaskapelle, 97 Nine (Saturday); Inroads, American English (Sunday).
Details: 5-10 p.m. Friday; 11 a.m.-10 p.m. Saturday; 11 a.m.-7 p.m. Sunday at St. Alphonsus Roman Catholic Church, 1429 W. Wellington Ave. $5-$10. / MAP

2. Crunch
Take a bite out of autumn at the 30th annual Apple Fest, where you can buy farm-fresh apples, hot cider, specialty foods, handmade gifts and offerings from local retailers and restaurants. Don't miss a dog costume contest (9 a.m. Saturday) and fresh-baked apple pie from the Chopping Block with fresh whipped cream. Live music on two stages and kids activities round it out.
Details: 9 a.m.-6 p.m. Saturday-Sunday along Lincoln Avenue, from Eastwood to Lawrence avenues. $5 suggested donation. / MAP
(Courtesy of the Lincoln Square Ravenswood Chamber of Commerce)
3. Swig
A local craft brewery turns up the volume on its 6th annual fall festival. The two-day Revolution Oktoberfest takes to the streets with live music from Real Estate and (Sandy) Alex G (Friday); and Jeff Rosenstock and White Lung (Saturday), among others, plus a food tent stocked with brats, pretzels and other fare. Fill up a commemorative 22-oz. mug ($10) with Revolution's Oktoberfest, Fist City or Rev Pils and get discounted refills ($8).
Details: 5-10 p.m. Friday-Saturday along Milwaukee Avenue, from Fullerton to California avenues. $5 suggested donation. / MAP
(Eric Allix Rogers / Flickr)
4. Pig out
The 14-city touring competition Cochon555 draws to a close, and Chicago plays host to the culinary capstone. Fourteen chefs from around the U.S. vie for the title of King or Queen of Porc at Grand Cochon. How it works: Each of the chefs prepares three dishes from one pig—for a total of 42 items. You get to sample them all and vote for your favorite. Tickets also include cocktails, wine, charcuterie and cheese. "Think of it as a gourmet tasting menu taken standing up," organizers say.
Details: 5:55 p.m. Sunday at Morgan Manufacturing, 401 N. Morgan St. $150. VIP tickets cost $225 and include entry at 5 p.m. / MAP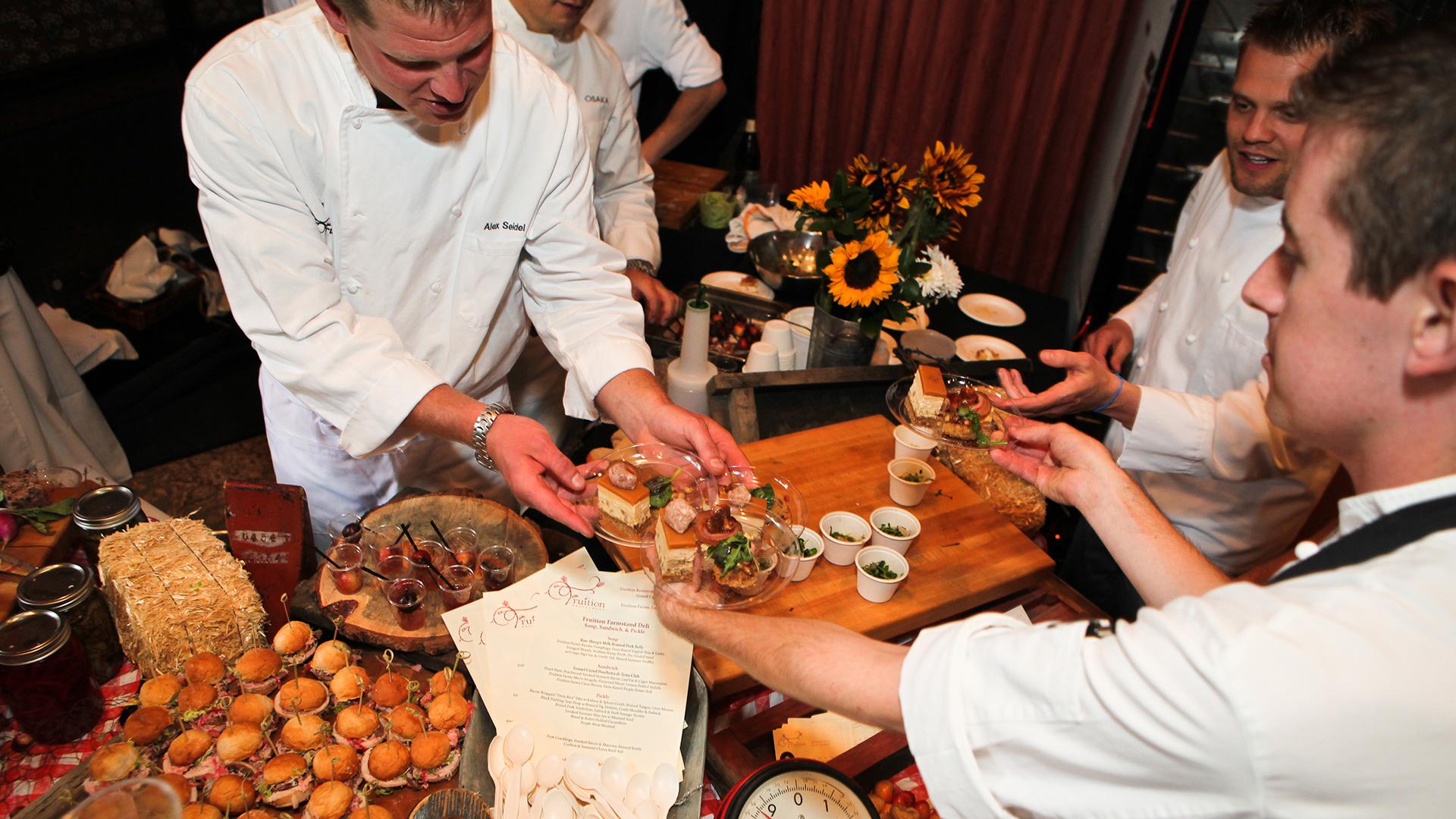 (COCHON U.S. TOUR / Flickr)
5. Hustle
Raise funds for a host of organizations that serve those living with HIV and AIDS by tying your shoes and hitting the lakefront with thousands of others for the 16th annual AIDS Run & Walk Chicago. Participants are encouraged to raise $100 in addition to the registration fee. Dogs and strollers welcome. A beer garden opens at 9:30 a.m. for post-race sipping. 
Details: Online registration now closed; race-day registration opens at 7 a.m. Sunday; 5K and 10K runs start 8:30 a.m.; 5K walk at 8:30 a.m. Soldier Field, 1410 Museum Campus Drive. $50 / MAP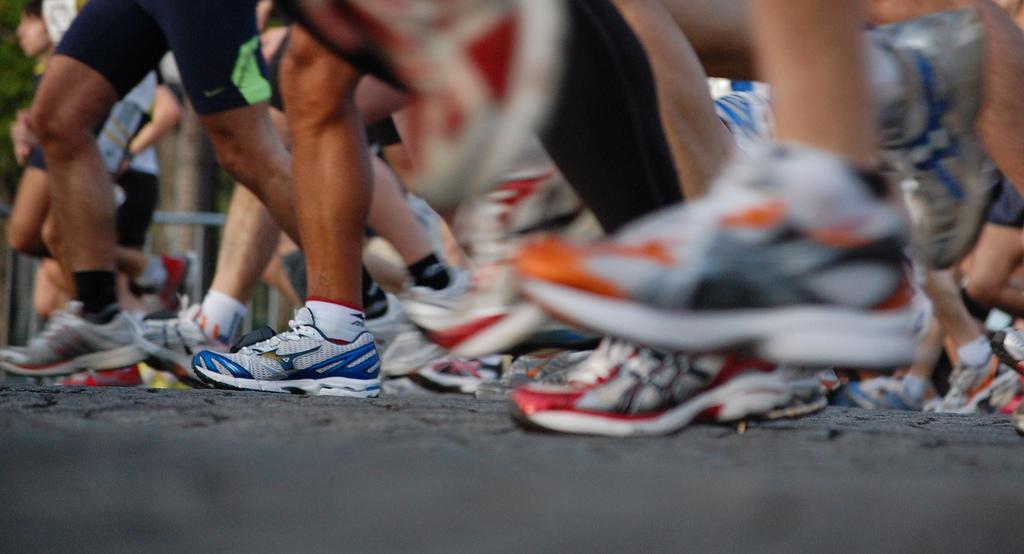 (Josiah Mackenzie / Flickr)
6. Squint
Tree climbing is not much of a spectator sport, but it has great potential for drama. See for yourself at the annual Illinois Tree Climbing Championship, which last took place in Chicago in 1998. Roughly 30 pro climbers ascend 60 feet into the sky, showing off their skills while performing tasks that may involve, for example, handsaws and other sharp tools. "We're really hoping to draw a big audience," said April Toney, executive director of the Illinois Arborist Association, which organizes the event. "Sometimes you're on the edge of your seat. It can be dangerous." Hear what else Toney has to say about this weekend's event.
Details: Starts 8 a.m. Saturday in Lincoln Park, 4801 N. Simonds Drive. Free. / MAP
Saturday's tree-climbing event includes a demonstration for kids. (April Toney / Illinois Arborist Association)
7. Admire
A new photography exhibit explores architecture on the city's South Side. "Chicago: A Southern Exposure" features the work of architecture critic and photographer Lee Bey, who was named to a new management position at the DuSable Museum in July. The exhibition examines buildings that are often overlooked and overshadowed by signs of urban decay, such as empty lots and crumbling buildings. In the exhibit, Bey highlights the work of black architects John Moutoussamy and Ryder, Morrison and Margerum, in addition to Frank Lloyd Wright and Mies van der Rohe, among others.
On Thursday, Bey and WBEZ host Jennifer White discuss the exhibit at 6 p.m. The program is free and open to the public.
Note: Admission to "Chicago: A Southern Exposure" is free as part of the Chicago Architecture Biennial. Admission fees apply to other exhibits at the museum.
Details: Open 10 a.m.-5 p.m. Tuesdays-Saturdays; noon-5 p.m. Sundays; closed Mondays. Exhibition is on view through Feb. 16, 2018. DuSable Museum of African American History, 740 E. 56th Place. General admission: $8-$10; $5-$7 for students and seniors; $2-$3 for kids ages 6-11; free for kids under age 5. / MAP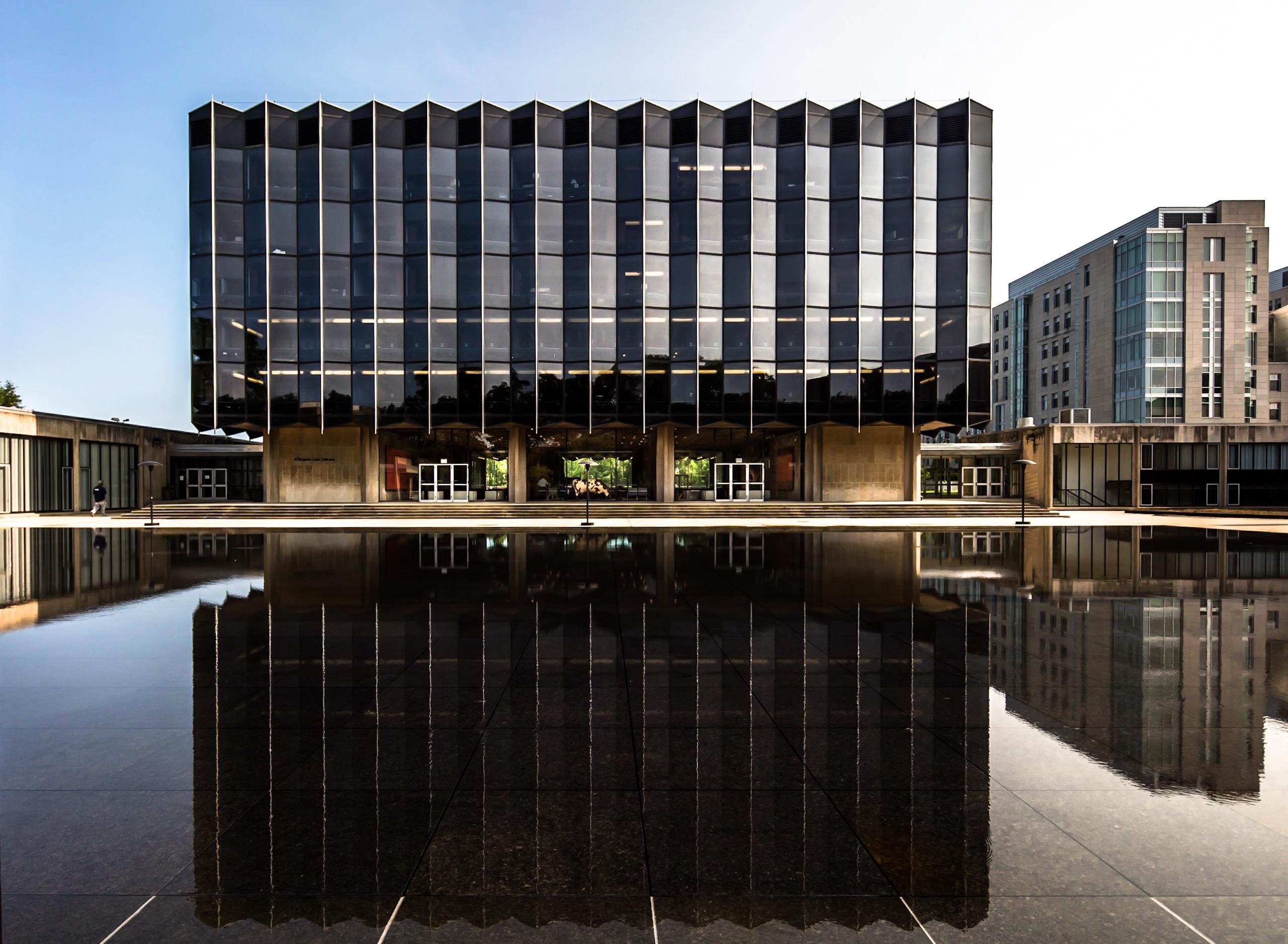 The D'Angelo Law Library at the University of Chicago. (Courtesy of Lee Bey)
8. Sing
When the film "Moonlight" won a trio of Academy Awards back in February, Steppenwolf ensemble member and playwright Tarell Alvin McCraney was partly responsible—the screenplay was based on his short play "In Moonlight Black Boys Look Blue." Another work by the Oscar-winning McCraney gets its Chicago premiere this weekend. The coming-of-age drama "Choir Boy" tells the story of a gay teen in an African-American prep school for boys, who seeks to lead the school's legendary choir. 
Details: 7:30 p.m. Wednesday-Saturday; 3 p.m. Sunday; continues through Nov. 12 at Raven Theater, 6157 N. Clark St. $43-$46; $38-$41 for seniors and teachers; $15 for students and active military. / MAP
From left: Tamarus Harvell, Patrick Agada, Christopher W. Jones, Julian Terrell Otis and Darren Patin star in Raven Theatre's Chicago premiere of "Choir Boy." (Photo: Christopher Semel)
9. Experience
A new theater festival celebrates Latino artists from Chicago and beyond during a month of performances and panel discussions across the city. The Chicago International Latino Theater Festival, Destinos, kicks off Friday with the U.S. premiere of "I, the Worst of All," a drama by Iraida Tapias about Mexican nun, poet and scholar Sor Juana Inés de la Cruz. Performances take place at the National Museum of Mexican Art and are presented in Spanish with projected English translation. 
Details for "I, the Worst of All": 7 p.m. Friday-Sunday; continues through Oct. 8 at the NMMA, 1852 W. 19th St. $15-$20 / MAP
Festival continues through Oct. 29 at various locations, tickets vary.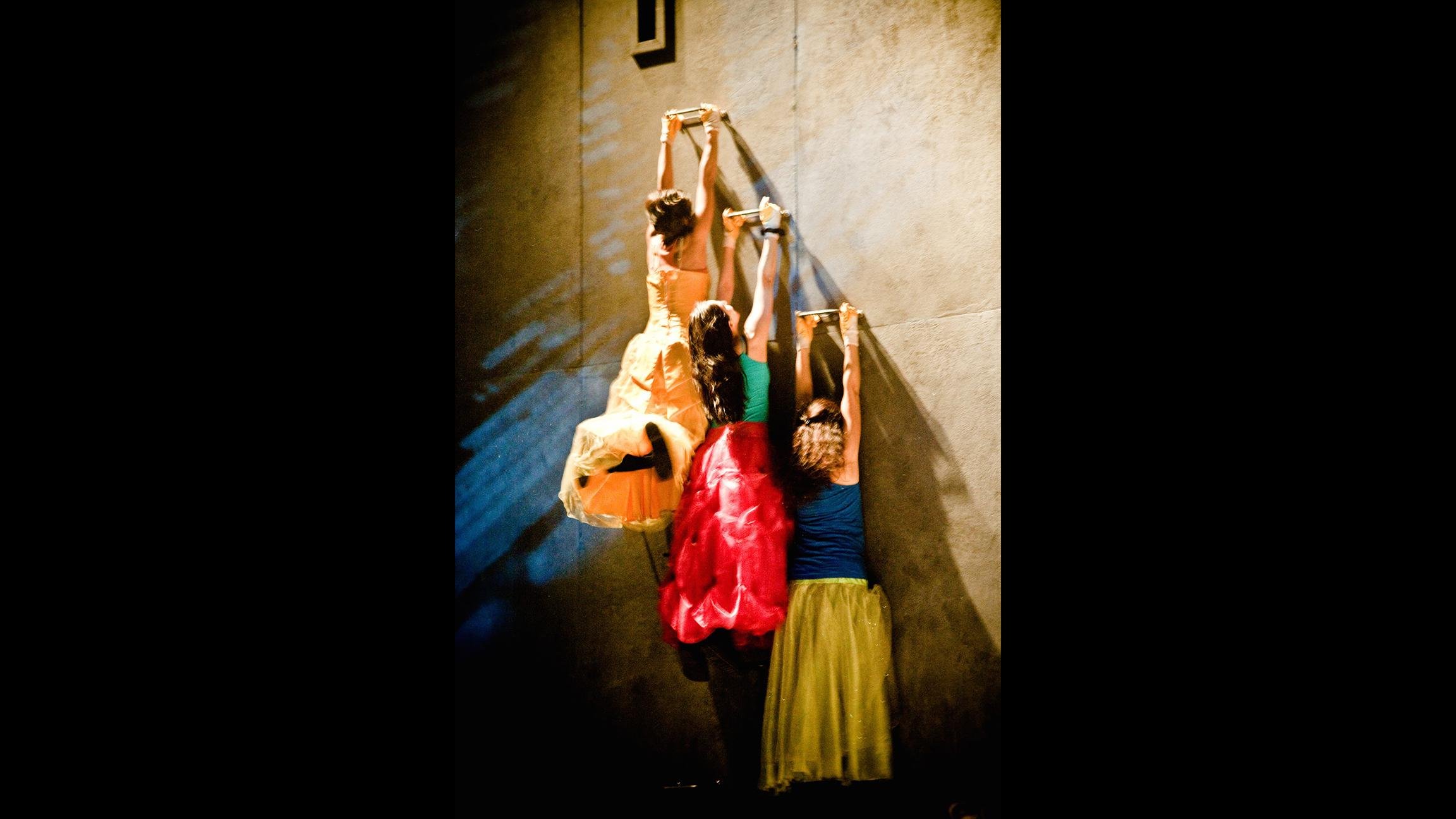 Teatro Línea de Sombra's "Amarillo" is part of the inaugural theater festival Destinos. See it Oct. 17-29 at The Yard at Chicago Shakespeare Theater. (Photo by Sophie Garcia)
10. Reminisce
The leading ladies of Disney take to the ice for a limited-engagement show that'll bring chills and high-jumping thrills to fairy tale fans. See Ariel, Belle, Cinderella, Rapunzel, Tiana, Jasmine, Aurora and Snow White slide across the frozen stage in "Disney on Ice presents Dream Big." BYO fairy dust.
Details: 7 p.m. Thursday-Friday; 11 a.m., 3 p.m., 7 p.m. Saturday-Sunday at Allstate Arena, 6920 Mannheim Road, Rosemont. Tickets start at $20. / MAP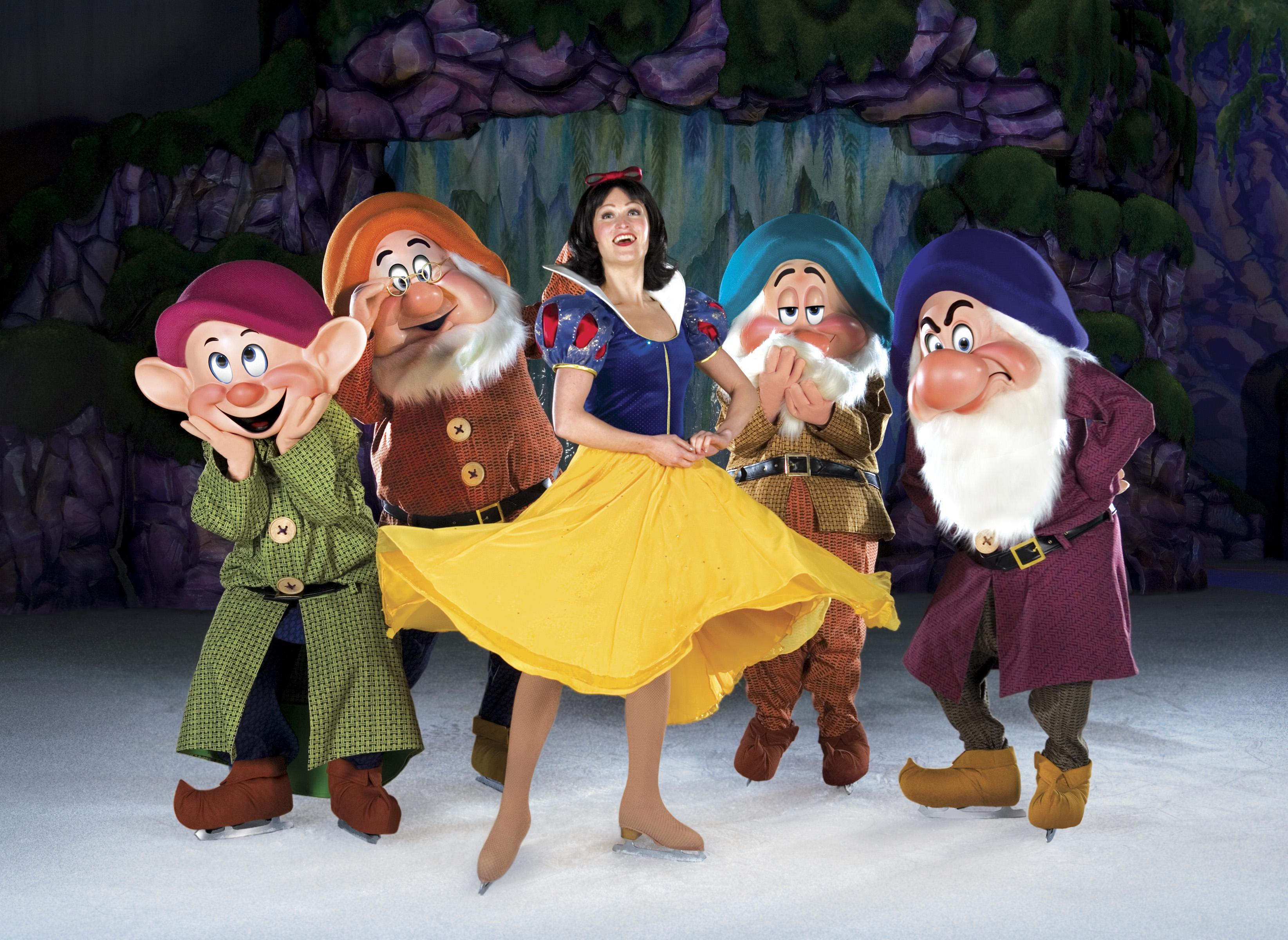 See Snow White and friends on ice this weekend. (Courtesy of Feld Entertainment)

Events listed are subject to change. We recommend double-checking times and locations before you head out the door. Want to share your upcoming events with us for consideration in a future roundup? Send us an email.
---