Chicago's downtown is experiencing such explosive growth it's being called the Super Loop.
And in the Loop, the CTA has rebuilt its first new elevated L station in 20 years. It's a gateway to Millennium Park and Jewelers Row at Washington and Wabash. Did the Obama Library designs change at a meeting last week with the architects and community members? And the Chicago Shakespeare Theater lifts the curtain on its much anticipated Yard performace space on Navy Pier. 
Blair Kamin, the Chicago Tribune's Pulitzer Prize-winning architecture critic, joins us to look at these stories.
Below, an edited Q&A with Kamin on these stories.

What is the Super Loop?
The Loop is expanding further west and further south. It's bounded by North, Ashland, the Stephenson and the lake. If you measured the population in just that area, it would be considered the second largest city in Illinois. The texture of city life is changing. There are no subsidized housing high-rises at Cabrini Green anymore. You have a Starbucks and a Target. By skid row, there are now sushi shops. Those areas are now populated by more affluent residents as opposed to the past. The rents are high. It's pushing for affordable housing out. So who is the super loop for? The average person can't afford $2,000 a month for a one bedroom apartment.
There's a lot of new construction but nothing is impressing you architecturally?
There's a lot of quantity but not a lot of quality. The new buildings being built are the same tired formula of a tower on top of parking garage. The garages are getting smaller but other than that they are not innovating in new ways. At the Biennial, we saw a new model of urban tower.  Tatiana Bilbao presented a matrix of apartments, single family homes, offices that would be cantilevered from a single tower. In Milan, there's the Bosco Verticale, a vertical forest residential towers. The balconies are wrapped in trees and hundreds of shrubs. It saves energy and creates green space vertically. It's more conducive to city life. Developers here are building the same old, same old just slightly tweaking the design along the way.
Density and green space concerns around Wells with so many buildings?
Cities are about density. The more dense, the better. Then more people are taking public transit and taking fewer cars. Then there are more people to serve in those neighborhoods, and more shops to take care of them like we're seeing on the west side. The flip side is that there's a need for open space and green space and the city of Chicago is encouraging more amenities like that. On Wells Street, The Exhibit on Wells has a pocket park. That's a good step forward. We need more of that to make the  city more livable and not just active.
The Washington-Wabash Station first new L station in the Loop in 20 years. Your reaction?
I'm happy but with some reservations. It's impressive. The risk in a project like this is that the basics of function could take a backseat. But here, they did a good job with function. For example, the canopy extends all the way down the platform so you're covered in the rain and snow. It's festive architecture reflects Millennium Park. I found the canopy a little bit derivative of Calatrava. There's theatricality but a lack of directness. The Morgan Street L station in the west loop is better. But the city wanted a dramatic gateway to Millennium Park.  This definitely rises above a bland station. It's definitely better than Washington library station which is dark and reflects leaden architecture of the library.
$75 million built a station that's both practical and beautiful?
The high cost has to with the fact that they constructed it while trains were running. If you built it in the middle of Iowa, it wouldn't have cost that much. Remember that federal funds were used that are meant to improve air quality and lessen traffic congestion.
That's a lot to build it in budget tightening times even with federal funds. Talk about the importance of spending for architectural purposes.
People made same critique of Millennium Park. The lessons of Millennium Park is that if you divide money in hundred pieces, they would have never built something that gets enormously high attendance from people from all across the socio-economic spectrum. The L station in the loop is central to the city. The city's present is tied to its character as tourist destination. This is a gateway to Millennium Park and Jewelers Row. There are jewelry qualities to the details with diamonds in canopies. Infrastructure is about transportation and the urban fabric. When you make it more attractive, you signal to people that they are in a transit station that has something special about it. Its money well spent. The urban core is the center of tax base. It's a long term investment. A purely utilitarian station would be a missed opportunity.
Obama Presidential Center and Library
Did the meeting last week help clarify or change anything design-wise?
No design changes were presented at the meeting. We're waiting for Obama center people to come out with revised design.
Talk about the debate over the parking garage and what you'd like to see.
The parking structure as it is currently designed would be built above ground on the midway. Ideally if you have all the money in world you'd build the garage underground like at the Museum of Science and Industry. But Cong. Dan Rostenkowski secured $35 million in federal funds to build that underground garage with green space which won't happen again. Ideally, the ground plane can be used as green, flat space. But they're building above ground and covering it. So I'm skeptical if it'll be usable as park space. There is a robust debate about whether that'll actually be park ground. Does it really count as park land?
Who pays for it?
Good question. It is State Road 41. So the state?  Leave it to Rahm to come up with some way to fund it. It's still a good move. The notion that'll be no cost to taxpayers is fiction. But it's good for Woodlawn and Hyde Park. You improve the job and real estate prospects in the area. It's a once in a lifetime opportunity. It's justified and the right move. This project is manna from heaven for this neighborhood. The biggest decision is how to accommodate. I still have issues with the height of tower because it doesn't fit. 
Yard Opening
Describe this new creative theater space with moveable seating tiers?
The architects claim it's new and different. But theaters with movable parts exist. It's unusual but I'm not sure it's unique. The big question is how is it going to work under game conditions?  You don't know until you see it. But anything that draws news life to Navy Pier is good. I would have been more excited if they had gotten rid of the Skyline Stage which was a mutant beetle that disrupts the continual horizontal visual line. The Yard is an exciting concept. I'm going to check out the opening show on Tuesday night.
---
Related stories: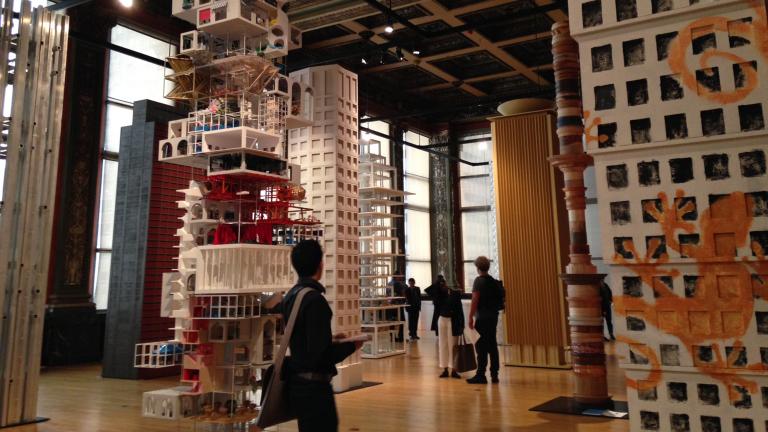 Chicago Architecture Biennial 'Showcases the Newest Thinking'
Sept. 14: The Chicago Architecture Biennial returns for a second year to highlight the work of contemporary architects from around the globe. We get a preview.
---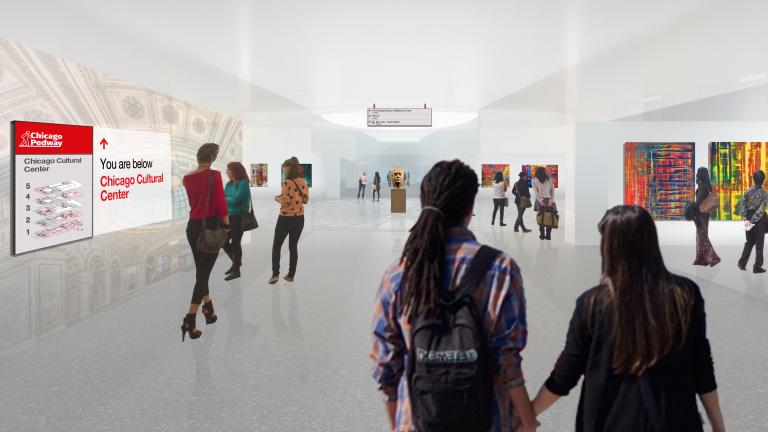 Blair Kamin Deconstructs Potential Chicago Pedway Upgrades
July 11: Chicago Tribune architecture critic Blair Kamin analyzes a new report that envisions new uses and upgrades for Chicago's Pedway.
---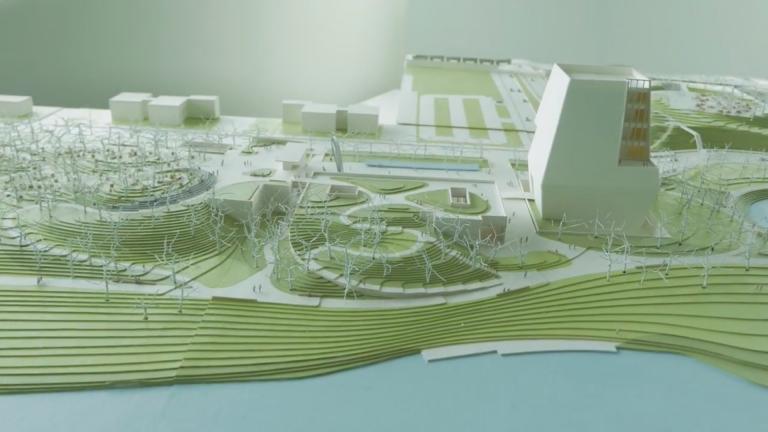 Blair Kamin's First Impressions of the Obama Library Plans
May 4: Chicagoans got their first look Wednesday at plans for the Obama Presidential Center. Tribune architecture critic Blair Kamin gives us his first impressions.
---