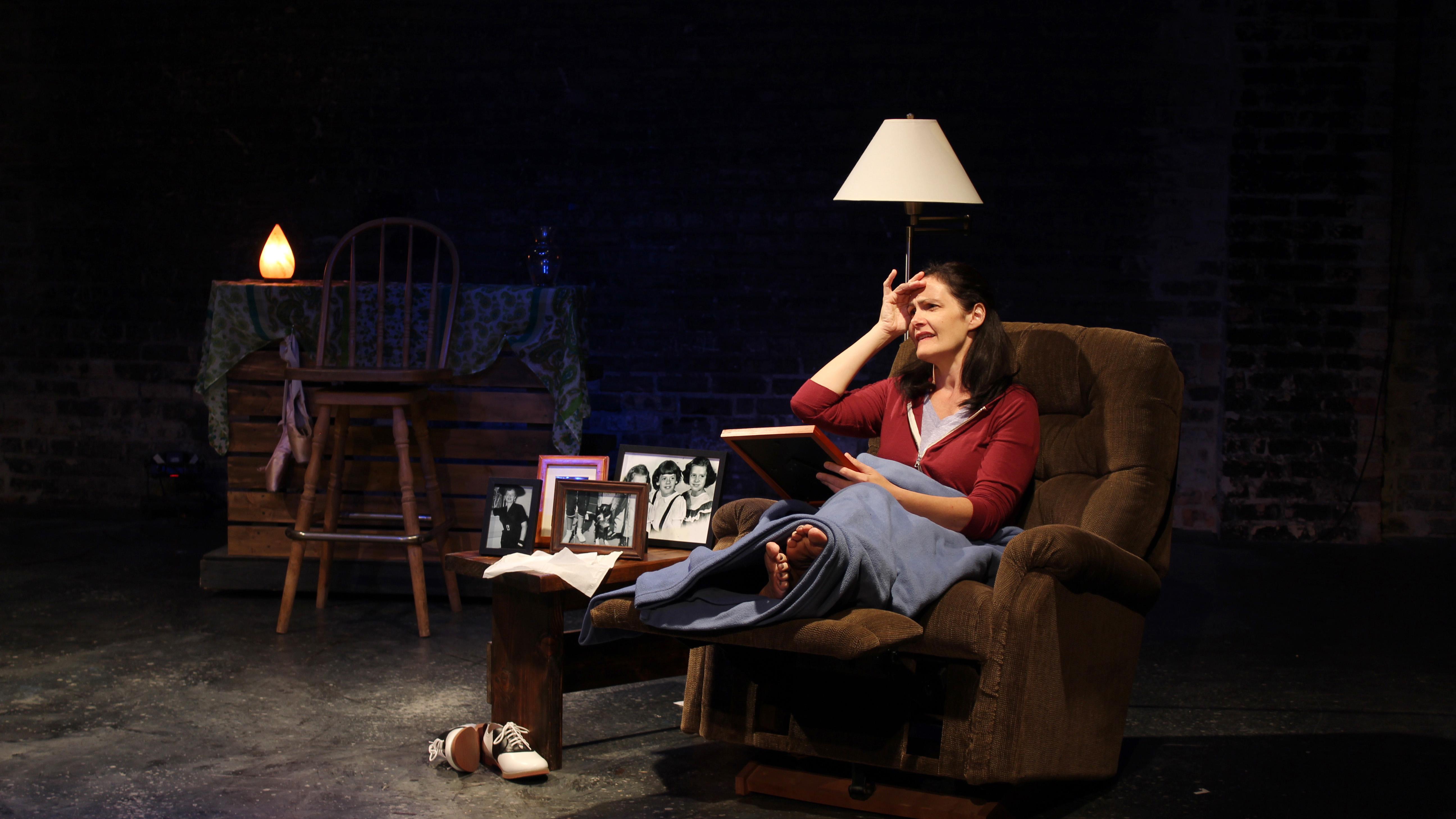 Stacy Stoltz performs in "Walk A Mile." (Credit: Mali Anderson)
Connecting with family members is, for many, a way to stay grounded in a chaotic world. But for local actor Stacy Stoltz, family ties weren't always strong.
"I felt a loss of a connection that I used to have for my mom, and I don't know my dad very well," said Stoltz, whose parents divorced when she was a baby. "I want to know my dad. I think I've gotten to that age where that's very important to me."
Through extensive interviews, Stoltz has gotten to know her parents – warts and all – and many others will get to know them, too. Starting Thursday, Stoltz will be performing "Walk A Mile," a play she developed based on those conversations.
"It's about breaking the cycle of not communicating, not connecting and finding a way to go back and process some of the events my family experienced," Stoltz said. "It's kind of inspired by the idea that we have a biological imperative for connection."
The production is one of three featured in a new theater festival called SPARKfest that addresses mental health issues such as addiction, depression, post-traumatic stress disorder and conditions related to aging.
Chicago-based nonprofit Erasing the Distance, the group behind the festival, has been using performance since 2005 to "spark dialogue, educate and promote healing surrounding issues of mental health." 
"Our goal is to disarm stigma and get people talking about it," said artistic director Amy Sarno. "We thought a festival would be an effective way of doing that."
Creating a Space to 'Directly' Address Mental Illness
In the late 1990s, Erasing the Distance founder Brighid O'Shaughnessy was working with the Thresholds Theatre Arts Project, which produces slice-of-life stories about people dealing with mental health issues. "The idea was to normalize mental illness for the audience" by sharing stories everyone could relate to, O'Shaughnessy said, like a first time at summer camp or a first kiss.
As her involvement with the project grew, O'Shaughnessy made a key observation. "The more comfortable I got talking about mental illness in my own life, the more I realized that it was all around me and not just in severe and persistent forms," she said.
She wondered what it would be like if more stories addressed the range of mental health issues and how they impact people. "That was the impetus of Erasing the Distance: I wanted to talk directly about the illnesses themselves," she said. "I wanted to create a safe space for people to share [their stories]."
Through Erasing the Distance, individuals are invited to share their stories with volunteers, who record the conversations and then carefully transcribe them. "It's a diligent process: every 'um,' and pause is transcribed. If they touch the table, it's all recorded through the transcription process," O'Shaughnessy said. "Transcripts can be between 10 to 100 pages."
Transcripts are then shaped into a narrative that maintains the "heartbeat" of the story, O'Shaughnessy said. "We don't tidy up endings. ...  It's where the person is now and that could be 'I checked back into a hospital.'"
In most cases, storytellers don't perform the finished works, but they do approve the final narrative before a professional actor takes the stage. O'Shaughnessy thinks that asking the storyteller to perform the work themself, instead of an actor, "wouldn't be the most helpful for their recovery."

"We don't tidy up endings. ... It's where the person is now and that could be 'I checked back into a hospital.'"
–Brighid O'Shaughnessy
---
Through the story sharing process, many participants end up seeing themselves in a new light.
Marlena initially wanted to use a pseudonym. She had experienced homelessness, bipolar disorder and post-traumatic stress disorder. She also engaged in prostitution as a way of securing shelter. But after reading the script she said she wanted to "own" her story, according to O'Shaughnessy. "She talked about feeling free from shame."
In addition to producing true stories, creating a dialogue around those stories was important to O'Shaughnessy. "I thought theater would be a good way to stimulate conversation," she said.
After each performance there is a discussion to help the audience process the show. "If you have an emotional theatrical performance and everyone walks out the door, they're likely carrying that experience inside them and they haven't had a chance to speak about it," O'Shaughnessy said. "It's also really about community building because it gives people the chance to say out loud, 'I've had that experience, too.'"
An 'Educational and Moving' Fest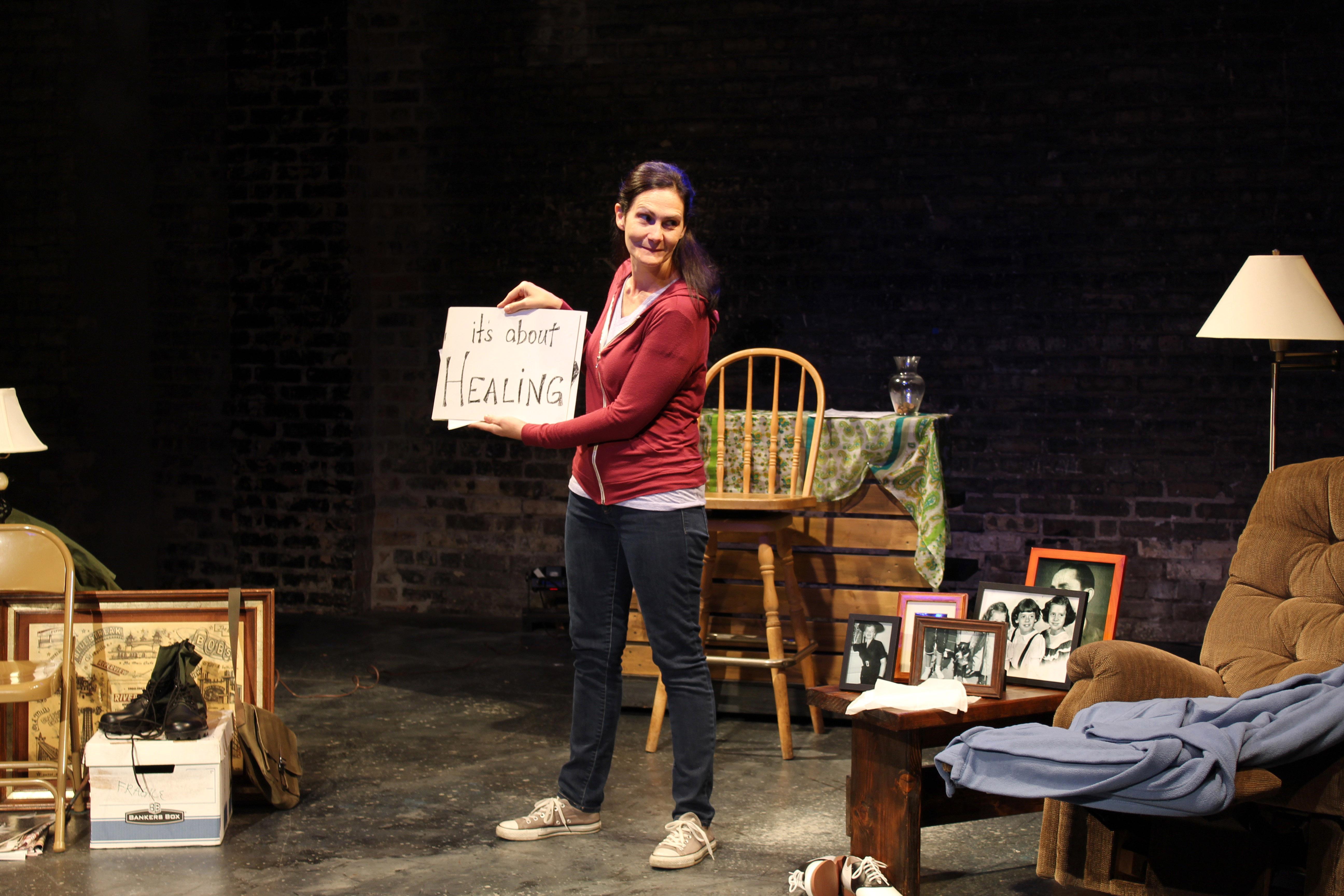 Through creating "Walk A Mile," actor Stacy Stoltz said she's learning to love and understand her parents better. (Photography by Mali Anderson)
SPARKfest is also partnering with organizations that serve vulnerable populations as a way to foster conversations. Each partner has a connection to one of the play's themes. For instance, Evanston-based PEER Services treats individuals with substance abuse, an issue highlighted in "The Lies We Tell."
The Metropolitan Family Services DuPage Center will address issues related to caregiving that are portrayed in the play "Breathe With Me." And the National Alliance on Mental Illness Chicago will focus on family connections and mental health concerns within families – topics Stoltz addresses in "Walk A Mile."
"There will be lots of information, a lot of creative problem solving and a lot of very moving storytelling because everything that people will see are real stories from other people," Sarno said. "This is one of those festivals that's one of a kind, and Chicago should come out and check this out because I think it'll be fun, it'll be educational and it'll be moving." 
Stoltz hopes sharing her family's story about addiction, loss and communication will spark a "curiosity" in audience members to think about their family ties. "Take an interest in them, or to be inspired to reconnect if it's in a situation that's appropriate," she said. "I'm learning to love [my parents] more and understand them better."
Follow Kristen Thometz on Twitter: @kristenthometz

More on this story:
SPARKfest begins Thursday, Sept. 7 and runs through Sunday, Sept. 24. Times vary; performances take place at the Filament Theatre, 4041 N. Milwaukee Ave. Tickets: $15-$20; passes to see all three works on Saturdays cost $33. For more information, visit Erasing The Distance's website. 
---
Related stories: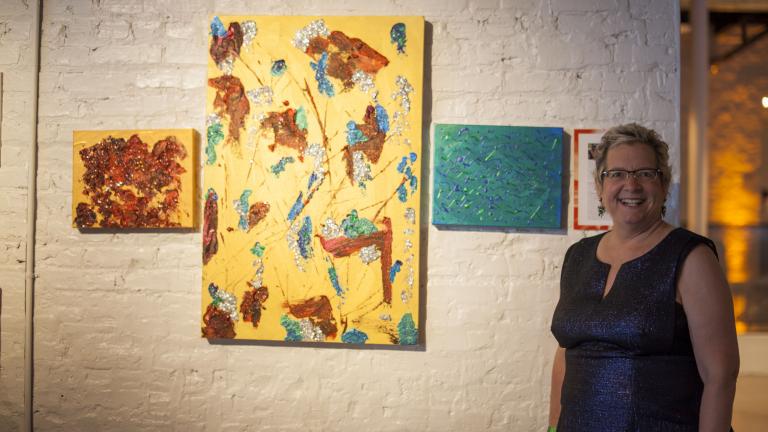 Brushes with Cancer Celebrates Life, Art
Sept. 1: Everyone who has been touched by cancer has a story to tell. Through Brushes with Cancer, artists find inspiration from those stories to create reflective works of art.
---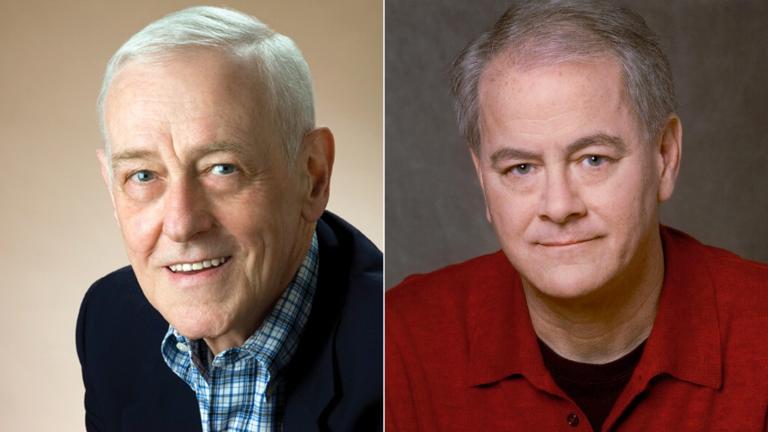 John Mahoney, Francis Guinan Talk 'The Rembrandt' at Steppenwolf
Aug. 31: The veteran actors join us to discuss a new show opening Sept. 7 at Steppenwolf Theatre.
---
'Unbroken Glass' A Personal Journey for Local Filmmaker
May 18: When he was just 6 years old, Dinesh Sabu lost both of his parents. His documentary, "Unbroken Glass," delves into his family history and how the trauma of loss shaped his own life and that of his siblings.
---