Geoffrey Baer does some heavy lifting on the story of a Southeast Side building in this encore edition of "Ask Geoffrey."
Also: Many have marveled at the four mosaic sides of Chagall's "Four Seasons" in downtown Chicago – but there once was even more to see of this monumental work. 

Can you tell me about the statue holding up the northwest corner of a building at 3532 E 95th St? It's been there since I was a kid and shown in pictures back in the 1930's.
– Anthony Margis
The 7-foot-tall stone man has been shouldering a heavy burden on the corner of a building in Chicago's industrial Southeast Side since around 1915. More than hundred years without a break! But there's some debate as to exactly who he is.
Is he a Neanderthal, as a 1948 Tribune item suggested?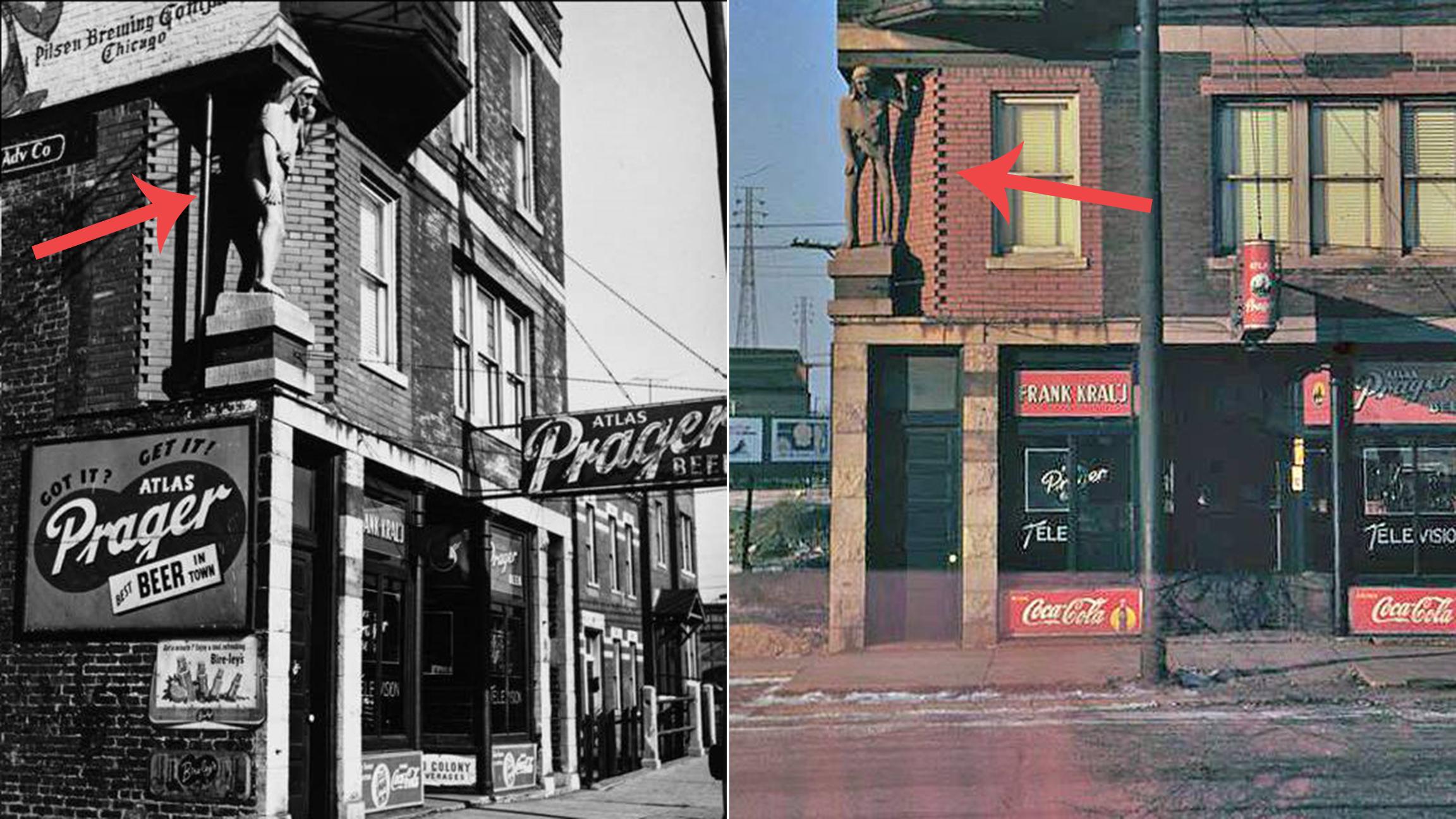 (Photos courtesy of Anthony Margis)
Or does his animal skin robe identify him as John the Baptist, as Chicago cultural historian Tim Samuelson said some community residents believe?
We can't say for sure who he is, but we do know who put him there. According to a Tribune article, the building's owner Nicholas Ivancic created him. Ivancic was a stonecutter and blacksmith. When he had a third floor added to the building, he created the second floor niche for his stone sculpture. Reportedly Ivancic saw a sculpture doing the same kind of heavy lifting in Germany, and he decided then and there that should he ever own a building, he'd make his own stone man.
Later, the building was purchased by Frank Kralj, who opened a tavern there. Kralj would dress the stone man up as Santa Claus for the Christmas holidays. At one point Kralj considered removing the man, but his tavern's patrons protested so much that he left the man in his niche.
Today, the building is home to a burger shop.

The 1974 Chagall mosaic "The Four Seasons" had a mosaic design on the top. During the 1988 repair the original mosaic top was removed and replaced with granite slabs. What became of the original mosaic top?
– Roy Slowinski, Flossmoor
It's a sad irony that the seasons Chagall's mosaic celebrates are what cost the work its top surface.
When you visit Marc Chagall's "Four Seasons" mosaic in the plaza next to Chase Tower today, the 70-foot-long work is protected by a bronze-and-glass canopy and surrounded by a guardrail.
But when it was unveiled in 1974, it was out in the open and the top surface was only visible from the upper floors of what was then the First National Bank of Chicago and neighboring buildings. The Chuck Olin documentary below, "Gift: the Monumental Art of Marc Chagall," shows the process of the work's creation and its unveiling.
---
The millions of tiles or tesserae covering the mosaic in more than 250 colors form images of bird, fish, flowers, suns and pairs of lovers, all representing the four seasons, which in turn, Chagall said, "represent human life, both physical and spiritual, at its different ages."
But the elements rather quickly took their toll on the work. By 1988, just 14 years after it was dedicated, the piece underwent a major restoration.
Chagall was dead by then. The tilework was done by Chagall's colleague Michel Tharin who had done the tilework when the mosaic was originally installed.
Unfortunately, the top was deemed unsalvageable and it was scraped off. Some of the material was collected in buckets and stored at the bank; some of what survived was re-used in a second restoration by the firm Wiss Janney Elstner in the 1990s, according to Deborah Slaton, who worked on the project. The tile top was replaced with two watertight roofs, one made of stainless steel and a second on top of that made of granite that matches the plaza.
In 1994, the protective canopy structure designed by Joseph Gonzalez of Skidmore, Owings an Merrill was constructed around the piece because it was continuing to suffer from, as Chagall said, les quatre saisons.
We also received another question from a viewer asking whether he correctly recalled that Chagall planted a smooch on the mayor – and he was right! Mayor Richard J. Daley presented the artist with a medal at the dedication ceremony, and reportedly was a little startled when a joyous Chagall responded with a kiss on the cheek.
Chagall, who said he had a special fondness for Chicago, has two other major works here – the America Windows at the Art Institute and a tapestry at the Rehabilitation Institute of Chicago, which he designed just before his death in 1985.
Note: This edition of "Ask Geoffrey" originally aired on May 3.

More Ask Geoffrey: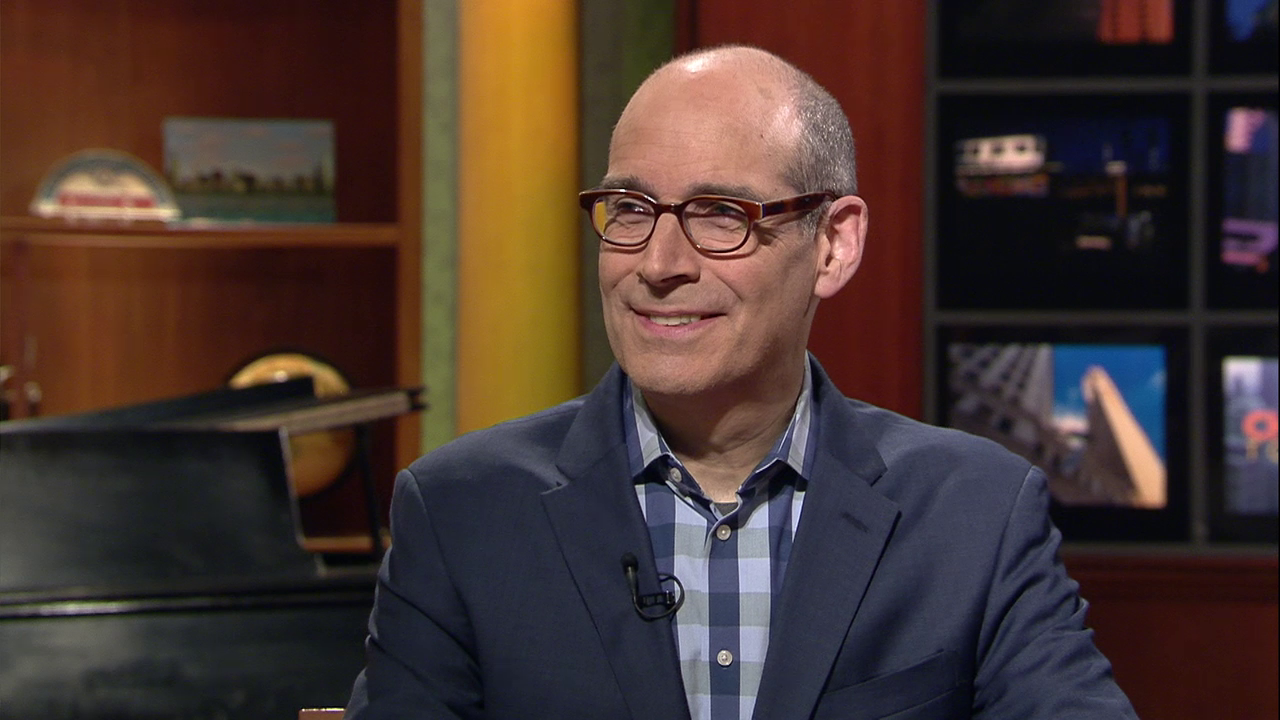 Did you know that you can dig through our Ask Geoffrey archives? Revisit your favorite episodes, discover new secrets about the city's past, and ask Geoffrey your own questions for possible exploration in upcoming episodes. Find it all right here.
Do you have a question for Geoffrey? Ask him.
---