Geoffrey Baer tracks a statue's journey from a library to a North Side park and illustrates the career of a celebrated expressionist painter and cartoonist whose work regularly appeared in the Chicago Tribune.

I recently saw a 1910 painting – "Die Lokomotive mit dem großen Rad,"("The Locomotive with the Big Wheel") by Lyonel Feininger in the Albertina Museum in Vienna, Austria. The wall text said he was an expressionist painter who also did cartoon illustrations in the Chicago Sunday Tribune. I had never heard of him; what more do we know about his Chicago newspaper work and his painting career?
– Robert Pierce, Edgewater
Before he became a celebrated expressionist painter, Lyonel Feininger did indeed create color comics for the Chicago Sunday Tribune in 1906. He was not only a pioneer in the young art form of color comics, he was also one of the earliest users of something very commonly used today: speech bubbles!
Feininger was born in New York City to German musicians. He moved to Germany as a teenager to study violin, but fell in love with visual art instead.
The Tribune found him working as an illustrator in Berlin. The newspaper had been publishing color comics for a few years but was looking to make a bigger splash, and they commissioned the artist to produce full-page color cartoons. It didn't hurt that Feininger was a German artist at a time when Chicago had a huge German population.
Feininger created two strips a week for the Sunday comics while still living in Germany. The darkly humorous Kin-der-kids followed a group of children on their adventures at sea in a bathtub as they tried to avoid their Auntie Jim-Jam and her castor oil punishments. Wee Willie Winkie's World trailed the title character as he interacted with anthropomorphized objects around his countryside home in surreal, vividly colored panels.
After nine months of cartooning, Feininger decided to establish himself as a fine artist, drawing upon the modernist techniques he had experimented with in his strips. He became associated with the Bauhaus movement and in 1924 established an expressionist group, "Die Blaue Vier," with fellow Bauhaus artists Wassily Kandinsky, Paul Klee and Alexej von Jawlensky.
In the 1930s the Nazi Party launched a campaign against what they called "degenerate" German artists, including Feininger. Feininger fled to the U.S. and the Nazis confiscated more than 400 of his paintings.
He settled in New York where a 1944 retrospective of his work at the Museum of Modern Art finally brought him fame in the U.S. at age 73.
Feininger died in New York in 1956.

"Young Lincoln" by Charles Keck
In his latest book titled "CHICAGO," Brian Doyle mentioned the statue of a young Abraham Lincoln that used to be on the second floor of the Cultural Center. It used to be one of my favorite stops whenever I ventured into the city. Where did it go? Whenever I asked staff people, no one seemed to know.
– Catherine Ohs, Flossmoor
Young Abe Lincoln moved neighborhoods!
Sculptor Charles Keck's likeness of a beardless and barefoot Abraham Lincoln holding a book and sitting on a tree stump watched over the Grand Army of the Republic Memorial Hall since 1980 in what was then called the Chicago Public Library's Cultural Center.
In 1997, he was moved to Senn Park next door to Senn High School in the Edgewater neighborhood.
The sculpture is a glimpse of Lincoln as a young man from humble beginnings, well before he became the celebrated lawyer and statesman so often depicted as solemn and thoughtful in art.
Keck finished the sculpture, appropriately titled "Young Lincoln," not long before his death in New York in 1951. Keck was a New York artist whose work includes likenesses of Booker T. Washington, Harry S Truman and Stonewall Jackson, as well other statues of Lincoln for sites in Indiana and New York.
In a Tribune article, Keck's son said the sculptor created "Young Lincoln" "purely for his own pleasure."
Nearly 30 years after his death, Keck's family donated the sculpture to Chicago "because of Lincoln's connection with the city and because of the fine Civil War collection of GAR (the Grand Army of the Republic) Hall."
When the GAR collection was transferred to the newly built Harold Washington Library in 1991, "Young Lincoln" was moved into storage.
In 1997, the Department of Cultural Affairs donated the 13-foot statue to Senn Park, very near the site of Seven Mile House, a home and meeting place where it was believed Lincoln visited during his 1860 presidential campaign. Research differs on whether that visit actually happened.
This statue is one of five public statues of Lincoln in Chicago. The four others are in Lincoln Square, Grant Park, Lincoln Park and Garfield Park.

More Ask Geoffrey: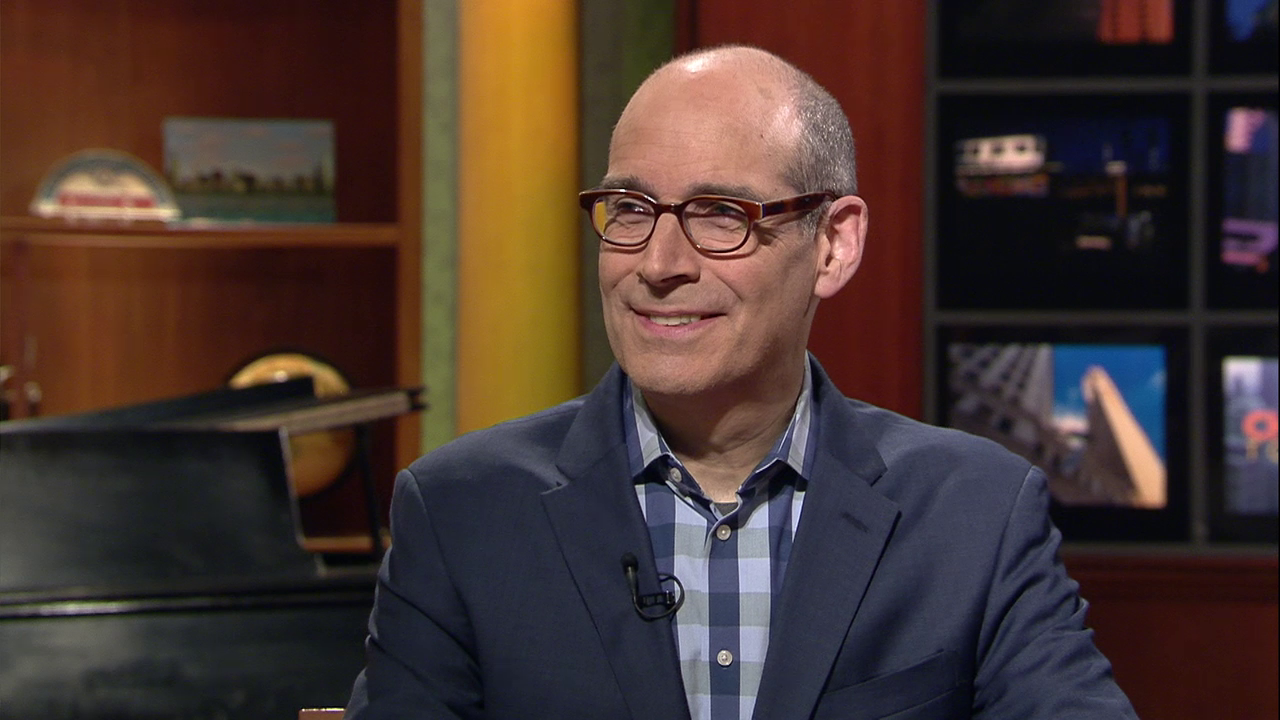 Did you know that you can dig through our Ask Geoffrey archives? Revisit your favorite episodes, discover new secrets about the city's past, and ask Geoffrey your own questions for possible exploration in upcoming episodes. Find it all right here.
Do you have a question for Geoffrey? Ask him.
---