The future of school funding is now in Gov. Bruce Rauner's hands, after Democrats finally sent him legislation he's made a show of demanding they release.
Now the question is what Rauner will do with it.
Rauner had promised an immediate veto—likely an amendatory one, making changes that Republicans say will "fix" Senate Bill 1 so it's no longer what they describe as a "bailout" for Chicago Public Schools.
Rauner's spokeswoman Laurel Patrick said Monday afternoon that the governor would take "swift action," but none came by evening.
"Democrats have been sitting on the education funding bill for two months, in effect holding our students hostage and threatening our public schools' ability to open on time. Finally, this afternoon, the bill was sent to the governor's desk," she said in an email. "The governor will now review the bill."
Democrats say they used a parliamentary maneuver to put the bill on hold, thereby preventing the governor from acting on it, in hopes of preventing a veto.
Various superintendents and major education advocacy groups are calling on him to sign it. 
The "Fix the Formula" coalition, made of groups including Advance Illinois, the Illinois Principals Association, and the Ounce of Prevention (Rauner's wife, Diana Rauner, is Ounce's president) released a statement saying "this is an historic moment for Illinois. For the first time in decades, we are close to fixing school funding and ending the inequitable way the state funds its schools. With Senate Bill 1 on its way to the Governor and representatives from all four caucuses meeting today, it is now time for final action to give certainty to students and families, and ensure that schools open on time and stay open all year. Leaders of the state, get this done for the children of Illinois and end the broken status quo."
A path toward compromise briefly seemed possible, after a bipartisan, bicameral group of eight legislators who are leaders on education (Democratic Sens. Andy Manar and Kim Lightford, Republican Sens. Jason Barickman and Dan McConchie, Democratic Reps. Will Davis and Barbara Flynn Currie and Republican Reps. Avery Bourne and Bob Pritchard) spent much of Sunday negotiating in private; their talks continued on Monday.
They offered conflicting perspectives on how the private meetings went: Democrats announced forward movement, with Manar saying "we see progress every step of the way." Republicans said just the opposite.
"It seemed as if the Democrats in the room are only interested in poking holes in the process and they had no sincere interest in negotiating in good faith to come to a bipartisan agreement," Barickman said.  
Rauner has put the blame on his constant nemesis, House Speaker Michael Madigan, for the latest impasse, which comes on the tail of a two-year standoff that left Illinois without a budget. It was resolved in early July after a dozen GOP legislators joined with Democrats to override Rauner's veto of a spending plan and an income tax increase.
"Mike Madigan's General Assembly is playing political games with our kids' futures," Rauner wrote in a recent email to supporters of his 2018 re-election campaign. "Instead of working in a bipartisan manner to ensure that the state funds our schools on time, Madigan's majority is holding the education funding bill hostage to create a crisis."
Madigan on Monday said in a statement that Democrats will "continue to reach across the aisle" to "enact bipartisan education funding reform." In the same statement he accused Rauner of choosing "chaos over compromise."
"Every child in Illinois deserves a great education, but too many are being held back by one of the most unfair funding formulas in the country, and the reform we need is being held back by a governor who is determined to pit one child against another for political gain," he said.
Schools won't get any money from the state until this, or a bill like it, becomes law, because Democrats put a provision in the budget that makes K-12 funding contingent on an "evidence-based" formula.
The first round of school aid payments are set to be sent from the state to schools on Aug. 10; while some have the local support and reserves to do without it, others districts need that money to keep their doors open.
Because Illinois schools rely heavily on local property taxes, there's a disparity in how much money is spent supporting children's' studies. After decades of legislative efforts to make the funding formula more equitable, so that students in poor areas aren't using outdated textbooks while those in wealthier ones are each issued their own iPad, this is the closest Illinois has come to overhauling how the state disperses education funding to various districts.
There are lots of ways this could play out.
Rauner could wait for the bipartisan negotiations to produce a compromise, which he could then put in the legislation using his amendatory veto powers.  However, after his promises of a veto that could give the perception he is a flip-flopper. It would also deprive the governor of pre-election headlines saying he preventing a CPS "bailout," which would play well downstate.
However, if he does veto the measure, schools are at risk of being forced to shut their doors or make cutbacks come fall for lack of funding.
Rauner has thus far been able to blame Democrats, but should he veto the only bill that would get schools the money, he could be perceived as being the one responsible for putting them in jeopardy.
Manar said Monday that Democrats hope to avoid a veto "showdown."
"If the governor vetoes the bill that essentially would bring these (bipartisan negotiations) discussions to a close," he said. "Because that's final action. What we would ask him to do is continue to negotiate with us because we believe we're making progress. It would be a different conversation if we didn't think these things were so far worth the time."
While Democrats hold a supermajority in the Illinois Senate, they don't in the House, meaning that members of both parties will have to get on board in order for any version of Senate Bill 1 to become law.
Typically, a supermajority of votes is needed to override a veto, but only a simple majority is needed to accept a governor's recommendations. However, from July through January a supermajority of votes is required on any legislation if it's to take effect immediately, as would be necessary for state money to begin flowing to districts. Therefore, the bill is dead unless supermajorities of the legislature either accept or override a potential veto.
Even as social service organizations, universities, state services and legislators' own salaries were in tumult during the budget standoff, education alone won Illinois politicians' constant protection. 
The current situation, however, stands to kick off another round of legislative "chicken." This time, Illinois students are directly in the crosshairs. 
Follow Amanda Vinicky on Twitter: @AmandaVinicky 
---
Related stories: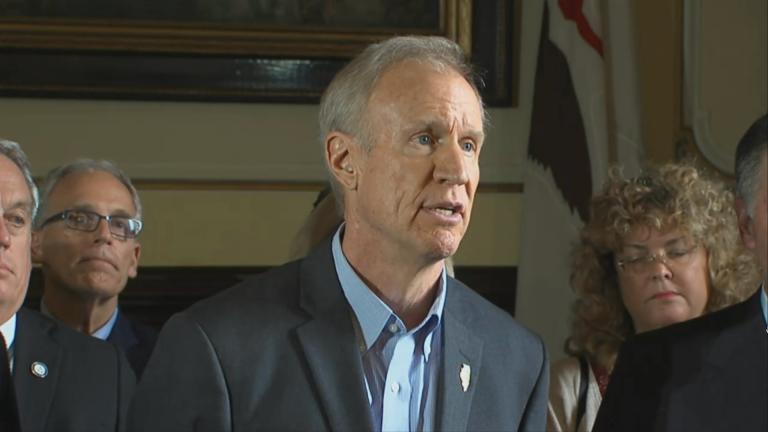 School Funding Standoff Continues on Day 2 of Special Session
July 27: Gov. Bruce Rauner called on Democrats to send him Senate Bill 1, while Illinois Senate President John Cullerton says he'll wait till Monday to send the bill to the governor.
---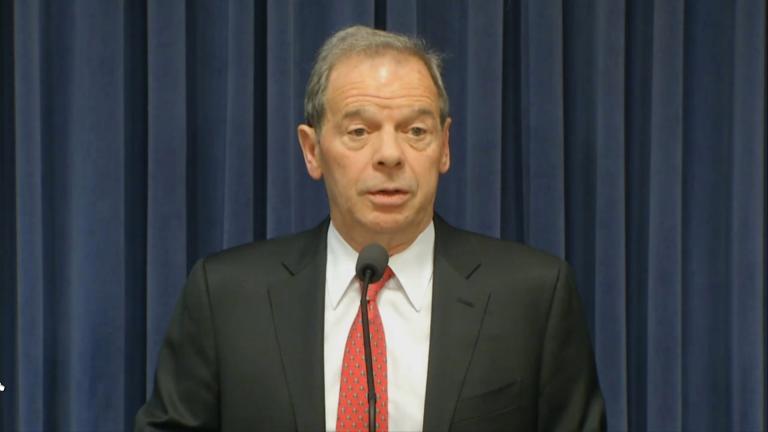 Cullerton, Rauner Dispute Escalates on Day 1 of Special Session
July 26: Illinois Senate President John Cullerton on the governor's frame of mind: The latest on the special education funding session in Springfield.
---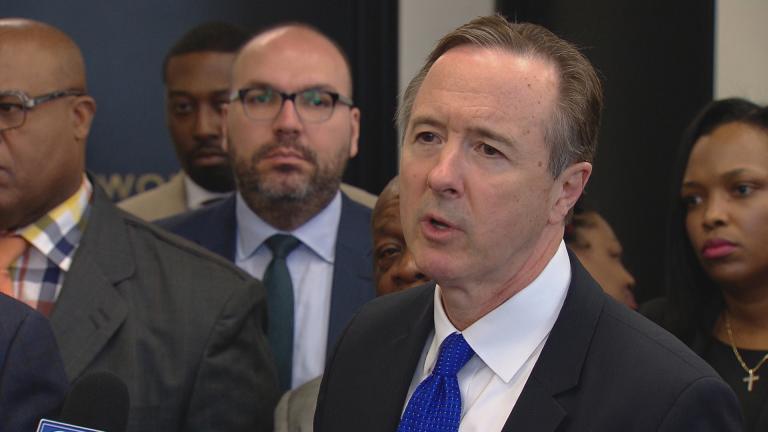 CPS Renews Call on Rauner to Sign SB1 as Special Session Begins
July 26: Chicago Public Schools CEO Forrest Claypool once again criticized Gov. Bruce Rauner, saying Wednesday the governor is putting his own politics ahead of the needs of Illinois students.
---