There is more unrest in Gov. Bruce Rauner's office Monday as additional staffers have quit or been let go. The exodus has raised questions about the direction of state government, and questions about what will happen to the education funding bill that could hold up the opening of public elementary schools.
More top staffers are resigning amid the tumult in that office – and with some sour grapes. Former members of the Libertarian-leaning think-tank Illinois Policy Institute are in charge – that means many of the old staff had to go. Others that weren't fired have fled on their own, many not happy with the direction of the office or the way the house cleaning has been handled.
It will be a decidedly more conservative direction with one staffer telling us that John Tillman, the head of the Policy Institute, having more influence over the governor than anyone.
Through sources and reports, we've gleaned 15-20 names that have departed including top policy advisor Michael Mahoney on Monday. On Friday the governor's campaign chairman Mike Z left. This after the letting go of former Chief of Staff Richard Goldberg and many others.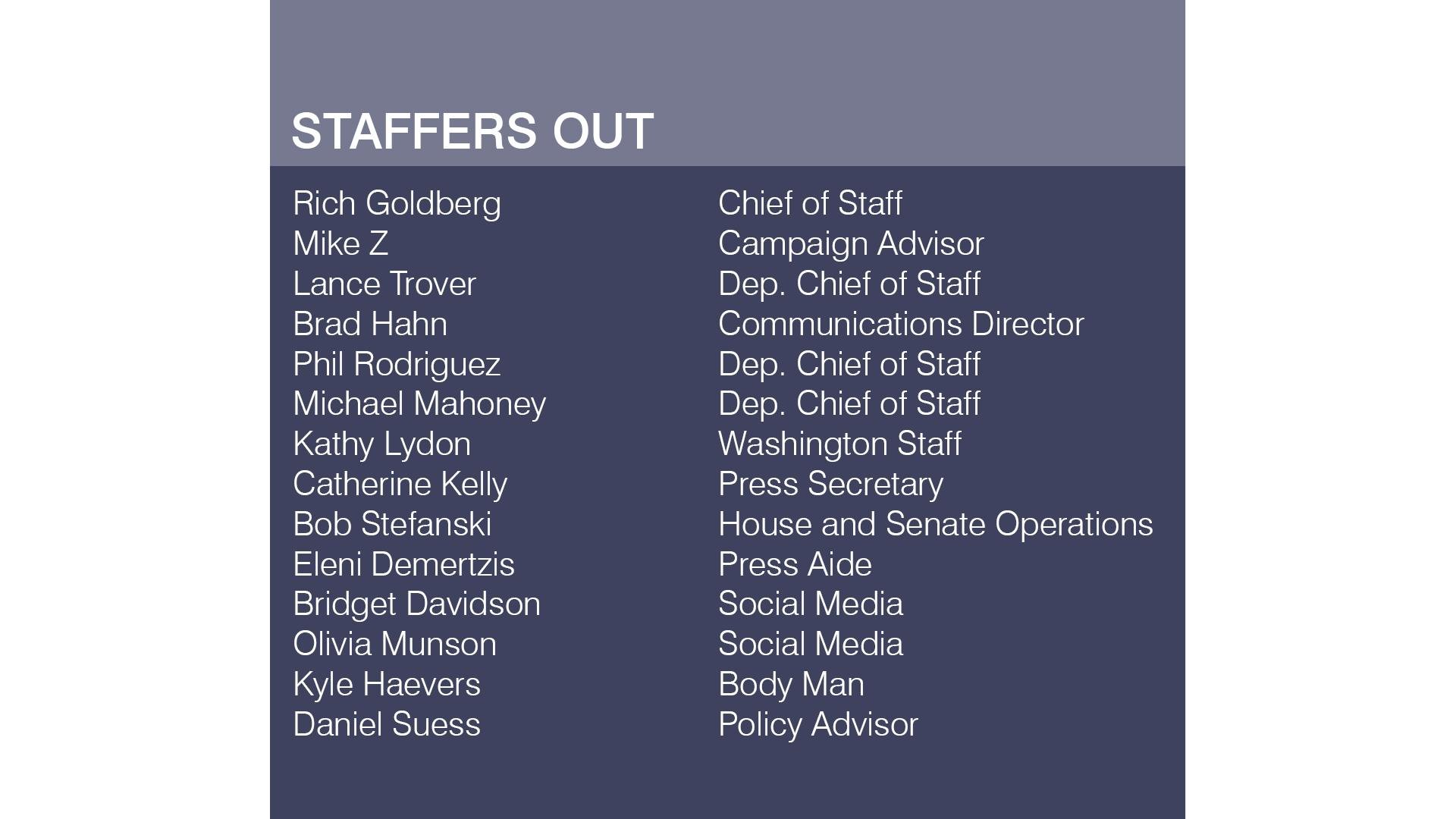 Replacing them are a new Chief of Staff Kristina Rassmussen from the Illinois Policy Institute, and on Monday, new communications and policy personnel, many of them from the Policy Institute as well.
This presents a bit of a dilemma for the House GOP Leader Jim Durkin – who fought for the governor's agenda but saw 10 of his Republican members vote to override the governor's veto of a tax hike. He says he had a productive meeting Monday with the new chief of staff and will wait to reserve judgment on the new direction.
"He's made a decision that he's going to revamp his administration, and that's fine," Durkin said. "At the end of the day, it's still about Republicans working together and trying to accomplish the things we've been working on the past two years. Obviously, this will take some time to adjust to the direction from this new administration. I'm not going to jump to a conclusion now based on the individuals he's brought in."
The moves signal that the governor is doubling down on his core conservative message. Some staffers who left said that they were a more moderating influence, getting him to tack away from the anti-union, right-to-work agenda to focus on more achievable reforms. But the Illinois Policy Institute, which he has helped fund, shares the right-to-work goals.
One Republican, David McSweeney, R-Cary, welcomes the change and the new chief of staff.
"She'll be a good chief of staff to the governor, I don't think the taxpayers have to worry about any more tax increases under her watch," he said.
Some lawmakers believe there will be political consequences for the Republicans who went along with the tax hike vote.
But Durkin says he understands why some Republicans had to vote the way they did.
"People had reasons to make that vote, some people were tired with the impasse, other people, particularly representing university districts, had to make that vote. I understand that. That's a discussion I'll have internally with our caucus," he said.
The governor on Monday also called on lawmakers to send him the school funding bill that they passed. Schools across the state won't open without it. But he says he will amendatorily veto it so that Chicago Public Schools does not see $215 million in teacher pension help that has been tucked into the bill. The governor says that money should go elsewhere throughout the state.
"They say it's about education funding, but what they've inserted into it is a pension bailout for Chicago," Rauner said. "That's hundreds of millions of dollars every year, money that could and should go to the school districts around the state of Illinois."
In response, Chicago Public Schools officials say the governor by law cannot take that funding out – he'd have to approve or reject the whole package.
Follow Paris Schutz on Twitter: @paschutz
---
Related stories: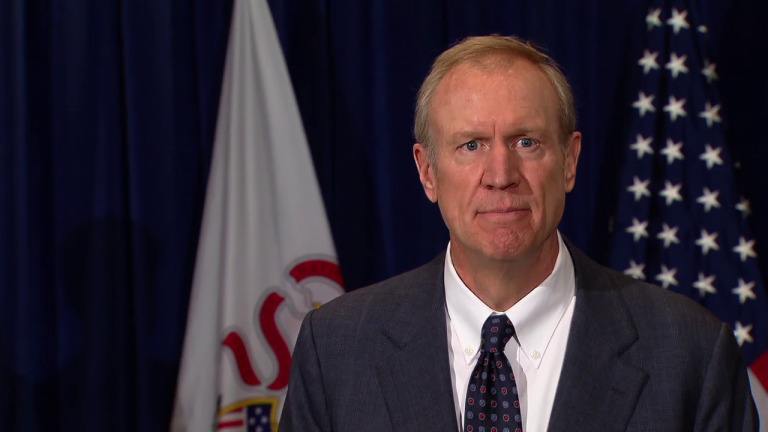 CPS: Rauner's SB1 Veto 'Exceeds the Power of the Governor'
July 17: As districts across the state face the possibility of a delayed start to the school year this fall, Gov. Bruce Rauner and Chicago Public Schools are squaring off over what to do with a potential fix for the state's broken education funding formula.
---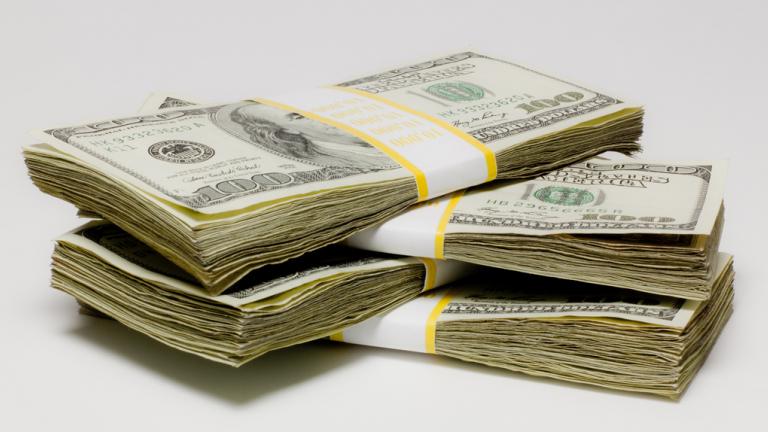 Rauner Calls on Legislators to Send Him School Funding Bill
July 17: Gov. Bruce Rauner insists on removing what he calls a Chicago "bailout" from a state school funding plan.
---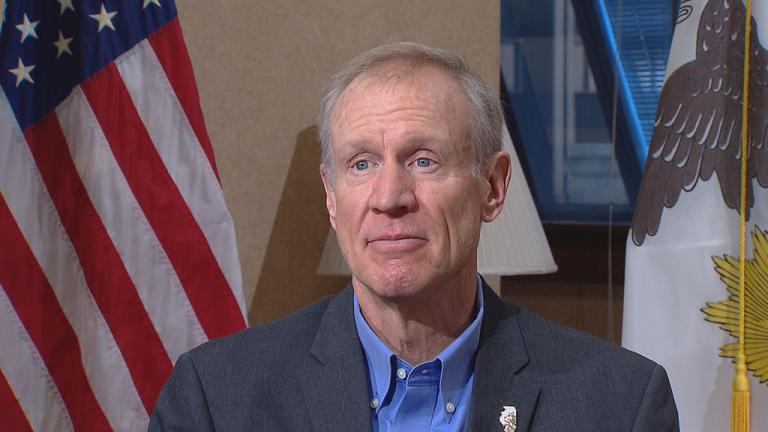 Gov. Bruce Rauner Shakes Up Staff
July 11: Gov. Bruce Rauner's staff shake-up is still going on after legislators voted last week to override the governor's veto of a tax hike and budget.
---