A leaky roof, rotting walls and crumbling stairs.
Not exactly the scenes that come to mind when you think "mansion," let alone one known as the "executive mansion."
But that's the condition Bruce Rauner found it in when he became governor, back in January 2015. 
"It's livable," Rauner called it, adding "that's a subjective term."
The governor held a small media availability the weekend he drove his blue van and pair of yellow labs down to Springfield.
"It's better than my fraternity house in college," he said during one of his first days as governor. "That's the people's house. The floors are buckled. You can't even come in the front, the main, the real entrance. Furniture's been damaged. There's plaster falling out of the ceiling. And the elevator doesn't work. We should be able to have folks who are disabled and not able to use the stairs to be able to come to the second floor. It's a travesty and we're going to fix it. I wish we could snap our fingers and have it done."
Two-and-a-half years later his wife, Diana Rauner, donned a white hard hat and picked up a shovel for the rehab's official groundbreaking.
The roof had already been patched, and the mansion was emptied prior to construction: Koi fish had been moved out of the pond to the Dana Thomas House, a Frank Lloyd Wright-designed historic site down the street; portraits were taken down; statues and furniture were carefully covered and put into storage. Even the Rauners were moved out. They're staying at another state-owned residence, the Director's House on the Illinois State Fair grounds, during the renovations.
Per tradition, First Lady Diana Rauner is the honorary chair of the Illinois Executive Mansion Association, and so is spearheading the renovations.
"We're excited that we'll be able to have a better visitors' center – an opportunity for school children and tourists to really learn about Illinois and about our state's history and our state's potential in a wonderful new orientation center," she said at the event. "We're very excited that the building will become ADA compliant for the very first time. That we'll be able to have spaces that everyone can enjoy and use. This is the seat of government, one of the seats of government, and it hasn't been a place that people can be proud of for a while."
Renderings show what the 161-year-old mansion is supposed to look like in a year. The goal is for work to be finished in time for an August ribbon-cutting as part of Illinois' bicentennial celebrations.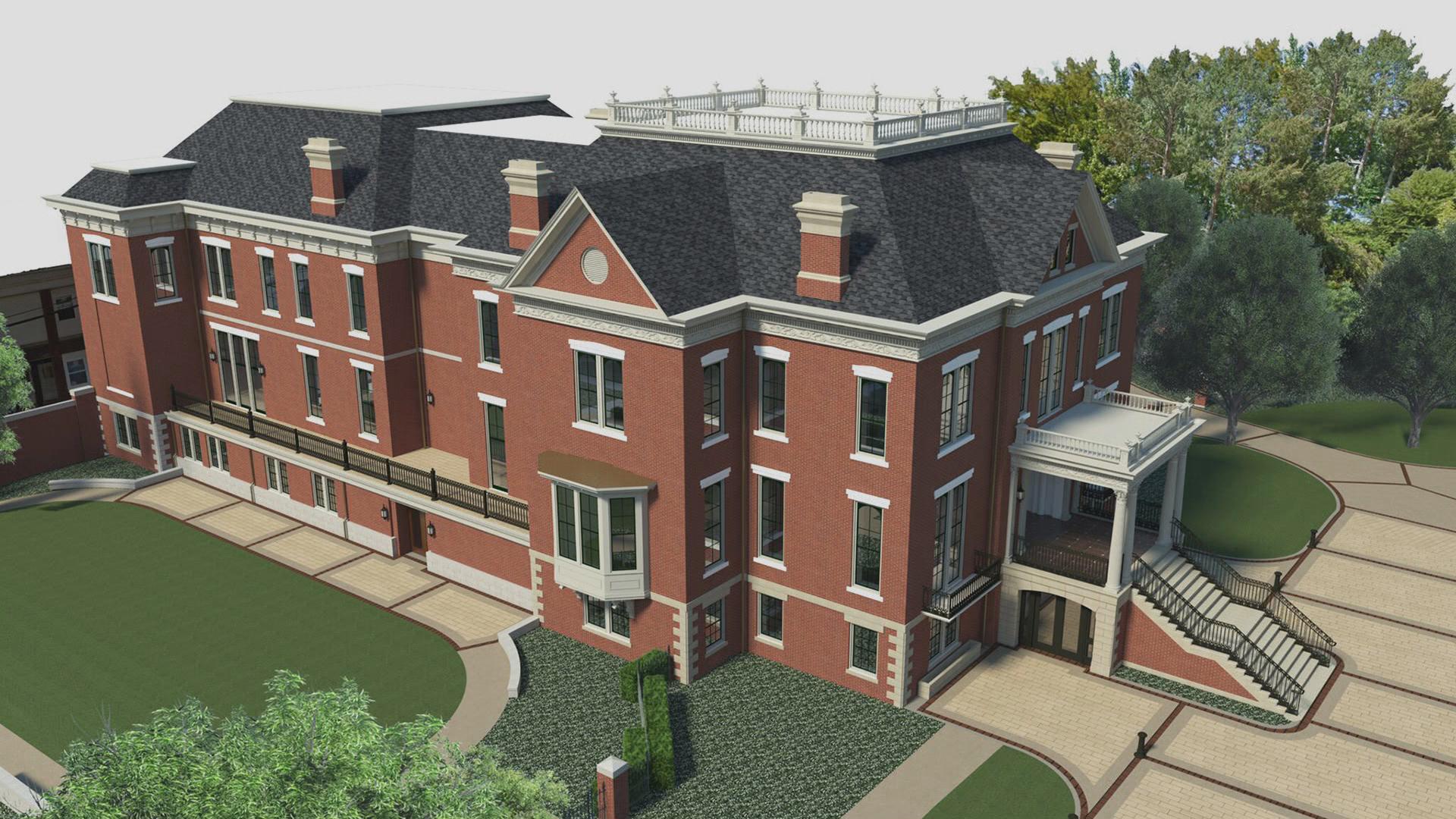 Blueprints show the north gates being able to fully open, allowing the lawn party to spill over onto the street across from an empty lot the city of Springfield is working to develop.
What you can't really see in the drawings are plans for mechanical, electric and plumbing upgrades that should make the home LEED, as in "green," certified.
The venture is entirely funded by private – not public – money.
First Lady Rauner says so far about $13 million of the $15 million fundraising goal has been reached, though she says donors will not be released until the project is complete.
"At this time, in the fiscal crisis that we're in, we didn't think it was appropriate to ask that this be part of our state budget," Diana Rauner said. "This is an important and essential, I think, project for the state. But I think it's important that we raised it with private dollars at this point."
To some, it's inappropriate – tone deaf even – for the ultra-wealthy Rauners to put energy and money into the executive mansion when state government is crumbling as the governor's standoff with Democrats drags on.
One critic took to Twitter to say: "1500 higher ed jobs gone. Students without opportunities. But at least you're rehabbing your mansion. One of many. Congrats."
To others, it's historic preservation.
"Many people have lived and visited this place. Abraham Lincoln from his house a few blocks away came over for social events. He came over and visited Gov. (William Henry) Bissell on his deathbed (in March, 1860). Many presidents have been here, from Ulysses Grant, McKinley, Teddy Roosevelt, FDR," said architect Philip Hamp of Vinci Hamp Architects.
"John Van Osel, Chicago's first professional architect, who came there in 1837, presided over pre-fire Chicago and then rebuilt it after the fire, designed this house in 1855. It was built by Thomas Dennis, a Springfield carpenter-builder, who conceived of the interiors in a Greek revival mode and built the outside of the building. George Helmle, at the turn of the 20th century – 1890s and 1900 – gave this building the form the way it is now, with its big tall roof and widow's walk, prominent porch out front."
While Gov. Rod Blagojevich avoided staying in Springfield as much as possible, plenty of governors have lived there too, of course. Story has it that in 1889, Gov. Joseph Fifer's daughter slid down the staircase (as an adult, Florence Fifer was Illinois' first woman state senator), Gov. William Stratton's family had a picture-perfect Christmas at the mansion and Gov. Henry Horner worked out of the library in the '30s, though the room is now the "Lincoln bedroom."
The tension of funding and appearances is nearly as old as the mansion itself. Whenever money is tight, it's tough for a politician to approve of spending money to spruce up a mansion or other public buildings.
New Jersey Gov. Chris Christie recently caught grief for the cost of redoing its statehouse, and Illinois legislators came under fire in 2013 when taxpayers paid for $50 million in upgrades – complete with fancy chandeliers and custom copper-plated doors – to the capitol, at a time the state deficit was piling up.
It's a political reality that has continually allowed the mansion to fall to tatters.
According to the mansion association, the building was so decrepit when Gov. John Tanner moved in in 1897 that it was "inhospitable." After their renovations, Buffalo Bill Cody and Annie Oakley paid a visit, and the mansion "became the center of the Springfield social scene."
By 1961, neglect (and a lack of state funding) meant the mansion was once again declared a "hazard" and a "firetrap."
There is no mechanism for ensuring that the mansion doesn't once again fall into a dilapidated state in the future.
"It's responsible to do proper maintenance on a building, and you know, that's what we need to do is continue to do proper maintenance on it, not let it get completely out of condition," Diana Rauner said. "I'm hopeful that certainly the Rauner administration will be able to put that proper maintenance into it and I hope that future governors will as well."
Follow Amanda Vinicky on Twitter: @AmandaVinicky
---
Related stories: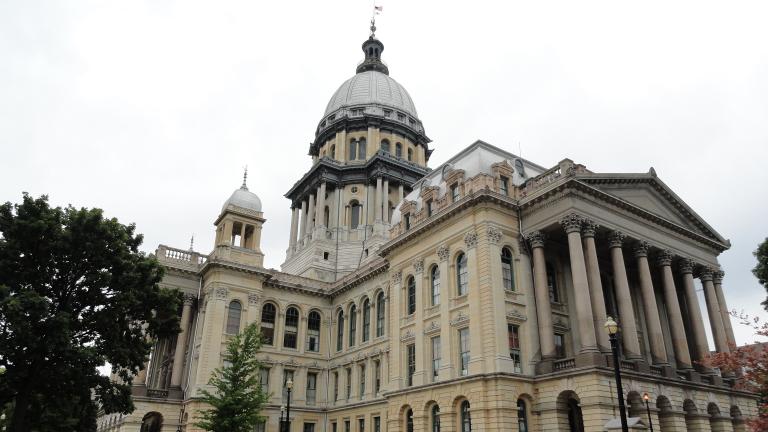 Illinois House Members on State Budget Impasse
June 12: The state owes nearly $15 billion in unpaid bills, and if a budget isn't passed, the backlog could swell to $24 billion. Can a deal be made? We discuss the budget crisis.
---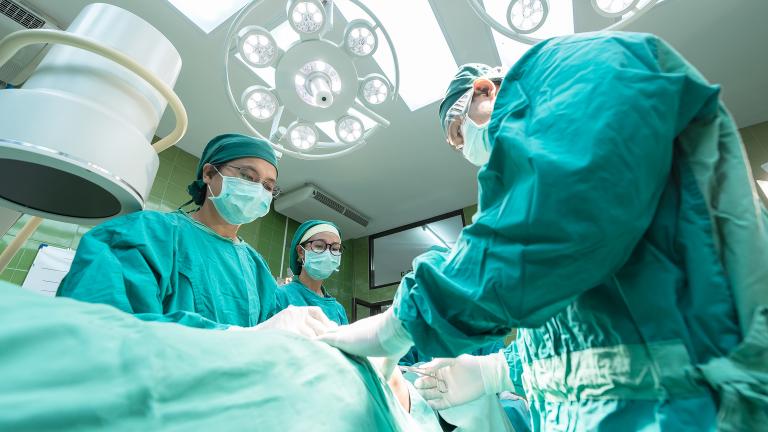 Judge Rules on State Payments to Medicaid Providers
June 7: U.S. District Court Judge Joan Lefkow is directing the cash-strapped state to put more money into Medicaid.
---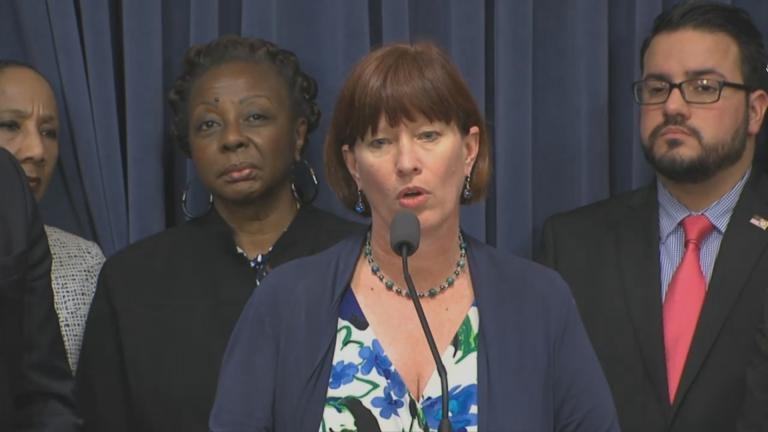 The Illinois Senate Passed a Budget. Will the House Follow Suit?
June 5: The Illinois General Assembly has blown a May 31 spring session deadline. So now what? We discuss the Springfield budget battle with state Sens. Heather Steans and Chris Nybo.
---