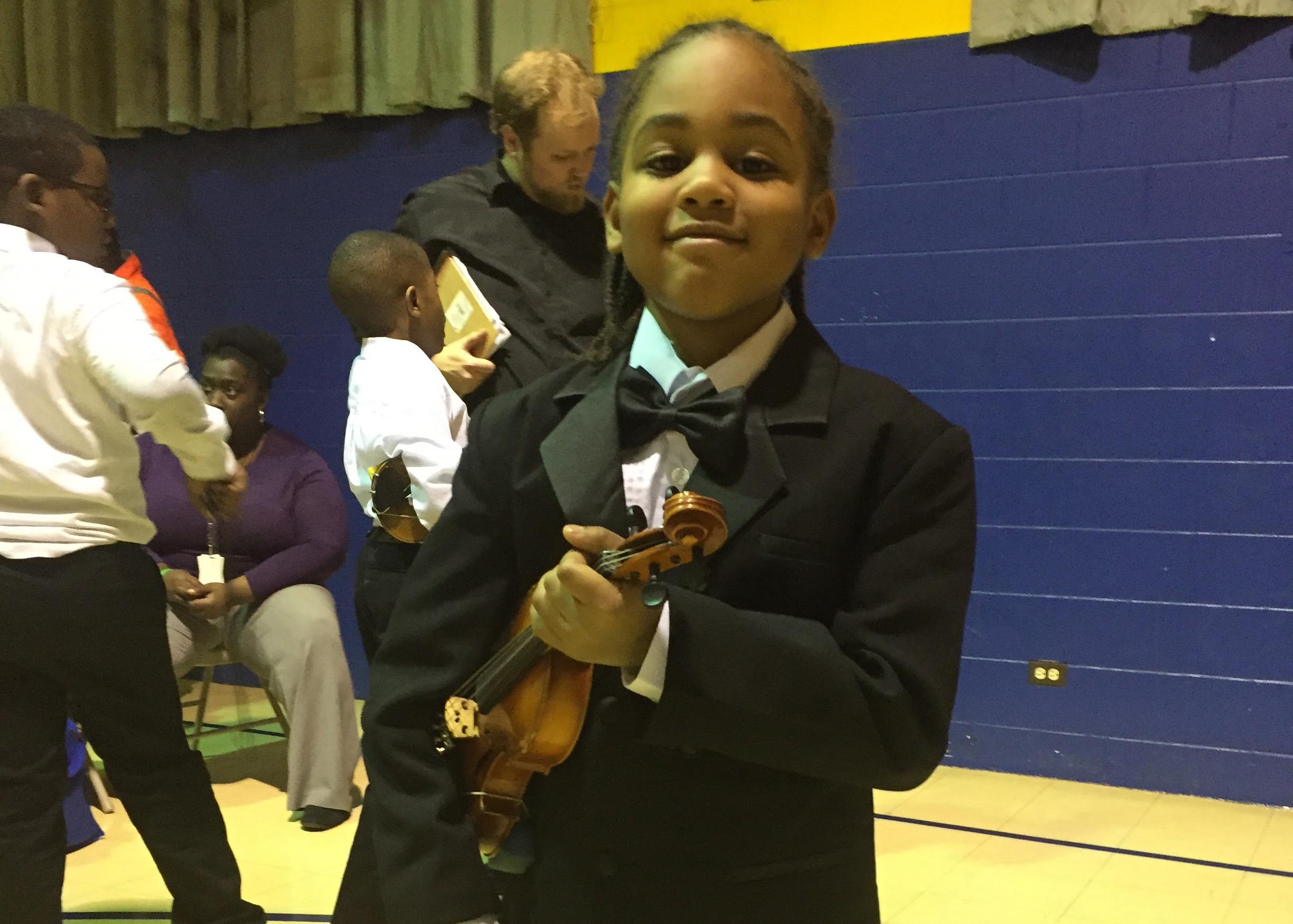 A student clutches his violin at a M.U.S.I.C. Inc performance. (Courtesy of Sarah Dupuis)
Can the violin lower student dropout rates? A classically trained musician and a social worker think music lessons have the power to inspire change.
That theory is being tested in North Lawndale, where roughly 100 students at KIPP Ascend Primary Public Charter School have completed the nonprofit program M.U.S.I.C. Inc., or Music in Urban Schools Inspiring Change.
One of those students is Dillion Madkins. He started playing violin at age 6, to the surprise of family and friends, his mother Natasha says.
"You don't think about a 10-year-old black boy from the South Side of Chicago playing violin," she said.
M.U.S.I.C. Inc. was born, you could say, out of observation and coincidence. In 2011, Sarah Dupuis was serving with AmeriCorps as a teaching assistant in schools on Chicago's West Side. A classically trained violinist, Dupuis noticed a consistent lack of musical programming in the schools in which she was serving.
That same year while visiting Fritz Reuter & Sons, a Rogers Park shop that specializes in violins, Dupuis spotted dozens of child-sized instruments in a back room. The shop's namesake had passed away and the store would soon be closing, Reuter's son Michael said. It just so happened they were looking to donate the violins.
Dupuis took Michael up on his offer.
Six years later, about 80 of those hand-crafted instruments are being put to good use in the program started by Dupuis along with Joi Truman, a Chicago Public Schools social worker.
The two developed the program to not only offer music education to underserved students, but to address school drop-out rates. The students learn music theory and songs by classical and contemporary artists like Beethoven and John Legend, and get help setting goals for homework, behavior and attendance.
Students and their parents are also required to sign an agreement saying they will attend biweekly practices and maintain good academic standing.
"The social-emotional side of our program … uses our unique platform as educators who stay with families over the years to build strong relationships and foundations of trust," Dupuis said.
Trust is an essential part of the program, as violins are loaned out to participants.
"When they have that violin to take home for the first time, they adore it in a way I don't see with other students," said Dupuis. "Accessibility in a community with limited access to applied instrumental instruction is the heart and soul of why we exist."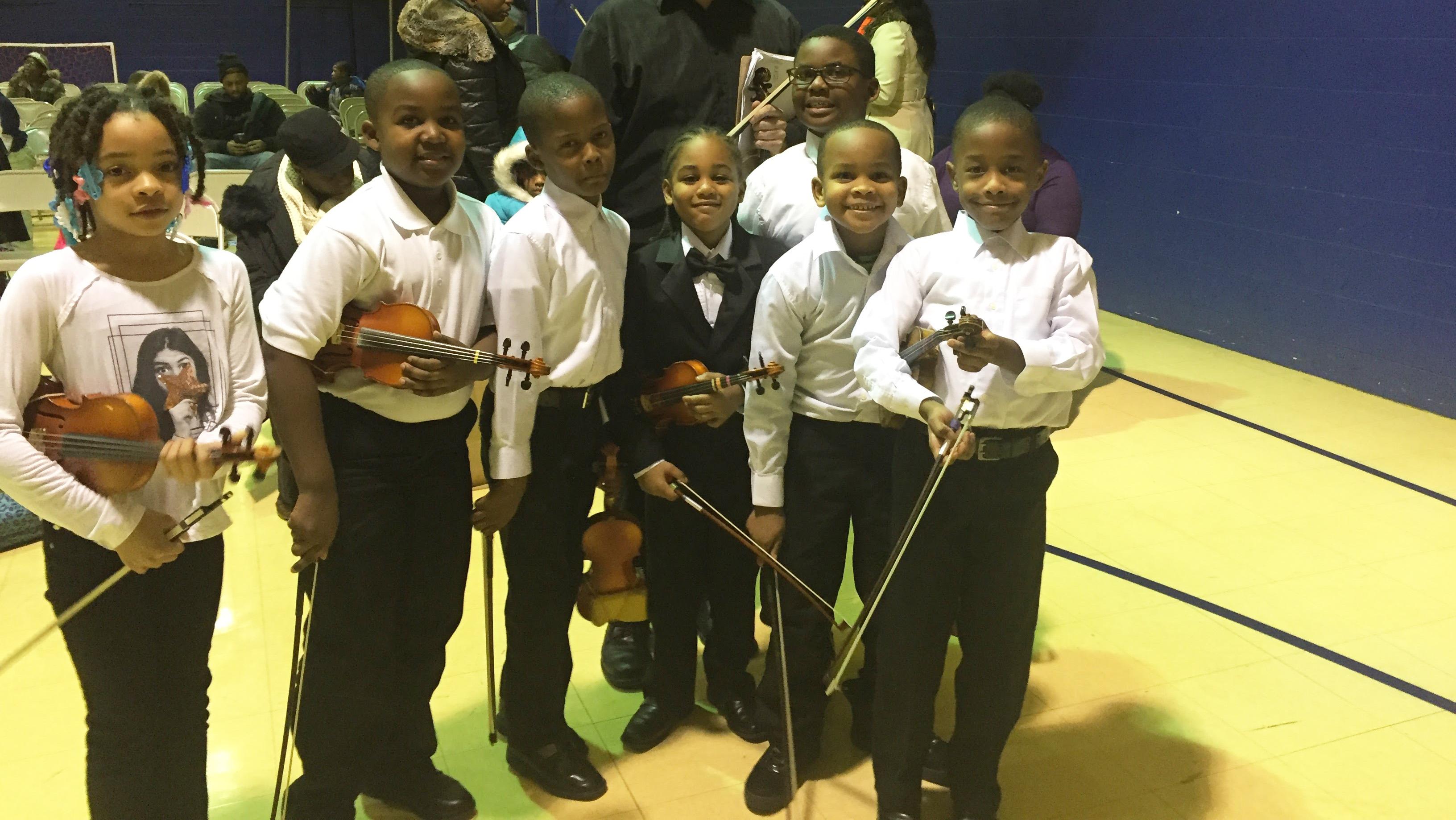 M.U.S.I.C. Inc. students. (Courtesy of Sarah Dupuis)
The program grew from 25 first-grade students in 2011 to 75 students from first through seventh grades this past year. Dupuis said M.U.S.I.C. Inc. is set to expand in the 2017-18 school year to a youth center and two additional schools on the South and West Sides. The plan is to serve up to 500 students within the next three years.
According to the State of the Arts Report published by the nonprofit music advocacy group Ingenuity, 44 percent of Chicago Public Schools did not meet the district's recommended ratio of one arts instructor per every 350 students during the 2012-13 school year. That figure dropped to 36 percent for the 2015-16 school year, but gains have not occurred evenly across schools.
Chicago's South and West Sides had lower average ratios of art teachers to students in the 2015-16 school year, and had consistently lower Creative Schools Certifications than the North Side, according to the report.
Parents in the area have noticed the dearth of musical programs. Cherry Hill-Moore came up empty-handed when searching for affordable music programs in the East Garfield Park and Lawndale areas for her daughter Demi, who is now participating in M.U.S.I.C. Inc.
"There weren't any convenient [programs] for a two-parent working family in the West Side," Hill-Moore said. "There wasn't anything in the area for a family like ours."
Not only is Hill-Moore proud of her daughter's musical talent, she's also noticed positive side effects she hadn't expected, including her daughter's ability to express herself more creatively.
Other parents have noticed an increase in confidence, open-mindedness and discipline. Natasha Madkins said her son's football coach told her that her son's dexterity is above those of his classmates, and attributed it to his playing violin from a young age.
When Madkins' son Dillon was invited to perform at a gala, "it was one of the first times I saw him take pride in himself," Madkins said.
"We just feel very fortunate, and wish all children had access to music," Madkins said.
---
Related stories: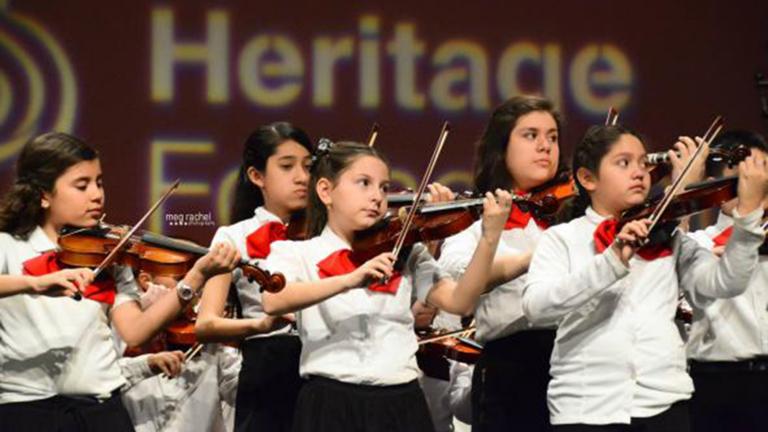 CPS Arts Instruction Growing, But Parts of City Still Lagging Behind
Nov. 28, 2016: Students at Chicago Public Schools have seen greater access to arts education programming in recent years, according to a new study, but many schools on the South and West Sides of the city are still lacking in an equitable distribution of this programming.
---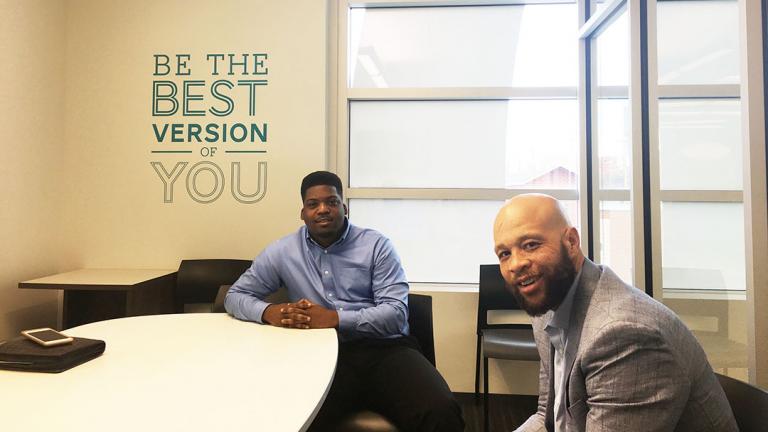 'Positive Vibes' in North Lawndale an Alternative to Crime Narrative
Feb. 21: North Lawndale native Patrick Daniels says his neighborhood is defined by more than violence, and he's working to change that narrative at UCAN.
---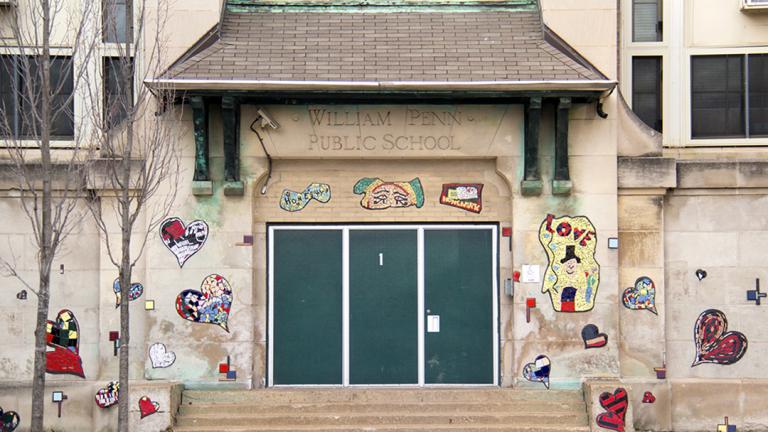 Inside 'The View From Room 205': A Q&A with Reporter Linda Lutton
Jan. 18: WBEZ reporter Linda Lutton spent the 2014-15 school year examining the impacts of poverty on a fourth-grade class in North Lawndale for a new story published this week. She spoke with Chicago Tonight to discuss that process.
---