Are dogs to blame for high levels of E. coli bacteria in the water at Chicago beaches? The Chicago Park District is using DNA tests to determine whether seagulls or your best friend -- or both -- are the culprits for swim bans. We talk to Chicago's boss of the beaches, Cathy Breitenbach.
---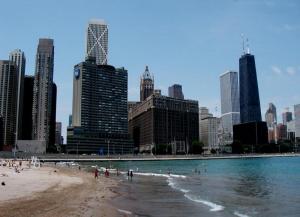 The Natural Resources Defense Council ranked Illinois 15th in beach water quality (out of 30 states), and 10 percent of samples exceeded the national Beach Action Value for designated beach areas in 2013.
The Environmental Protection Agency is responsible for ensuring recreational beach water is safe, and recently proposed guidance for grants given to states for water quality testing under Beaches Environmental Assessment and Coastal Health (BEACH) Act to use the Beach Action Value (BAV) to make swimming advisory decisions. The BAV is a more protective threshold than the national allowable bacteria levels used previously to trigger beach advisories.
Currently, the use of BAV is optional, but the EPA's proposed National Beach Guidance and Required Performance Criteria for Grants would require states receiving BEACH Act funds to use the BAV to trigger beach notifications.
The NRDC assessed 2013 beach water quality using the BAV in order to inform beachgoers of water quality risks. Of the state's 63 beaches, 49 were monitored, and last year 10 percent of all reported beach monitoring samples exceeded the BAV of 190 E. coli bacteria colony forming units per 100 ml freshwater in a single sample. The NRDC considered all reported samples individually, without averaging, when calculating the percent exceedance rate in its analysis.
Beaches with the highest exceedance rates of BAV in 2013 were Montrose Beach (31 percent of the 77 samples taken exceeded BAV), South Shore Beach (31 percent of the 74 samples taken exceeded BAV), North Point Marina Beach (23 percent of the 110 samples taken exceeded BAV), Winnetka Elder Park Beach (22 percent of the 65 samples taken exceeded BAV), and Rainbow Beach (21 percent of the 70 samples taken exceeded BAV).
Check the swimming conditions at Chicago beaches near you.
View a map of Chicago's beaches.
--Source: Chicago Park District