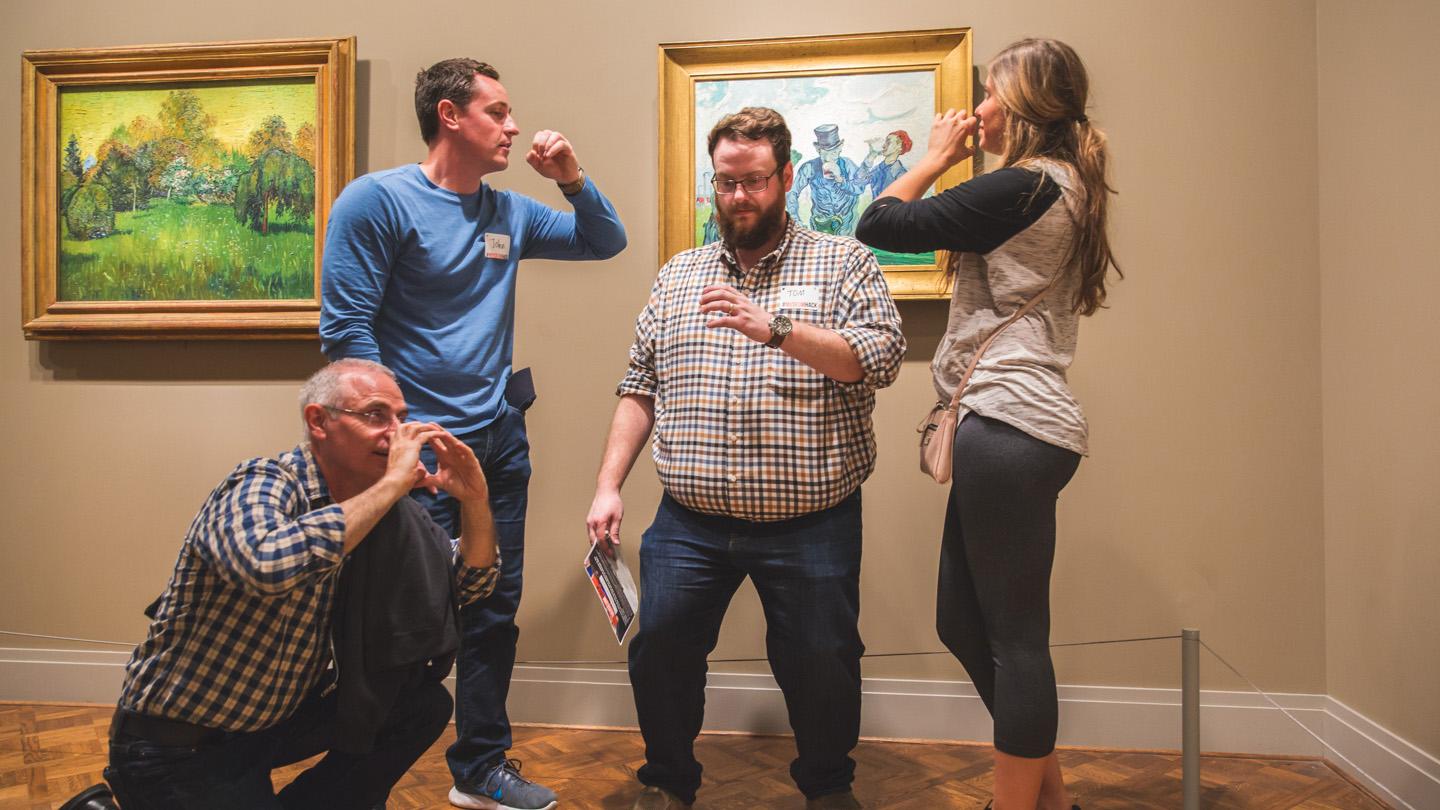 While on a Museum Hack tour at the Art Institute of Chicago, visitors strike a pose in front of the artwork. (Courtesy of Museum Hack)
When it comes to iconic paintings such as Edward Hopper's "Nighthawks," Pablo Picasso's "The Old Guitarist" and Marc Chagall's "American Windows," would you burn, steal or buy?
These are the types of questions Museum Hack, the self-described "renegade museum tour guide service," asks its guests during its two-hour tour through the Art Institute of Chicago.
"Museums are seen as so special and serious that finding a way to make them a playground for your imagination is exciting," said Sarah Dunnavant, a Museum Hack tour guide who previously worked as a facilitator at the Museum of Science and Industry.  
Though they are now available in six U.S. cities, the offbeat, independent tours – they are not affiliated with the museums they visit – first began in 2013 at the Metropolitan Museum of Art in New York City. The goal? For founder Nick Gray to spend time with friends at cultural institutions.
The tours grew from a group of friends to a larger group of acquaintances, and then DailyCandy wrote about the weekly excursions and Gray began hiring tour guides to keep up with demand. Four years and more than 60 employees later, the touring service is now being seen as a way to engage a new generation of museum-goers.
"We've consulted for dozens of museums worldwide now, and they all say the same thing: they're not converting millennials into members and donors who are more involved in the museum," said Michael Alexis, the company's marketing director.
Despite a record number of visitors to the Art Institute of Chicago in 2016, when some 1.79 million stepped through its doors, the most recent data available from the National Endowment for the Arts found that between 2002 and 2012, the number of annual visits to art museums and galleries across the country dropped from 190 million to 132 million. The only group registering an increase in attendance? Visitors ages 75 and up.
Museum Hack is hoping to play a part in reversing these national trends. Alexis says it all begins with the tour guides—80-90 percent of whom come from acting and performing backgrounds.
Even the interview process for guides has a performance angle. Dunnavant, who has been working with Museum Hack since it first came to Chicago last April, describes her own as having an "American Idol"-style bent. Asked to showcase her social skills and humor by talking about something she is passionate about, she chose to discuss Felix Gonzalez-Torres' "Untitled" installation, comprised entirely of hard candy. (And yes, it's edible, though it never appears to shrink in size, she said.)
It's up to the tour guides to research the artwork and find 12 to 15 unique, factual stories they can share during the tours.
After about a three-month training period, the guides hit the museum floor. In Chicago, there are four to five who work part time for the company, taking groups of up to eight people on tours twice a week.
"Your job is fun first, education along the way," said Dunnavant.

"The idea of a low-tech start-up is exciting because it's revolutionizing an older system with minimal technology."
–Museum Hack tour guide Sarah Dunnavant
---
How does the Art Institute feel about Museum Hack?
Spokesperson Amanda Hicks said the museum is flexible when it comes to external groups using the space to meet their own needs.
"One of the most compelling things of the experience in the Art Institute is the way it can mean different things to different people, and visitors can find those experiences in a variety of ways," Hicks said. 
Alexis says that despite the company's unconventional approach, guides and guests use their "museum voices" during the tours and try not to interfere with the experience of other visitors.
Dunnavant believes the future of museum tours lies in more socially engaged, improvisational tours. But no matter who is leading tours of the space, Dunnavant said the museum is the centerpiece.
"The art institute is the star of the show; it's the reason why we're all here," she said.
Museum Hack offers tours of the Art Institute of Chicago on Thursdays at 6 p.m. and Saturdays at 2:30 p.m. Tickets are $39. Visit the Museum Hack website for more information.
---
Related stories: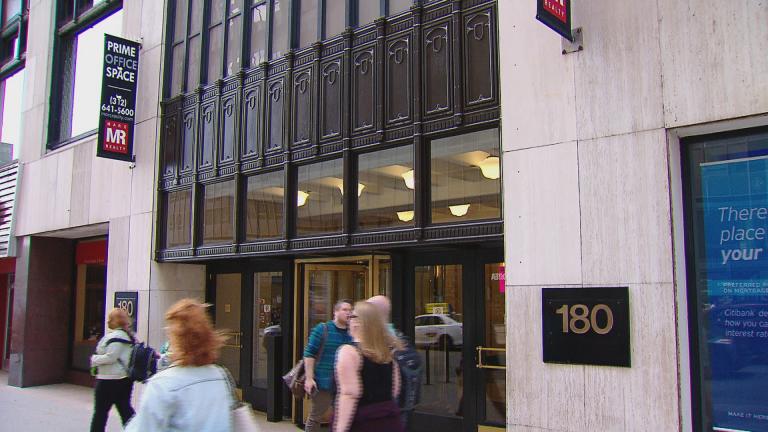 More Than Words: American Writers Museum Opens This Week
May 15: A new chapter in Chicago's cultural offerings begins this week.
---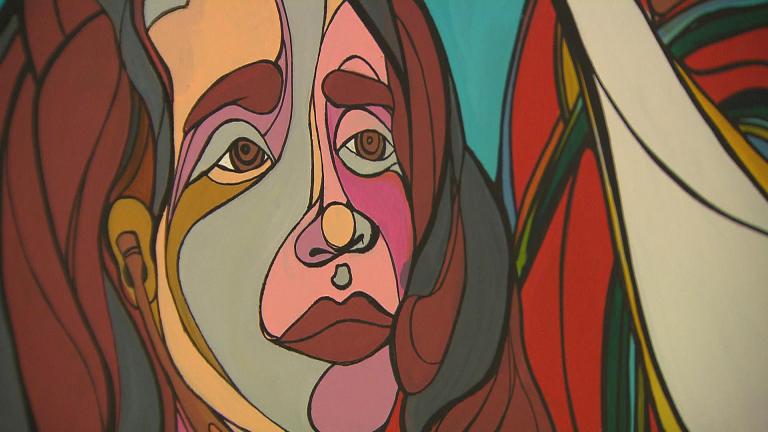 Celebrating 30 Years of Art at a Chicago Museum Without Borders
April 26: Contemporary art with Mexican roots: Celebrating 30 years at Chicago's National Museum of Mexican Art.
---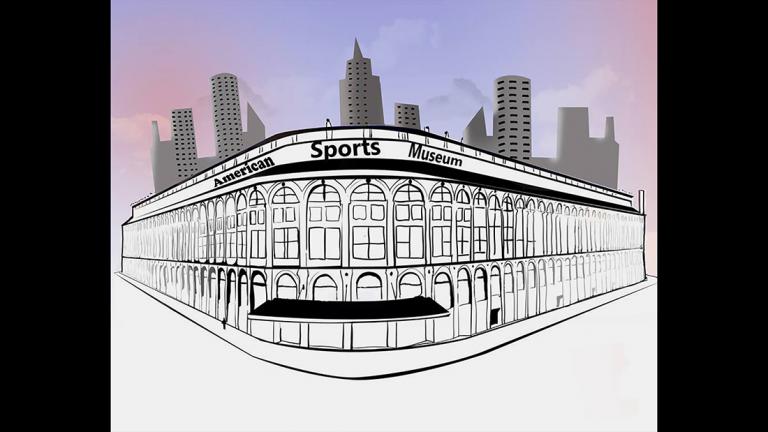 Proposed Museum Wants to Use Sports As 'Bait' For Learning
March 27: The American Sports Museum would teach visitors about everything from physics to history. Founder Marc Lapides shares his vision for the space.
---