It's not often that an Oscar winner for best picture gets translated to the stage. "Shakespeare in Love" is getting its U.S. premiere at Chicago Shakespeare Theater after playing London's West End and the Stratford Festival in Ontario.
Chicago Tonight visited a rehearsal during previews for a look at the challenge of bringing a movie that's about theater ... to the theater.
TRANSCRIPT
Phil Ponce: To get from cinema to center stage takes a lot of time in rehearsal. Onscreen or onstage, "Shakespeare in Love" toys with the idea that it was hard to be the Bard.
Rachel Rockwell, director of" Shakespeare in Love": We're working on everything – bits and pieces of everything. We're now putting the finishing touches on things and going back and taking what we've learned from the audience so far and applying it.
Ponce: The play is adapted from an original screenplay co-written by the playwright Tom Stoppard, who also won an Academy Award.
Rockwell: It's a beautiful adaptation, and it's very close to what people love about the film, but the theatrical elements that they've added to bridge that gap from film to stage are really well done and enrich the material in a very satisfying way.
Ponce: Of course, the quick costume changes aren't accomplished with film editing and must occur in real time.
Backstage, the costume shop manager leads a team preparing 80 costumes for the stage.
Ryan Magnuson, Chicago Shakespeare Theater: The film is of course going to be on everyone's mind, but what Rachel's really interested in doing is heightening it theatrically, so what you're seeing here is a lot more colorful than what you might see on film. It's gonna be the same shapes. It's still inspired by Elizabethan silhouettes, but you can see there's a lot of texture and a lot of pattern and a lot more color.
The time period is labor intensive. In contemporary clothes, women's clothes tend to be super-fitted. Not even contemporary but even within the last 100 years, but when you get back this far even the men's stuff is incredibly tailored and incredibly fitted.
This was a time when men built in fake bellies, too. So this is not actually the actor's shape, this is built-in. People of a certain class would build in a belly so they looked well-fed and rich.
Ponce: The movie and the play are full of references to Shakespeare's works, as young Will Shakespeare seeks inspiration to write "Romeo and Juliet."
"Shakespeare in Love" is also fanciful. Queen Elizabeth I never visited a public theater. And Shakespeare wrote "Romeo and Juliet" after existing texts – and it was never called "Romeo and Ethel, the Pirate's Daughter."
Magnuson: It's interesting that it took this long for a film that really is about theater to be translated to the stage.
Rockwell: It's a love letter to our industry, it is a love letter to the art form of theater, live theater, and for those of us in this industry they really did get it right.
So it's a pleasure to work on something that honors so much what we do and, to bring it to life so that people who are seeing it who don't quite understand all the things that go into us making this thing for them, for their pleasure and entertainment – they get to see the love and concern and sweat and tears that go into the making of every decision that brings something from the page to the stage.
Ponce: With a cast that features Chicago favorites, actors from New York and England – and one lucky rescue dog – this movie adaptation is ready for the footlights.
Rockwell: We're all theater geeks who just love this industry so much. And you just bring those people together and you pour their collective energy into a piece and it's a pretty great time.

More on this story
The play runs through June 11 at the Chicago Shakespeare Theater. 
---
Related stories: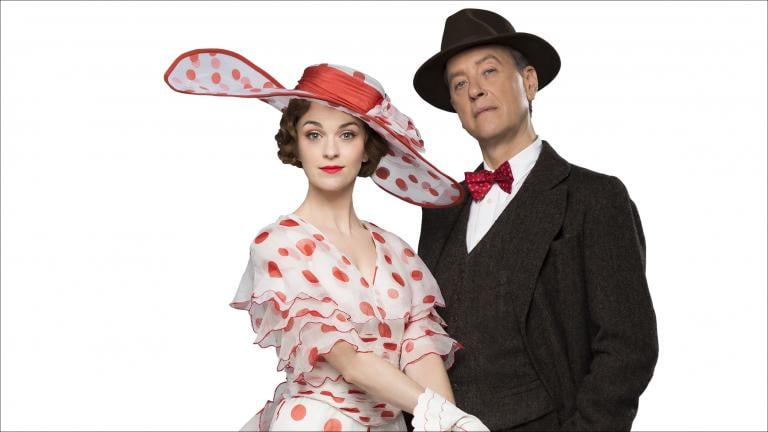 'My Fair Lady' Brings Lerner and Loewe to Lyric Opera
April 19: From "Downton Abbey" to "My Fair Lady," a conversation with the stars of Lyric Opera's spring musical.
---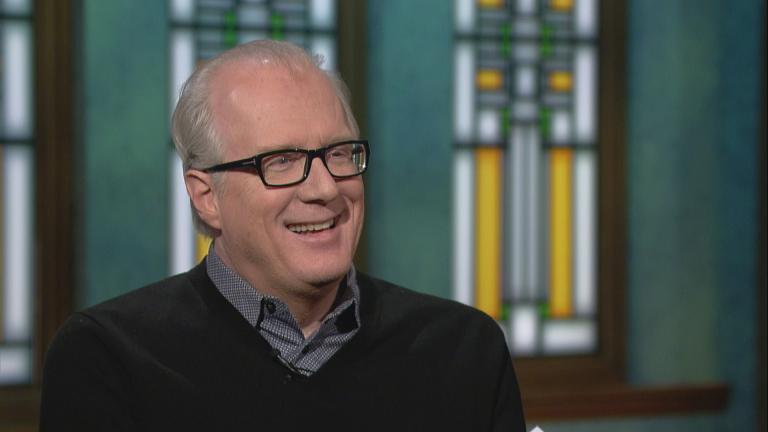 Tracy Letts Talks New Play 'Linda Vista' at Steppenwolf
April 13: The Pulitzer and Tony Award-winning artist talks about his new adult comedy on stage at Steppenwolf, Chicago's theater scene and more.
---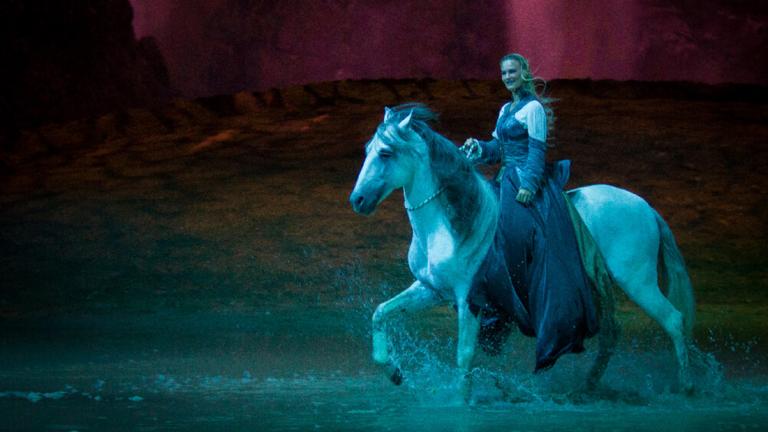 Cavalia's Epic 'Odysseo' Gallops onto Chicago's Lakefront
April 6: A big show is brewing under the big top, with a cast and crew of more than 200 – plus 65 horses. We go behind the scenes of "Odysseo."
---