Since his debut on PBS in 1983, painter Bob Ross has been a cult favorite, known for his whisper-soft delivery, curly hair and "happy little trees." After his untimely death in 1994, Ross' work has lived on in reruns, and now on Netflix and YouTube. And for wannabe Chicago artists itching to try out their painting chops in front of an audience, a new event gives them a chance to match wits—and palettes—with Ross.
Albany Park's Nighthawk opened last summer. It's a coffee shop by day and bar by night, gutted and renovated after years as a dingy dive. Nighthawk's Bob Ross Night is held every other Wednesday—though his presence at the bar was originally more decorative.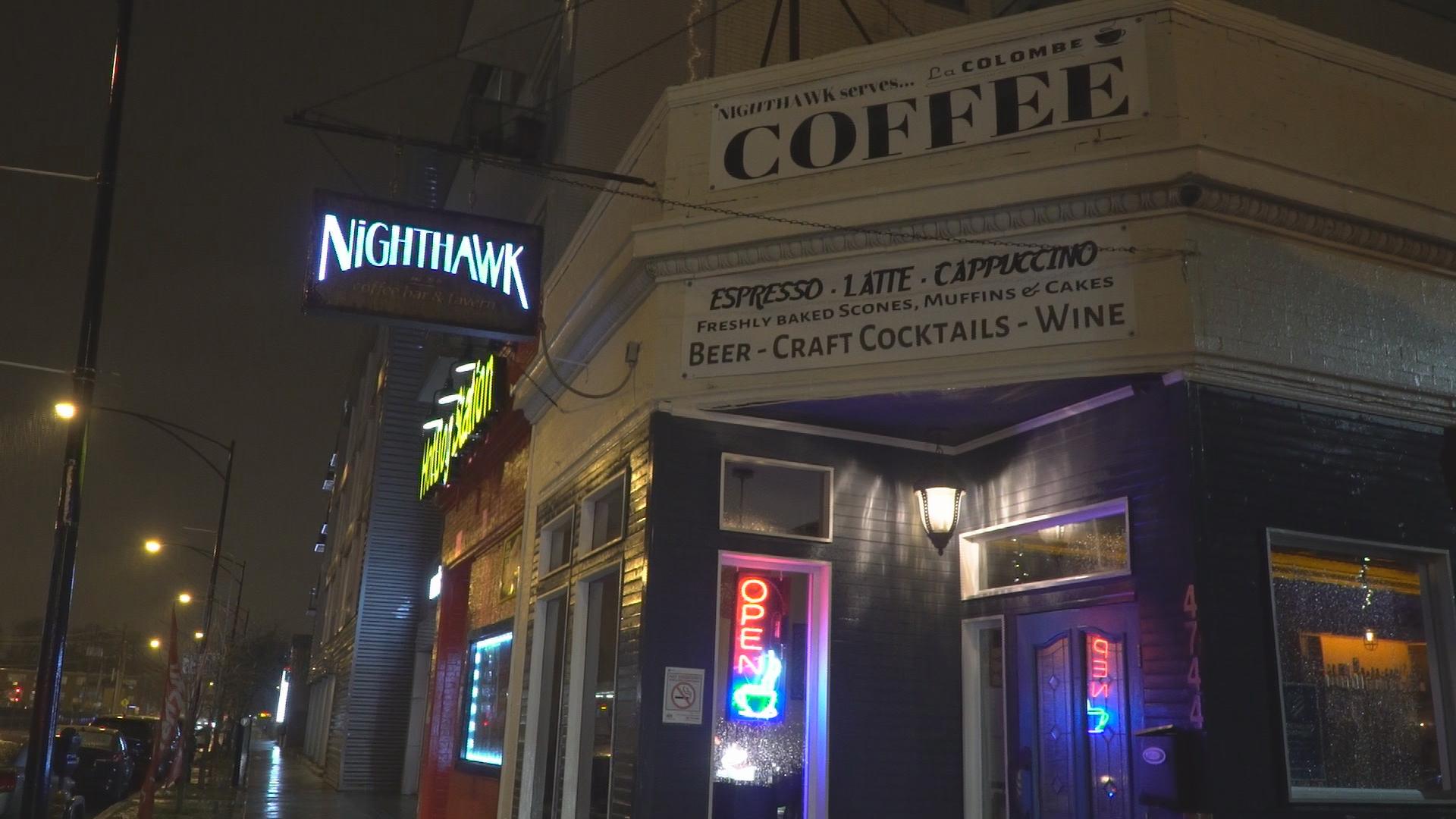 "We inserted these television sets into old broken windows, and then one night, I was just like, 'You know what I want to put up there? I'm going to put Bob Ross,'" said Nighthawk co-owner Howard Windmiller. "And I'm old. In my generation, Bob Ross was actually on TV when I was a little kid. You remember the calming voice and the amazing, quick paintings of trees and fluffy little clouds. I put it on and instantly, everyone's head went to the TVs."
"I think people love Bob Ross because everybody used to watch it at their grandma's house," said Patti Swanson, host of the Nighthawk event. "And if you say Bob Ross, they maybe don't know him. But, if you say 'The perm dude that painted?' They're like, 'Oh yeah, that came on at 3 a.m. one time, and I watched four episodes!'"
The event, cheekily called "The Joy of Drinking" as an homage to Ross' show "The Joy of Painting," features two people randomly chosen to paint along with an episode while the rest of the bar watches and cheers them on. And for spectators, there's a Bob Ross-themed drinking game, too.
"My roommate and I, when we were sophomores in college, found a Bob Ross drinking game online, and we played it one night and we got very drunk," Swanson said. "We live right around the corner. We were here one night telling the story, and we were like, 'We should do that here!' because they always play Bob Ross on the back screens. They were like, 'Yeah, let's do it.' And so we did!"
Some of the drinking game's rules (which can change as Swanson sees fit) call for a drink when Ross talks about a small woodland creature, when he says "big decisions" and when he says "slap the devil out of it" when cleaning a paintbrush.
"Because it's a small bar, everybody really comes together and supports the painter," Swanson said. "No matter how terrible they are."
"I think they had a string of really good painters, and then me," said Jay Geverola, who painted along with Ross at a previous event. "Everyone's been really nice. If anything, it didn't give me hope in painting —it gave me hope in people."
Despite the variance in talent, when the moment of truth comes, the bar is fully behind that night's artist.
Painter Shelbie Janocha said she didn't come intending to paint—she came intending to laugh at people painting. Shortly after starting Janocha knew she was out of her league, and eventually went rogue.
"He was on his, like, seventh tree and I was on my second, so I decided that I felt like it was really dark and it needed some sun, and I thought that the sun needed to be extra happy, so I gave it a smiley face. It made me feel better," Janocha laughed. "I can't wait to put it in my living room. Front and center."
"People are having a really good time reliving some memories and cheering on someone that usually doesn't know how to paint," Windmiller said.
"He makes something that's artistic, that a lot of people feel like is sort of beyond them, feel approachable," Swanson said. "It's like why people watch cooking shows even though they're not chefs—you're like, 'Wow, he makes it look doable!'"
"The Joy of Drinking"—Bob Ross night at Albany Park's Nighthawk—is held every other Wednesday. The next one is April 19.
---
Related stories: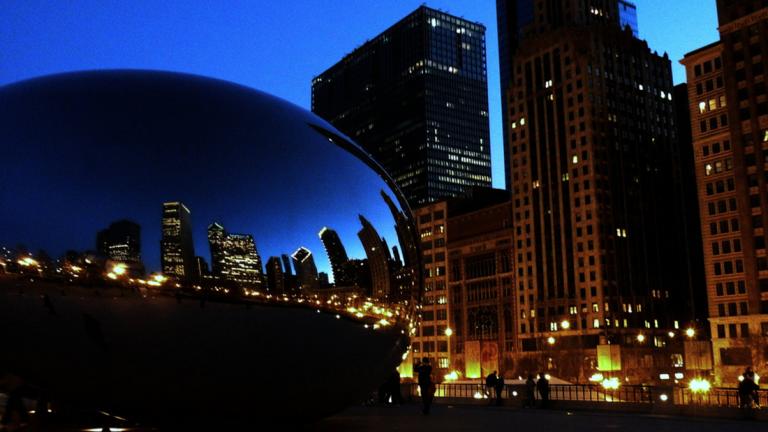 Watch 'La La Land,' 'Hidden Figures' in Millennium Park This Summer
April 17: The city's annual Summer Film Series returns with a line-up of Chicago classics and two of the most-buzzed about movies of 2016.
---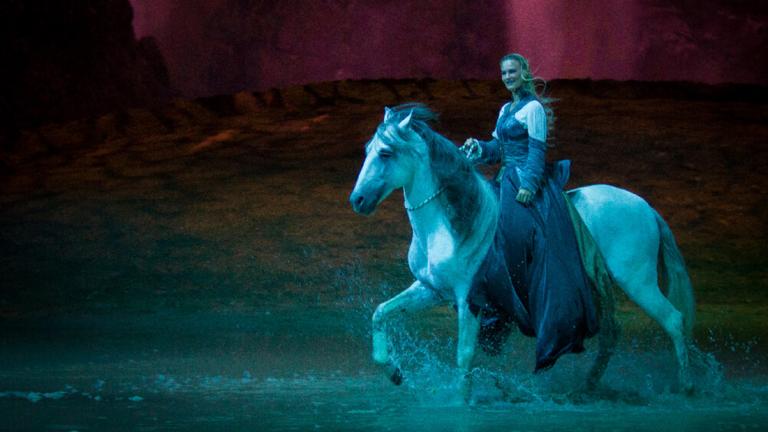 Cavalia's Epic 'Odysseo' Gallops onto Chicago's Lakefront
April 6: A big show is brewing under the big top, with a cast and crew of more than 200 – plus 65 horses. We go behind the scenes of "Odysseo."
---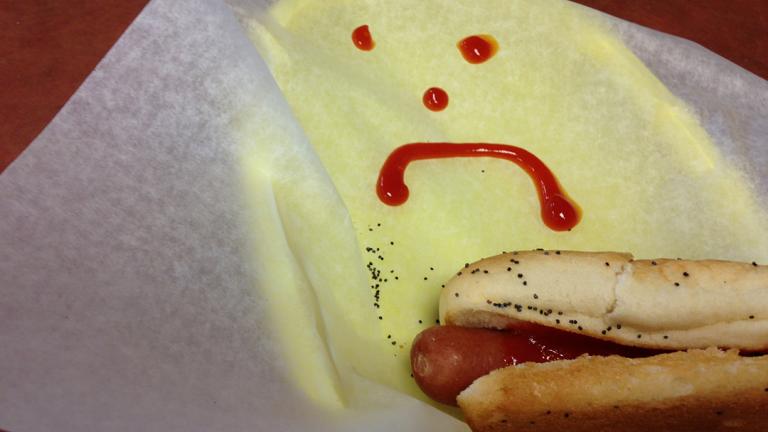 Ask Geoffrey: Why No Ketchup on Hot Dogs, Chicago?
March 1: Geoffrey Baer explores why hot dogs and ketchup don't mix in Chicago.
---