For the second time in less than two weeks, United Airlines is coming under fire for some questionable treatment of customers.
This time it involves a man literally dragged off an overbooked flight at O'Hare on Sunday night – and it turned bloody. The incident was caught on cellphone videos that have since gone viral. And Monday, the airline is the target of a lot of outrage, while a security officer is taken off the job. 
That security officer works for the Chicago Department of Aviation and his actions have now been seen on videos that have spread quickly on social media.
@united @CNN @FoxNews @WHAS11 Man forcibly removed from plane somehow gets back on still bloody from being removed pic.twitter.com/njS3nC0pDl

— Tyler Bridges (@Tyler_Bridges) April 10, 2017
---
The unnamed passenger, who is said to be a physician in Louisville, can clearly be heard screaming as Aviation Department officers pulled him from his seat and dragged him down the aisle when he went limp.
In other videos, you can hear and see the shocked reactions from other passengers on board. You can also see a bit of blood on the corner of the passenger's mouth.
It all spiraled out of control when the airline asked if four passengers would voluntarily get off the flight heading to Louisville because it was oversold and they needed those seats for airline employees. Volunteers were reportedly offered $800 and hotel accommodations. But when no one volunteered, the carrier said a computer picked four passengers at random, and they were all offered compensation.
Three passengers accepted the offer, but the man dragged off the plane obviously did not. And even after he was removed forcibly, he managed to run back on board. He reportedly said he needed to get back to Louisville on Monday because he had patients he needed to see.
A few moments later another video shows the man clinging to a divider on the plane. By this point he appears to have a lot more blood streaming from his mouth.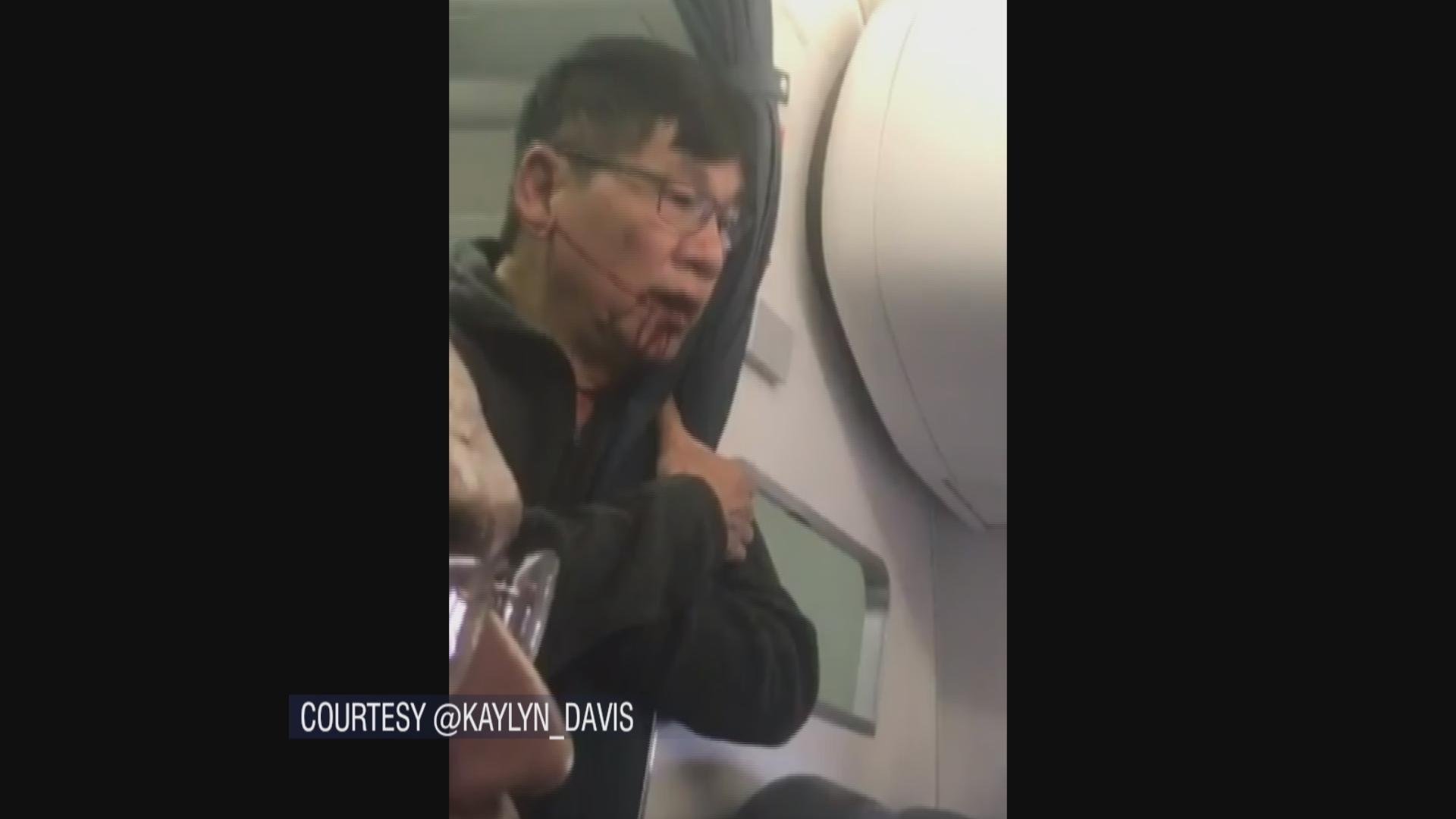 (Courtesy of @Kaylyn_Davis)
On Monday, the Department of Aviation admitted that policy was clearly not followed. In a statement, they say:
"The incident on United flight 3411 was not in accordance with our standard operating procedure and the actions of the aviation security officer are obviously not condoned by the Department. That officer has been placed on leave effective today pending a thorough review."
United Airlines CEO Oscar Munoz called it an upsetting event, saying in a statement:
"I apologize for having to re-accommodate these customers. Our team is moving with a sense of urgency to work with the authorities and conduct our own detailed review of what happened.
"We are also reaching out to this passenger to talk directly to him and further address and resolve this situation."
United also points out that this was a regional flight and some of those are sometimes operated by other carries. In Sunday night's case it was operated by Republic Airline. Whether that factored into the handling of the situation remains unclear.
For United, this comes less than two weeks after two girls traveling on an employee pass were blocked from boarding a flight for wearing leggings. At the time the airline said anyone traveling on a company pass has to abide by a dress code, and that proved to be a PR fiasco for the airline.
This latest incident could be another mess for the airline, says DePaul professor and aviation expert Joe Schwieterman.
"It's ultimately the captain's discretion, but when there is an involuntary denied boarding – somebody getting bumped against their will – the airlines have some discretion on who they choose," said Schwieterman. "But that passenger does, by the captain's order, have to leave the airplane, and when they don't they're violating FAA policy. I suspect [the passenger] was given ample opportunity to leave. When it was clear he wouldn't, this physical strategy came in and that's where … I've never seen anything quite like this. A real pushback that leads to a bad situation.
"It's unlikely an airline's going to change policy because of these incidents, but clearly there's a way to sort of gracefully give a doctor like this a way out to avoid just this sort of mass frenzy this sort of thing causes."
That mass frenzy has generated tens of thousands of tweets about United Airlines on Monday; many insisting they will never fly United again.
---
Related stories: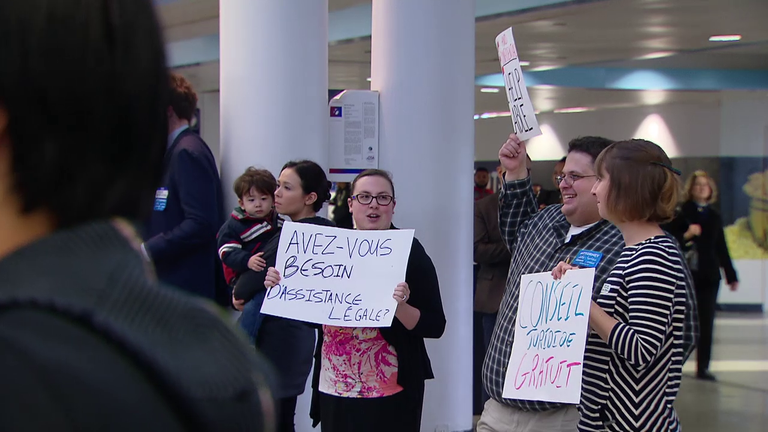 Syrian Refugees Arrive in Chicago
Feb. 7: After being turned away last week, a Syrian refugee family arrives in Chicago. Will there be a happy ending for the family or could they be turned away again?
---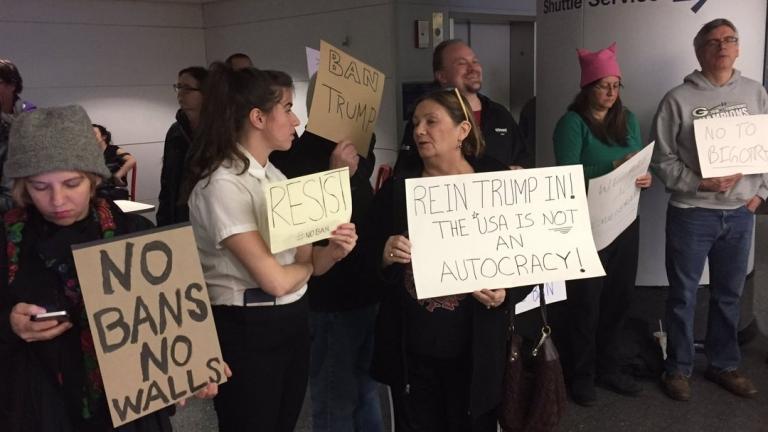 Refugees, Visa and Green Card Holders Detained, Turned Away at O'Hare
Jan. 29: What began as a regular Saturday at O'Hare International Airport grew into a dizzying scene of demonstrators and attorneys working feverishly to release travelers who had been detained by U.S. customs and border patrol officials.
---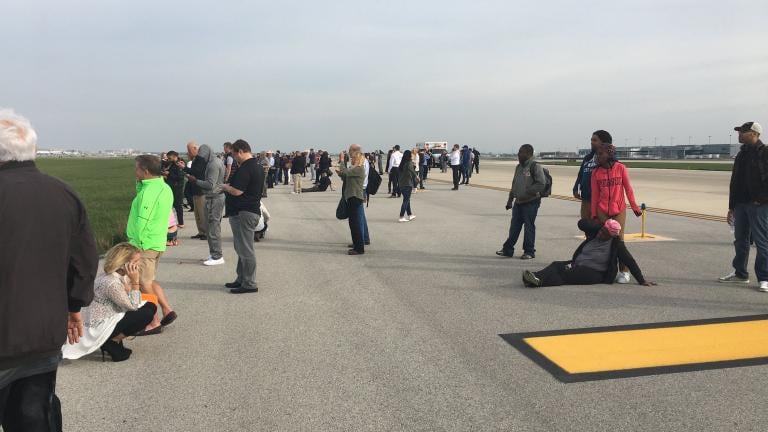 Plane Catches Fire During Takeoff at O'Hare Airport, Minor Injuries Reported
Oct. 28, 2016: About 20 people on board an American Airlines flight bound for Miami suffered minor injuries, fire officials said, after the plane caught fire Friday afternoon on a runway at O'Hare International Airport.
---