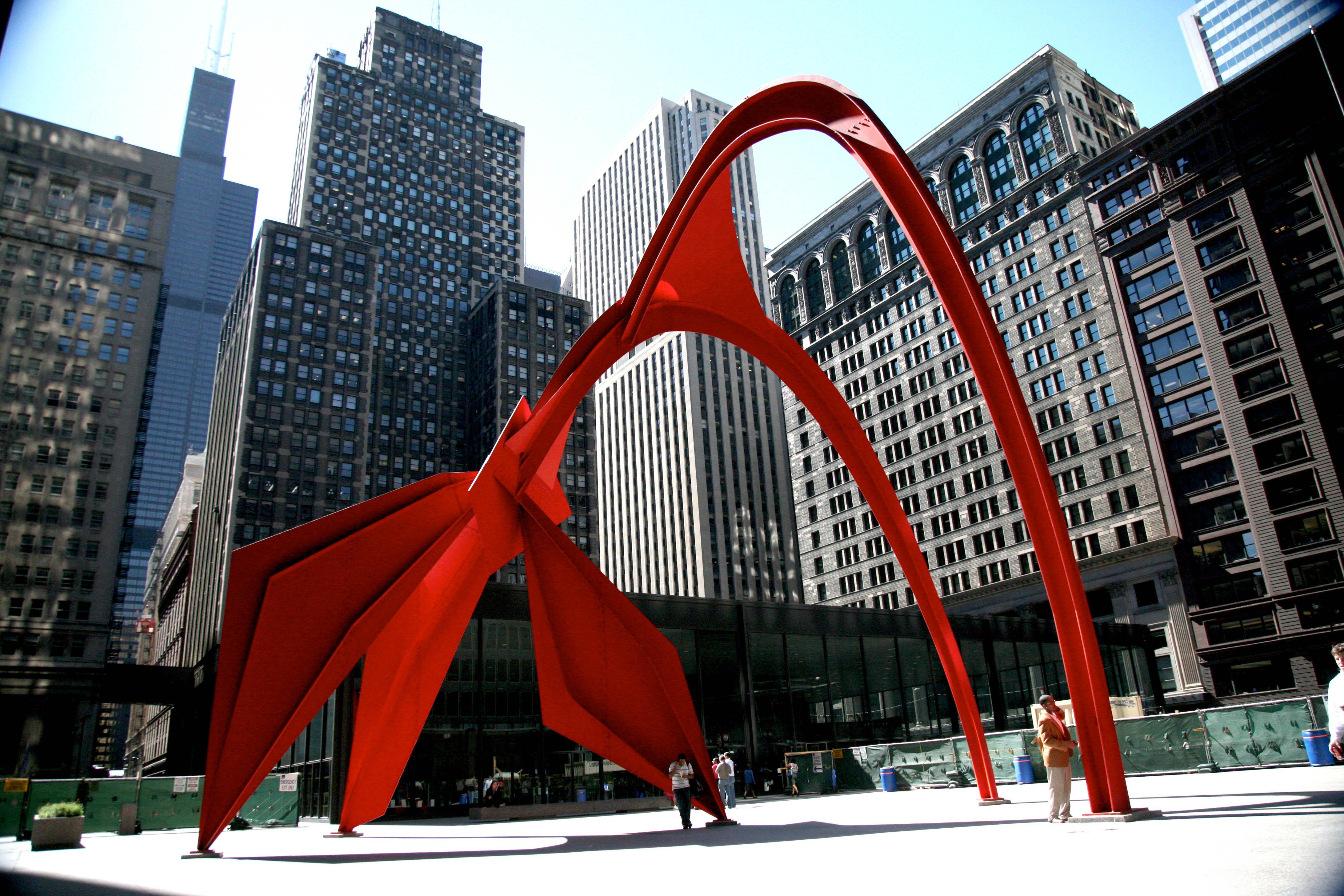 Alexander Calder, "Flamingo" (vincent desjardins / Flickr)
This week, a significant work by artist Alexander Calder disappeared from public view – his mobile "The Universe" was dismantled from the lobby of the Willis Tower on Tuesday and is being moved into storage.
Now, Preservation Chicago Executive Director Ward Miller says that a second major Calder work may also be in danger of disappearing: the bright red 53-foot-tall steel stabile "Flamingo," which has arced over Federal Plaza between the Kluczynski Federal Building, Dirksen Federal Building and the Loop Post Office for more than four decades.
The two Calder works were unveiled on the same day in 1974.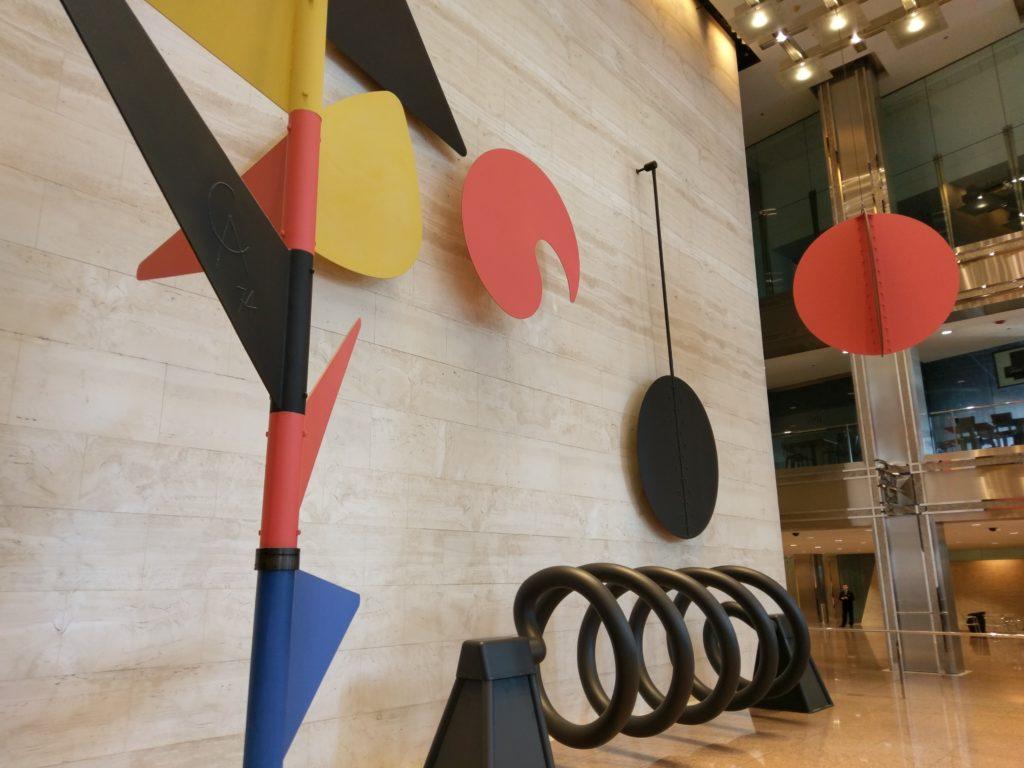 Alexander Calder, "The Universe" (Courtesy of Ward Miller)
Through sources at architectural firms and consultants, Miller has confirmed that developers are inquiring into redevelopment of the Mies van der Rohe-designed Federal Center site, which also includes "Flamingo." Miller says one plan being explored involves moving all government operations into the Kluczynski and Dirksen buildings, and selling off the post office building to private developers. "Flamingo" could then become subject to sale at private auction.
Miller sees any changes to the grouping of buildings as diminishing van der Rohe's vision.
"The relationship of the buildings to one another, and to the Marquette Building and the alignment with the Monadnock Building, the placement of sculpture and open space – it was an artful composition, one of the most important public plazas, designed by a master architect," he said.
He also notes, "there could be some security risks involved in redeveloping this plaza with office buildings and commercial tenants because of its proximity to the federal center and courthouses."
Miller says his sources are receiving similar inquiries about redeveloping Exelon Plaza near Chase Tower, which troubles him because "part of the reason it's so wonderful to walk through the Loop is being able to see these open plazas with artwork by some of the greatest artists of the 20th century. If you're in this canyon of buildings without any open plazas, you're going to be in shadows and darkness – this richness will diminish greatly. People may not enjoy being downtown as much if these plazas, open spaces, and artwork are removed."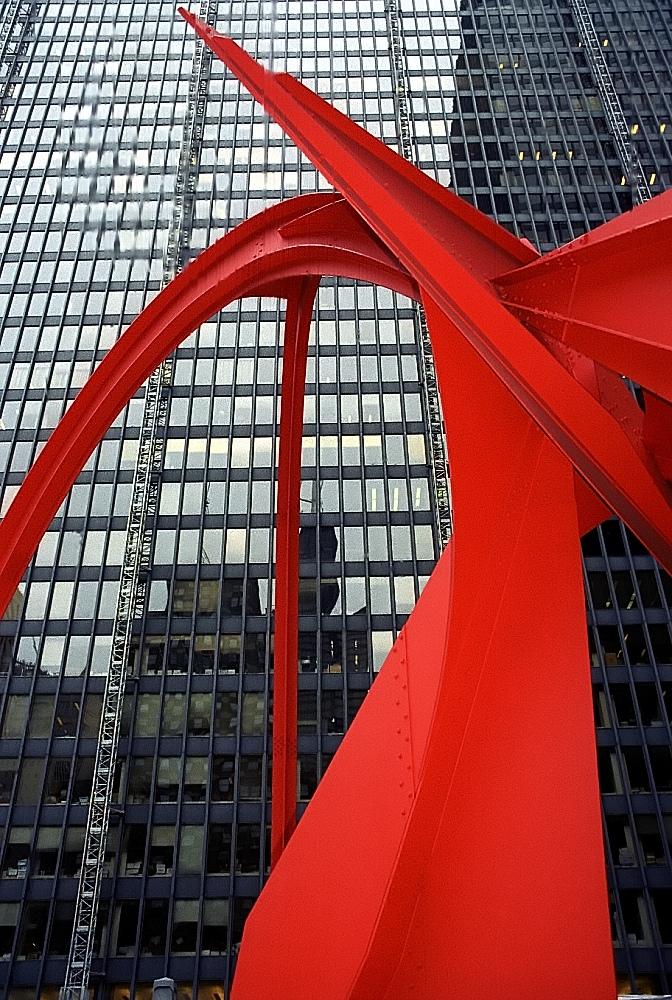 Alexander Calder, "Flamingo" (David Ohmer / Flickr) "Flamingo" was the first piece of public art commissioned under the federal "Percent for Art" program, which set aside budget dollars from building projects for public art. The sculpture's arching shape and flaming color (later dubbed "Calder red") stand in stark contrast to the black, blocky steel-and-glass forms of the van der Rohe buildings surrounding the plaza. Its placement and scale allow visitors to walk through it, making it a favorite of Chicago photographers.
Miller says that the potential loss of "Flamingo" from public view opens a discussion about the true owners of public art.
"The general public feels that these sculptures belong to all of us. It seems natural and obvious that the art of downtown Chicago that is part of the public domain would always be protected. But we're seeing that as these buildings are sold off to different developers over time, the art is now a financial asset that can be sold to the highest bidder. And I don't think that was the original intent of the artwork by either the developers or the artists. They were intended to enhance the built environment and the architecture. Is this a piece that's owned by the federal government? Yes. But was it, if you will, given to the people of Chicago? Yes indeed."
Miller appeared on "Chicago Tonight" on March 7 to discuss Preservation Chicago's 2017 list of endangered structures in Chicago, one of which was 20th century public art.
UPDATE:
In response to this article, a representative from the the U.S. General Services Administration's Great Lakes Region, which "maintains the region's federal buildings and public art," stated that it is not considering the sale or disposal of the Chicago Federal Center Plaza, the U.S. Post Office Loop Station, or the relocation or removal of "Flamingo." 
Miller, however, says that the statement does not necessarily reflect what is being discussed in the Washington, D.C. offices, and maintains that his sources are "highly credible."
---
Related stories: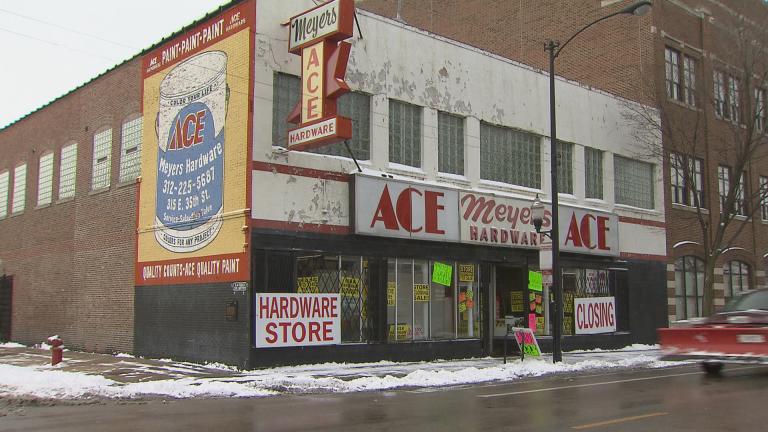 Hardware Store With a Jazzy Past Prepares to End its 95-Year Run
March 22: While the end of Meyers Ace Hardware is certainly a loss to its South Side community, it's also leaving a piece of Chicago's jazz history hanging in the balance.
---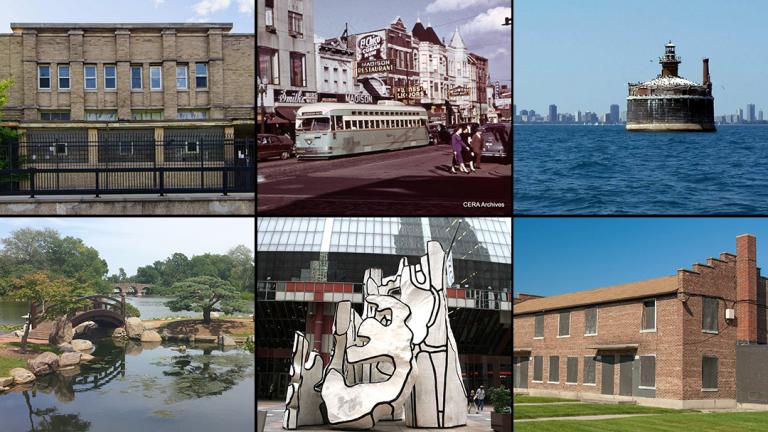 Preservation Chicago Names City's 7 Most Endangered Structures of 2017
March 7: This year, the group's annual list of endangered structures sounds the alarm on not just buildings, but also public art.
---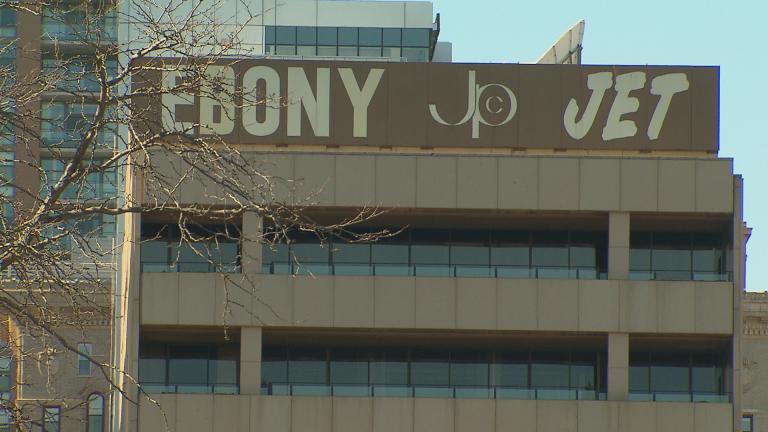 What Landmark Status Could Mean for Former Johnson Publishing Building
Feb. 20: The former Johnson Publishing building is up for landmark status, but what does that mean for the future of the only black-designed high-rise in downtown Chicago?
---