A viewer wonders what became of a Chicago burger chain that borrowed its name from a cartoon moocher.
Geoffrey Baer is here to dish on that story and serve up some more hamburger history in this week's edition of Ask Geoffrey.
What happened to the Chicago hamburger chain Wimpy's?
– Jean Williams, Lakeview
Remember J. Wellington Wimpy, the hamburger-loving character from the Popeye cartoons who would gladly pay you Tuesday for a hamburger today? He was the inspiration behind the name of the burger chain started by Edward V. Gold in Bloomington, Indiana, in 1934, expanding to Chicago in 1936. 
Gold eventually opened 26 stores across six states. Ten were in the Chicago area, including one next door to the Shubert Theater (now the PrivateBank Theatre) and one in the Woodfield Mall.
Wimpy's biggest expansion came after Gold sold the rights to the name and trademark and the chain went multinational in 1954. 
It was especially popular in the U.K. At its peak in the 1970s, there were 500 Wimpy's outlets in the U.K. and 1500 worldwide. In 1971, Wimpy's U.K. operation got into a spot of trouble with women when protests broke out over the all-night chain's policy of not allowing unescorted women into their restaurants between midnight and 6 a.m.
Today only 86 remain in the U.K., and all of the U.S. Wimpy's are long gone.
In the Chicago area, the chain was down to nine stores in the Chicago area by 1977, when Gold was stricken by a heart attack and died. Gold's stores were put up for sale, but there were no takers and they were shuttered.
But in one country they're still going strong—South Africa! There are over 500 Wimpy's in South Africa today.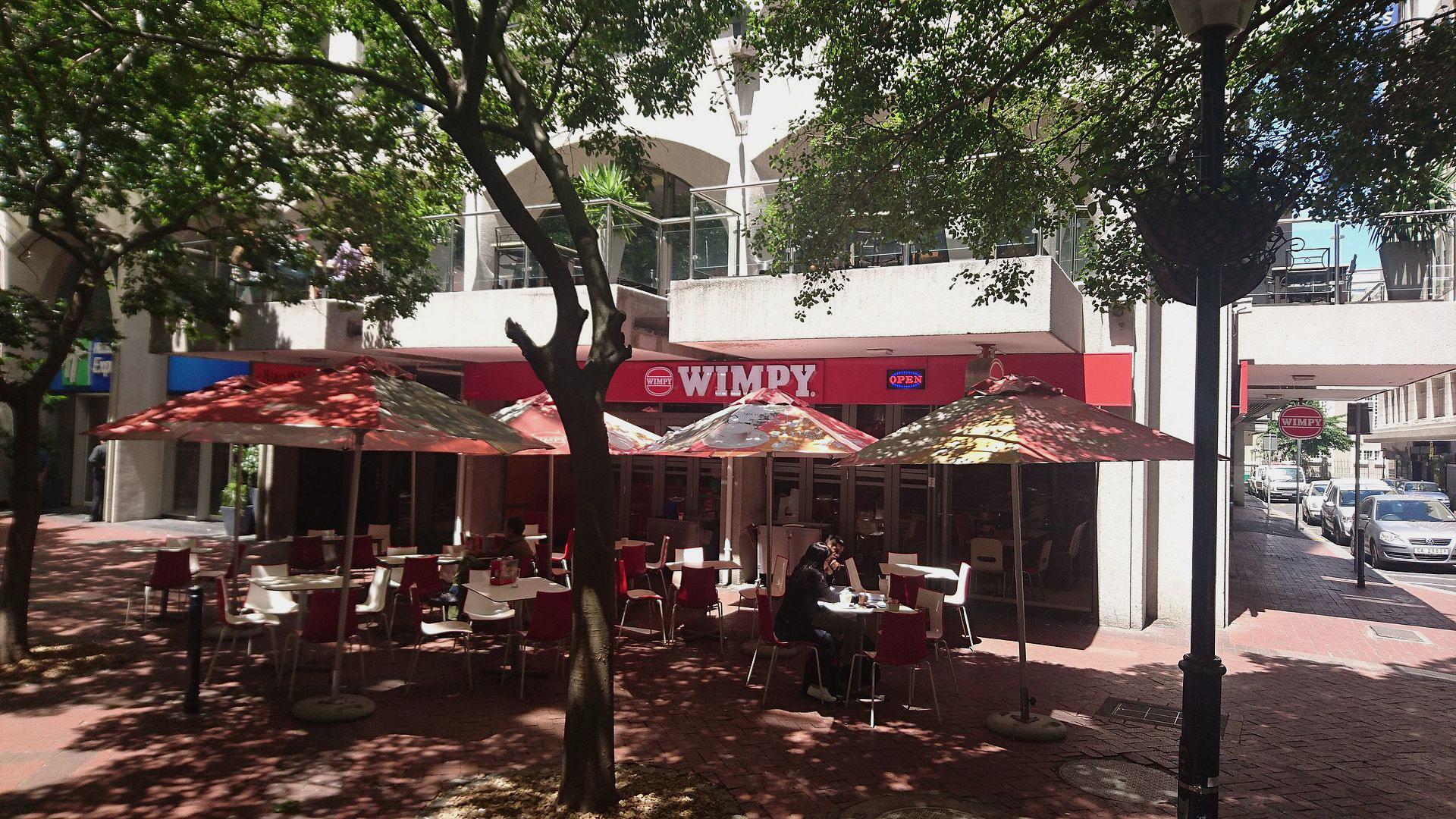 Can you tell me why the Chances R restaurants closed? They had the best char broiled burgers in the city. I particularly liked the Old Town and Hyde Park locations. 
– S. Bailey, Chicago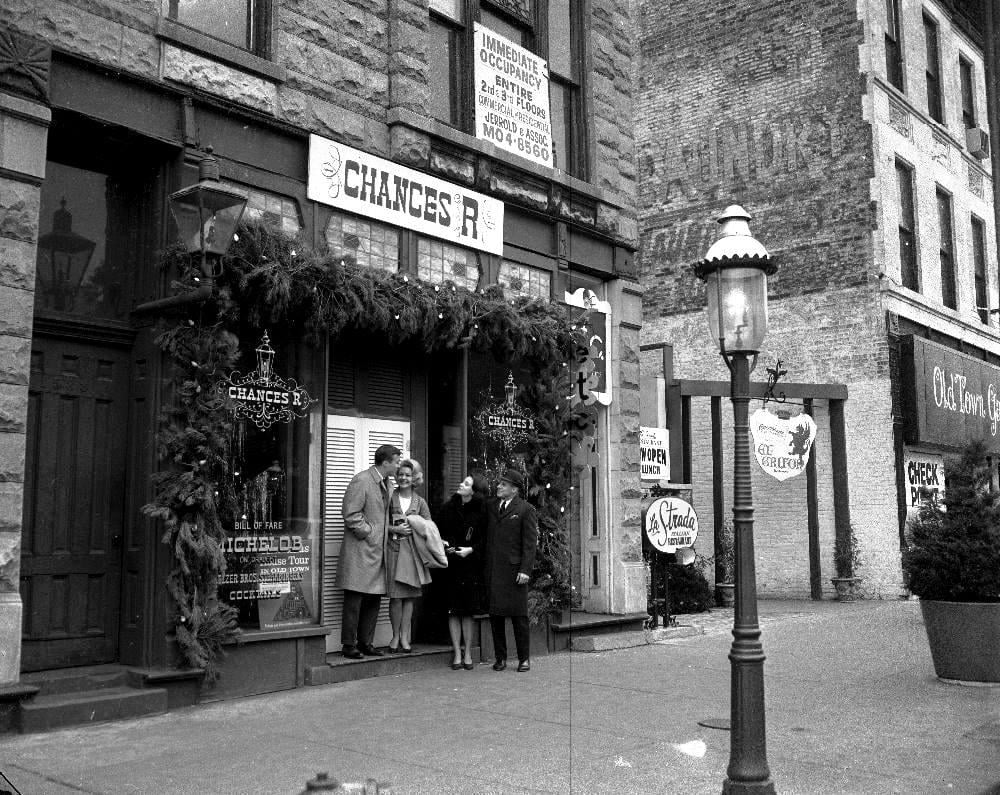 Many viewers will remember Chances R not just for their burgers but also for the free bowls of peanuts – and the peanut shells the waitresses invited customers to toss on the floor.
The chain had five locations in the city and suburbs, but the first and probably best-known was the Old Town Chances R at 1533 N. Wells St., which opened in 1961.
The three owners all had day jobs and opened it as a place to hang out, drink beer, and relax. The partners scoured junk shops for the antiques and oddities that made up Chances R's mishmash of old-timey décor.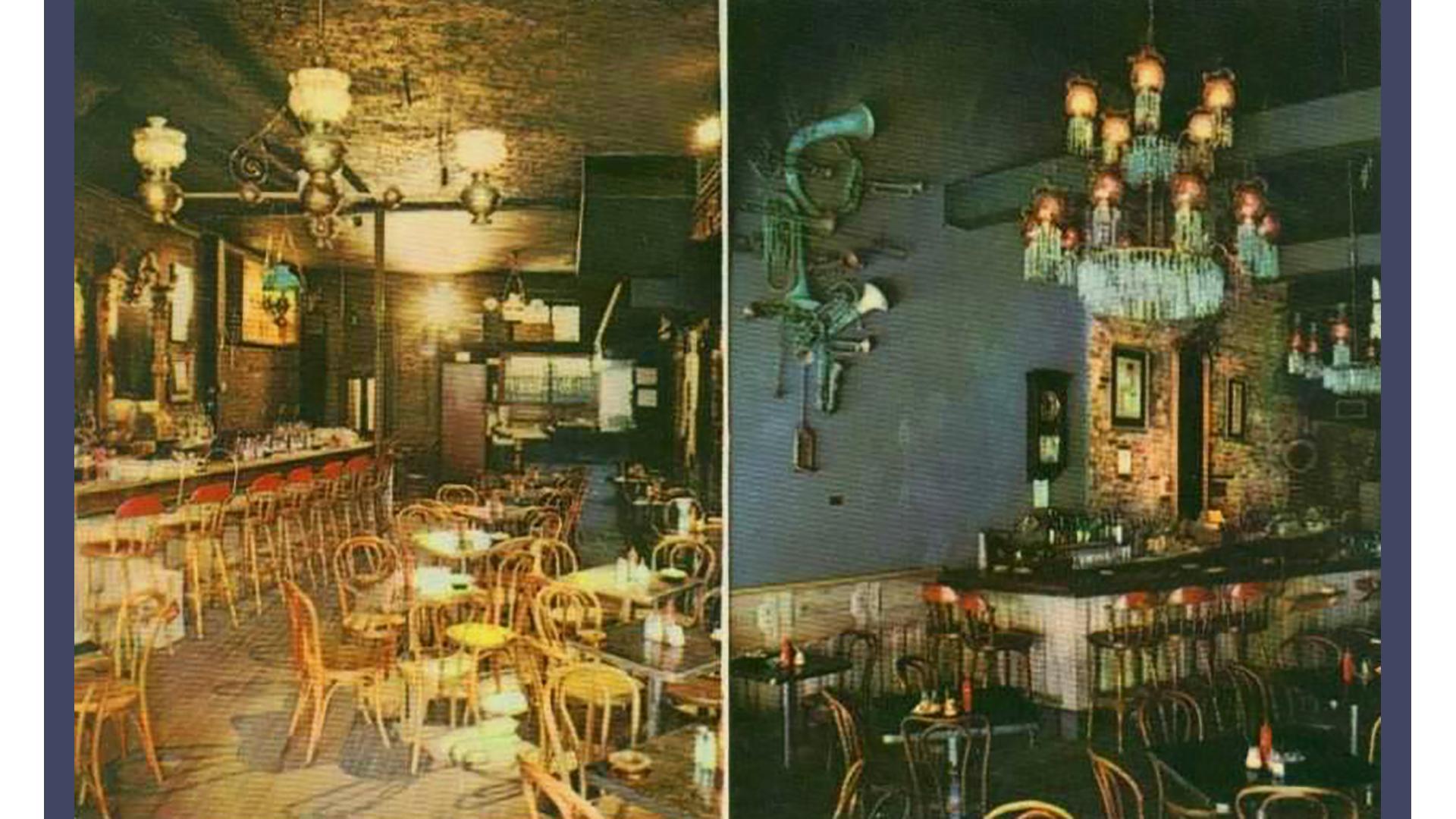 The restaurant's name reportedly came from one of the owners, Richard Baldwin, saying that when they opened the Wells Street location, which at the time was a rundown neighborhood, that "chances are we could go broke." They didn't. The place was an immediate hit.
Baldwin soon bought out his partners and opened more Chances R locations in Hyde Park, River Oaks, Skokie, Palatine, Champaign and Boyne City, Michigan.
The Wells Street location became a mainstay in the hippie heyday of 1960s Old Town.
The Champaign location was a popular music venue and hangout for University of Illinois students. Acts like REO Speedwagon and a young man from New Jersey you might have heard of named Bruce Springsteen performed there.
The Hyde Park location was also a music hotspot, with live jazz. We spoke to Cleveland Holden, who was the general manager of the Hyde Park Chances R for more than a decade. He says Chances R was more than a neighborhood restaurant – it was a place where folks from all over would gather – politicians, TV personalities, professors from the nearby University of Chicago.
By the late '70s, most of the Chances R locations slowly succumbed to competition, changing neighborhoods and financial problems.
Holden says that despite the Hyde Park Chances R being profitable and popular right until its last day, the owner's financial problems ultimately caused it to close its doors in 1983. (By the way, Cleveland Holden is a fixture at the Hyde Park Historical Society and welcomes anyone wishing to revisit their Chances R days to stop by for a chat!)
There was a great hamburger place near the corner of Western and Foster from around 1960. My mom, sister, and I are too old to remember the name. Can you help?
– Jeff Miller, Niles
Our viewer is remembering Henry's Hamburgers, which some might remember calling O'Henry, probably because the burger on the sign looked like an "O."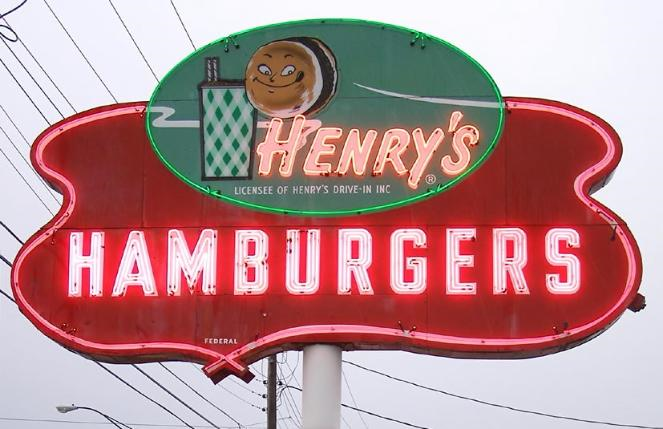 Henry's had as many as 35 locations in the Chicago area as well as restaurants in Iowa, Michigan and Ohio numbering around 200 until the late 1970s. Their slogan was "aren't you hungry for Henry's?"
The chain started in the 1950s by Bresler's Ice Cream Company as a way to sell their ice cream products. The restaurant was named after Henry Bresler, one of the brothers who founded the company.
They opened their first Henry's Hamburgers in 1954 on North Lincoln Avenue a block north of Devon Avenue.
Fuzzy Memories TV saved this trippy Henry's commercial from 1969 featuring an astronaut named Captain Henry.
One Henry's Hamburgers was right across the street from the old Riverview Amusement Park on Western Avenue. It was most recently a used car lot, but the distinctively shaped sign reveals its history. The building that was the restaurant remains as well, and it features a sharply slanted roofline that might look familiar to hamburger historians.
Here's what the first generation of McDonald's stores looked like next to a Henry's store at Belmont and Hamlin Avenues. Pretty similar! So who copied whom?!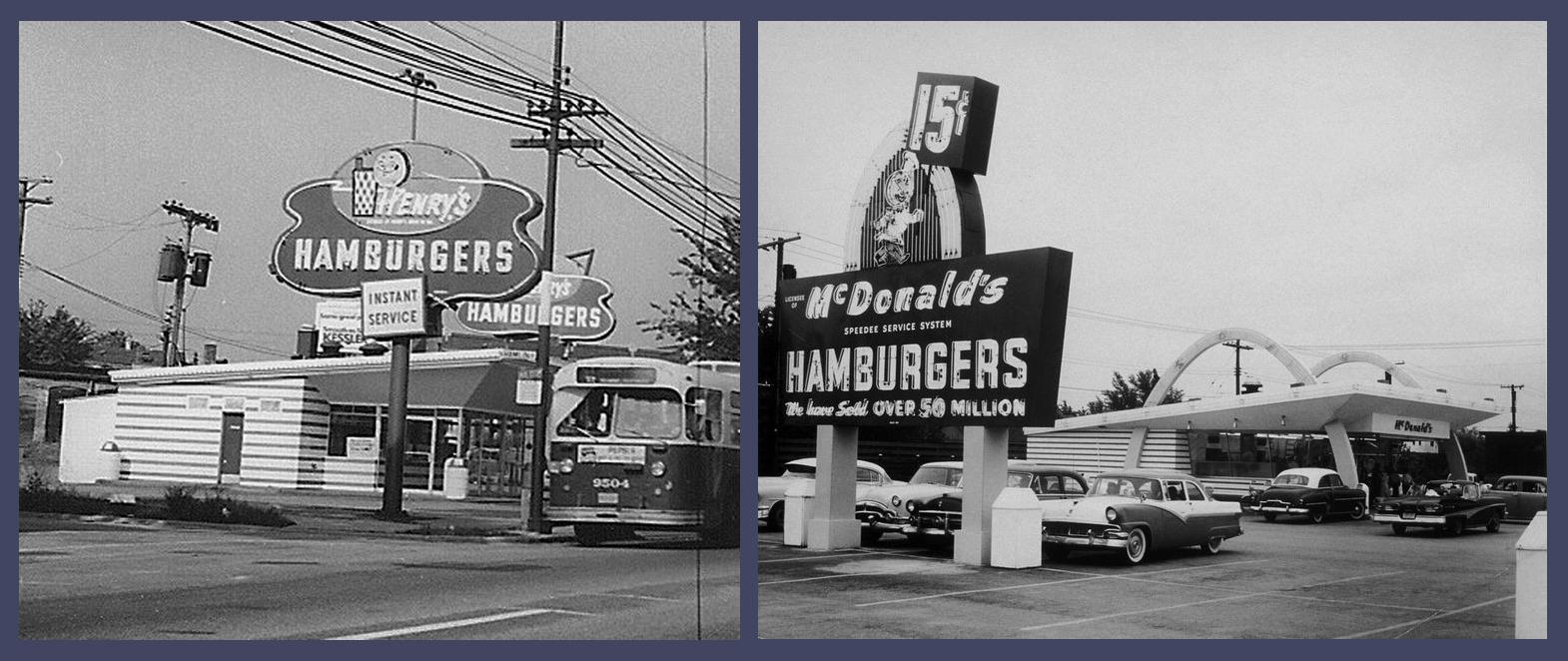 McDonald's archivist Michael Bullington told us that when the original McDonald's brothers franchised their concept in 1952, three years before Ray Kroc entered the picture, they worked with an architect to develop a slanty-roofed design, red & white tile, and glassy front entrance.
That building design premiered in Phoenix, Arizona in 1953, a year before the first Henry's opened.
Stiff competition from chains like McDonald's was among the factors that brought about Henry's exit from the burger wars, as well as parent company Bresler's also series of mergers and ownership changes. The chain folded in the late 1970s – but if you're hungry for a Henry's, you can still get one at the last Henry's Hamburger's in Benton Harbor, Michigan. It's been serving up hamburgers since 1959.

More Ask Geoffrey: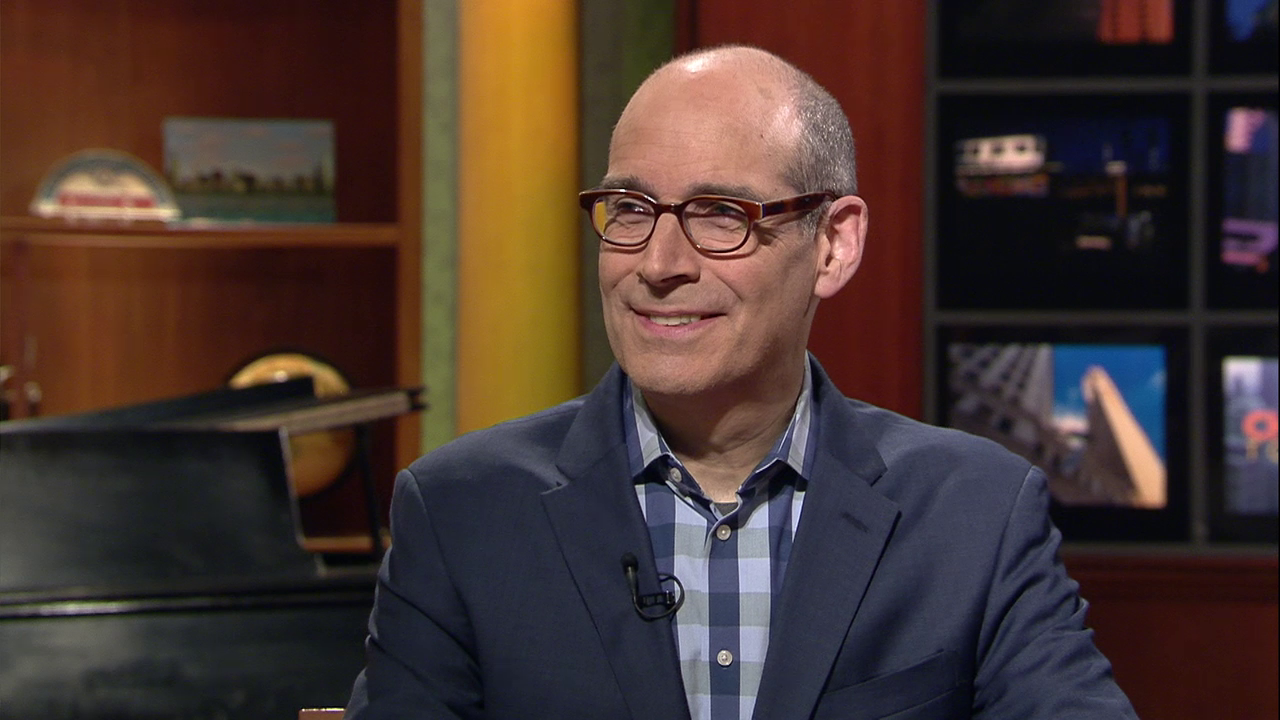 Did you know that you can dig through our Ask Geoffrey archives? Revisit your favorite episodes, discover new secrets about the city's past, and ask Geoffrey your own questions for possible exploration in upcoming episodes. Find it all right here.
Do you have a question for Geoffrey? Ask him.
---