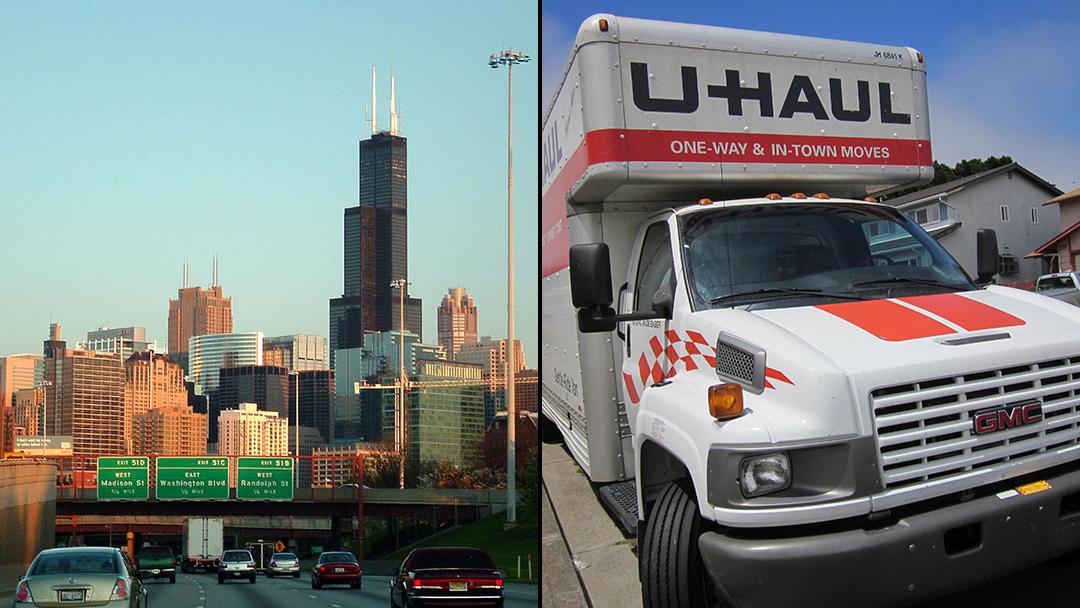 Chicago and Illinois lost residents faster than any other state or major U.S. city in the last few years. But some are returning. (From left: Araceli Arroyo / Flickr; © BrokenSphere / Wikimedia Commons)
For Xavier Rios, a 28-year-old Humboldt Park native who moved away from Chicago in 2014 and returned a year and a half later, the reason he came back is simple: "All I know is that when I'm in Chicago, I'm home."
For the last couple of years, the news about Chicago has rarely been upbeat. Spiking violence, troubled schools and failing finances have combined to paint a picture of a city in free fall – even the nation's new president calls the city a "war zone" in interviews. (And let's face it, the winters don't help either.) Thus it comes as little surprise that both Chicago and Illinois lost residents faster than any other state or major U.S. city in the last few years.
But sometimes, they come back.
Rios felt the pull home to Chicago from Dallas, where he moved in 2014 after living nearly his entire life in Humboldt Park. But after beginning his career in special education in 2009, Rios says "Chicago got expensive."
"Rent, gas, everything. I was living paycheck to paycheck. And so I thought I needed another place to try out," he said.
Dallas seemed to fit the bill. "I enjoyed it in the beginning. It's affordable – it's warm! The people are friendly. They say hi to you on the street."
But he couldn't shake the feeling of being a fish out of water in Texas. "It's odd to find a Puerto Rican in Texas, so it was difficult to find cultural touchstones. I had to explain a lot about where I come from. I was in a store shopping once and I was speaking Spanish with my father on the phone. The cashier said, 'That was a very weird Spanish you were speaking – where are you from?' I said that I was from Puerto Rico. She said, 'What part of Mexico is that in?'"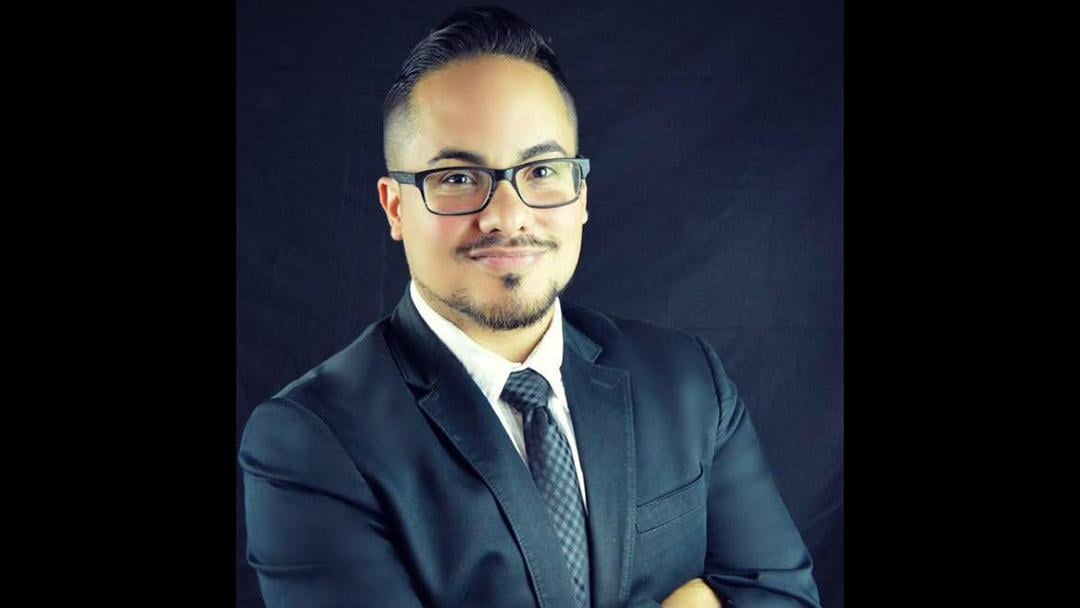 "I thought I needed another place to try out," said Xavier Rios, 28. (Courtesy of Xavier Rios)
The crazy quilt of cultures and ethnic enclaves was the facet of Chicago life Rios found most lacking in Dallas. "I missed going on a bus or train and seeing the different faces. Chicago has all these different neighborhoods and cultures. In Texas – it's like we say in Puerto Rico, you're missing some flavor. Chicago just has that extra thing for me."
Rios also found himself disenchanted with Dallas nightlife. "It's a beautiful place, but it's not meant for a young single man. Here in Chicago, you never sleep – there's always something going on. And there's public transportation, so you don't miss anything. In Texas, it seemed like people went to bed at 10 p.m. I missed the lifestyle in Chicago. And the food! There's nothing like the food in Chicago."
Like Rios, moving out of Chicago made Makea Henyard realize she was partial to city life. She grew up in the Austin neighborhood and left Chicago for the town of Riverdale, Georgia, in 2011. "My mom and dad were still in Chicago, but I was looking for a different atmosphere," said Henyard. "I had some family in Georgia and I wanted to see what it was all about." For two years she lived "the country life" in Riverdale. "Georgia is really slow-paced, and I wasn't used to that," she said.
In Henyard's case, the slow pace was literal. "When I was in Georgia I didn't have a car, and they didn't have public transportation, so … it was a lot of walking," she laughs.
Eventually, the country life left her longing for Chicago's speedier stride. "I'm used to the city life. So I pretty much was looking to come back home to the city the whole time."
Even though the news about Chicago was "really bad" when she made the decision to return, Henyard says, "I don't live in a part of Chicago where people are shooting at me. I wasn't brought up around it, I'm not interacting with things of that nature. I stay away from those areas. I would definitely not go to the Englewood area because I know there's a lot of shooting there." 
Now back in Chicago's Dunning neighborhood, Henyard says she doesn't "plan on moving anytime soon. Unless my parents move! If my parents are moving, I'm moving too."

"Chicago is resilient. We're not fearful of where we live. We can't be."
–Marcus Boni
---
The "extra Chicago thing" for theater director Jess Hutchinson was a wirework kung-fu scene in an old viaduct. "I saw a show at the House Theatre, 'The Curse of the Crying Heart.' At the end of it, two actors had a giant kung-fu battle where they hoisted [the actors] up in the air and they flew in the old viaduct."
Hutchinson, 35, was an Air Force brat. She and her family ultimately landed in Omaha, Nebraska, and she came to Chicago in 2005 as an intern at the Goodman Theater. "I thought I was going to be here for the six months of the internship and then go back to Omaha and live my life there. I think I was here for about 10 minutes before that changed. And after I saw that show, I went out I called my boyfriend at the time and said, 'this is the most incredible theater city in the world and I am not leaving. I'm going to stay here forever.'"
It wasn't quite forever, but for seven years, she did stay in Chicago, living in a handful of neighborhoods across the North Side of the city until 2012, when she and her husband Jamie Gump moved to Austin, Texas, so she could pursue her MFA at the University of Texas. "It gave me the experience of going away and getting out of a comfortable place – that felt really important for my career and professional development," she said.
Austin's laid-back vibe felt welcoming, and the couple quickly settled into the community. But for Hutchinson, it was never completely home. "There was a lot that I loved about Texas, but I never shut up about Chicago for four and a half years," she said.
In the fall of 2016, she came back to Chicago for a directing stint at North Park University, and the city charmed her all over again. "When I came back in the fall, I was pretty sure I was going to stay in Austin. [But returning to Chicago] felt a little bit like having broken up with someone, not seeing them for a while, and then going on a really excellent date with them, and realizing that yes, you do love them, and you want to spend the rest of your life with them."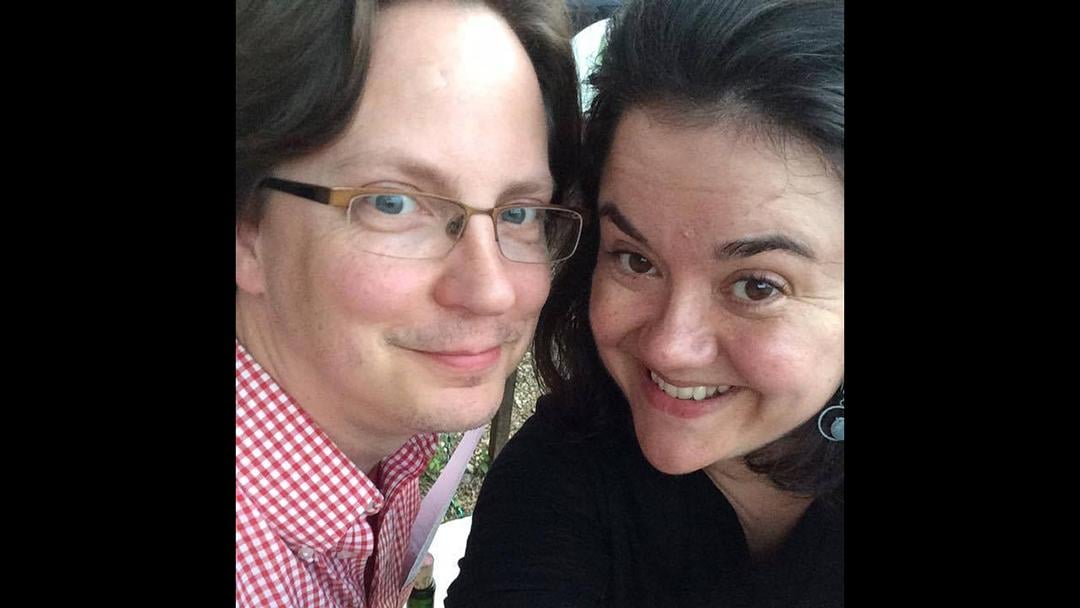 Jess Hutchinson returned to Chicago after a stint in Austin, Texas. "There's no question that if I have kids, I want to have them in the city." (Courtesy of Jess Hutchinson)
She and her husband decided to make the move back to Chicago not long after.
Like Rios, Chicago's diversity is important to Hutchinson as well – particularly when she considers raising her hypothetical children. "The idea of having access to the kind of diversity and cultural and social institutions that Chicago has – there's no question that if I have kids, I want to have them in the city."
Raising a family was on Marcus Boni's mind when he and his husband Tony Truscello moved to St. Louis after a decade living in Chicago. The couple had been in Chicago since 2002, where they both began their careers in the specialty coffee industry. "We had visited Chicago several times and had really fallen in love with it. It has a good Midwestern vibe but it's still warm and welcoming with a very diverse demographic," Boni said. After some time, they bought a condo in the Humboldt Park area, which they shared with five foster dogs.
Nonetheless, when new career opportunities in St. Louis beckoned in 2012, the prospect of being able to start a family in their own house with a yard was exciting. "It was a city that seemed very approachable, and the homes were very affordable."
What they found, however, was that while they were happy with their immediate neighborhood, they didn't always feel welcome in the rest of St. Louis. "We were struggling a little bit with making friends and coming up against things like being scared to hold hands or being called a 'fag' in a grocery store. That was something we never experienced in Chicago. It was hard to feel comfortable there and really call it home," said Boni.
When another opportunity opened up on the West Coast, Boni and Truscello were eager to make the move from St. Louis to Seattle. "It presented scenery we had never lived in in our entire lives. Actual elevation! We loved it there." But Seattle presented a different challenge – cost of living. "Our rent exceeded anything we'd ever paid, it was expensive to travel home, and we definitely needed two cars because their bus system is different," he said. "So we really had to make adjustments to our way of living."
When a new career opportunity in Chicago beckoned a year later, the couple decided to come back, even though the city had developed an ugly image in the news.
"Knowing that we loved Chicago, that we still had a home there, it was easy to make the move," Boni said. "Our thinking was that there are rough parts of every city, but if we're active and engaged in the community we can work against that. And inside of all of these pockets there's great goodness. These are our neighbors. Some of them might be down on their luck, but these are O.G., legit Chicago neighborhood people. They would be the first people to stand up for us. Chicago is resilient. We're not fearful of where we live. We can't be."
Jess Hutchinson feels that the media portrayal of Chicago isn't the whole picture.
"I thought what was being broadcast and what was being politicized was not the complete story," she said. "There's a deep history of discrimination and segregation here – it's actually a lot more complicated than anyone who [hasn't lived in Chicago] is going to understand based on these reports. It was pretty infuriating to see, especially people using it as a political worst-case scenario, like our current president. I don't mean to downplay the very real bull***t that was and is going on – but it's a complicated city."
So is she here to stay?
"Oh yeah. This is it," she said. "It's not that I never want to leave the warm embrace of my city again or anything – after all, there are two airports here! There are companies all over the country I want to make work with, but I want to come home to Chicago every time."
Boni agrees. "At this point, we'll never leave Chicago. Chicago is home for us."
---
Related stories: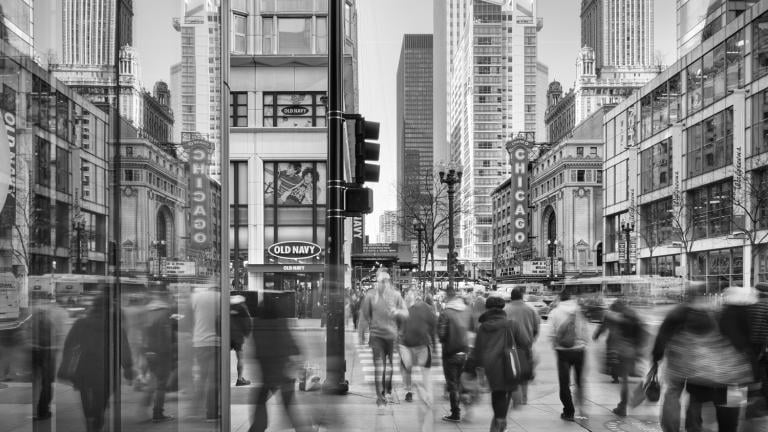 'Bad Joke' of Illinois Finances, Politics Prompt Out-of-State Moves
Jan. 23: Thousands of people moved out of the city and state over the past three years. Two former Illinois residents weigh in on their decisions, while another wrestles with the idea of packing his bags for good.
---
Dec. 27: Illinois' population declined in 2016 for the third straight year, losing more people than any other state in the union. The drop of more than 37,000 people leaves Illinois with a population just north of 12.8 million.
---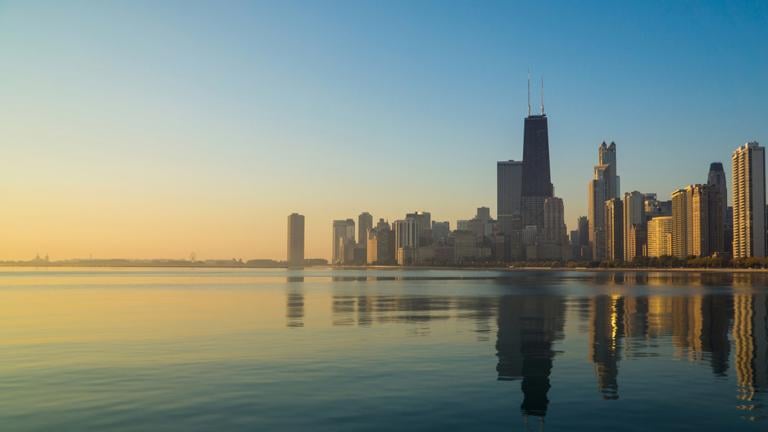 Illinois' Black Unemployment Rate Highest in the Nation
Dec. 21: While U.S. unemployment is at its lowest point in years, a new report shines a light on a racial disparity that's especially prominent in Illinois. 
---