Kurt Vonnegut's "Slaughterhouse Five" is often ranked as one of the best English-language novels of the 20th century.
It was published in 1969 during the Vietnam War. Vonnegut, a veteran of World War II, often included sketches in his books.
Some of his artwork is currently on display at the National Veterans Art Museum in Chicago. Screen-printed images allude to both his literary work and his wartime experiences.
Museum President Lionel Rabb joins us to discuss the exhibition "Vonnegut's Odyssey." It is on view through May 6, and admission is free. For more information, visit the museum's website. 

Curator's Statement
I have been drawn to the works of Kurt Vonnegut Jr. since high school, but after returning from the Iraq War in 2004 I had a new appreciation for his works. His cunning use of language and imagery about war and the soldier's return bewilders and impresses me. Although his works are mostly regarded as a form of science fiction, his truthfulness is apparent and striking. Similar to what Vonnegut has drawn and written, I saw war and the aftermath as bizarre, surreal. Almost like something straight out of a science fiction novel.
Kurt Vonnegut Jr.'s strong marker lines and narrow color palette were made into screen- prints with the help of his friend and artist Joe Petro III. The images don't show precise carbon- copy reprints from the battleground or his return afterward, they show something more. They show the story.
One of the most memorable images of my time in Iraq was latrine burning detail for our unit Charlie 724 En Battalion. We first built eighteen wooden outhouses with drop doors on one side for emptying and the user door on the other side. We'd have the task of pulling out the half-50 gallon drum from beneath the outhouse. Then we'd burn shit all day long, using a mixture of diesel and jet fuel. Really, the smell wasn't that bad, and you got to sit under the Green Bay Packers umbrella drinking non-alcoholic beer all day. It was strangely reminiscent of a Wisconsin BBQ.
The complex and alienating experience I then had coming home from Iraq speaks largely the same as a Vietnam, Revolutionary, or Trojan war veteran had returning after their respective conflicts. Leave the dates out of it and the stories begin to look similar, from  Homer's The Odyssey to Vonnegut's Slaughterhouse Five, to the experiences of contemporary Iraq and Afghanistan veterans.
Vonnegut's wit and deceptively simple line drawings breathe fresh life into these timeless narratives. His humor and artistic license reveal just as much as a battle tale redux.
As the writer Isabel Allende once stated, "What's truer than the truth? The story."
–Ash Kyrie
---
Related stories: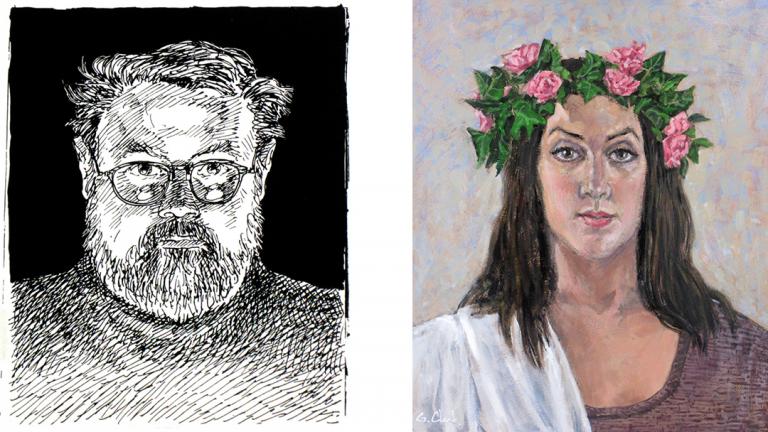 Longtime Chicago Portrait Artist Focuses on the Face
Jan. 3: We meet George C. Clark, a one-time commercial artist in his studio – and at the Cultural Center – for a peek at portraiture, real and imaginary.
---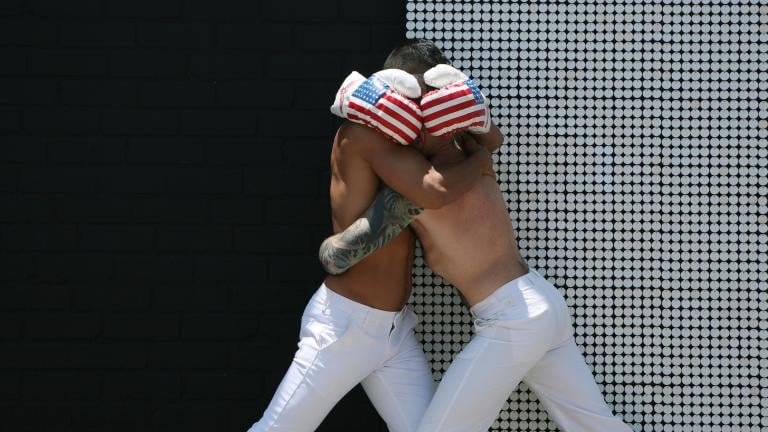 'AIDS in America' Exhibition Responds to Cultural Climate of 1980s
Dec. 5: An ambitious new art exhibition looks at the cultural impact of, and creative response to, AIDS in America.
---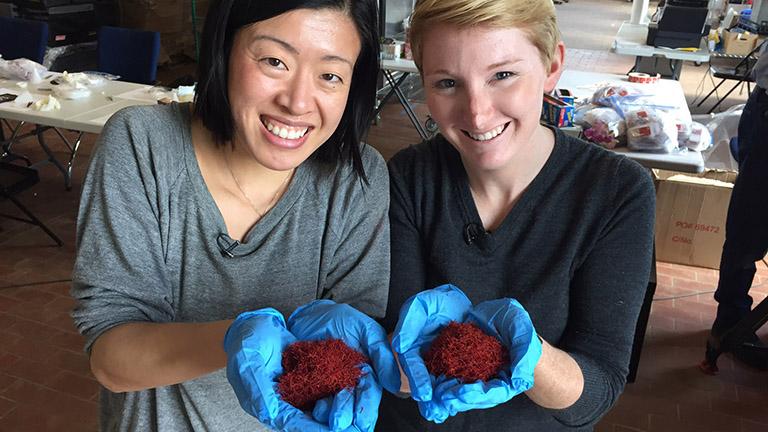 Chicago Veterans Aim to Cultivate Peace in Afghanistan Through Farming
April 5: Could a spice help rebuild Afghanistan? Could it decrease the production of poppy for opium? Meet three Chicago war veterans who have started a business with these goals in mind.
---