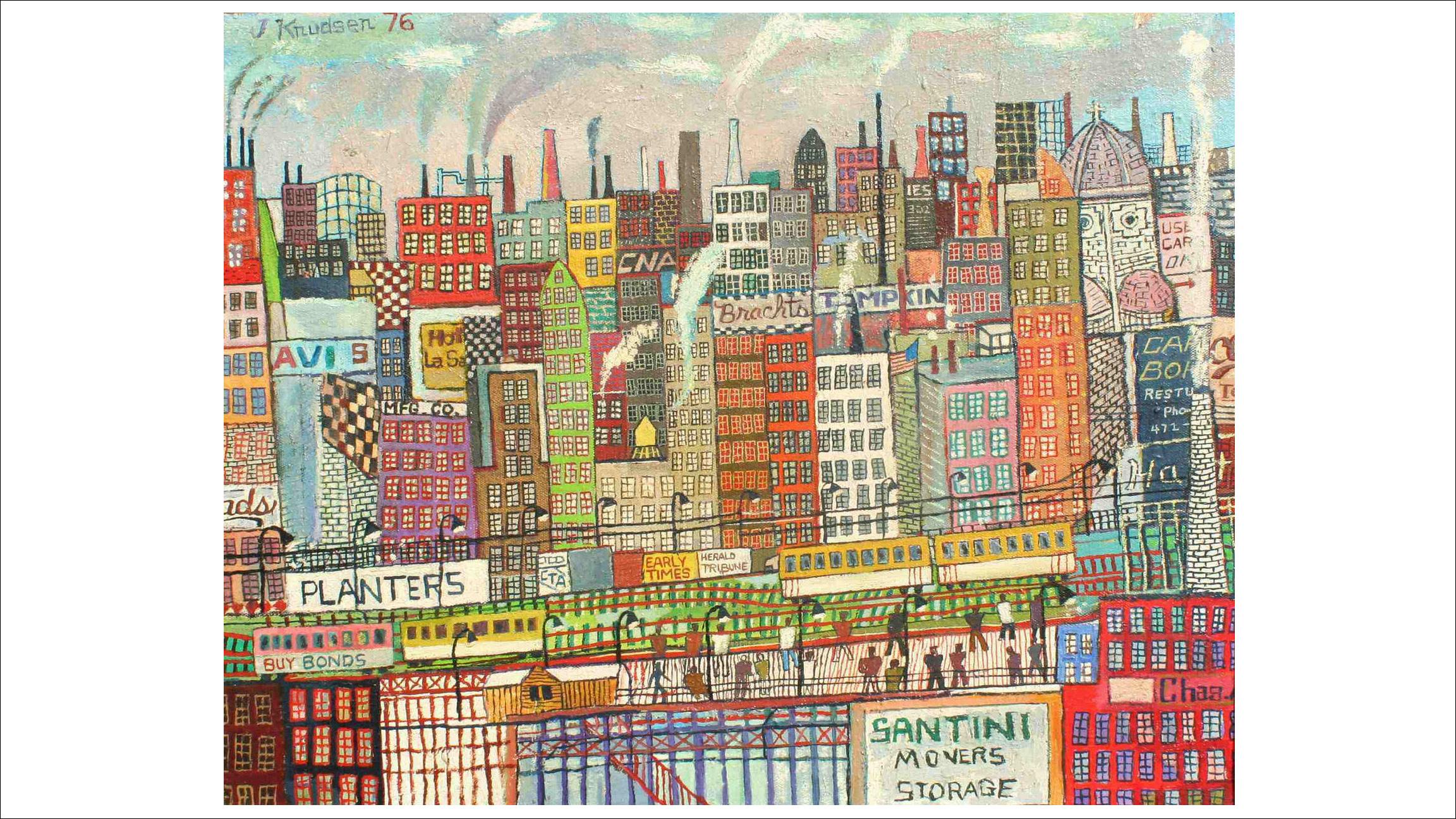 John Knudsen, "Untitled (Cityscape)" 1976. Chicago's Richard Norton Gallery returns to SOFA Chicago with works by the late John Knudsen and Harold Haydon, among others. (Courtesy of SOFA Chicago)
1. Behold
More than 70 galleries from around the world converge at Navy Pier for SOFA Chicago, the Sculpture, Objects, Functional Art and Design Fair. See contemporary works from established and emerging artists, including those from graduates of ChiArts, the Chicago High School for the Arts. 
Details: 7-9 p.m. Thursday (preview night, $50); 11 a.m.-7 p.m. Friday-Saturday; noon-6 p.m. Sunday at Festival Hall, Navy Pier, 600 E. Grand Ave. $20-$25; $15 for seniors; $30 for a three-day pass. | MAP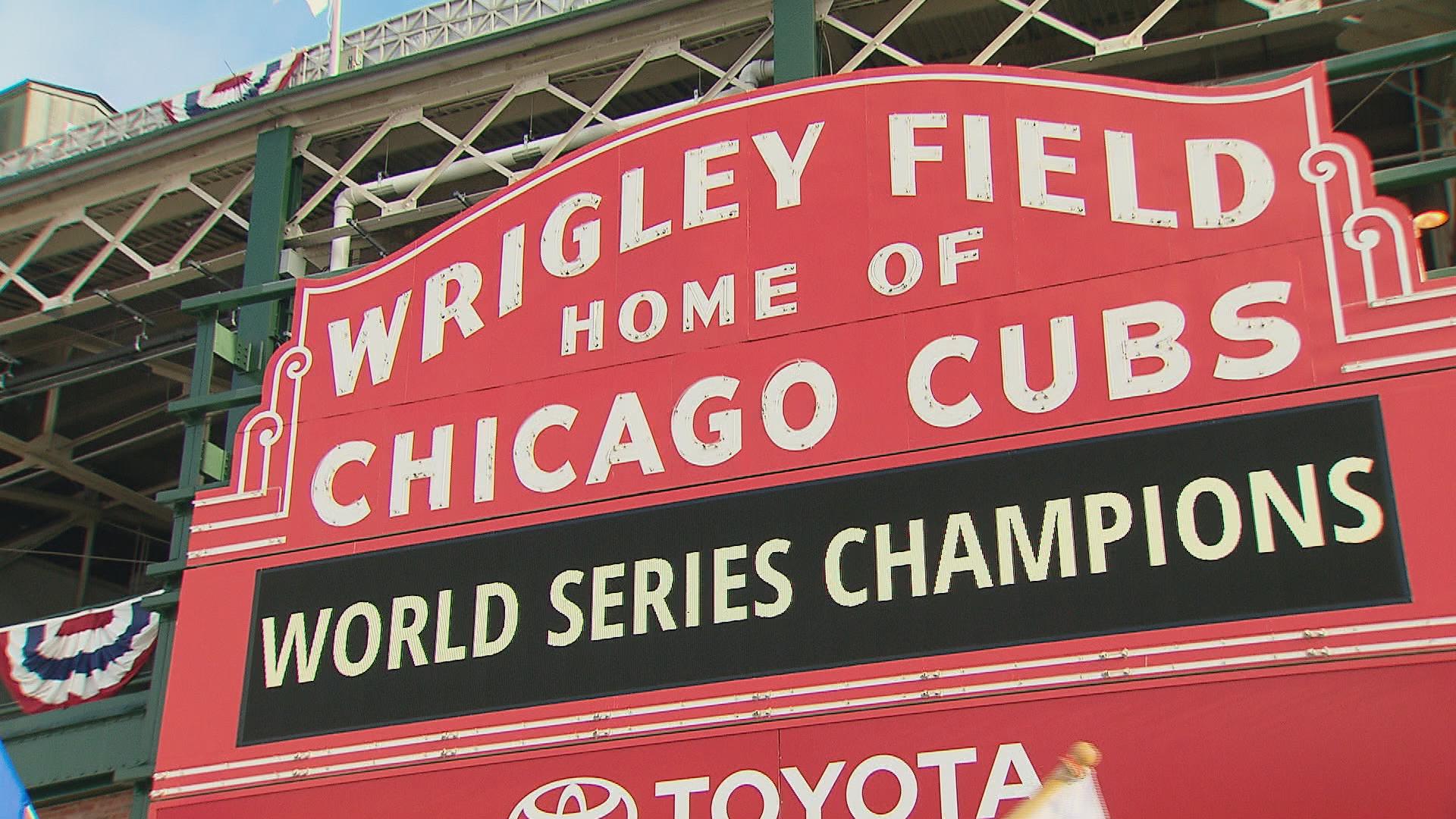 Bonus pick: Celebrate the Cubs historic win!
---
2. Shop
Get an early start on holiday shopping at a Fair Trade Market featuring CEW Design Studio, a crafting group of immigrant and refugee women featured on Chicago Tonight in this story by Jay Shefsky (below), among other vendors.
Details: 9 a.m.-2 p.m. Saturday at Our Saviour's Lutheran Church, 1234 N. Arlington Heights Road, Arlington Heights. Free. | MAP

3. Howl
Elect to laugh away your stress, whether induced by the presidential nominees or the World Series, at the comedy show Congrats on Your Success. The BYOB monthly show, held in a bookshop, celebrates its four-year anniversary with a lineup featuring all of the show's producers, including comedians Rebecca O'Neal, Sonia Denis, Bill Bullock and others.
Details: 7 p.m. Thursday at Uncharted Books, 2620 N. Milwaukee Ave. Free. | MAP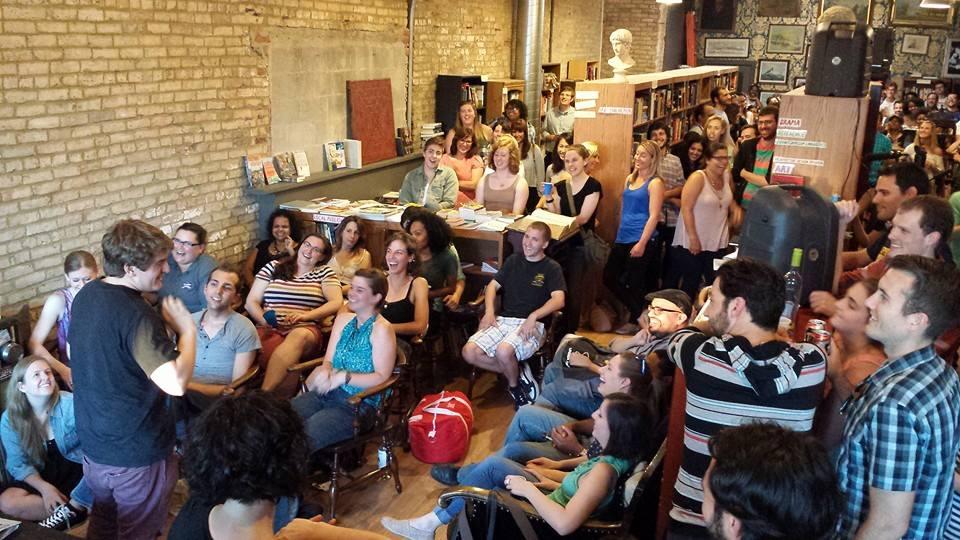 Laugh it up at a free comedy show in a Logan Square bookshop. (Courtesy of Congrats on Your Success)
4. Anticipate
While the "Game of Thrones" fans the world over wait for George R.R. Martin to finish his next novel, "The Winds of Winter," a team of comedy writers from the U.K. took matters into their own hands. Enter "Graeme of Thrones," a critically acclaimed parody about an avid fan, Graeme, who wants to recreate his favorite show with the help of his best friend and a female crush.
Details: 7:30 p.m. Wednesday-Friday; 2 p.m., 8 p.m. Saturday; 2 p.m., 6 p.m. Sunday, additional dates through Nov. 13 at Broadway Playhouse at Water Tower Place, 175 E. Chestnut St. $36.95-$66.95. | MAP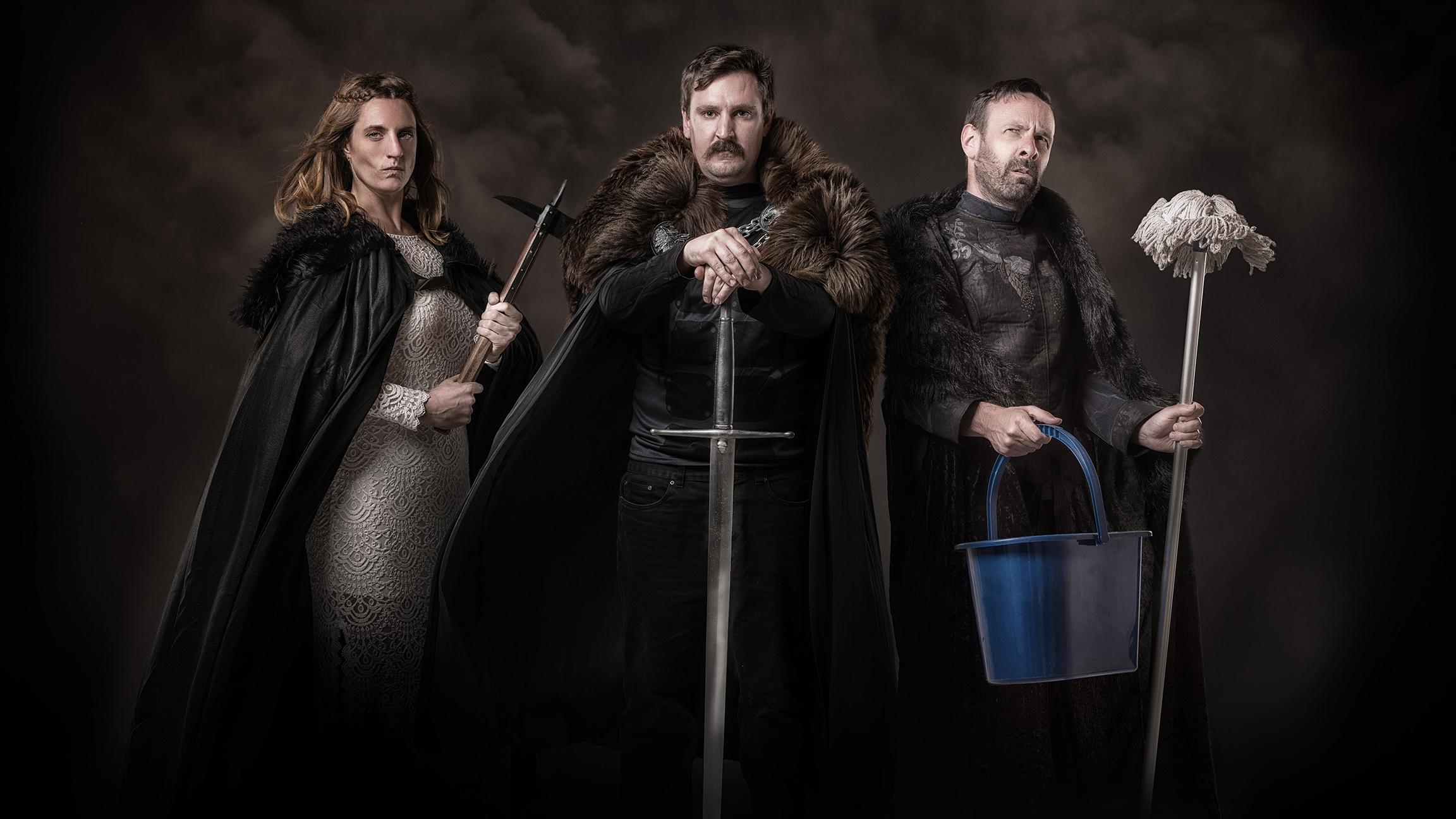 Libby Northedge, Ali Brice and Michael Condron in "Graeme of Thrones." (Paul Wilkinson / Broadway in Chicago)
5. Feast
The National Hellenic Museum stays open late for its annual Greek food-and-wine party Kouzina. Local chefs, including Jimmy Bannos (Heaven on Seven) and David Schneider (Taxim), offer their takes on Greek classics. The experience also includes a dessert lounge and Greek wines and beer. Proceeds benefit the museum.
Details: 6:30 p.m. Thursday at the National Hellenic Museum, 333 S. Halsted St. $100-$125. | MAP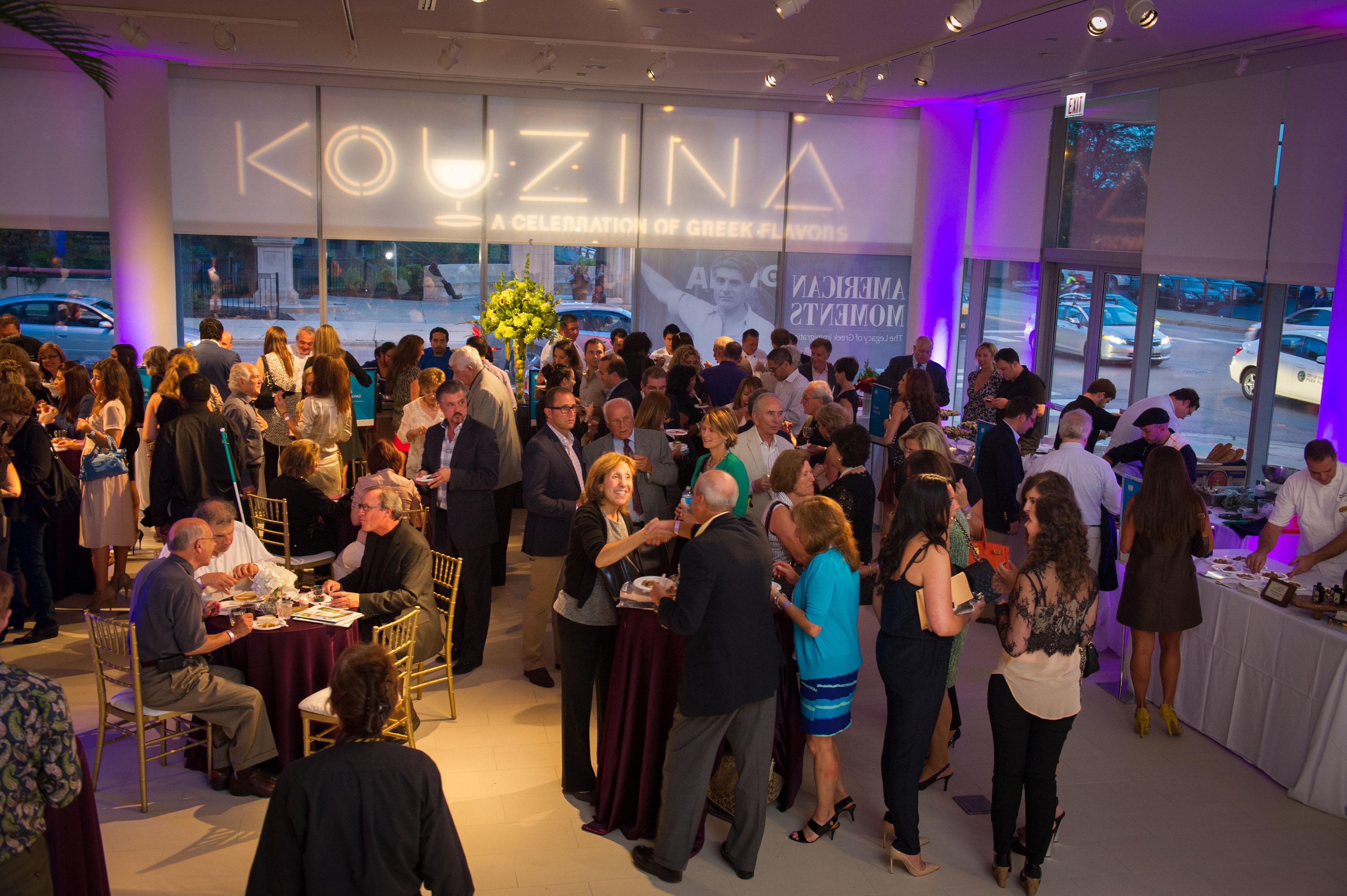 Night at the museum: Raise a glass while raising funds for a local museum at Kouzina. (Courtesy of the National Hellenic Museum)
6. Conquer
Last weekend's challenge: leftover Halloween candy. This weekend's challenge: 2,109 steps. Lace up for what's billed as the world's tallest indoor stair climb – aka SkyRise Chicago – to benefit the Rehabilitation Institute of Chicago. Average participants take about 30 to 45 minutes to finish, we're told. As to what shape you'll be in at the top? Awe should be one feeling, whether from your physical prowess … or the views from the SkyDeck. Participants can opt to use stationary hand cycles to complete the climb, if stepping's not your thing.
Details: Climbs begin between 7 and 11:15 a.m. Sunday at the Willis Tower, 233 S. Wacker Drive. $60, plus $150 minimum donation. | MAP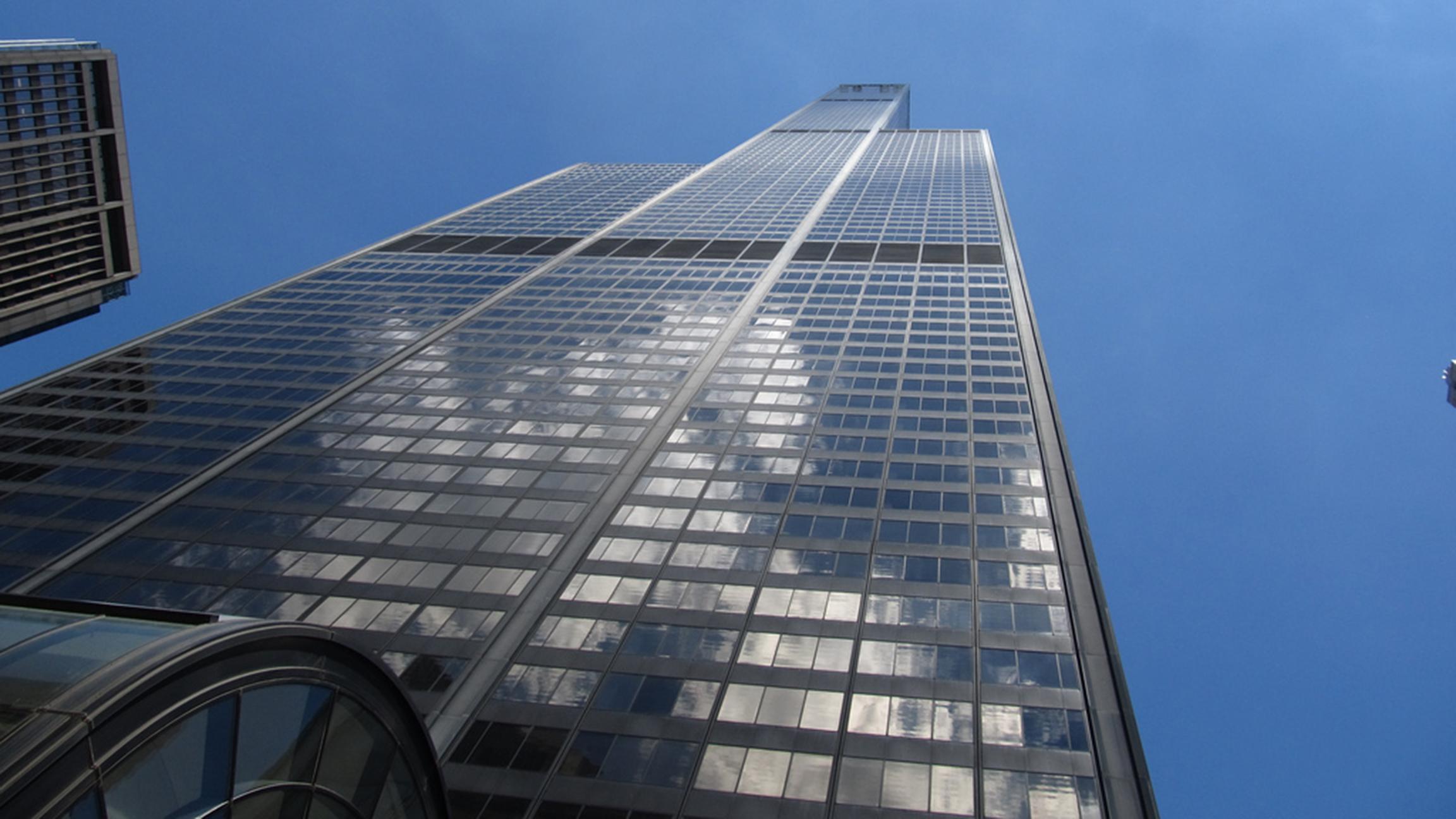 Don't look up: There are more than 2,000 steps between you and the top of the Willis Tower. (Ken Lund / Flickr)
7. Attack
Comfort food gets an upgrade (and a solo show) at the third annual Mac and Cheese Fest Chicago. Local chefs put their spin on the noodle dish – all you have to do is show up and eat your way through the maze of offerings. General admission includes all-you-can-eat food, five drink tickets and an opportunity to vote for your favorite version of the classic. Check out this year's lineup and browse the offerings, such as lamb vindaloo mac 'n' cheese and dessert mac with mascarpone and strawberries.
Details: Noon-3 p.m. Saturday, or 6-9 p.m. Saturday at the UIC Forum, 725 W. Roosevelt Road. $65; $105 VIP. | MAP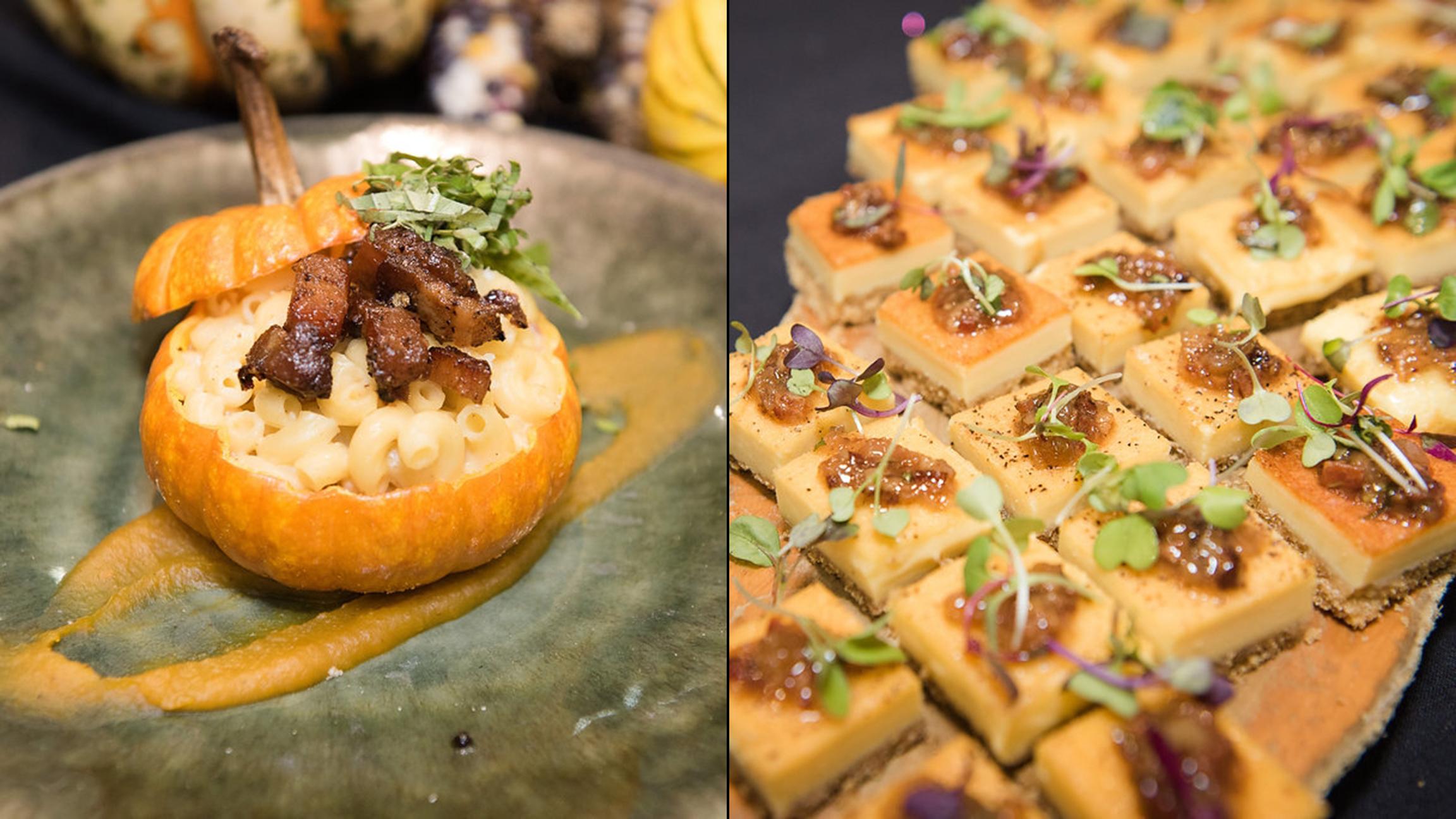 Not your mama's mac 'n' cheese: Gourmet options galore at this weekend's food fest. (Courtesy of Mac & Cheese Fest Chicago)
8. Chew
The inaugural Strange Foods Chicago Festival aims to put the spotlight on out-of-the-ordinary dishes from around the world. For example: sup tulang, or what organizer Keng Sisavath (he's behind the @strangefoodschicago Instagram account) describes as "mutton blood bone stew," along with some classics from the Maxwell Street Market, including tacos filled with huitlacoche (below) and even eyeballs. Wash everything down with drinks from local brewers and distillers. Partial proceeds benefit Feed My Starving Children.  
Details: 1-4 p.m. Sunday at Moonlight Studios, 1446 W. Kinzie St. $55. | MAP
---
9. Sip
Mingle with members of the Women's Board of the Chicago Zoological Society for an evening of Wines in the Wild. Tickets also include appetizers, a raffle and silent auction. 
Details: 7:30-10 p.m. Saturday; VIP reception at 6 p.m. at Brookfield Zoo, 3300 Golf Road, Brookfield. $120; $275 VIP. | MAP

10. Evaluate
Canadian jokester-slash-artist Jessica Campbell, an MFA graduate of the School of the Art Institute of Chicago, takes another look at art history when she reads from her book "Hot or Not: 20th Century Male Artists," called a "slyly subversive exploration of subjectivity" by the A.V. Club.
Details: 7 p.m. Friday at Quimby's Bookstore, 1854 W. North Ave. Free. | MAP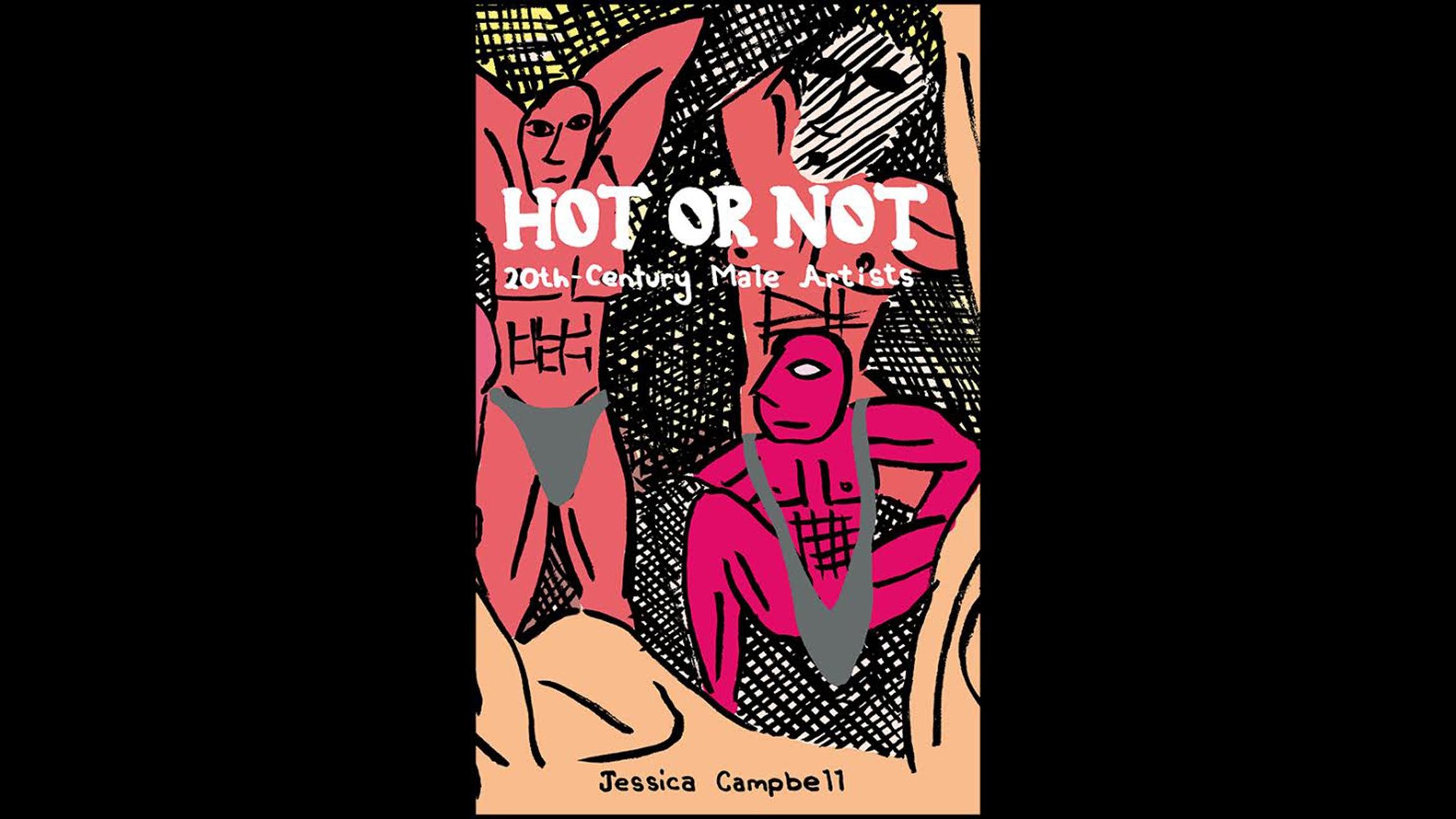 Art history with a twist in Jessica Campbell's new book. (Courtesy of Quimby's Bookstore)
Events listed are subject to change. We recommend double-checking times and locations before you head out the door. Want to share your upcoming events with us for consideration in a future roundup? Send us an email.
---