At long last, the World Series returns to Wrigley Field, with the series tied up at one game apiece.
The Cubs took batting and fielding practice Thursday, with all eyes on hitting sensation Kyle Schwarber. He was ruled not ready to play the field by team doctors. He of course dazzled fans this weekend as the designated hitter, knocking in two RBIs and getting three hits in his first action since early April when he brutally injured his knee.
Schwarber will be available as a pinch hitter when the Cubs call on him, but will not be able to start or play in the field at all as he continues to rehab his knee.
Thursday, he spoke about the near-miraculous comeback he made, and how he informed boss Theo Epstein that he was ready to go for the World Series.
"When I got the news that I was not going to be held back in any way, I called Theo right away," Schwarber said. "I said, I'd love the opportunity to try. Knowing that I had the opportunity to try and get back, it would kill me deep down inside if I didn't."
Cubs Chairman Tom Ricketts also weighed in on the stunning turn of events for Schwarber.
"Right now it's cool," he said. "If we win this World Series, it'll be legendary."
Below is more from our one-on-one with Ricketts.
On what it felt like to be the first owner to bring the Cubs to the World Series in 45 years (when P.K. Wrigley did it):
"It is pretty incredible; I don't think it's all really sunk in. We had our first World Series win since 1945 last night and we're hosting our first world series since 1945, so I'm just happy we can do that for our fans."
On Theo Epstein:
"Once you get to know Theo and the guys he brought in, you can't have anything but confidence. They all work very hard, they're very smart, they're as good at what they do as anyone in the game, and if you're patient, and our fans are patient, and your consistent, you'll get to the point where you have a good team, and I was always pretty confident in that."
On the redevelopment plans:
"The area around the ballpark has worked pretty well on game days, but it hasn't worked as well on non-game days. So it starts with restoring the ballpark to the way it looked when it was its absolute peak in 1935 when everyone loved it and it was the best ballpark in the country. And then there's stuff on non-game days, like the hotel and restaurant. And the plaza is just going to be an open space where we program it with interesting things for neighbors and people around the city to do on every single day.
"We'll take what is a really active and engaged and excited place 81 days a year, and make it an active place all year round. There's nothing wrong with what's in the neighborhood already, but it doesn't really appeal to people who want to have a nicer meal or a quieter space, and so we're going to have some chef-driven concepts for our restaurants and it'll be a place people gather."
We also caught up with Crane Kenney, president of business operations for the Cubs. Below, some highlights from our Q&A with Kenney.
On the new building going up on the "triangle property" just to the west of the stadium:
"It'll house our office tower, and on the first two levels, our restaurant partner, broadcast studio, merchandise store, and a coffee shop, and we'll have one other space to be allocated to the naming rights partner for the plaza."
On the significance of a World Series at Wrigley Field:
"It says a lot about the work a lot of folks have done – some that are here and some are gone. When I think about Ernie Banks, Ron Santo, Harry Caray, Arne Harris, Jim Dowdle, people who really built this thing, they would've really enjoyed this. I sit with Billy Williams during the games; we talk a lot about Ernie, how much he would have enjoyed this. Our fans, they have people that passed on that instilled in them a love of this team and love of this ballpark."
As for the game, the Cubs fortunes have dramatically improved after Wednesday night's victory, giving them a split in Cleveland and renewed home field advantage. They'll have their ace Kyle Hendricks going for them Friday, who gave a brilliant performance in the NLCS pennant clinching victory against the dodgers. He finished the season with the best regular season in baseball.
We spoke with veteran baseball reporter Bruce Levine from the score sports radio, and he gave us his rundown for Friday night's Game 3.
"With the split, you take away the home field advantage from the Cleveland Indians, so you have the opportunity to sweep at home. It's unlikely, but the Cubs have played here so well winning 57 games, the most they've ever won at home. It's a huge home field advantage. On top of that, you have a fan base hungry for a World Series win for the first time in 108 years. It's always electric; it'll be extra electric this weekend."
On Kyle Hendricks' chances against the Indians:
"The Indians are a well versed team, they make contact, they take the ball the other way, they have four guys that can bunt and play the small game, it'll be a bigger challenge. But if Kyle's on the way he was the other night, it'll be very difficult for the Indians."
Parking and security
And of course there will be a huge disruption to the neighborhood over the next three days. Residents and revelers alike can expect a lot of crowds, and a lot of expensive entertainment options. And there's an added headache for those that live in a two block radius of Wrigley field. There will be no parking, even for residents and permit holders. Starting at noon Friday and continuing on until Monday, there will be no parking on the streets seen here in this map.
There will also be security checkpoints on a two or three block radius, so everyone wanting to get into the neighborhood will have to have photo ID. The area's alderman Tom Tunney acknowledges it's an inconvenience to residents, he's urging them to move their cars north of Irving Park, and to do it sooner rather than later.
"My advice to our residents, our neighbors, is please, tonight, now, go out on your front porch and on these poles, there are signs.  If you're four blocks in a circumference around the ballpark, take heed."
There will also be 1,000 regular and plain clothes officers as crowds could be as high as half a million if the team indeed does clinch on Sunday. And a hearty group of fans were already camped out this morning along Clark Street in hopes the Cubs release extra game day tickets. Most games, the Cubs have released a limited block of tickets on the day-of. This is only if some of the tickets they've reserved for the Indians and Cubs, their family members, etc., go unused.
Game 3 gets underway at 7:08 p.m. Friday.
---
Related stories: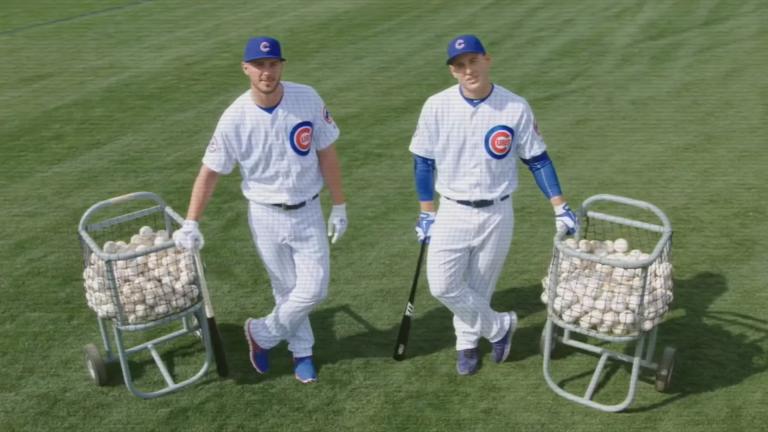 Chicago-Cleveland Game 2 Dominates TV Ratings, Cubs Cashing In
Oct. 27: We talk through the TV ratings and the business side of the Cubs' success with Crain's Chicago Business reporter Danny Ecker.
---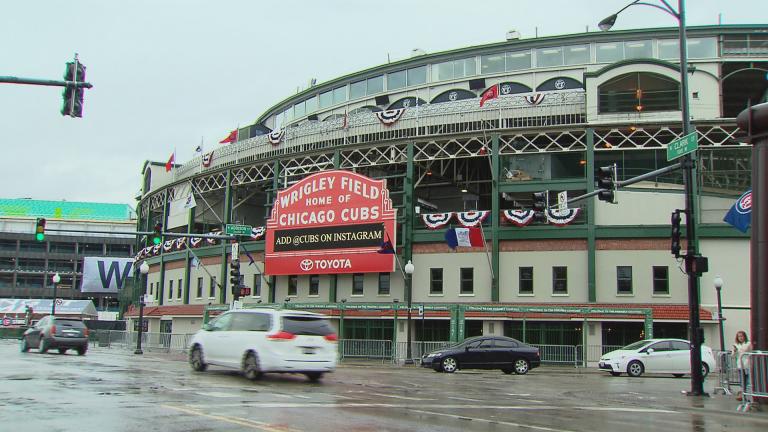 Aldermen Gripe About Lost Cubs Tickets
Oct. 26: Aldermen are none too happy about the new ethics rules prohibiting them from purchasing face value World Series tickets. More on that and what security measures are being taken for this weekend.
---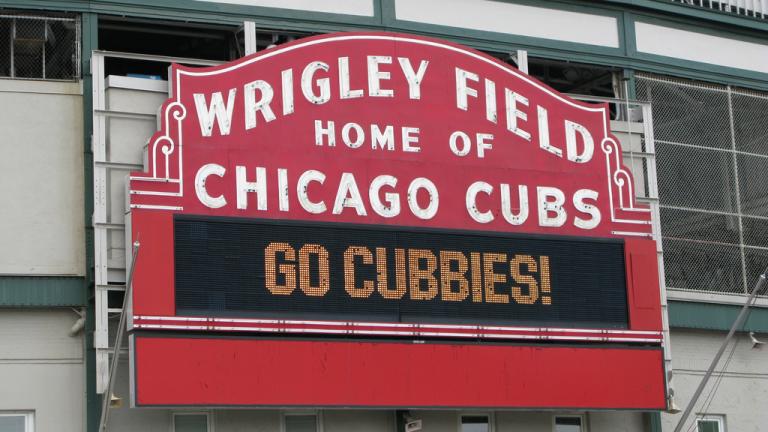 The High Cost of the World Series in Chicago
Oct. 26: For Chicago's long-suffering fans to get in on the action of the Cubs' historic championship run, they'll have to pony up the big bucks.
---
Share Your Cubs Fan Photos With Us
Cubs fans, show us how you celebrate your amazing team! Whether you've got shots from Wrigley Field or your neighborhood bar, we'd like to see them.
---