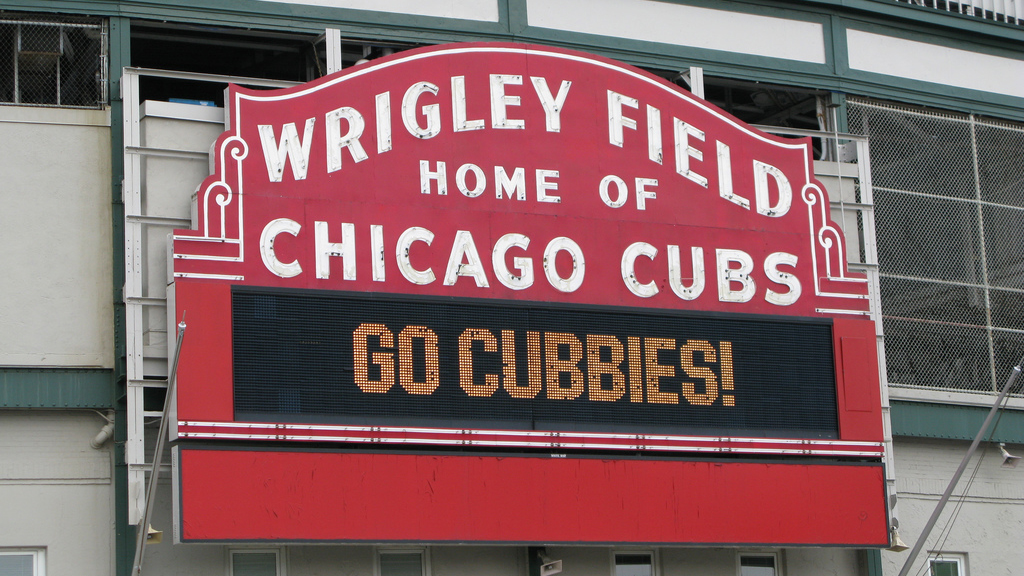 Standing room bleacher seats for Game 3 of the World Series at Wrigley Field start at $1,547.15 on the resale site StubHub. (Rob Pongsajapan / Flickr)
Game ticket: $3,081. Airbnb rental: $750. Parking: $175. Seeing the Chicago Cubs play in the World Series for the first time since 1945: Priceless?
For Chicago's long-suffering fans to get in on the action of the Cubs' historic championship run, they'll have to pony up the big bucks. According to an analysis by the ticketing website Ticket IQ, this year's World Series between Chicago and Cleveland is the most expensive since 2010, with an average resale price of $4,714.76 across the seven-game series in both cities.
That price increases significantly for fans hoping to catch a game at Wrigley Field. For Game 3, standing-room bleacher seats on StubHub start at $1,547.15 and go as high as $420,420 for infield terrace seats. On average, the resale price for Cubs World Series home games is $6,781.84, according to Ticket IQ.
Attorney General Lisa Madigan is urging fans to be cautious when purchasing tickets. In a press release issued this week, Madigan warns buyers to avoid private party sellers from social media accounts or online message boards like Craigslist. Madigan also advises fans to look for reputable sellers who deal with credit card payments, instead of cash or money wiring. For paperless tickets, consumers should check for a legible barcode and make sure the date and other relevant information is correct. She also cautions fans that "if the deal sounds too good to be true, it probably is."
"Cubs fans have been waiting a lifetime to see their team play in the World Series, but don't let the quest to 'Fly the W' let you fall victim to an expensive scam," Madigan said in the release.
Buyers who are affected by a ticket scam should report their claim at her office's Consumer Fraud Hotline at 1-800-386-5438, or online at the office's website.
Outside the stadium
Prices are not just inflating for game tickets; they're skyrocketing in other services around Wrigleyville. Websites such as SpotHero and ParkWhiz that alert drivers to available lots surrounding the stadium show Game 3 parking prices ranging from $40 to $300.    
Pong, owner of Pong's Auto Care located just two blocks from Wrigley Field, says he would charge customers $20-$25 to park in his garage during the regular season. For the World Series, he plans to charge as much as $120 for parking spaces.
"People have waited so long for this, I know I can charge more like everyone else," he said.
Even fans who wish to watch the games on TV at Wrigleyville bars will have to pay top dollar to get in. Some neighborhood bars including Casey Moran's, John Barleycorn, Deuces and The Diamond Club are charging $200-$250 for admission, which includes a food-and-drinks package. To secure four-person tables, fans will have to shell out $500.
The Cubs' journey to the World Series has also blown up prices for traveling fans hoping to stay at Airbnb locations close to the stadium. This weekend, during Games 3 through 5, the average private room rental in Wrigleyville and Lakeview is $569 per night. To rent out an entire home that weekend, visitors will have to pay $1,340, on average, according to Airbnb.
Lakeview resident Carter Desloge had never considered becoming an Airbnb host until the Cubs made it to the World Series this week. He and his roommate saw an opportunity to capitalize on the opportunity. They decided to post a listing for their two-bedroom apartment, charging $1,500 per night. As a first-time host during a monumental moment in Chicago sports history, Desloge is concerned about the possible post-game celebrations that could take place in his house while he and his roommate are away.
"I'm taking photos of every inch of the place and storing away my valuables," he said. "If it goes to Game 5, I'll make the price even more, too."
Follow Reuben Unrau on Twitter: @reubenunrau
---
Related stories: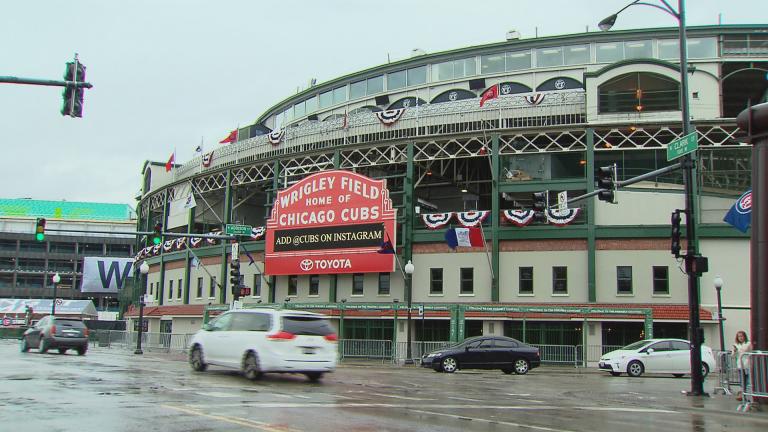 Aldermen Gripe About Lost Cubs Tickets
Oct. 26: Aldermen are none too happy about the new ethics rules prohibiting them from purchasing face value World Series tickets. More on that and what security measures are being taken for this weekend.
---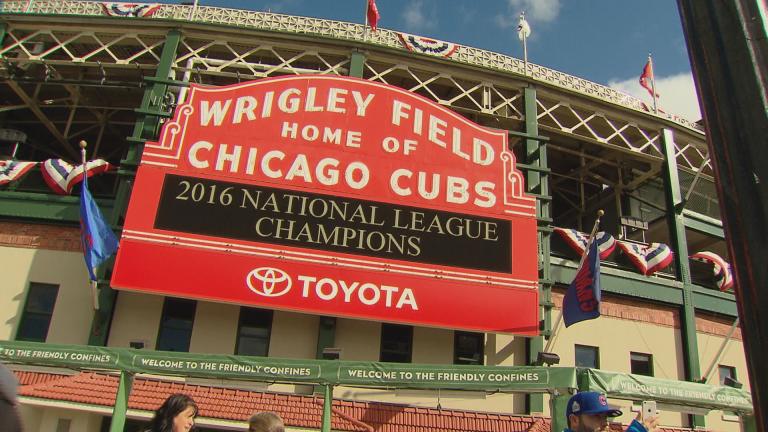 Chicago Cubs Head to World Series
Oct. 24: They're still lovable, but they're not losers anymore! Previewing the Cubs vs. Indians World Series and what it all means for Chicago.
---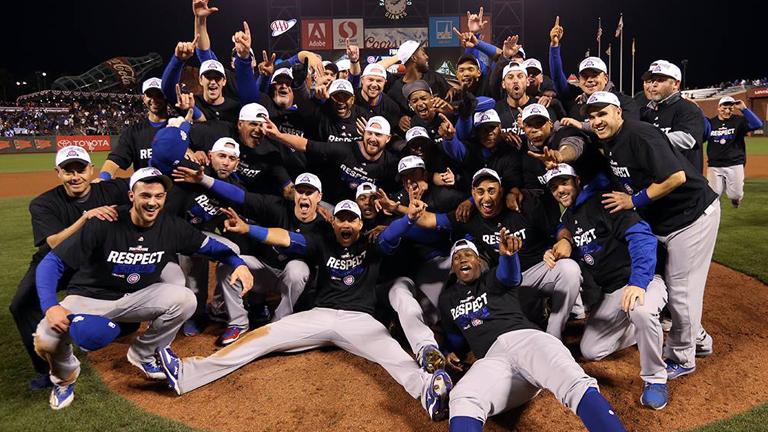 Cubs Beat Giants, Head to National League Championship Series
Oct. 12: A thrilling ninth-inning rally clinches the NL Division Series for the Cubs. Looking at just how they did it–and what lies ahead.
---
Share Your Cubs Fan Photos With Us
Cubs fans, show us how you celebrate your amazing team! Whether you've got shots from Wrigley Field or your neighborhood bar, we'd like to see them.
---