Video: WBEZ sports reporter Cheryl Raye Stout and Crain's Chicago Business' Danny Ecker join Chicago Tonight to talk about the long-anticipated win and what it means for the Cubs' and Chicago's bottom line.
---
For the first time in 71 years, the Chicago Cubs are headed to the World Series. 
Seventy-one years is a long time to hold your breath. On Saturday night, Cubs fans all across Chicago, the country, and even the world were finally able to exhale as the Cubs clinched the National League pennant for the first time since 1945 after a decisive Game 6 victory over the Los Angeles Dodgers.
Tuesday night, the Cubs begin their quest to slay an even bigger dragon – the one born in 1908 – in the World Series against the Cleveland Indians.
Though anxious fans might not have felt assured of a win, the North Siders remained firmly in control of the game from start to finish. Ace pitcher Kyle Hendricks cruised through most of his 7 1/3 innings, allowing only two hits from the Dodgers. Fireballer Aroldis Chapman stepped in to close the game, which ended with a sparkling 6-4-3 double play.
[Related: Share your Cubs fan photos with us]
Most importantly, the Cubs' offense once again lit up the scoreboard against Dodgers ace Clayton Kershaw, who gave up five runs in five innings before Kenley Jansen stepped in to pitch the remaining three innings.
Pitcher Jon Lester, who pitched Games 1 and 5 in the NLCS, and infielder Javier Baez, whose highlight-reel athletics at second base made him the breakout story of the series, were named co-MVPs of the NLCS.
"Across Chicago and around the world generations of Cubs fans, from the very young to the very, very old, are celebrating tonight," Mayor Rahm Emanuel said in a statement Saturday. "We are witnessing history right before our eyes. Wrigley was rocking all night, and our Cubs just won the pennant."
The historic victory was celebrated by around 300,000 people in the streets surrounding Wrigley Field, according to the city's Office of Emergency Management and Communications. Despite the crowds there was no reported property damage and only six arrests were made, according to an OEMC press release.
Officials reported a few incidents of people using drones during and after Saturday's game. Using a drone in public spaces is illegal, and anyone caught using a drone will be arrested, the OEMC said.
"While the Cubs made the city proud with their pennant win, fans and residents made the city equally as proud by celebrating safely and respecting the surrounding community after the game," said OEMC First Deputy Director Rich Guidice. 
"We'd also like to thank the Chicago Police Department, Chicago Fire Department and the various City departments and our local and federal partners involved for their work to make last night's celebration a success."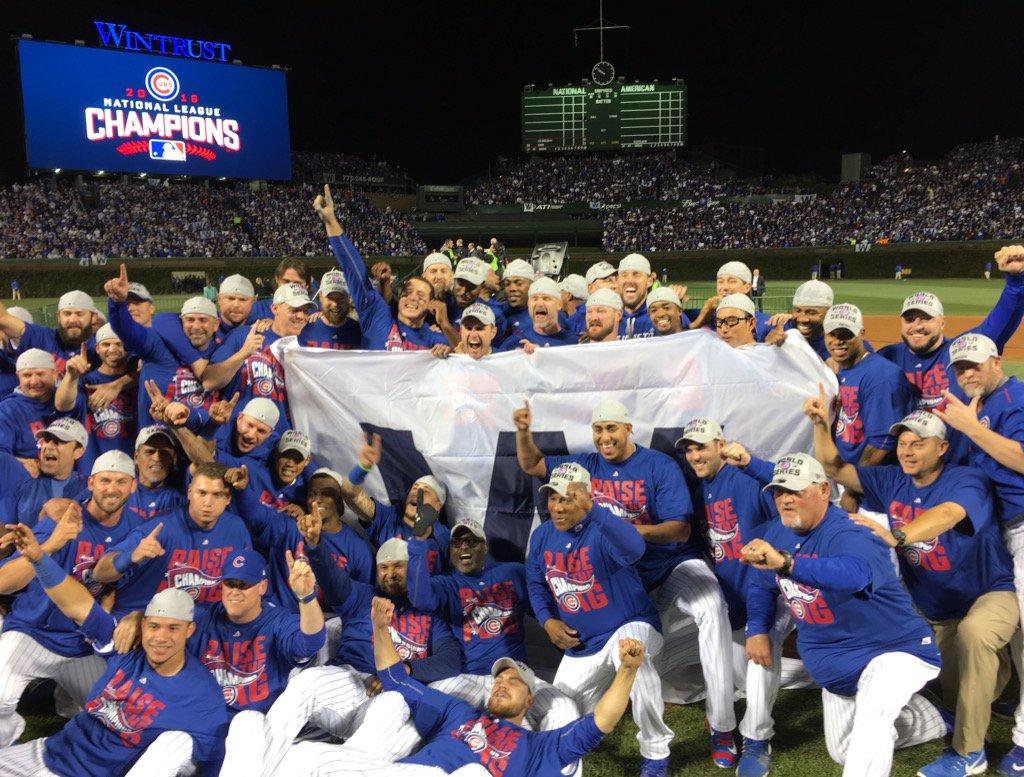 The Chicago Cubs celebrate defeating the LA Dodgers Saturday and their upcoming World Series appearance. (Chicago Cubs / Twitter)
Here's the full World Series schedule:
Tuesday, Oct. 25 in Cleveland at 7:08 p.m.
Wednesday, Oct. 26 in Cleveland at 7:08 p.m
Friday, Oct. 28 in Chicago at 7:08 p.m.
Saturday, Oct. 29 in Chicago at 7:08 p.m.
Sunday, Oct. 30 in Chicago at 7:15 p.m.*
Tuesday, Nov. 1 in Cleveland at 7:08 p.m.*
Wednesday, Nov. 2 in Cleveland at 7:08 p.m.*
*If necessary.
World Series games will be broadcast on FOX Sports.
Fans lucky enough to get tickets to home games should arrive early for games due to enhanced security at the ballpark. Gates will open two hours before the start of games.
Planning on rooting for the Cubs near Wrigley Field? Be aware of neighborhood parking restrictions. No parking will be allowed on the following streets for both home and away games:
Clark from Aldine to Irving Park 
Sheffield from Grace to Roscoe 
Addison from Halsted to Southport 
Racine from: Clark to Roscoe 
Irving Park from Clark to Seminary 
Eddy from Clark to west alley of Clark 
Cornelia from Clark to west alley of Clark 
Newport from Clark to west alley of Clark 
---
Related stories: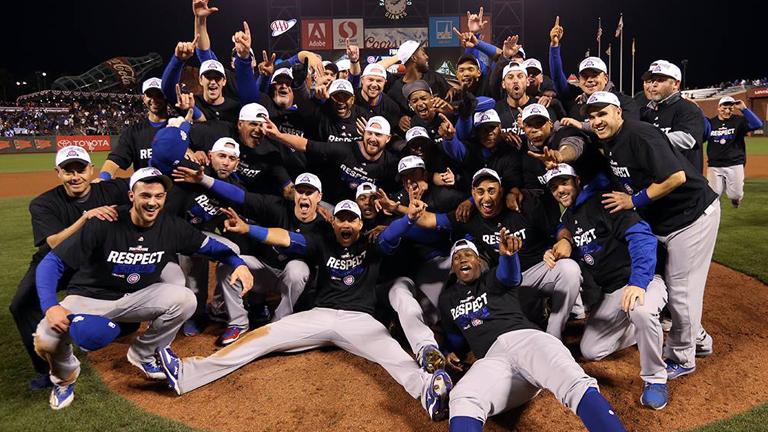 Cubs Beat Giants, Head to National League Championship Series
Oct. 12: A thrilling ninth-inning rally clinches the NL Division Series for the Cubs. Looking at just how they did it–and what lies ahead.
---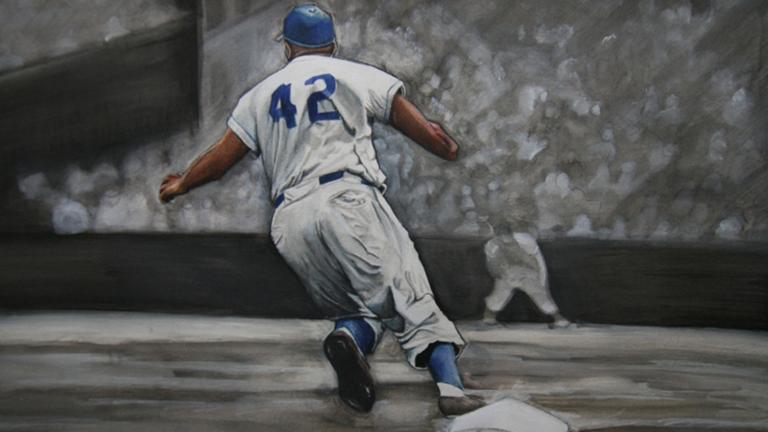 Bleacher Bum Turns Passion for Baseball into Art
Oct. 10: A story from the Wrigley Field bleachers, where one fan's love for a beer vendor turned her into a baseball artist. 
---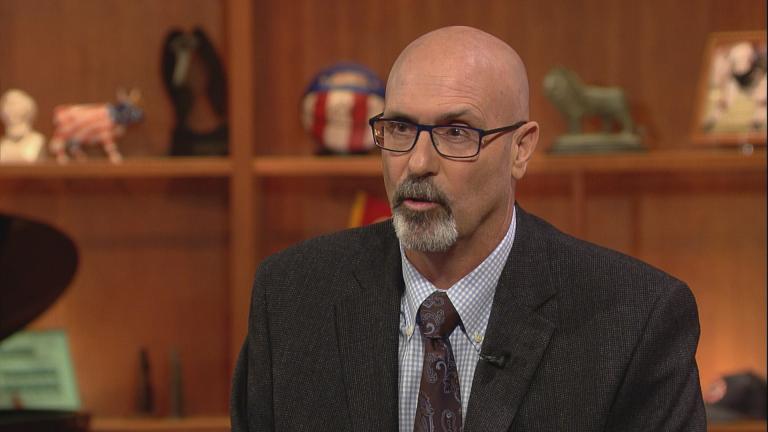 Jim Deshaies Gives His Take on Cubs' October Hopes
Oct. 6: The Cubs begin their quest to end a 108-year drought. The team's broadcaster Jim Deshaies is here to talk Cub-tober.
---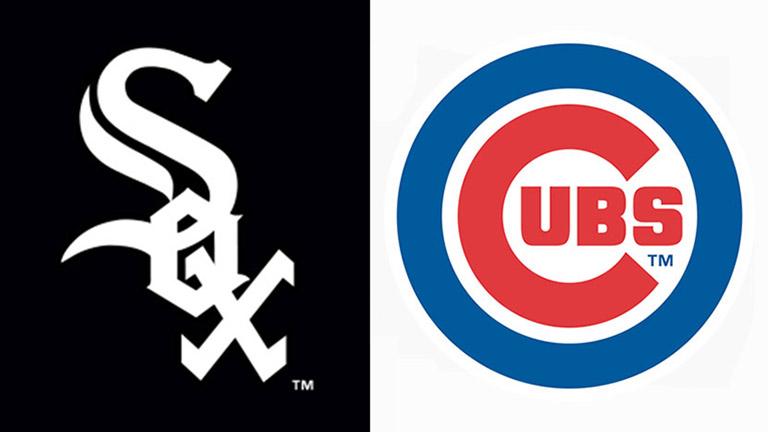 Chicago Cubs and White Sox Top the MLB
May 16: There's a lot of joy in Chicagoland as our baseball teams are off to a hot start this season. Is this the year Chicago's crosstown rivals will finally see each other in the World Series?
---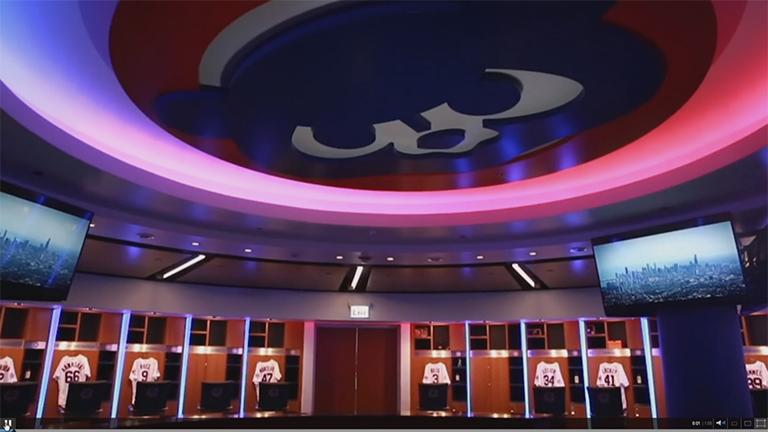 Inside the New Chicago Cubs Clubhouse
April 12: The Cubs have a new clubhouse, and it's one of the biggest and fanciest in all of baseball. Jay Shefsky takes us inside the the state-of-the-art facility.
---