It's official: The Independent Police Review Authority will now become the Civilian Office of Police Accountability, or COPA. 
The ordinance to scrap the old police oversight agency and build a new one easily passed City Council by a vote of 39-8 Wednesday, but the changes won't fully take effect until next September.
Aldermen voting against the ordinance include Leslie Hairston (5th Ward), Marty Quinn (13th Ward), Matt O'Shea (19th Ward), Michael Zalewski (23rd Ward), Roberto Maldonado (26th Ward), Chris Taliaferro (29th Ward), Nick Sposato (38th Ward) and Anthony Napolitano (41st Ward).
Some of those voting no represent constituencies that wanted a tougher ordinance; others represent areas where lots of cops reside. The Fraternal Order of Police urged a no vote, claiming they were shut out of the process entirely. The union has a litany of complaints, including the fact that the FOP contract doesn't allow some of the expanded powers COPA will now have, and that the U.S. Department of Justice is still conducting its own investigation of the Chicago Police Department. They would prefer the city wait for the DOJ's recommendations rather than acting preemptively.
But aldermen say it was important to get this done, and get it done quickly.
"This problem was ignored for far too long by the previous administration and, sorry to say Mr. Mayor, by your administration," said Ald. John Arena (45th Ward).
"We need to put this in place and then incorporate better ideas as we move on," said Ald. Walter Burnett (37th Ward).
"We have taken small steps and today a significant steps on improving what we had," said Mayor Rahm Emanuel. "No, we are not done. This is a process."
COPA will have some extended powers. For example, it can investigate police shootings, verbal abuse, sexual abuse, Taser abuse, etc. It will also have expanded money – by law it will get at least 1 percent of the Police Department budget. But the exact makeup of the agency is still up in the air. Current IPRA administrator Sharon Fairley will stay on board for the time being and she'll have a lot of authority to shape who they hire and what the job positions are.
There are 60 or so investigators at IPRA currently, represented by the American Federation of State, County and Municipal Employees trade union. The agreement puts restrictions on who the city can hire and fire. We're told union members will meet with the city and aldermen about that in the coming days.
Emanuel says IPRA was becoming dangerously understaffed, and the passage of COPA should attract more employees.
"There's been lack of certainty, there's also created some challenges, from a recruitment standpoint and from a retention standpoint," Emanuel said. "We want to continue to recruit and hold on to the talent that's there, and (Fairley) will obviously make some changes."
Also part of this package is the new public safety inspector general that will have power to investigate police misconduct and patterns and practices.
Next up, the city will debate and vote on a citizen accountability board that will have the ultimate power over all of these oversight agencies.
Also Wednesday at City Council, 46 aldermen signed a proposal aimed at taking action against Republican presidential nominee Donald Trump. They cite his comments on Mexicans, Muslims and on the city of Chicago as a war zone. Aldermen have introduced an ordinance to take away an honorary street sign designating a small outdoor area as "Trump Plaza," located off of Dearborn near the Trump Tower.
"After all of the comments that Mr. Trump has made, we feel that repealing that sign is appropriate, that there is no reason to honor him in our great city," said Ald. Proco "Joe" Moreno (1st Ward).
"We reserve these street signs to honor people that move us forward, and what he's doing is disparaging us, our reputation, and negatively impacting our tourism economy and other critical investments in this city," said Ald. Brendan Reilly (42nd Ward),  who has received campaign money from Trump. He says he will return it with the street sign.
One of the aldermen who did not sign onto the ordinance is Ed Burke (14th Ward), whose property tax law firm has Trump Tower as a client.
---
Related stories: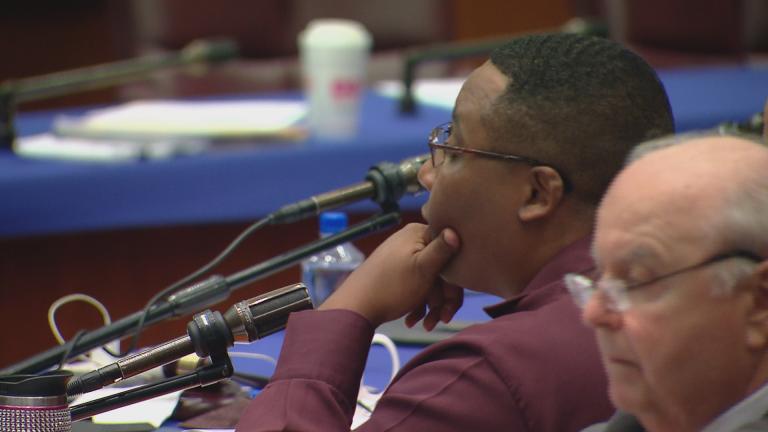 COPA Gets City Council Vote
Oct. 4: Who will police the Chicago police? Plans to clean house and overhaul the police accountability process face a crucial City Council vote.
---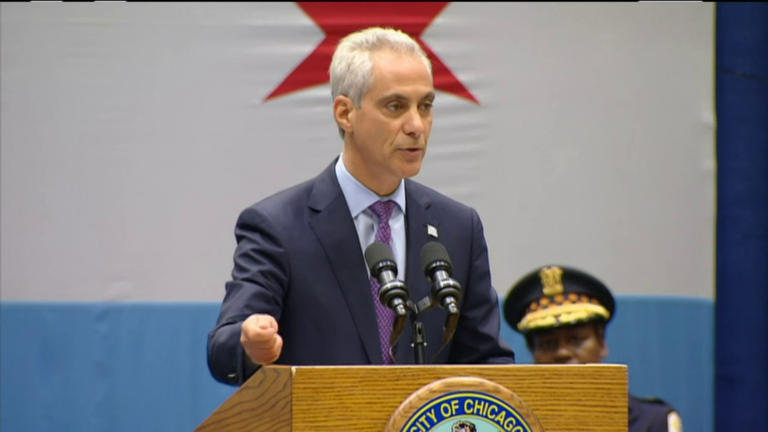 Emanuel: Chicago Gun Violence is 'Not Beyond Our Ability to Solve'
Sept. 22: Mayor Rahm Emanuel delivers one of the most anticipated speeches of his tenure at Malcolm X College on the city's Near West Side.
---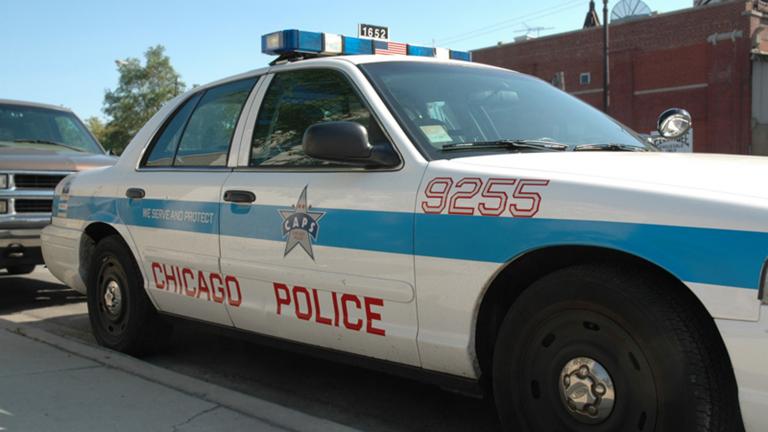 IPRA to be Replaced With New Agency COPA
Aug. 29: Just who will police the police? New details emerge on a proposal to replace the embattled Independent Police Review Authority with a new agency.
---