Jitu Brown appears on "Chicago Tonight" in September 2015. Brown and the Journey For Justice Alliance hope to schedule listening sessions before the November election with Hillary Clinton, Donald Trump and Jill Stein to discuss education reform. (Chicago Tonight)
In an election cycle hitting on high notes such as hairdos, walls and mishandled emails, the topic of public education seems to have been left by the wayside.
That's why hundreds of parents and community members across Chicago and more than 20 other cities plan to travel to New York's Hofstra University later this month to demand presidential candidates Hillary Clinton and Donald Trump release their respective education platforms.
The Journey for Justice Alliance – an education-focused grassroots organization sporting more than 40,000 members nationwide – last week announced its plans to travel east to protest school privatization, public education cuts and their impact on minority students outside the first presidential debate Sept. 26.
"What we want the presidential candidates to understand is that these types of policies are really a municipal divestment in the lives of working and low-income black and brown families," alliance national director Jitu Brown said. "That's how we experience it."
Brown expects between 750 and 800 protestors – including more than 50 from Chicago – to descend on the suburban university campus located just a half-dozen miles from New York City.
The group plans to release a seven-point platform focused on standardized testing, school privatization, ending the school-to-prison pipeline and other issues they say have led to massive school closings and the spread of charter schools.
Brown – a Chicago native who took part in last year's hunger strike to save Dyett High School in Bronzeville – hopes to arrange listening sessions with Clinton, Trump and Green Party nominee Jill Stein to discuss solutions to what he called the failed education policies of the Obama administration.
"We want the people who are aspiring to be president of this country to talk to the communities, the parents, the young people who have been impacted by corporate education interventions and understand why the Obama administration policies have really been a disaster for black and brown communities," he said.
Though it hasn't been at the forefront of the national discussion this election season, each candidate has put out talking points about their education policies.
Clinton has pledged to "elevate and modernize the teaching profession," rebuild crumbling school buildings and dismantle the school-to-prison pipeline by spending $2 billion to reform overly strict discipline policies within schools.
Trump, on the other hand, has begun focusing this month on school choice, saying he would funnel $20 billion in federal dollars to establish a block grant for millions of school-age children living in poverty.
Stein, a Chicago native who spoke with media outside the now-shuttered Emmet Elementary School in Austin earlier this month, supports a "student bailout" that would eliminate collegiate loan debt for millions of students.
She has also called for an end to school privatization. That's item No. 1 on the Journey for Justice Alliance's reform platform, which focuses on increased funding to community schools, eliminating appointed school boards and doing away with zero-tolerance punishment policies.
"So what we want first are strong, sustainable neighborhood schools. In those schools, we want discipline policies that view our children with the same love that I do as a parent when I look at my son," Brown said. "Whatever the discipline issue may be … the response has been suspend, suspend, suspend."
(UCLA/The Civil Rights Project)
The University of California-Los Angeles' Civil Rights Project estimates more than 2 million secondary school students were suspended at least once during the 2013 school year. A previous study by that group found an average ninth-grader who is suspended even once is twice as likely to drop out as a student with zero suspensions.
Brown said these policies disproportionately affect students of color – a claim backed up by the Civil Right Project, which found black students are now more than three times as likely to be suspended as their white counterparts.
"The response is different because they're viewed differently," Brown said. "That's a hard pill to swallow, but it's the truth."
In addition to protesting, the alliance also plans to hold a public education forum during its trip to New York, and Brown said the group is considering protesting at future presidential debates.
Follow Matt Masterson on Twitter: @ByMattMasterson
---
Dyett High School Reopening 1 Year After Activist Hunger Strike
September 1: Doors at the school will reopen next week in Bronzeville for the first time since the 2014-15 school year. Chicago Public Schools announced last fall the school would be transformed into a neighborhood school focused on arts.
---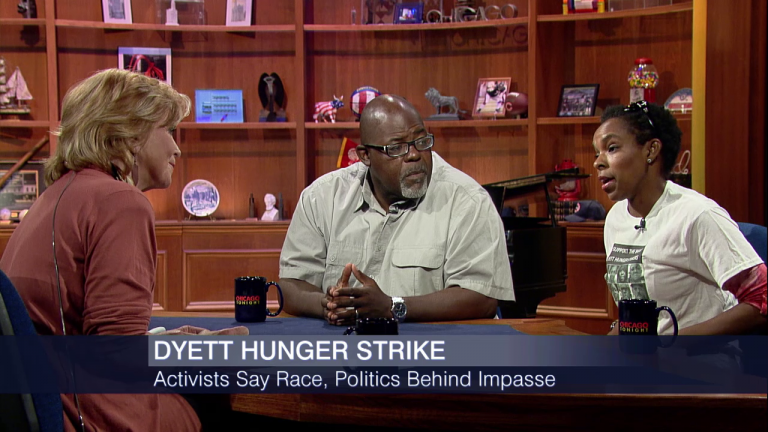 Dyett High School Hunger Strike Continues, Despite CPS Announcement
August 5: It's day 31 of the Dyett High School hunger strike and there's still no sign of a deal that could end the standoff. Two activists participating in the strike explain what triggered their actions.
---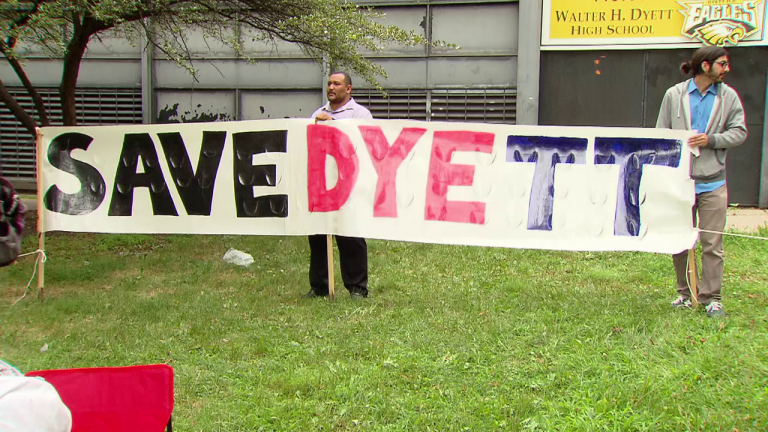 The Fight Over Dyett High School
August 31, 2015: The fight to reopen a South Side high school has caused 12 parents and activists to go on a hunger strike to get Chicago Public Schools to hear their concerns.
---