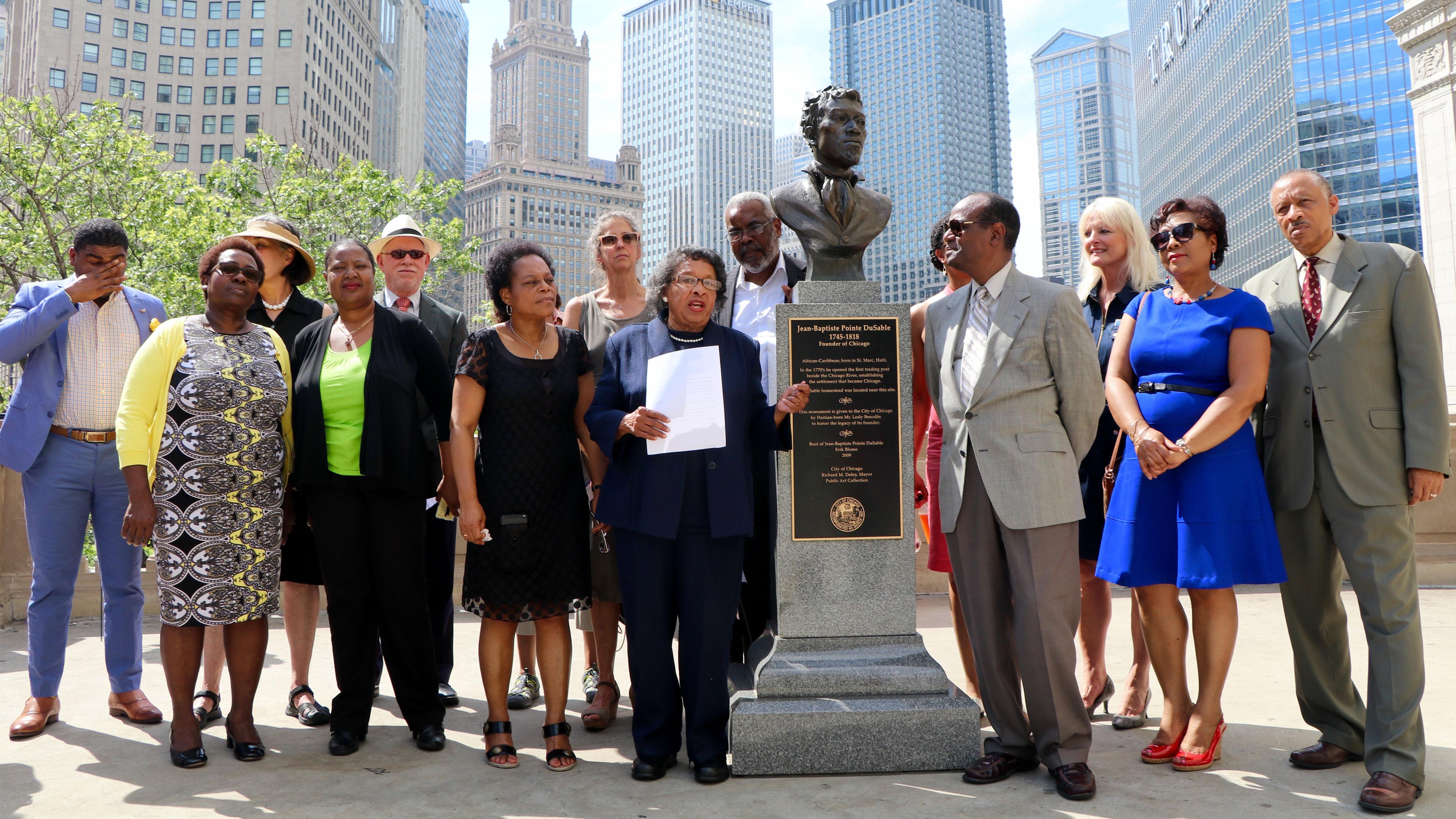 Peggy Montes, founder and president of the Bronzeville Children's Museum and member of the DuSable Park Coalition Committee, speaks in front of a bust of Jean Baptiste Point DuSable on Wednesday. (Evan Garcia / Chicago Tonight)
A group of elected officials and organizations gathered Wednesday to mark the 198th anniversary of the death of Jean Baptiste Point DuSable, Chicago's first non-native settler, and push for the completion of a long-delayed park in his name.
The group is pressuring the city and Park District to restore and open a roughly 3-acre plot originally dedicated as DuSable Park by then-Mayor Harold Washington in 1987.
"The founder of any city should get proper recognition," said Dr. Serge Pierre-Louis, director of the DuSable Heritage Association, a nonprofit that's part of the coalition.
The overgrown site is located at the mouth of the Chicago River where it meets Lake Michigan, just southwest of Navy Pier. It's surrounded by water on three sides and not easily accessible.
Plans for the park have stalled for nearly three decades due to economic and environmental obstacles.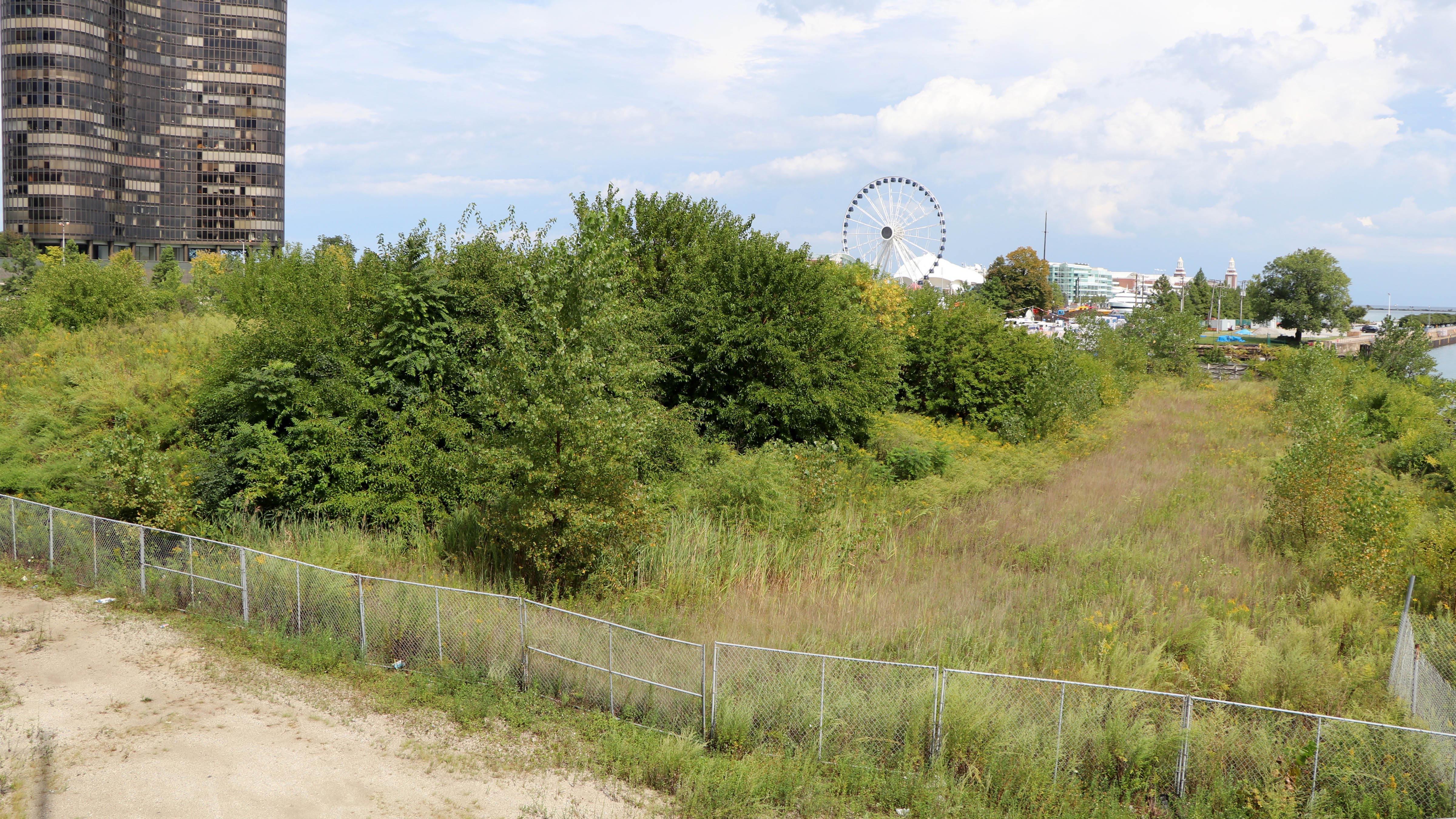 The site set aside for DuSable Park is overgrown with weeds and brush. (Evan Garcia / Chicago Tonight)
In 2000, the Environmental Protection Agency found the site's soil was contaminated with radioactive thorium, dumped there by a Streeterville lamp factory that operated in the early 1900s.
Seven years later, the developer of the Chicago Spire, a proposed skyscraper adjacent to the site, pledged more than $9 million towards the park's development, but that promise fell through once financial setbacks permanently halted the skyscraper's construction in 2010.
The Park District removed contaminated soil from the site's surface in September 2012 with financial help from the EPA. However, the project only went 18 inches deep to ensure the area was safe to walk on.
Dan Cooper, a Chicago Park District environmental engineer, said later this year or next, the agency is planning to dig deeper and remove any radioactive material that remains, which will be hauled to a waste disposal site in Texas.
"That should take a month or two, to push the dirt all around and put it back together" Cooper said. "But it also depends on how much thorium is found because if we find a lot, the EPA has to be called to take verification samples."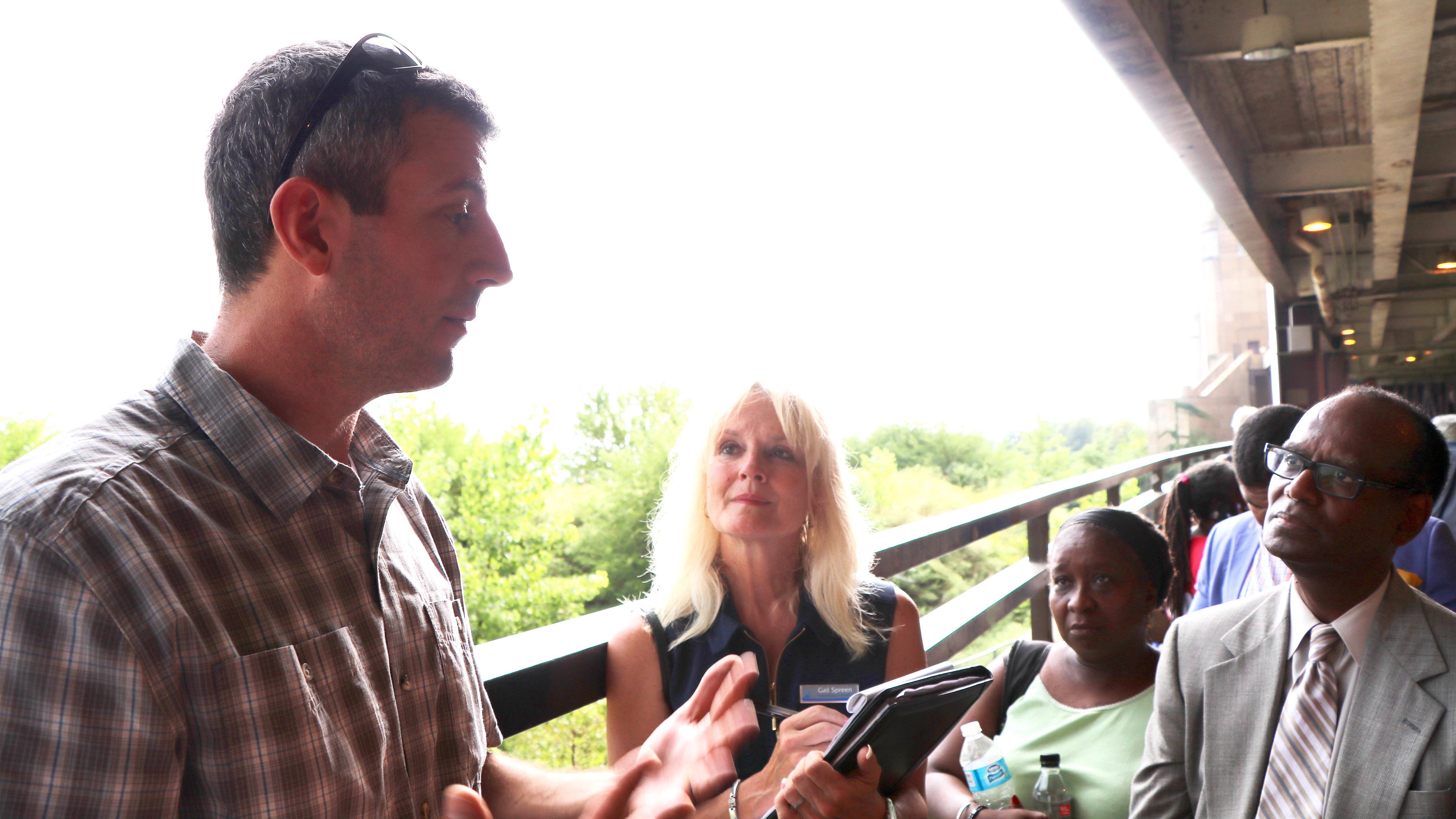 Chicago Park District environmental engineer Dan Cooper, left, discusses the park site's future with members of the DuSable Park Coalition Committee. (Evan Garcia / Chicago Tonight)
That soil remediation plan will be paid for by a roughly $6.7 million settlement paid to the Park District by the parent company of the long-gone factory that contaminated the site.
But Cooper said additional money will needed to cover construction of a new seawall since the existing one is in disrepair. That project will be undertaken by a bidding contractor.
The Park District has yet to settle on an eventual design plan for the park.
Pierre-Louis thinks the city has neglected the park in favor of other projects.
"While we've been told the biggest hurdle is money, we've seen Navy Pier flourishing," Pierre-Louis said. "We've seen Maggie Daley Park and Fullerton Park being developed. DuSable Park has not been the priority for the city or Park District. We think there's a lack of political will."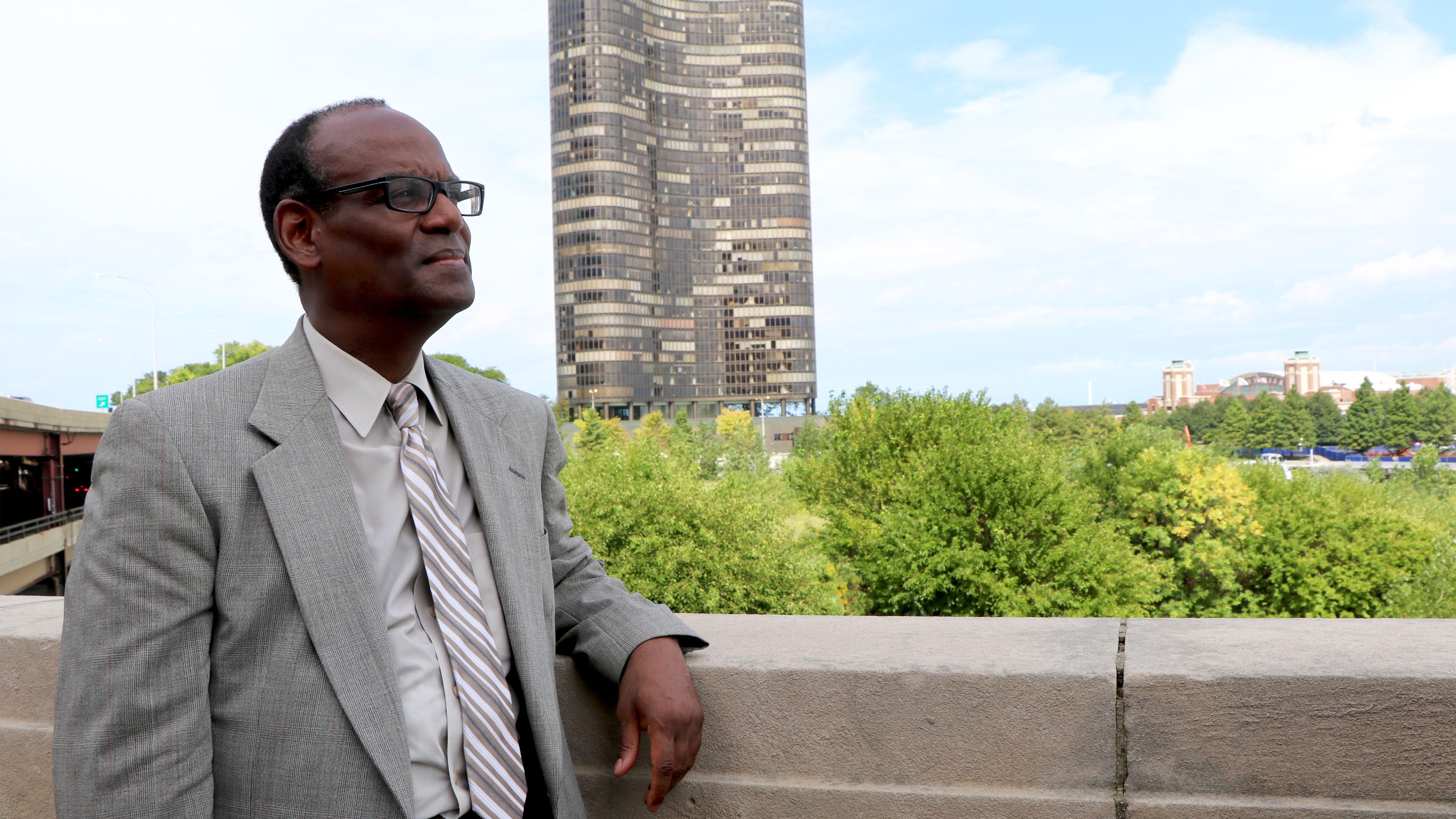 Dr. Serge Pierre-Louis stands in front of the DuSable Park site. "The leaders of Chicago can use the story of DuSable to solve the problems we're facing now," he said. (Evan Garcia / Chicago Tonight)
Biographical details on DuSable are limited, although he's believed to have settled on the north bank of the Chicago River in the 1780s.
Some believe that DuSable was born in present-day Haiti and that his mother was a slave. Pierre-Louis said recognition of the fur trader's legacy in the form of a dedicated park could inspire Chicago's underprivileged youth.
"He grew up at a time when, as a black man, he shouldn't have been thinking about founding a city or being an entrepreneur, but that's what he set his mind to do," Pierre-Louis said.
"This is a perfect example of how we're not prisoner to our immediate condition," he said. "Young children growing up can set goals way beyond their current condition and DuSable is a perfect example of that."
Pierre-Louis said the coalition is "cautiously hopeful" that the site will eventually be unveiled as DuSable Park by raising public and private money, similar to how Millennium Park was funded.
"We need not only the people, but the leaders of Chicago to get together, understand the importance of a project like this and make it happen," he said.
Watch portions of a speech given by Lesly Condé, the consulate general of Haiti in Chicago, at Wednesday's event: 
Follow Evan Garcia on Twitter: @EvanRGarcia
---
Related stories: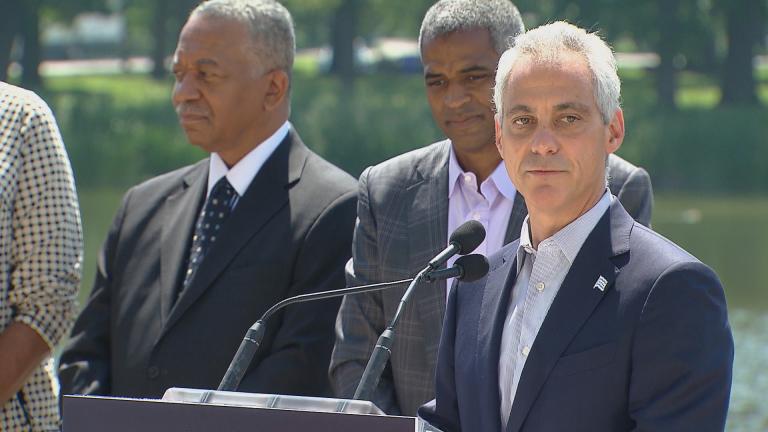 Obama Foundation Makes It Official: Jackson Park for Obama Library
Aug. 3: The secret got out last week, but the Obama Foundation made it official at a news conference on Wednesday: Jackson Park will be the main home of the 44th U.S. president's library.
---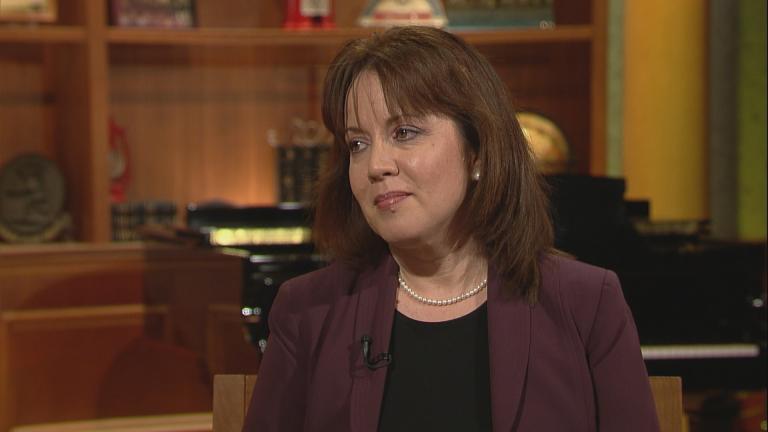 Following Lucas Museum Exit, What's Next for Friends of the Parks?
June 30: Now that it's clear that "Star Wars" creator George Lucas will be taking his project to another state, what of the small nonprofit group that fell the mighty filmmaker and his supporter, Mayor Rahm Emanuel? Friends of the Parks Executive Director Juanita Irizarry joins us.
---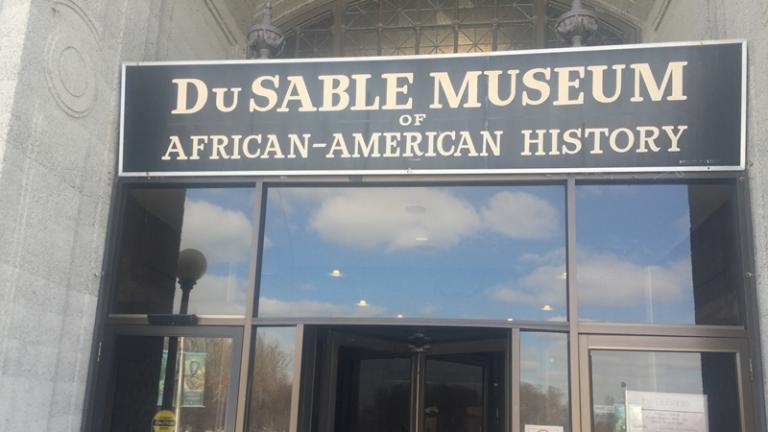 DuSable Museum Granted Smithsonian Affiliation Status
March 23: The DuSable Museum of African-American History has been granted a special status by the Smithsonian Institution – a move the museum says marks the beginning of a long-term collaboration between the two institutions.
---