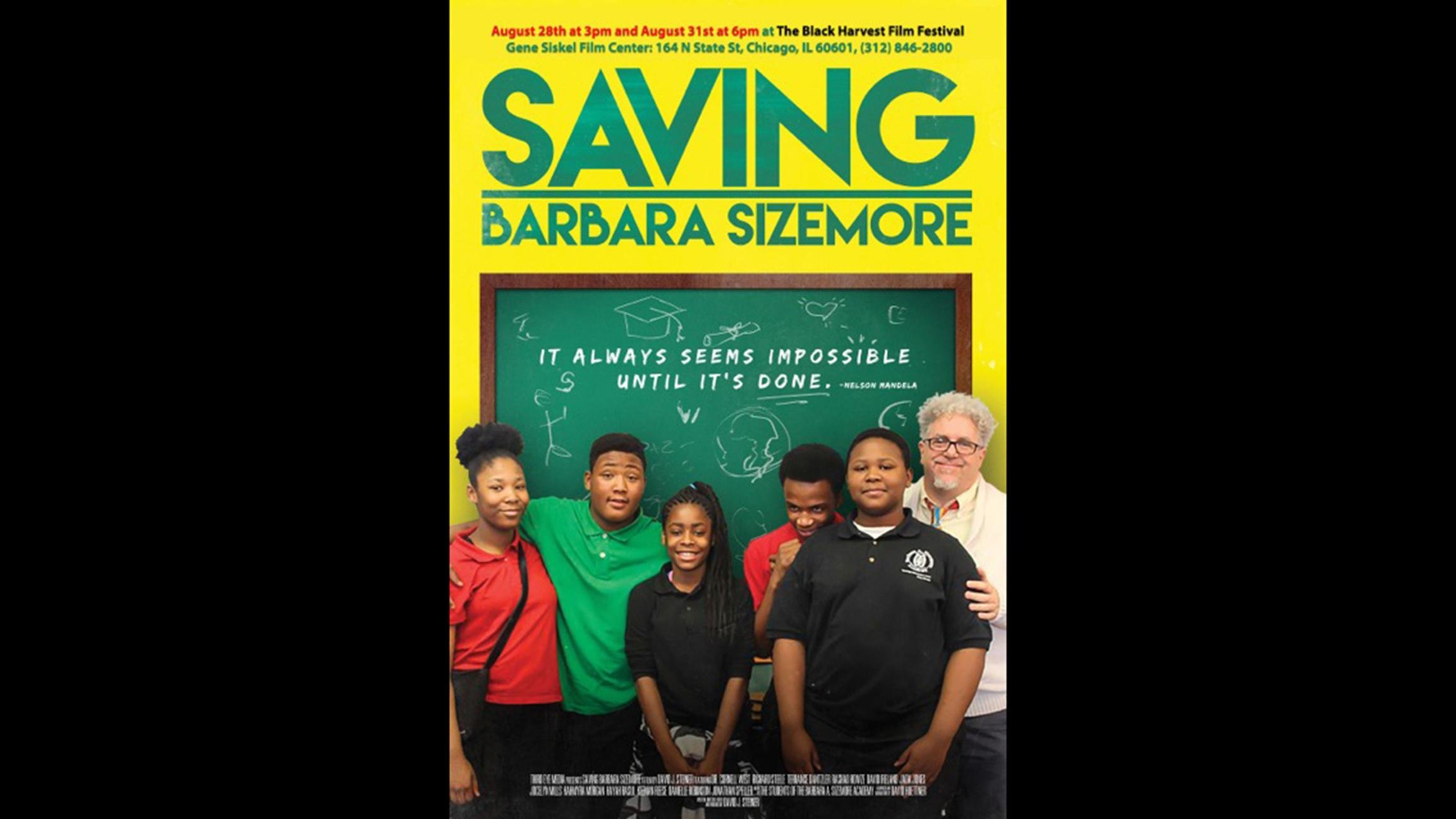 Movie poster for the documentary "Saving Barbara Sizemore" showcases student filmmakers and the film's director.
Late last year, Barbara A. Sizemore Academy found itself on the chopping block.
The Englewood-based charter school of 270 students had been slated for closure by Chicago Public Schools, which voted to shut it down, claiming it had failed to reach set performance goals.
"Saving Barbara Sizemore" – a new documentary, which debuted over the weekend – follows five seventh- and eighth-graders at the school who chronicled their work to help keep their school open after CPS decided to close it down.
Filmmaker David J. Steiner mentored the students – Haya Rasul, Terrance Dantzler, Kahmyra Morgan, Keenan Reese and Rashad Howze – who worked both in front of and behind the camera to produce the 83-minute documentary.
"My goal was to (talk about) the school and the teachers, the administrators and just show what rich culture they have there," Steiner said. "And the students wanted to say, 'We're standing up for ourselves, we're not going to get pushed around.'"
The documentary has been selected for screening at three independent film festivals this year and made its debut over the weekend in Texas.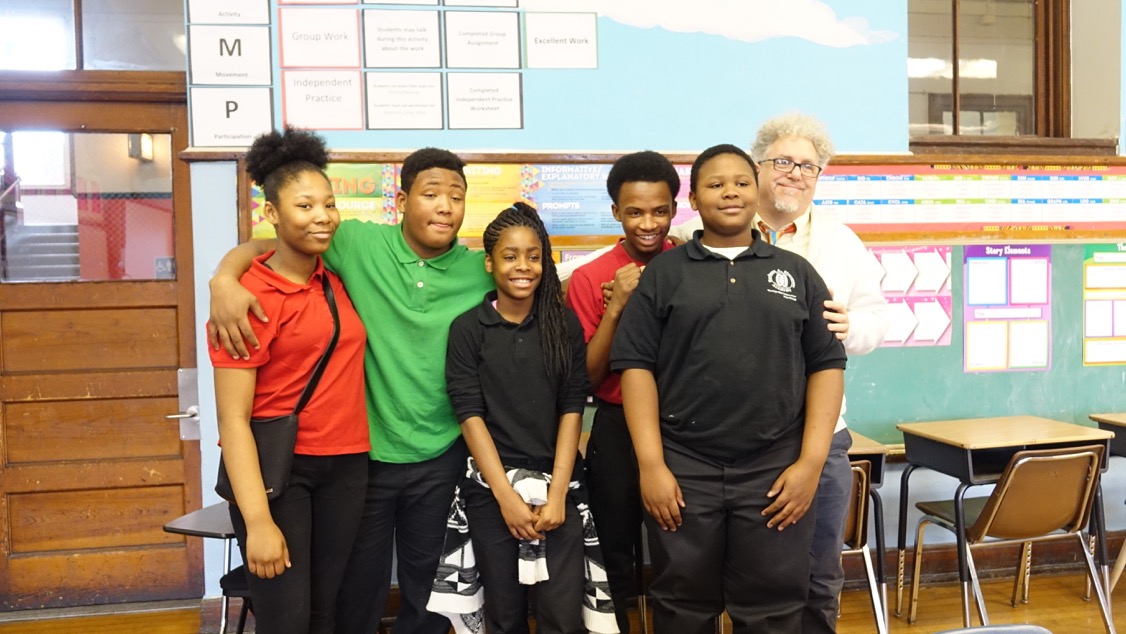 From left to right: Sizemore student filmmakers Haya Rasul, Terrance Dantzler, Kahmyra Morgan, Keenan Reese and Rashad Howze with director David J. Steiner. (Betty Shabazz International Charter School)
Sizemore serves as a campus for the Betty Shabazz International Charter School. When it opened in 1998, BSICS became the first African-centered public charter school in Chicago. Within a decade, it had grown to include two K-8 elementary schools and one high school.
But last November, Chicago Public Schools announced its plans to close Sizemore and three other charter schools, citing their failure to meet goals stated the previous year in individualized remediation plans created when the schools were placed on an academic warning list. Sizemore, Amandla Charter High School and CICS–Larry Hawkins High School were under additional scrutiny by the district due to their inclusion on the CPS' warning list the year prior.
At that time, staff at Sizemore told "Chicago Tonight" they were floored by the move, having been informed by CPS that if they transitioned from a Level 3 to a Level 2 school, they'd be allowed to remain open.
Steiner said he and the students attempted to get meetings with CPS CEO Forrest Claypool and Mayor Rahm Emanuel, but were denied each time. Instead, they told their story to DNAinfo, and later FOX-32, which helped build some traction to get the film moving.
"It was just going to be the kids telling about their experience and why they love the school," Steiner said. "And all of a sudden it just got bigger and bigger."
In March, the Illinois Charter Commission voted to allow Sizemore to remain open for at least the final two years of its charters, overturning the district's previous vote to close.
Within weeks, CPS had appealed that decision. At a Chicago Board of Education meeting in March, Claypool called the commission's decision to keep Sizemore and two other charter schools open "ill-informed and destructive," saying the move "refuse(d) to hold charter schools accountable no matter how poorly they serve our students."
Named after Barbara Sizemore, the first African-American woman to head a major school system, the charter school uses an African-centered curriculum and school culture based around the Virtues of Ma'at, an ancient African value system, to prepare its students to be leaders, according to a press release.
While Steiner is credited as the film's director, he is quick to note the movie's collaborative nature, saying about 75 percent of it was shot by the students themselves.
"In some ways this was an easy project because it was a David-and-Goliath story … David being a school of 270 students fighting Goliath, fighting City Hall with no actual hope of winning," he said. "And then all of a sudden – and I don't want to give away the end of the movie – but, I mean, we won. We kept the school open."
Now at a new location, 6547 S. Stewart Ave., school officials are preparing for the start of the 2016-17 school year. Meanwhile, the film had its world premier this past weekend at the Capital City Black Film Festival in Austin, Texas.
"It was really well received there," Steiner said. "They loved the movie."
It made its Chicago debut Sunday at the Black Harvest Film Festival, where it will screen again Wednesday evening at 6 p.m. at the Gene Siskel Film Center, before moving on to the Louisville International Film Festival later this fall.
Follow Matt Masterson on Twitter: @ByMattMasterson
---
Related stories: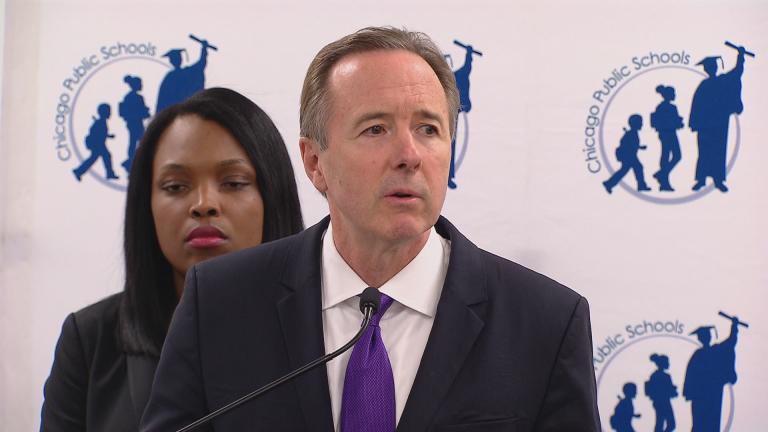 Speakers Question TIF Dollars, Special Ed Funding at CPS Budget Hearings
August 19: Nearly two dozen speakers attended a pair of hearings Friday to voice their concerns about the district's proposed 2017 budget, questioning the morality and legality of funding cuts and staff layoffs within the cash-strapped district.
---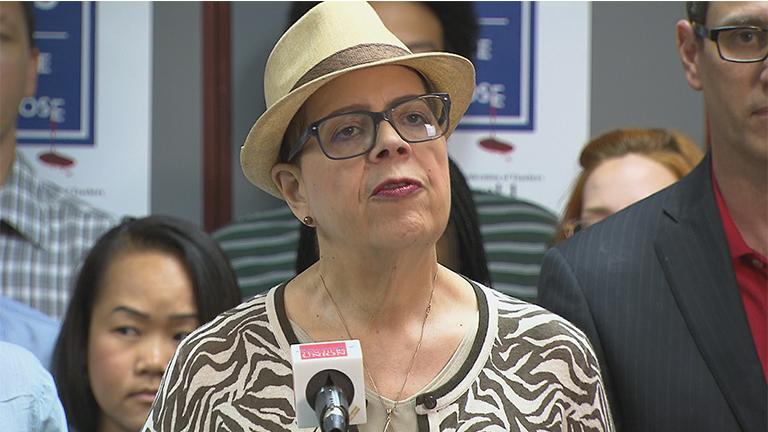 CTU Prepping Teachers for 'Strong Possibility' of Strike
August 17: An email sent to Chicago teachers this week claims the union is "likely to strike" and advertises a strike training session this weekend.
---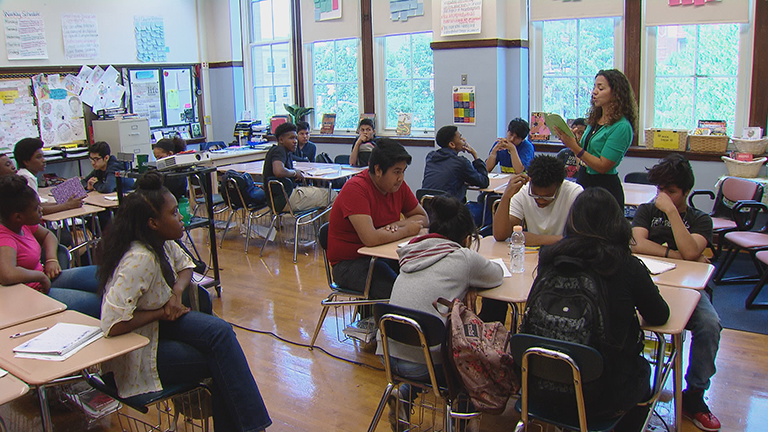 CPS to Cut More Than 1,000 Teaching, Support Staff Positions
August 5: Declining enrollment and vacancies at other schools cited as Chicago Public Schools announces layoffs for hundreds of educators.
---