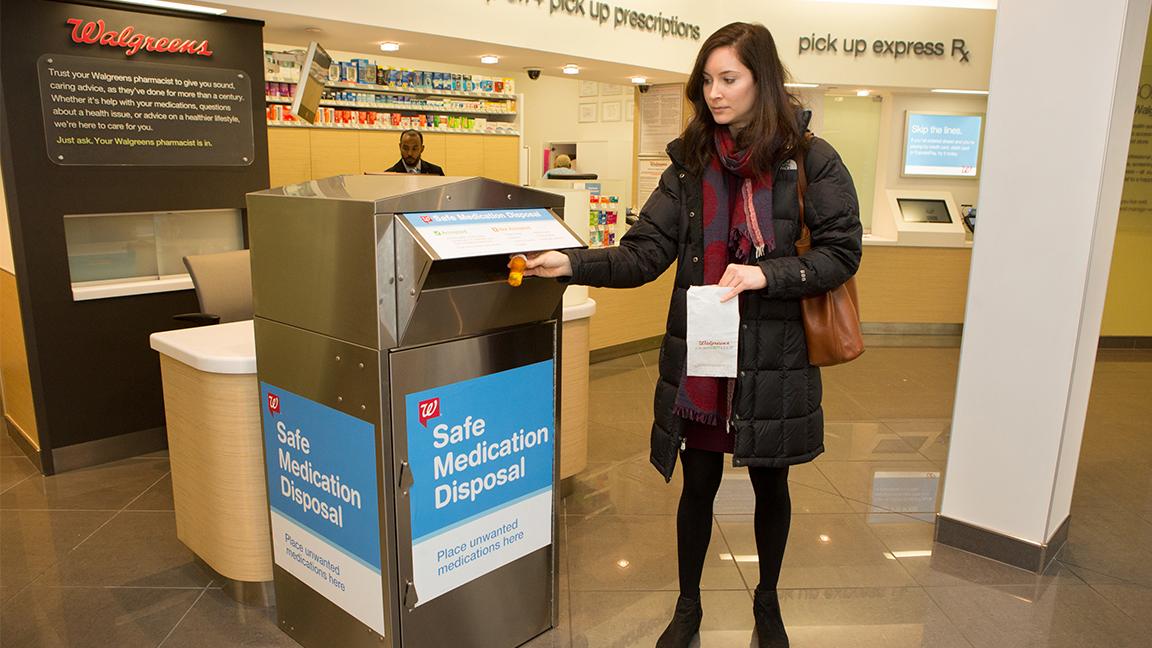 A woman discards medicine at a Walgreens medication disposal kiosk. (Walgreens)
Unused pills in your medicine cabinet could fall into the wrong hands or potentially damage the environment if they're not disposed of properly.
To keep that from happening, Walgreens has installed kiosks where people can safely discard prescription and over-the-counter drugs at 45 of their pharmacies across Illinois, including 13 in Chicago.
It's part of an effort by the Deerfield, Illinois-based corporation to install more than 500 such kiosks in their drugstores across the country.
At the Illinois program's unveiling earlier this month, U.S. Sen. Dick Durbin (D-Illinois) underlined the initiative's importance amid a national epidemic surrounding the abuse of opioids, a class of substances including prescription painkillers and heroin.
"I've traveled across Illinois," Durbin said. "There is no town too small and no suburb too wealthy to avoid this threat of opioid addiction and heroin overdose and death."
Fatal overdoses connected to prescribed opioids have quadrupled in the U.S. since 1999, according to the Centers for Disease Control and Prevention. The agency reported that trend mirrors a near-quadrupling of opioid prescription sales in the U.S. from 1999 to 2014.
Those who use opioids as a recreational drug often obtain them from someone they know, according to the CDC. Durbin issued a warning to anyone with prescription drugs in their home who who may have visitors between the ages of 13 and 30 asking to use the bathroom.
"Many of them who are addicts or who want to sell these pills go through your medicine chest and pull out whatever they think they can use or sell," Durbin said. "Be careful. Take a look at your own home, don't let it be a source of terrible outcomes and tragedies."
A Walgreens kiosk offer safe disposal of prescription and over-the-counter drugs.
Unused opioids are of such concern that the Food and Drug Administration recommends that some of them be flushed down the toilet in order to "get rid of them right away and help keep your family and pets safe."
"If someone gets a hold of them in the trash, they may still find them to be desirable, so flushing would get rid of them completely," said FDA spokeswoman Lyndsay Meyer.
But medication flushed down the drain can end up in the environment. Traces of hormone-based drugs, such as birth control pills, have been found to pass through water treatment plants and enter waterways by the U.S. Geological Survey and others. Traces of these chemicals are suspected of causing abnormalities such as the growth of female eggs in the testicular tissue of male largemouth bass in the Des Plaines River.
The USGS also found concentrations of antidepressants in the brain tissue of fish found downstream from wastewater plants in Colorado and Iowa, according to a 2010 study.
"We certainly don't want to add additional drug residue into the water systems unnecessarily," Meyer said. "That's why our recommendation first would be to find an authorized location where drugs can be disposed."
Bob Mosher, manager of water quality standards at the Illinois Environmental Protection Agency, said the FDA should alter its recommendation to flush highly addictive drugs such as opioids. But he said it's unclear what damage, if any, opioids could inflict on the environment.
"I don't know if they're making it through the sewage treatment process. I don't think anyone knows how harmful this is on the populations of fish," Mosher said.
This uncertainty should motivate proper disposal of unused medications with take-back programs, according to Mae Wu, a senior attorney with the Natural Resources Defense Council, an environmental advocacy group.
"The thing that is most unknown is what this cocktail of pharmaceuticals that ends up in our water does to the environment and to wildlife," Wu said. "We should err on the side of safety and say that there's a likelihood that this isn't good for us to have all of these residues of pharmaceuticals, so that's why these take-back programs are so important."
Drugs discarded at Walgreens kiosks are periodically collected by a vendor authorized with the Drug Enforcement Administration and destroyed via incineration at off-site locations, according to a spokesman for the pharmacy.
In addition to the 13 Walgreens kiosks in Chicago, you can find locations to safely dispose of unusued medications on the DEA's website. There are also nearly two dozen Chicago police stations that collect unused medications.
Follow Evan Garcia on Twitter: @EvanRGarcia
---
Related stories: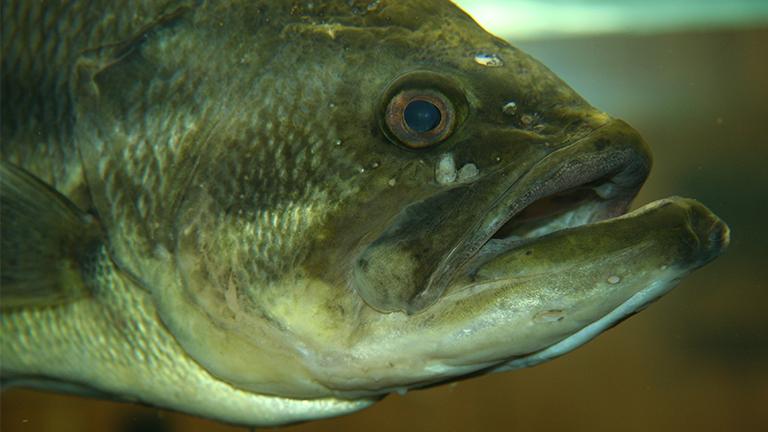 Study: Male Fish Growing Female Eggs in Chicago-Area River
July 15: We speak to the co-author of a newly published study in which scientists dissected 51 male largemouth bass and found that 21 – some 41 percent – had grown female eggs in their testicular tissue.
---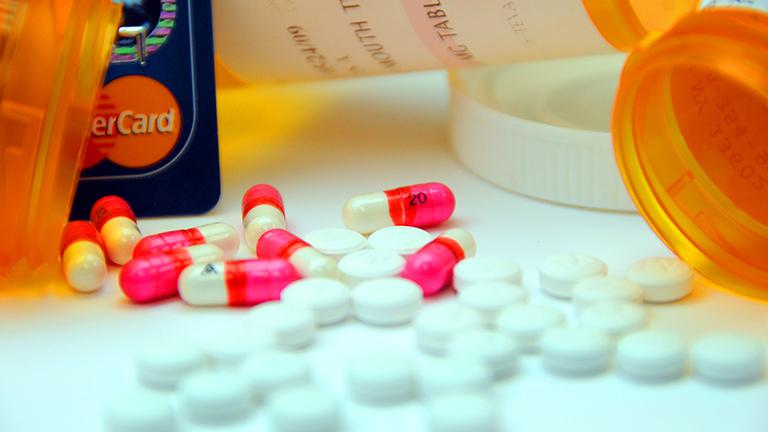 New State Law Regulates Health Insurers' Prescription Drug Policies
Aug. 16: New health insurance rules surrounding prescription drugs could make treatment for some patients more simple. Find out what step therapy is and what the changes could mean.
---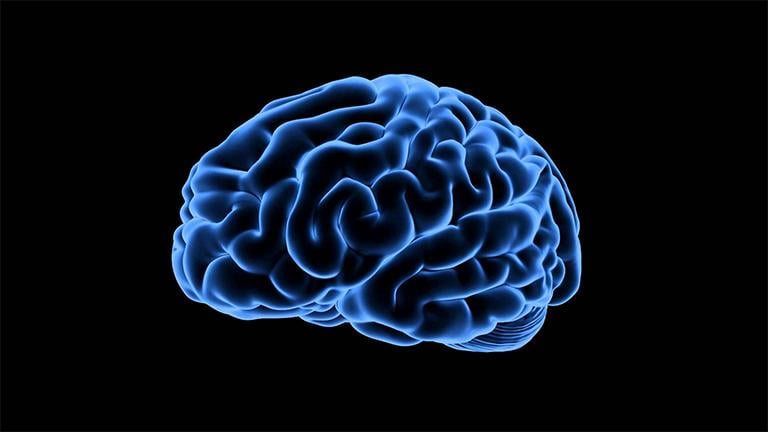 Exploring the Science of Addiction
March 21: Rising rates of addiction to heroin and prescription drugs have been making headlines across the country. Find out what the latest science is telling us about the nature of addiction.
---